Nature can be its own worst enemy. For gardeners, it's insects, deer, squirrels and moles that attack the hours of work they put into cultivating their award-winning gardens.
About a 100 people entered the Post-Dispatch 2017 Great Garden Contest sponsored by St. Louis Composting. Our judges selected first- and second-place winners in two categories: Best home garden by an amateur and best home garden by an amateur with professional help.
Each winner will receive a family membership to the Missouri Botanical Garden valued at $160, and first-place winners also will receive a gift card for a local restaurant.
This year's judges were Fred Ortlip, Master Gardener and former Post-Dispatch copy editor, and Chip Tynan and Jennifer Smock of the Missouri Botanical Garden.
Here are the winning entries:
BEST HOME GARDEN BY AN AMATEUR WITH PROFESSIONAL HELP
First Place
Occupation • Retired teacher
The garden • Qualy purchased her house in December 2015. The original owner had set up the gardens over several years but was selling the house because couldn't take care of them anymore. Qualy promised to do her best to maintain them.
"I really wanted to win for her. I can't take credit for it," Qualy said.
She titled her entry, "Joan's Garden, after the original owner, who is now 91. Qualy describes her as a spunky woman who loved to garden. "I still can't tell you the name of all of what's in there," she said. "If I can water it and prune it, I can do it. I'm learning as I go."
She brought in a woman who had helped the original owner and asked her to "tell me how to not kill it." The gardening expert has visited three times and given her a tutorial each season. Qualy says she loves being outside and enjoying the beauty of what Joan created. Different flowers and plants come up at different times. Since she has lived there a little more than a year, it's still new to her what pops up.
"It's like a symphony, so there's always something blooming."
Judge's comments • This compact space is filled with pleasing foliage color and structure, punctuated by distinctive lines of shade.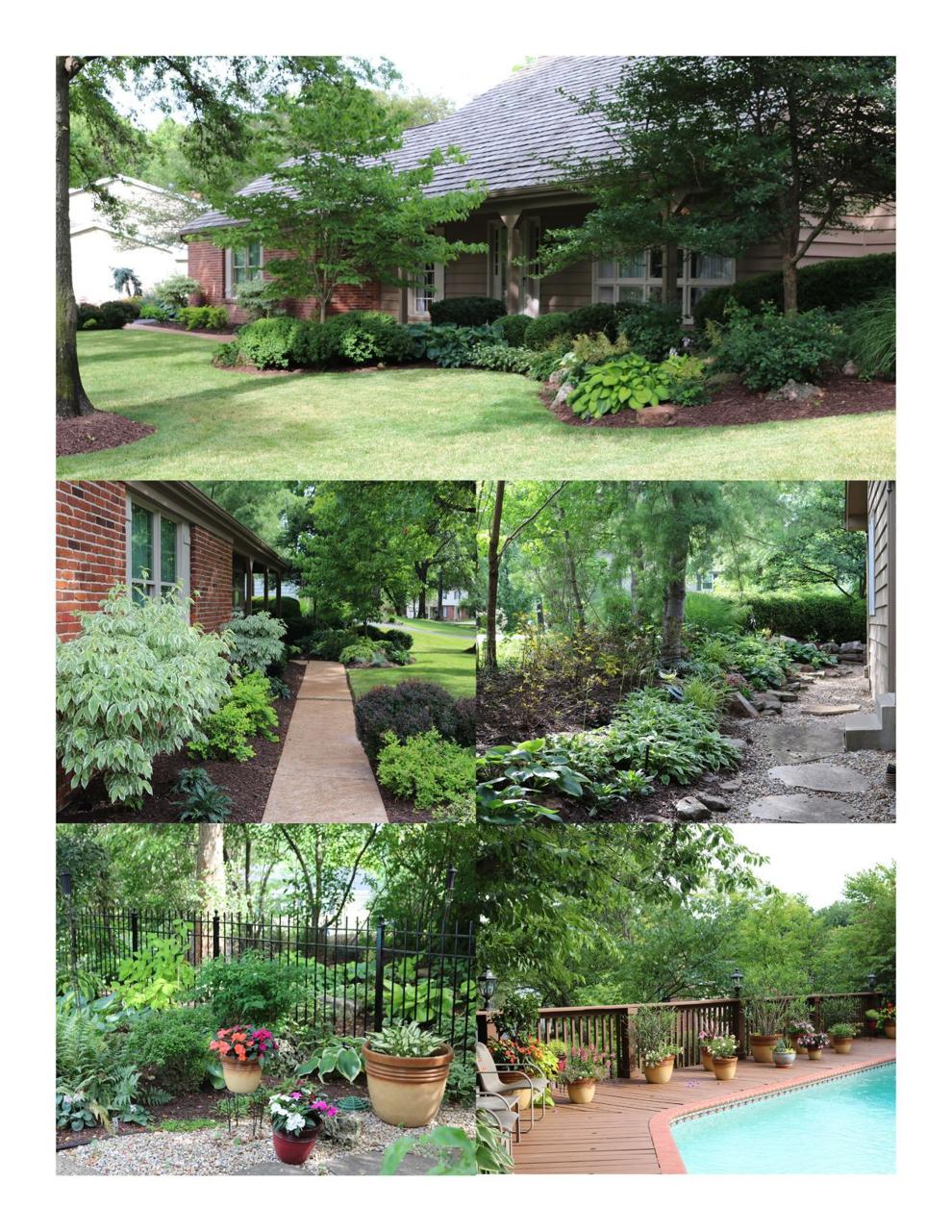 Second Place
Winner • Charles A. Dobbins
The garden • A variety of grasses and hostas, pine trees, blooming flowers, marigolds and elephant ears comprise this surprisingly low-maintenance garden. It's in a subtle setting with gravel and rocks around it to resemble a creek bed. Dobbins says he has battled insects that attack hostas. He enjoys getting out in the good weather to dig around in the dirt, but he finds the cleanup when leaves fall to be the most difficult part of keeping up the garden. Lucky for him, his wife is very detail-oriented and takes charge of the cleanup. They've had the garden for the past 20 years and have added to it from year to year.
Judge's comments • Pleasant foundation plantings for entryway. Container plantings provide additional color accents.
BEST HOME GARDEN BY AN AMATEUR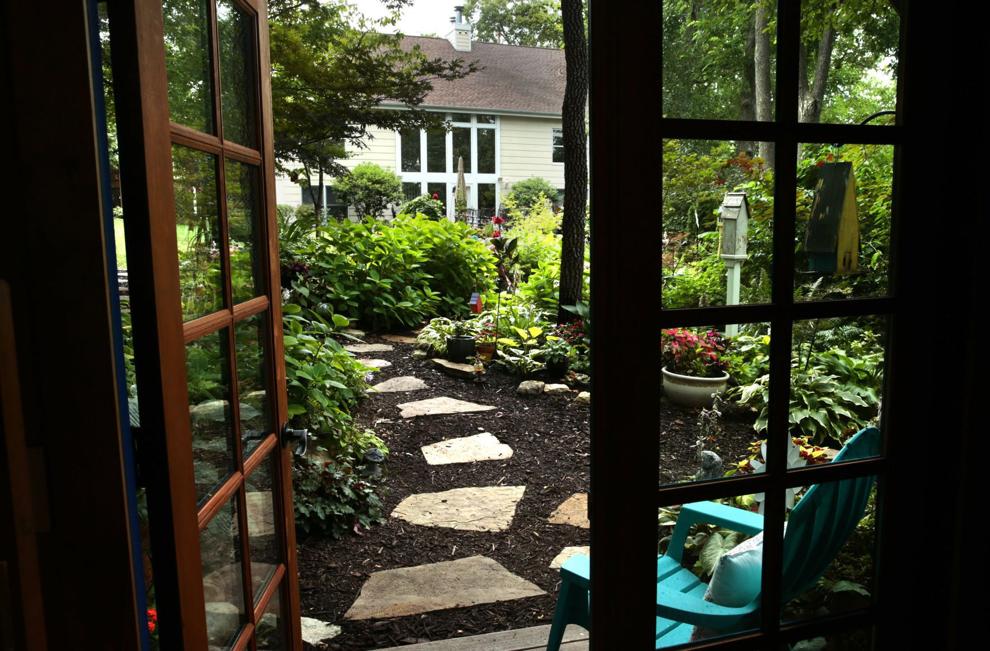 First Place
Occupation • Retired sales representative
The garden • McBride likes hostas and uses a variety along the garden path. She also enjoys her shed, the gargoyle statues and bird feeders. The garden features hydrangeas and many impatiens. She adds a few things annually and developed the garden through trial and error over several years. Her biggest challenge is keeping away squirrels and moles. While they are able to trap moles, they haven't found a good way to deal with squirrels. She says she is out in her garden every day for a little while, either watering, pruning, weeding or working on something else. Between April and May, she gets a truckload of mulch and wheelbarrows it every day for more than a week to the garden in back. It takes at least five days of working eight hours a day.
Judge's comments • Cheerful, interesting plantings. Photos suggest a gentle uphill slope and appealing use of grade change. Well-designed pathway leads to a very intriguing rustic structure nestled in the woodland.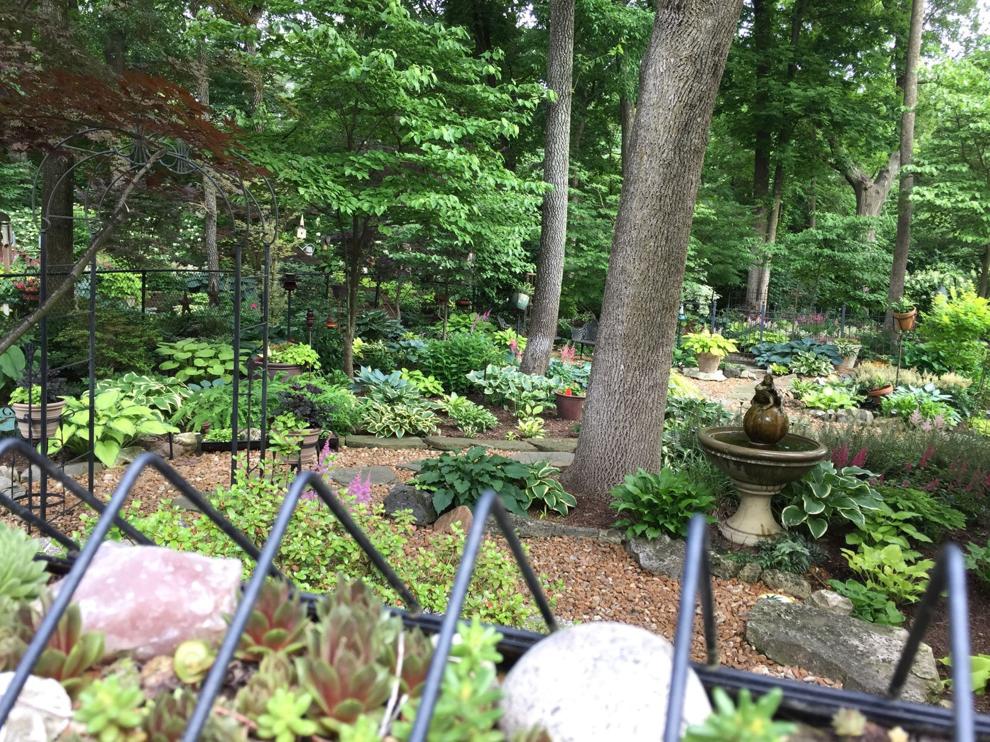 Second Place
Winner • Greg and Karen Frimel
Occupation • Dentist; homemaker
The garden • The Frimels have spent 15 years gradually clearing out Japanese honeysuckle from their garden space. They also removed river rocks and made beds for shade plants. Karen says she likes to do a lot with color, texture and size. She started with hostas, but has struggled with deer that keep eating them. Though they've tried various things to try to deter the deer, nothing has been entirely effective. They added quite a few astilbes, day lilies, hydrangeas and many native ferns. They also incorporate objects, such as a chicken feeder that Karen painted black. They've added a dozen Japanese maples and a dozen dogwoods. "To me, it's not a chore," Karen said. "We do everything in the yard except cut the grass."
Judges comments • I like the use of succulents in what looks like the capstones of a fence line. There is also a lot of color in the hosta collection, and it is very well-maintained.