The young couple had just bought a house in the suburbs. Like others who are attuned to climate change and the environment, they wanted to make a difference by establishing a garden using plants that attract pollinating insects, butterflies and hummingbirds.
But with full-time jobs and young children, garden maintenance wouldn't be a high priority, and they'd heard that because natives tend to tolerate both drought and wet conditions, those plants seemed to be the best choices.
Not so fast, says Scott Woodbury, manager of the Whitmire Wildflower Garden at Shaw Nature Reserve in Gray Summit.
"They can be just as high maintenance as any plant," Woodbury said. "It's about selecting the right plant and then selecting the right style of gardening. You can buy a bunch of the weediest native plants and if you're gardening in a naturalistic style, that's the name of the game and it works pretty well. But you have to tolerate that style of landscaping, and not everybody does."
Some homeowners have turned front yards into miniature prairies filled with native plants but that can be counter to some municipalities' landscaping regulations.
A plant-it-and-forget-it approach is usually what gets homeowners in trouble with city officials.
"It gives native landscaping a really bad name," Woodbury said. "There are a lot of people who are gardening with native plants even in a naturalistic style, and they're pulling it off very nicely. But they're doing all sorts of things that these homeowners who are getting in trouble never did.
"And that is spending time in the yard, having a buffer of mowed grass, having maybe a picket fence or split rail fence as a frame, making sure the (seeds from) maple trees are not sprouting up in your beds, making sure that the native species are in balance and not one taking over all the rest."
Benches, walkways, sculptures, birdbaths or features that encourage you to be outside are other elements that enhance the gardening experience, he said.
"You can tell when someone is outside and gardening … creating beautiful things in their yards."
Perennials
Woodbury oversees about five acres of plantings in the Whitmire Wildflower Garden. He recommends the following native perennials for their ability to withstand both longer periods of wet and dry conditions: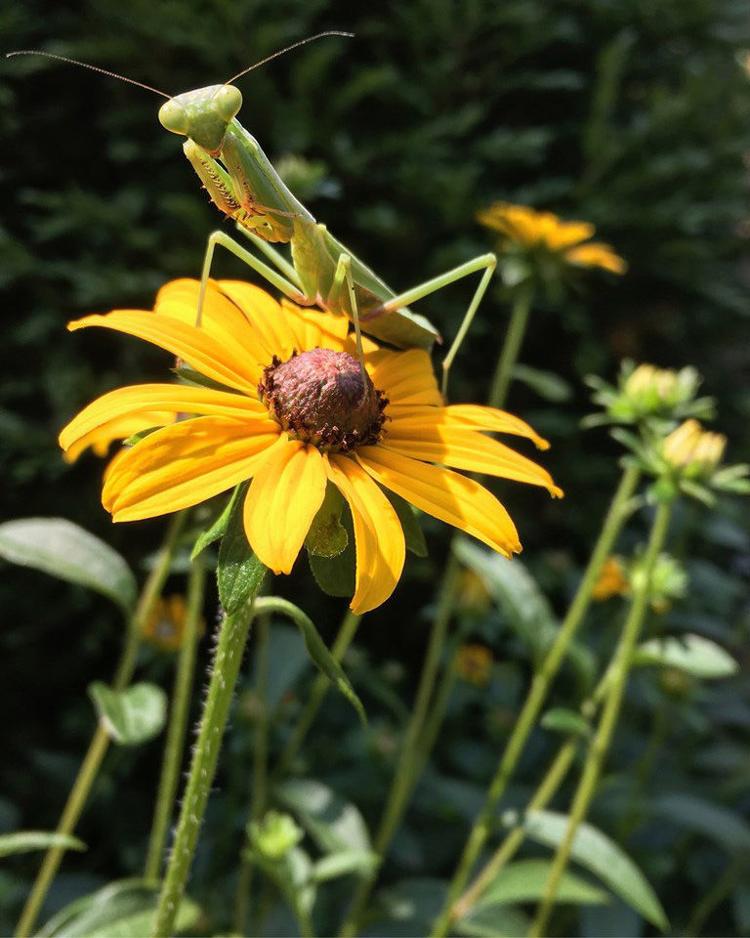 • Rudbeckia fulgida, orange coneflower. May grow 2-3 feet for sun but is more shade tolerant than other varieties. Spreads slowly by rhizomes, a long bloomer starting in June.
• Chelone obliqua, rose turtlehead. 2-3 feet for sun or part-shade, can self-seed. Pinkish blooms resembling a turtle's head, August-September.
• Amsonia illustris, shining blue star. 2-3 feet for sun or part-sun. Pale blue flowers in spring, yellow fall foliage. "Everywhere we put it in our garden, except for shade, it does beautifully," Woodbury said. "It tolerates horrible clay, zero oxygen, flooding, drought and everything you throw at it." Amsonia hubrichtii, a south-central U.S. native, also is popular here and has brighter fall color.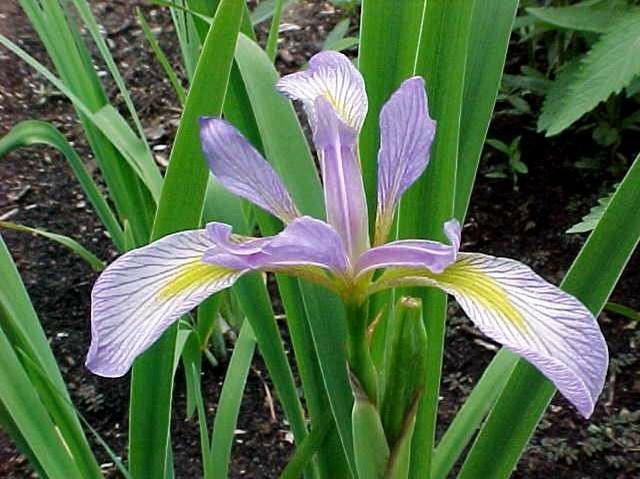 • Iris virginica, Southern blue flag. 2 feet for sun. Violet blue and yellow bloom in June. A more aggressive spreader than the typical iris "that can grow in horrible clay, that maybe doesn't have very good drainage," Woodbury said.
• Joe Pye weed, the common name for the former genus Eupatorium, since reclassified as Eutrochium. The straight species, with a mauve-purple bloom in August, can hit 5 or more feet and self-seed, making it perhaps too big for smaller gardens. But shorter cultivars such as 'Little Joe' and 'Baby Joe' are considered to be good substitutes. "The cultivars are full of nectar and pollen, and they're covered with pollinators and butterflies," Woodbury said.
• Asclepias incarnata, swamp milkweed. 4-5 feet with a white, pink, mauve bloom in July-August and an essential plant for the Monarch butterfly.
• Lobelia cardinalis (red cardinal flower, 2-4 feet) and Lobelia siphilitica (blue cardinal flower, 2-3 feet). July-August bloom, short-lived perennials that can self-seed aggressively. Tubular flowers are hummingbird magnets. Woodbury calls the popular cardinal flowers "the poster child for rain garden plants." Gardeners who "aren't very good mulchers will get lots of seedlings."
Shrubs
Woodbury likes these shrubs, some of which could be used as small trees, for both wet and dry conditions:
• Aronia melanocarpa, black chokeberry. Up to 6 feet, white flowers in May, berries in fall. 'Uconnam165' Low Scape Mound is a 2-foot tall cultivar.
• Cephalanthus occidentalis, buttonbush. Up to 12 feet, fragrant white flowers in early to mid-summer turning to ball-like fruit in fall. Cultivars such as 'Sugar Shack' (up to 4 feet) might be more appropriate for smaller spaces.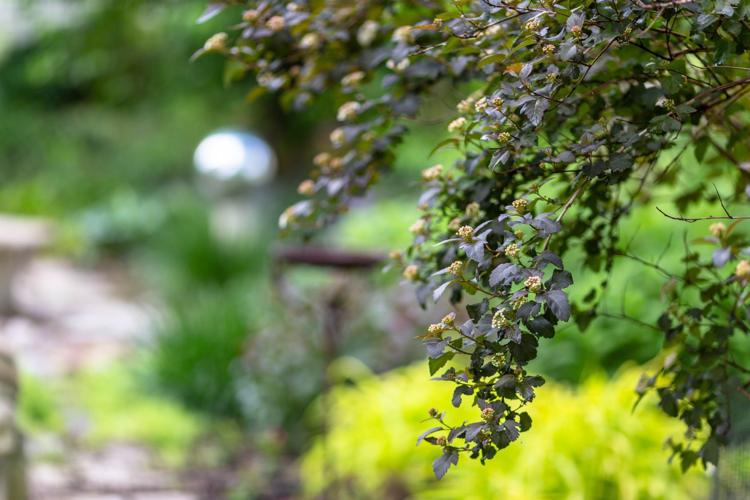 • Physocarpus opulifolius, ninebark. Up to 8 feet, white-pinkish flowers in June. Popular cultivars featuring non-green foliage include 'Diabolo,' 'Mindia' Coppertina and 'Center Glow.'
• Itea virginica, Virginia sweetspire. Up to 5 feet, white, fingerlike flowers in June. Common smaller cultivars are 'Henry's Garnet' and 'Sprich' Little Henry.
• Ilex verticillata, a deciduous winterberry holly. Up to 12 feet, including several smaller varieties, with red berries in winter. Generally one male plant is sufficient to pollinate six to 10 female plants.
• Viburnum nudum, possumhaw viburnum. Up to 12 feet with white flowers in spring and dark berries later in the season.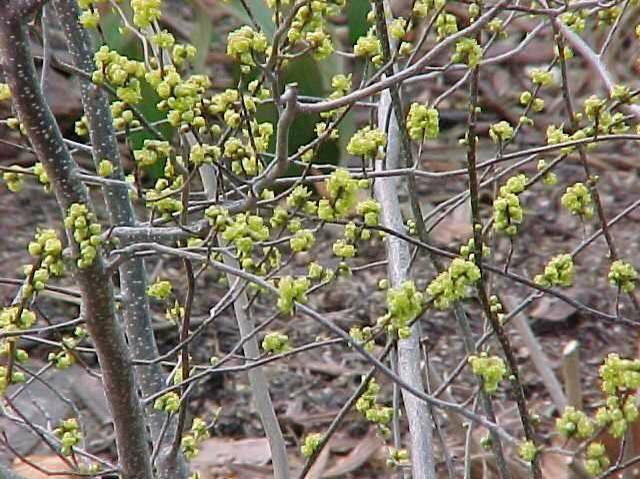 • Lindera benzoin, spice bush. 6-12 feet with greenish-yellow flowers in early spring. Female plants need a male pollinator to set fruit.
• Aesculus glabra 'Nana,' Ohio buckeye. 4-6 feet with greenish-yellow flowers in spring. The straight species is a tree that can reach 20-40 feet.
• Aesculus pavia, red buckeye. 12-15 feet with red flowers in spring. Both buckeye plants tend to lose their fall foliage earlier than other shrubs.
Bigger trees
• Carpinus caroliniana, American hornbeam. 20-35 feet and tolerant of clay soil and black walnut.
• Diospyros virginiana, persimmon. 35-60 feet and tolerant of poor soil. Female trees need a male pollinator to set fruit.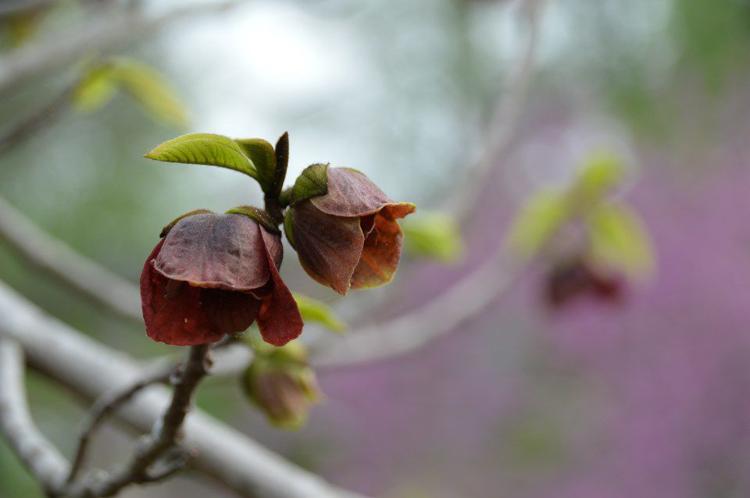 • Asimina triloba, pawpaw. 15-30 feet, produces edible fruit and often spreads by root suckers to form colonies or thickets.
• Ilex decidua, a bigger version of the deciduous winterberry holly. Up to 30 feet in the wild, 7-15 feet in cultivated versions.
• The oak genera Quercus, of which many are versatile and popular our region. View the Missouri Botanical Garden fact sheet at bit.ly/2WWFaXn.
Fred Ortlip is a master gardener, garden designer and retired copy editor at the Post-Dispatch. fortlip@mindspring.com
Every week, we feature a St. Louis-area home to showcase, usually because of its great style; but sometimes, just being quirky earns it the distinction.