Rachelle Leach and her husband, Tom Farnsworth, had been living in a 6,000-square-foot home that was lovely, but not ideally suited for their lifestyle.
"We are in our mid-40s, and we don't have children. We realized we don't need all of this big space and wanted something more practical for us," Leach says. "We like to travel a lot, so we don't need a big yard and all of the maintenance that comes along with a full house."
Leach's parents had moved into an assisted living facility, leaving her their 1,600-square-foot condo. It seemed like the perfect opportunity to downsize and start fresh. Built in 2008, the condo was in good shape but was very basic. Seeking a full remodel in the modern aesthetic she desired, Leach enlisted interior designer Marcia Moore to help her realize her vision.
"We clicked right away. I could tell she got my style and was excited to do something different, so it was a good match," Leach says of Moore. "I had a lot of ideas already of things I wanted, but there were other elements I didn't know how to do, so that's where I wanted her expertise."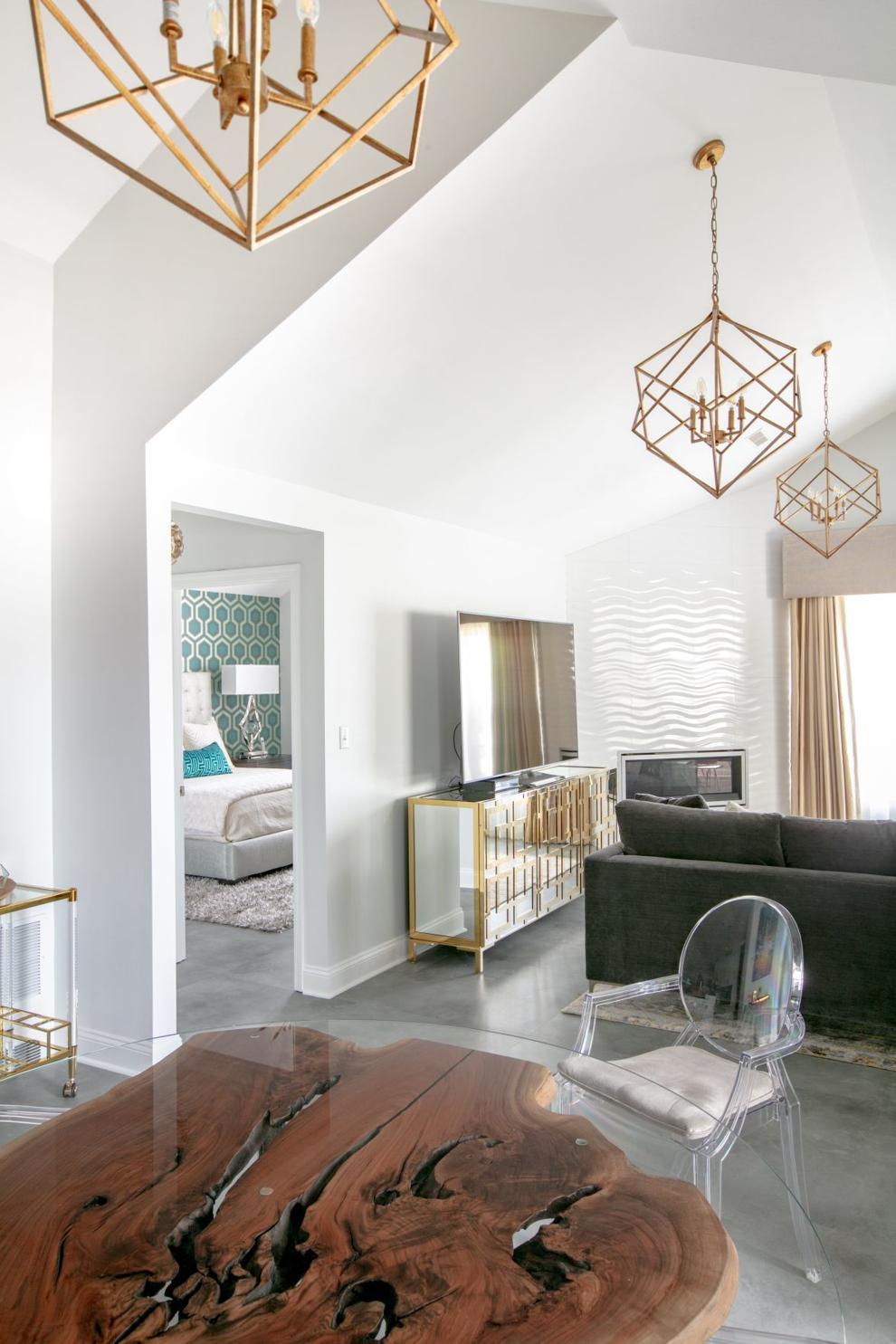 While both Leach and Farnsworth wanted something modern, she prefers a bit of glitz and glamour, while he is partial to things that are more masculine. Moore worked with the couple to find individual pieces and an overall look that suited both.
"They just wanted it to be fun and happy and interesting and unique. I don't want anybody's home to look like the next person's home," says Moore. "I always start with the big pieces first and figure those out and then everything else gets pulled in along with it."
They started in the living room with the sofa and Moore showing them options for sectionals along with potential floor plans. Farnsworth is just under 6-foot-4-inches tall, so it was important to find a sofa that was long enough for him to lie down on. A gray sectional by Bernhardt proved the perfect fit. He also wanted a large TV. Creating the balance between their wants and needs, Moore placed the TV atop a glamorous mirrored console, also from Bernhardt.
The room's focal point is the angled fireplace wall — something Leach knew she wanted from the start. It was originally a square box with a mantle that was recessed into the wall. They walled it up and installed a new, modern gas insert fireplace from Forshaw surrounded all the way to the ceiling with a glossy, white, wave-pattern tile from Rocatile.
The living room flows directly into an open-concept dining room and kitchen. Moore continued the neutral color scheme with metallic accents throughout the space. She had Mountjoy Designs create a faux metallic paint treatment on a wall that joins the dining area to the kitchen, as well as paint the frame of an oversized mirror leaning against the wall — one of only a few pieces of furniture the couple brought from their previous home.
When it came to the dining table, Leach says, "I told her I wanted a live-edge wood table to bring in some earthy elements."
Moore surprised her with a one-of-a-kind hand crafted table by David Stine Furniture, created out of an old tree root from his Illinois farm. It is topped in glass and paired with Lucite "ghost" chairs.
"It fits the space perfectly," Leach says. "It is probably my favorite thing in the whole condo."
While the kitchen's footprint didn't change, it did get a complete face lift. Leach knew she wanted a "waterfall" countertop on the side of the peninsula that angles into the dining area. Moore found the perfect Cambria white quartz with a large swirling pattern in gray. She had the original wood cabinetry painted white (with a hint of gray) and added gold hardware and a gold light rail on the bottom to illuminate the large hexagon tile backsplash. Moore hand designed the asymmetrical pattern of custom color mix Lunada Bay tiles.
Off the living room is a bonus room Leach had Moore design around a hanging, Lucite "bubble chair" by Modway that she saw on HGTV and knew she had to have. Moore complemented the chair with a glass Bernhardt dining table and four bright purple dining chairs from Moe's Home Collection for a pop of modern color.
In the master bedroom, Moore tried to appease Farnsworth's desire for a more masculine aesthetic. She created a feature wall behind the bed with large, geometric print wallpaper from Cole & Son and a dark wood dresser and nightstands by Caracole. She spoke to Leach's more feminine style in the guest room with another geometric Cole & Son wallpaper in bright pink with gray and cream.
Moore says her vision for the condo proves that, "Just because you're downsizing doesn't mean you have to lose style."
Leach agrees. "Downsizing was the best thing we could have done," she says. This is the perfect amount of space. It definitely works for our lifestyle."
---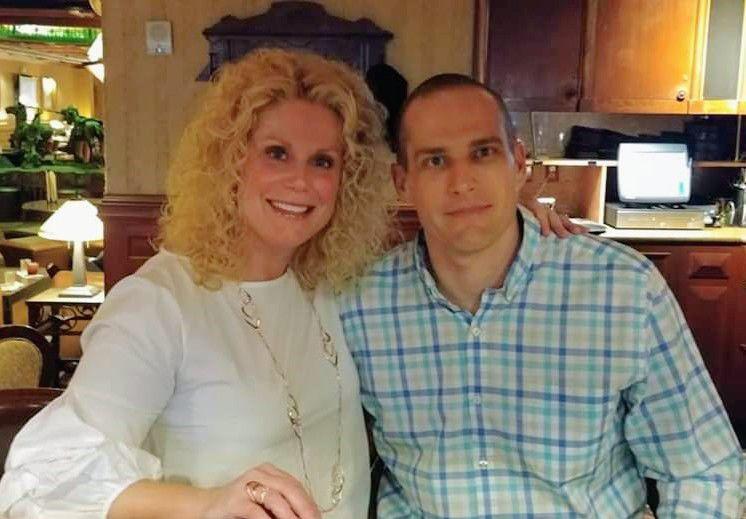 Rachelle Leach and Tom Farnsworth
Ages • She is 47; he's 45.
Occupations • Rachelle is an emergency room physician in Centralia and Mount Vernon, Illinois. Tom is a certified public accountant.
Home • O'Fallon, Illinois