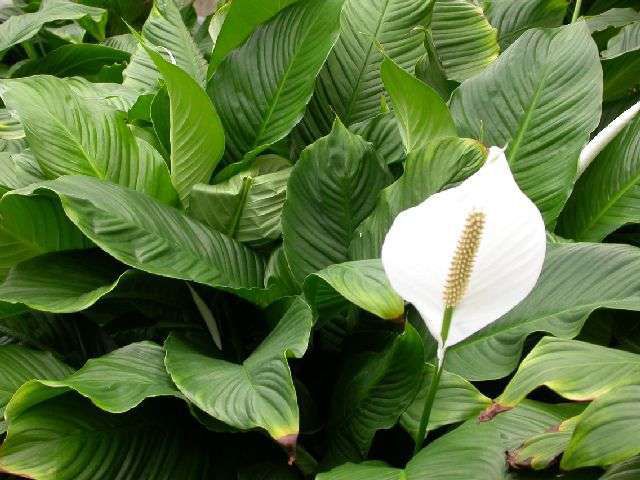 Q • I'm having problems with a houseplant called a peace lily. Its blooms have always been white but recently they have turned green. Do you know what might be the problem?
A • It's normal for the flowers of peace lilies (Spathiphyllum spp.) to turn green as they age. Though long-lasting, the flowers of a peace lily don't last forever. Spent flowers can be cut off when they turn brown, removing the flower stalk at its point of origin within the leaves. Other than that, maintain normal cultural needs.
Well-grown plants will continue to produce new flowers, with the bulk of these in the spring to fall months. Spaths need medium to bright light, but no direct summer sun. Lack of light is a frequent cause of poor bloom on plants that appear healthy otherwise. Normal home temperatures are comfortable for spaths, but don't place them near heat ducts or other sources of hot, dry air in winter, or by air conditioning vents during summer, as they dislike the low humidity levels associated with these locations.
Spaths like moisture, but you need to allow the soil to dry some between waterings. Be sure to always discard the drainage. Feed with a standard houseplant fertilizer, spring through fall. Discontinue in winter if no new leaf growth is occurring.
Write to Chip Tynan of the Missouri Botanical Garden at chip.tynan@mobot.org or Horticultural Answer Service, 4344 Shaw Boulevard, St. Louis, 63110.