Seeking relief from the claustrophobic feeling of working from home in a small house with her husband and daughters during the pandemic, Lauren Greenwood discovered a spacious two-story plantation-style home like she had always dreamed of owning. Located on 10 acres in St. Peters, it was just a mile from their small ranch home, and for sale.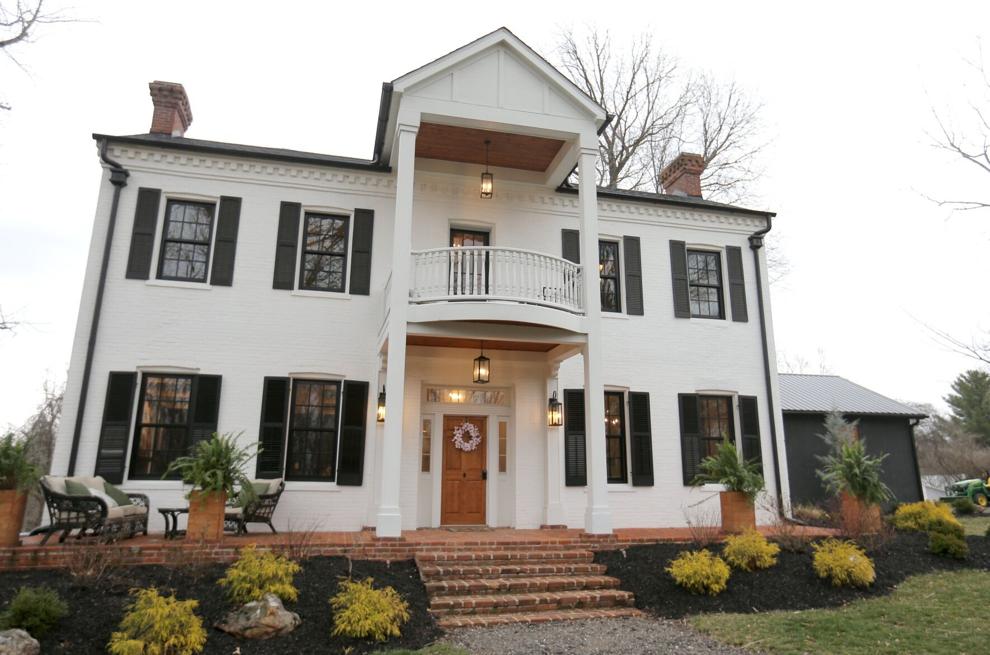 But there was a problem. "The house, which had been built 171 years ago in 1852, was beginning to show its age," Lauren recalls. "We regrettably decided it was just too much work. Instead, we finished the basement where we were living and were happy."
Two years later, Lauren, who describes herself as a spiritual person, had a premonition it was time to move, and she checked current real-estate listings. "The same house had been totally rehabbed and had just been listed eight hours earlier," she says. "We were the first to see it and closed within three days."
The rehabber, MICREW Design and Remodel of St. Charles had created a showplace of a contemporary farmhouse, while maintaining the original ambience of the two-story, three-bedroom, three-bathroom, 3,500 square feet home.
Original wood floors, exposed interior brick walls, 12-inch high baseboards and 12-foot ceilings had all been retained. Replacement windows were framed in black matte molding surrounding cream shades, and a generous use of cream-colored shiplap siding highlighted walls throughout the home.
The modern kitchen had been updated with all new stainless steel appliances and a 5-foot-by-8-foot white granite center island, accentuated with wooden ceiling beams made from reclaimed barn lumber found on the property.
Upstairs are two bedrooms and a primary suite that extends to both sides of the house. The second floor also has access to a curved balcony that offers an exquisite view of the front yard and a winding drive that leads to a roundabout in front of the home.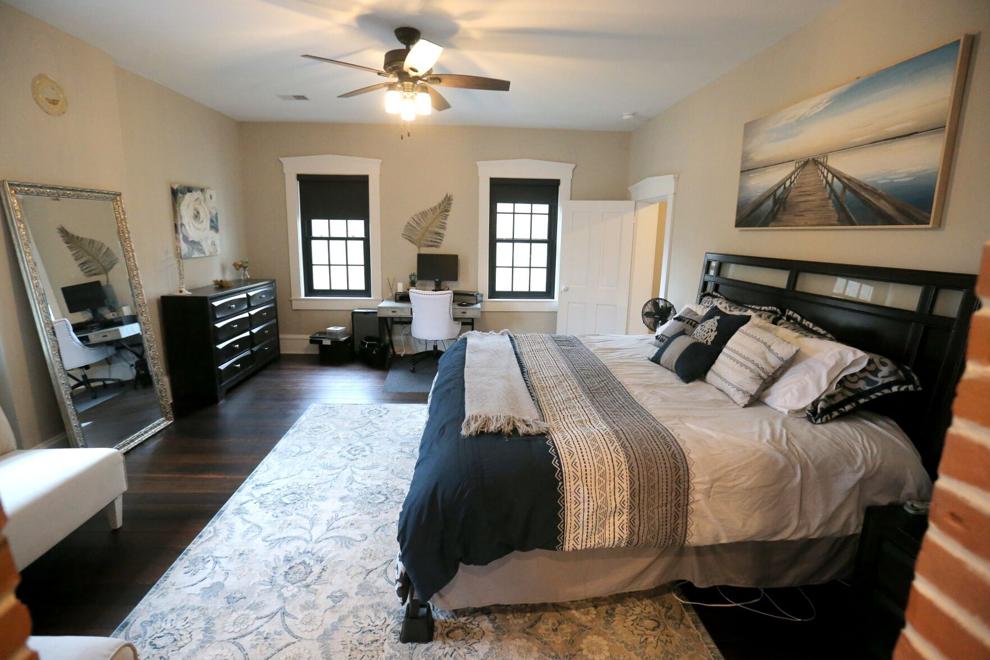 A first-floor den features a wood paneled ceiling tucked behind thick wood beams, and double-pane doors that open onto a covered wood plank deck with a ceiling fan and outdoor heater. Jack designed a wall panel behind the shiplap siding in the den that hides a large television until a button is pushed and the screen rises dramatically from behind the panel and fills the wall space.
What had been a dirt floor basement became a true mancave during the renovation. Divided into two large rooms with a thick arched brick wall in the center and floor-to-ceiling walls of uncut, rough limestone defining the space, the floor was finished with brick by MICREW to create a truly unique space.
"The home had been staged when we saw it and we purchased a lot of the art and some furnishings from the staging company," Lauren says. "It saved a lot of time and arguing," she adds laughing.
The 10 gently rolling acres surrounding the residence remain from what was once a 150-acre farm, and the sensation of being far out in the country is strong despite the home being encircled by subdivisions.
There is a two-acre kidney shaped fishing lake plus a small circular pond tucked in the tree line on the edge of the property. A forest of old trees includes a 150-year-old pecan-bearing tree, a chicken coup and a "Wizard of Oz" slanted cellar door. Creeks bracket the home in the front and back, and the original cistern that provided water until the 1990s remains.
Once they moved in, Lauren discovered she knew relatives of the former two families that had owned the property. "They seem to know the answer to every question that comes up about the history of the home," she says.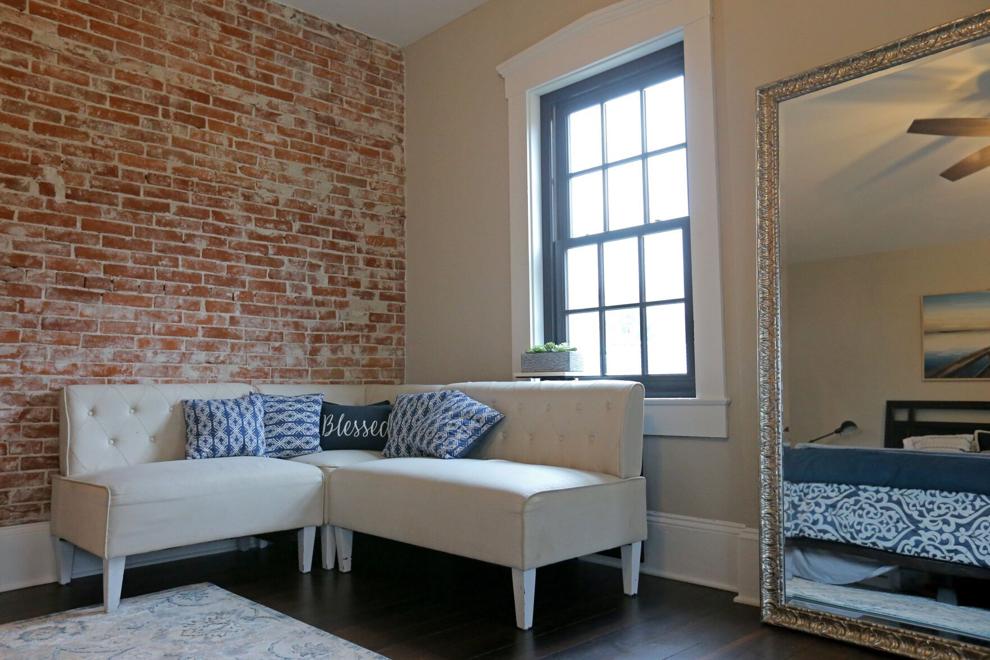 It is a family team effort to keep the property mowed and manicured, so all four family members living in the home have their own lawn mower and assigned yard space.
"We knew this was the right home for us when my husband was changing a lock on the door to the basement," Lauren recalls. "We discovered the old lock had been made by the Greenwood Lock Company. That is our last name."
Future projects include turning the cistern into a wishing well, and adding pear, peach and apple trees to create an orchard.
The Greenwoods have also embraced their dream of living in a plantation-style home. For Lauren's last birthday party, guests dressed as though they were living in the late 1800s.
Lauren says she is so happy she "wakes up every morning "feeling like skipping!"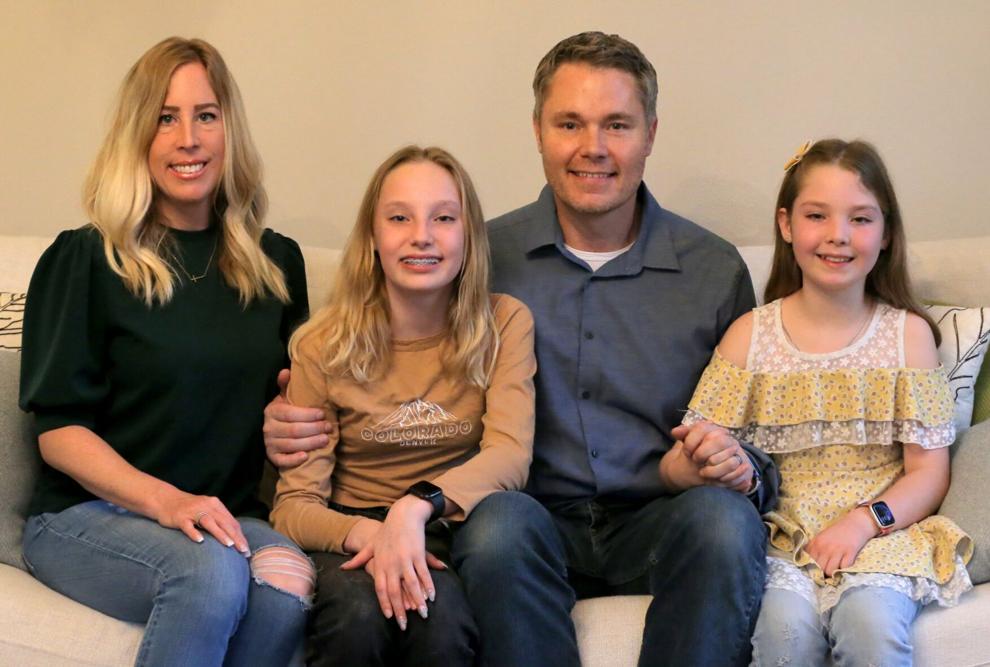 Lauren and Jack Greenwood
Ages • She is 43; he is 42.
Occupations • Lauren is a user experience designer for TKC Holdings. Jack is vice president of product development at Pivot international. Inc. Lauren maintains a website with more information on their home at: 1852farmhouse.com. She is considering marketing the home and grounds for small weddings.
Family • The couple has three daughters. Elle is 10, Holly is 12 and Allison is 19. Also living in the home is Dutch, a poochon, and three parakeets named Blue, Lemon and Banana. A chicken coop the Greenwoods added on the property is home to nine chickens, each with a food-oriented name like Oreo or Cookie. "I always wanted chickens, and with the price of eggs, it has worked out well," Lauren says.