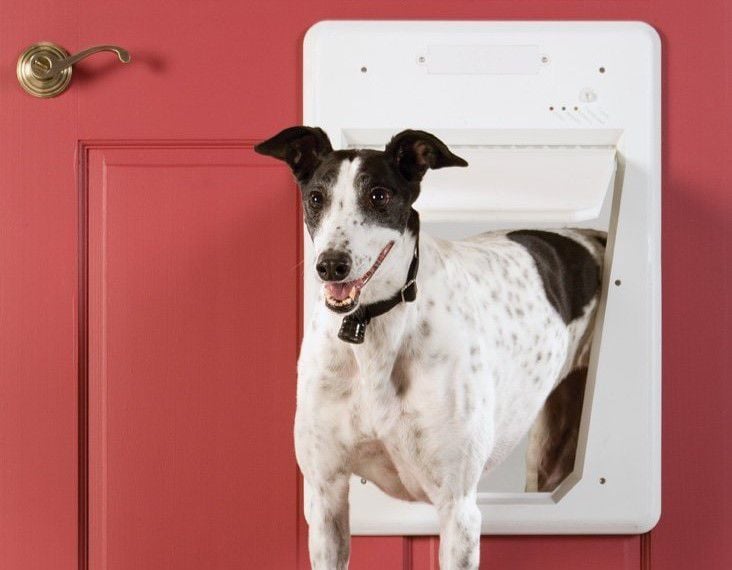 Pet doors are a great way to give your cat or dog freedom to roam around the backyard when you're not home and come inside whenever they want a break. But traditional pet doors have some downsides, from allowing neighborhood strays into your home to letting your pets in and out at inconvenient times. This smart automated pet door from PetSafe solves those problem and is well worth the investment.
Only Your Pets Enter
The PetSafe SmartDoor comes with a waterproof SmartKey that you can easily attach to your pet's collar. The key solves the problem of stray pets or common household pests wandering inside since the door only opens for pets wearing the key.
Perfect for Multiple Pets
The SmartDoor is programmable and comes with 5 smart keys, which means you can decide which pets have access to the door at different times. If one dog loves to lounge on the porch while the other tries to chew through the fence when you're not home, you can program the door to lock for the chewer when you're not there to supervise. The door comes in small or large so you can select the size that is right for your pets.
Why Customers Love It
Customers love this fully automated door because it keeps out problem pests like raccoons and rodents while allowing their dogs to enter and exit the home. Another reviewer uses the door to keep roaming cats inside while allowing her dogs to play in the yard. Several customers also mentioned the easy installation.
Every week, we feature a St. Louis-area home to showcase, usually because of its great style; but sometimes, just being quirky earns it the distinction.