Rob Girardier's knows the moment when his Stag beer collection went from a hobby to an obsession. 
"I think it was the garage door that did it," Girardier said, sitting in his Lindenwood Park home that's become a shrine to the drink Girardier calls the "best old man beer ever."
The garage on Girardier's home in the 4400 block of Wabash Avenue is painted with a giant retro Stag symbol. There's also a Stag bottle engraved into the front door. Most walls are lined with Stag signs. Even Girardier himself is typically decked in Stag, wearing a different Stag T-shirt almost every day.
"Well it's pretty delicious," Girardier said with a smile. "It's also cheap. It's low on sugar. I mean, it's almost healthy for you."
Stag also has local roots. The beer was originally brewed in Belleville, just across the river and — for a time — was also made in St. Louis.
It's now owned by Pabst Brewing Co. and made in Wisconsin, but Girardier still benefits from the many remnants of Stag merch in the beer's old home.
His now house-consuming collection started with a tiny Stag glass about 12 years ago.
Girardier's wife, Kari Carey, bought the 3-inch-tall glass at an antique store in 2005.
"It kind of snowballed from there," Girardier said.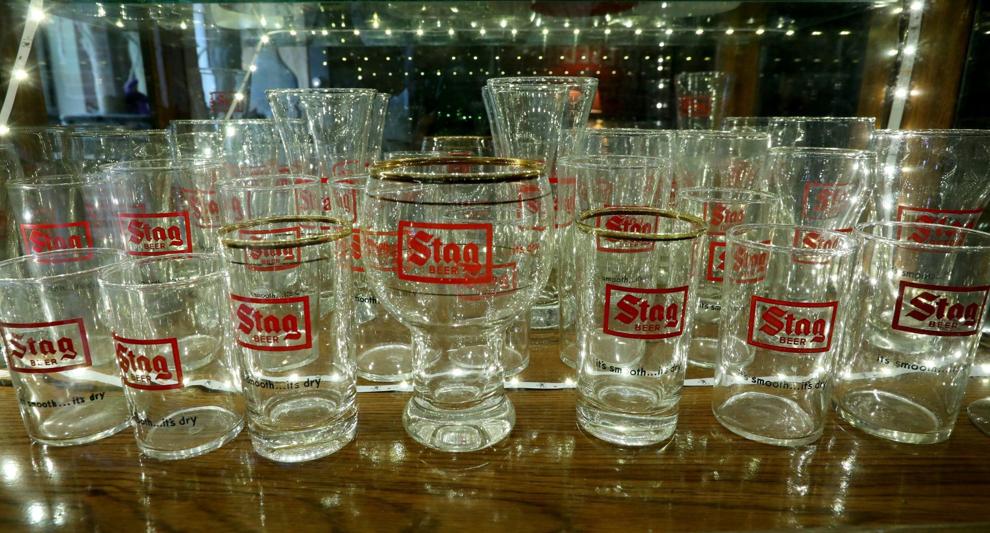 Girardier now has a case of 166 different Stag beer glasses. He's collected the story boards with original artwork from a 1957 television ad for Stag featuring the cartoon character Mr. Magoo. He's got printing blocks that were used to make Stag print ads. There's Stag Christmas decorations, Stag coolers, cheesy 1960s Stag tennis visors and 10 coats with the Stag logo.
Still, Girardier goes to great lengths to grow the collection.
He typically arrives at the Belleville flea market at 5 a.m., before the crowds, and goes around to vendors asking: "Got any Stag stuff?"
He checks websites like eBay almost every day, constantly searching for anything Stag he doesn't already have.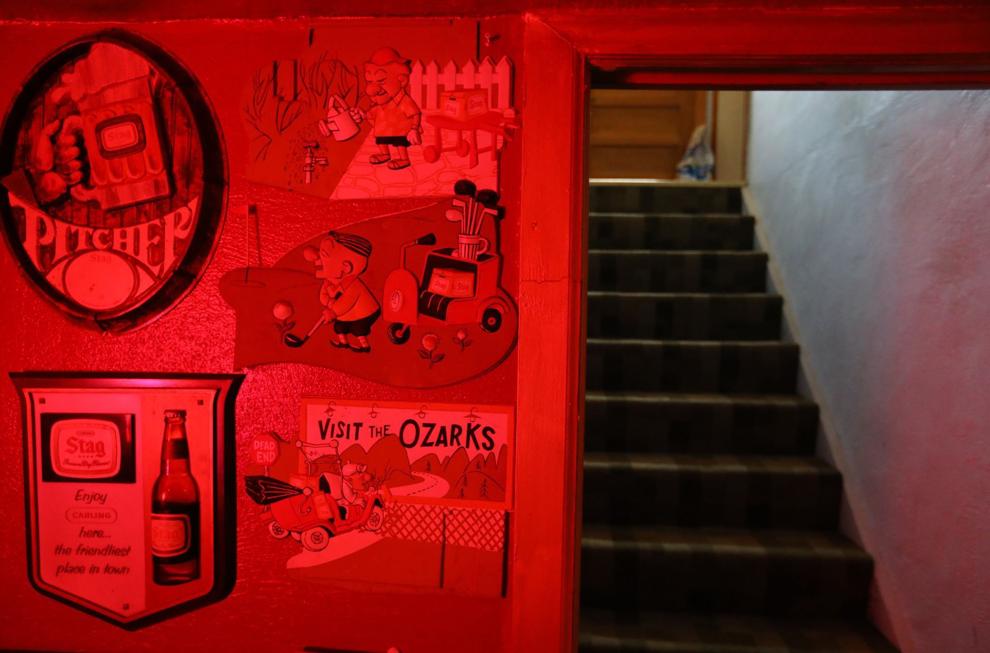 He even worked Stag into his business. Girardier owns several local furniture stores called the Bed Guy and added "I buy Stag stuff" to both his television ads and on the back of his work truck.
"A lot of people know I'm that Stag guy now," Girardier said.
He often gets Stag gifts, and occasionally Stag memorabilia will mysteriously appear on his front porch, he said.
Some neighbors recently threw a by-the-way-we-eloped-five-months-ago party. I brought a carr…
But still Girardier searches and remains fixated on a few rare pieces he hopes to inherit from aging collectors — while others hound him to get some of his best items.
Girardier's oldest piece is a Stag tip tray from before Prohibition between 1909 and 1911. The tray was made shortly after the company changed the name of its flagship beer to Stag from Kaiser through a naming contest. The German name fell out of popularity before World War I.
Girardier also has Stag barrels where beer was stored from the 1930s, when the company claims it was the top-selling beer in the St. Louis area, outselling both Falstaff and Budweiser.
He has some newer items made after the 1980s, when Stag stopped brewing in Belleville and was eventually bought by Pabst Brewing Co. in 1999.
He's constantly surrounded by the logo, but still Girardier said he isn't sick of drinking Stag. Neither is Carey, his wife, who's watched the obsession grow over the years.
"I just like seeing him excited," she says, sitting underneath four light-up Stag signs. "It makes him happy."