Walking into Mary Engelbreit's studio is like stepping into one of her storybooks — a whimsical, bright space brimming with preciousness and a sprinkle of sass. Eight decorative birdhouses are perched on top of a short wall by the entry. There's a nook with a checker-print sofa and images of Scottish terriers on the throw pillows. A cheerful quilt hangs on the wall above the sofa, and a cacophony of dolls, figurines and stuffed animals are crammed on the shelves nearby.
The artist who created this licensing empire, with more than 13,000 pieces of usable art including calendars, books, tea sets, ribbons and fabrics, is a 67-year-old St. Louisan calling out her own sheltered world of cuteness.
Engelbreit enters her 2,800-square-foot Central West End workspace wearing a printed floral scarf and red framed glasses, appearing every bit the Midwestern grandmother you might expect.
That is, until the conversation gets political.
"Now I'm focused on how many senators are willing to sell their souls to cover up for this moron," she says during a recent visit. If there's any doubt about who she's referring to, a scroll through her Instagram feed makes the subject of her ire crystal clear.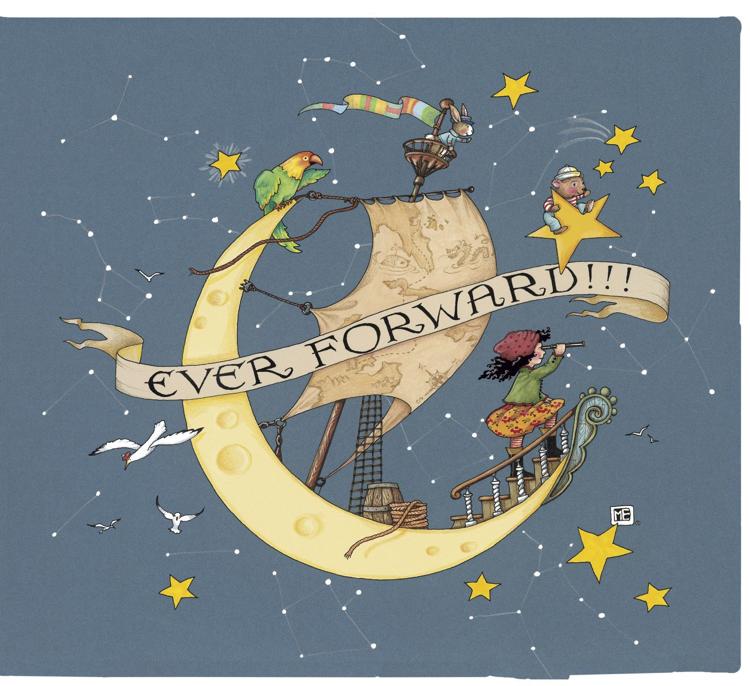 "This is WAY more than Democrat/Republican," she wrote in response to a follower upset by one of her recent posts. "This is moral/immoral. You can be a Republican and not support Trump. But if you do support him, you are  supporting a white supremacist, uneducated, lying, grifting, racist, narcissistic, evil sexual predator, and all of your 'Can't we all just love one another?' is meaningless and insulting to all the people Trump seeks to disenfranchise."
But tell us how you really feel, Mary.
By the time Engelbreit sits down at her desk, she knows what she's going to draw. An idea has been percolating, and she's ready to get into her flow. She starts sketching in pencil, erasing and adjusting as she draws, usually on 8-by-10-inch paper. She uses colored pencils to make the drawing pop and does all the shading and details by hand.
"You're constantly making decisions," she says. "It definitely changes as it goes."
Once she has the sketch down, she goes over the pencil lines in pen and ink. Then, she adds the flat colors with markers. Lastly, she shades the entire image with colored pencils. Her desk is surrounded with containers filled with hundreds of pencils and markers grouped by color.
It might take five to six hours for a single drawing — longer if it's for a calendar.
Her artwork changed forever the day police fatally shot African American teenager Michael Brown in Ferguson.
The morning she heard about the shooting, in August 2014, she felt compelled to draw. Years earlier, her son Evan had died when he was near Brown's age. She and her husband adopted his biracial daughter as their own. Brown's death triggered those painful emotions — and her anger.
The image that emerged that day was unlike the lighthearted drawings for which she's known. A black mother held a black child in her arms, a tear falling from her eye. She looks at a newspaper that reads: "Hands up! Don't shoot!"
Engelbreit wrote a stark caption: "No one should have to teach their children this in the USA."
She didn't tell anyone in her family-run company about the image and posted it on the company's Facebook page. She was 62 at the time and until then she had never faced any serious criticism of her work.
That was about to change.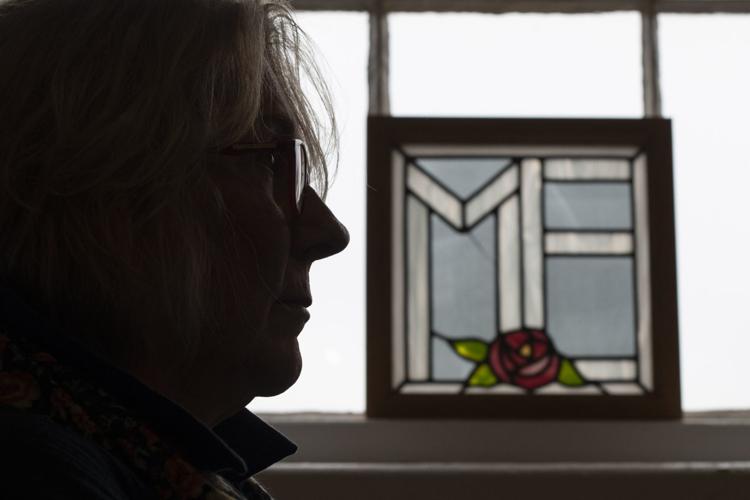 Her son Will Delano, the president of the company, said they lost 11,000 followers that day.
"Our key demographic is middle-aged to upper-middle-aged women who may not have ever had negative issues with the police," he says. "I'm ashamed to say I was very scared when she spoke out."
He fielded threatening messages from enraged callers and for a week or two tried to talk his mother into toning down her comments.
Engelbreit was shocked at the ugliness of the comments directed at her. She worried about the impact it could have on her employees and her family. She wondered if she had destroyed a 40-year career with a single drawing. But at the end of the day, that fear wasn't enough to deter her from saying what she had to say.
After decades of drawing cute, she needed to speak her mind.
"I didn't care if I lost or gained followers," she says. "These things were important to me. These were the things I was going to draw."
Sales from that print ended up raising $40,000 for the Michael Brown Jr. Memorial Fund.
People who have known and worked with Engelbreit since the early years of her career aren't surprised by how outspoken she's become in her art or on social media in recent years. She's always cared about social justice issues, shared her opinions and had a sharp sense of humor.
"A lot of times she says things the rest of us are not brave enough to say," says Charlotte Lyons, who worked with her on several books and the lifestyle magazine Mary Engelbreit's Home Companion. Barbara Elliot Martin, another longtime friend who also worked on the magazine, remembers getting a few angry letters in the late 1990s when they profiled a gay artist and pictured him at home with his partner.
Martin showed Engelbreit a few of readers' letters threatening to cancel their subscriptions. Engelbreit was completely unbothered.
"Too bad; don't renew," she said.
The same sentiment prevails to this day. In 2015, she launched an edgier "Engeldark" line of cards with black-and-white prints that capture the snarkier side of her personality.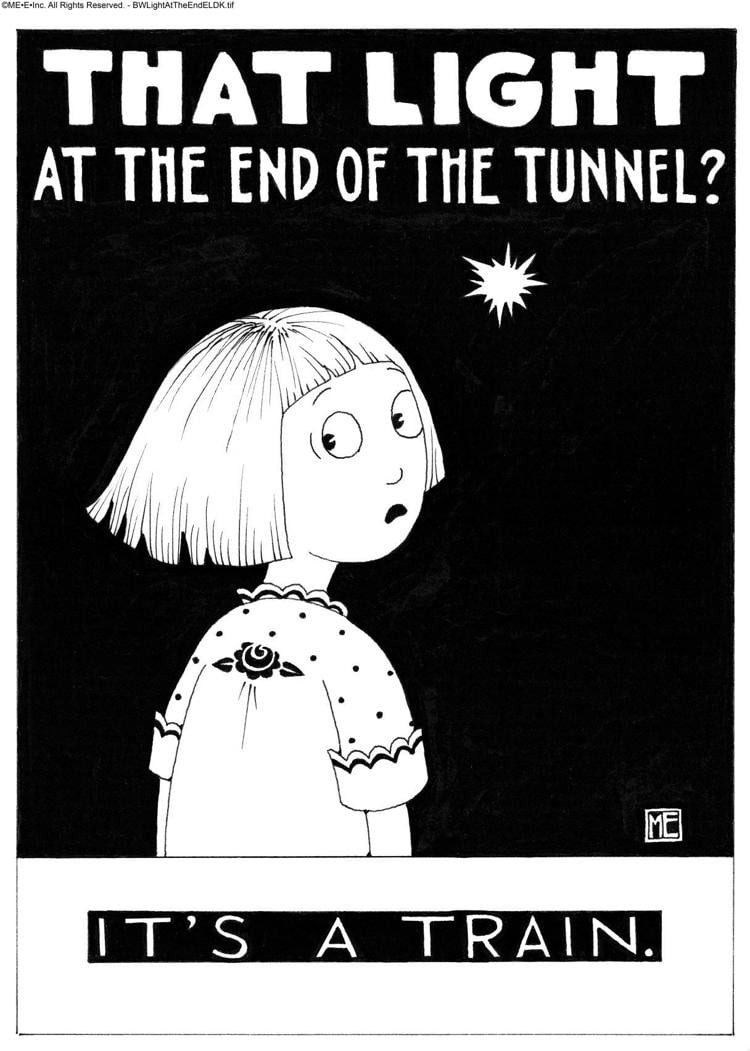 "I was a little uncomfortable with that reputation of being a sweet, nice person," Engelbreit says. "It's nice to be able to have it all out there." She's surprised by how well received those cards have been.
Friends who have known the artist for decades describe her as generous and genuine. But she's well aware that the world can be far from a bowl of cherries — or a chair of bowlies, as she famously coined early in her career.
It can be jarring to see these worlds collide on her Instagram page. Pictures of her adorable 7-month-old granddaughter appear next to inspirational quotes and colorful drawings, alongside an archival black-and-white photo of children behind barbed wire. Engelbreit posted that photo on International Holocaust Remembrance Day. With it, she wrote a message that draws parallels to the current administration's policies at the southern border: "Children ripped from their families, kept in cages, dying of neglect — sound familiar?"
Her view toward Trump supporters who voice their offense to her views is that they are free to leave her page if they are troubled by her opinions.
"If you support him, go, because these drawings just aren't meant for you," she says. She feels it's important to use the platforms she's built to speak out against injustice.
Engelbreit's son keeps a close eye on her social media accounts. Of the thousands of critical comments about his mother and the business he's read since she started speaking out, he can recall three instances in which people actually changed their minds after interacting with her online.
That makes him "insanely proud" of her, he says. They've more than recouped the number of lost followers.
On his mom's Instagram, there's a photo of his baby girl smirking and wearing a onesie that says "Can't nap. Woke AF." Her grandma "Mimi" posted it with laughing emojis. Some of her less savvy followers asked, "Mary, what does that mean?"
"Do you have teenagers?" Engelbreit replied. "They'll know."
She knows she's not someone who is going to march in protests on the street. But she's found a different way to make her voice heard. When Engelbreit's husband realized she was doing an interview with the Post-Dispatch, he warned her: "You're going to hear from people."
She replied defiantly, sporting her black orthopedic shoes and a newly replaced right knee.
"Yeah, I know," she said. "Bring 'em on. I'm ready."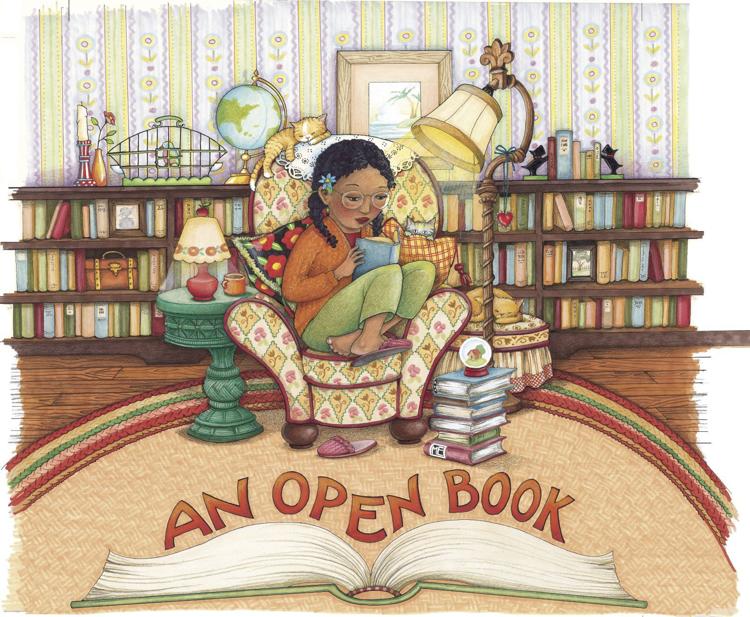 Be the first to know
Get local news delivered to your inbox!