Talking to Liz Coleman of Missouri Tourism about a trip to the state's mountainous south we were surprised when she nonchalantly threw us this curveball: "Then there are the wild horses of Shannon County..."
We knew about the ornate caves, bountiful springs, popular spring-fed rivers, miles of hiking trails, roller coaster roads and dramatic vistas — but wild horses?
"Yes," she said. "There's been a herd, actually five small herds, up to about 50 horses total, roaming the wooded hills outside the town of Eminence for about a hundred years. But they move around a lot, and they're elusive. This is Ozark National Scenic Riverways country, and they're legal on all of it, 80,000 acres. So it can be a challenge to find them."
My husband and I are always looking for "unusual" when we travel, and wild horses in Missouri definitely qualified. The challenge sounded fun, so we made quaint Eminence, seat of Shannon County, our destination (it's about 170 miles southwest of St. Louis on Missouri Highways 19 and 106).
Coleman thought Carolyn Dyer of Eminence, secretary for the Missouri Wild Horse League, might be able to help. Thus, after a phone call to Dyer, and an invitation, we found ourselves a few weeks later in her office.
The league's mission, she said, "is to monitor the horses, remove any sick or injured animals and support the habitat so they can be free and healthy."
How the herd originated isn't known for sure, she said. Some locals theorize it descended from 16th-century Spanish horses. But most believe that during the Great Depression, when farmers couldn't afford to feed their livestock, they simply let them "go feral." The area had always been open range, and the horses, various breeds, could thrive on their own.
In 1964, the Ozark National Scenic Riverways was created. It was the first national park formed to protect a river system, the Current and Jacks Fork rivers, and for the next nearly 30 years the horses were allowed to continue roaming the land. But in 1991, the National Park Service decided that because they're feral they should be rounded up and removed. Area residents were outraged, Dyer said. The horses were an important part of local history and lore.
The Missouri Wild Horse League, a nonprofit, was established with several hundred members, and Bill Emerson introduced legislation in the House, and Kit Bond and John Ashcroft in the Senate to make the horses a permanent part of the park. In 1996 President Bill Clinton signed it into law. The herd would be limited "by statute" to 50 animals, said Dyer, and the league would be responsible for maintenance, veterinary care when necessary, and keeping the numbers down via an adoption program.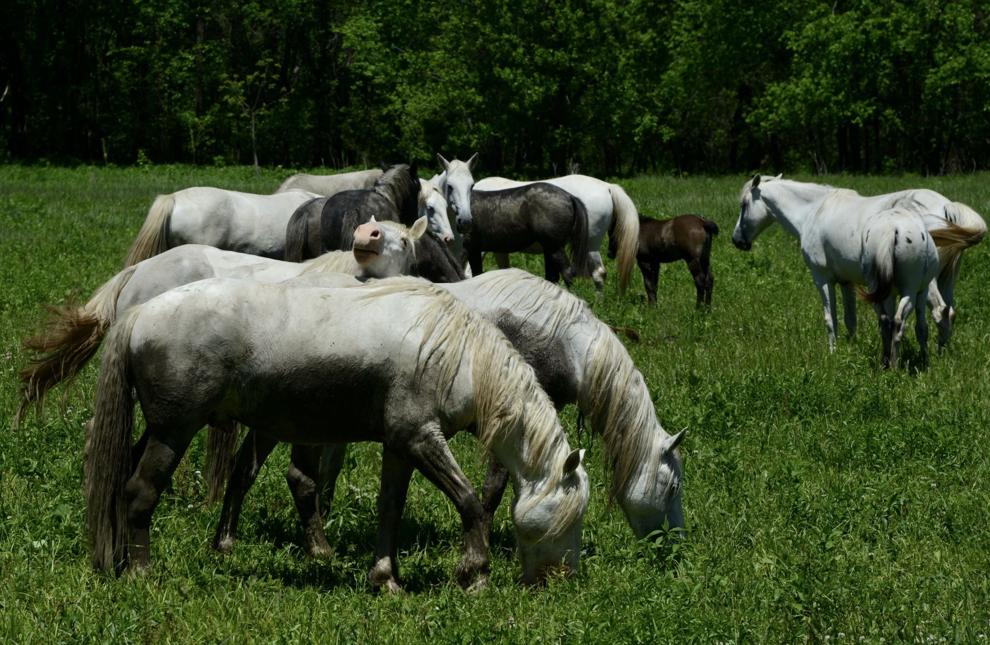 The herds are known by the areas they frequent: the Shawnee Creek and Broadfoot, the largest with a dozen or more horses each, and the Grassy Creek, Round Spring and Rocky Creek, each with four or five horses, said Dyer. Despite the availability of range, all live within a 20-mile stretch of the Current River, east and north of Eminence. The Shawnee herd, though often on the move, can sometimes be seen east of town near the Jacks Fork — early morning is most likely, she said. She offered general directions — but no guarantee.
We left our Eminence campground, the Arrowhead, early next day. Excited and hopeful, we drove the two miles east on Highway 106, then north (left) on County Road 211 (just past Big Shawnee Creek bridge). The three-mile road is gravel, narrow and in places, very steep, as it winds along the creek far below.
Rounding a curve, we saw ahead horses grazing in a grassy field. The herd? We parked, got out, but as we moved toward them, they eyed us suspiciously, then bolted, as we'd been told the herd might. Then we saw the fence, mostly hidden by trees. False alarm.
We drove on to the road's end. On the left a primitive campground borders the rushing Jacks Fork, and on the right is a small parking area. From there, you walk a 50-foot long path leading to an enormous field — Shawnee field. Lavish with yellow wildflowers, it's hidden from view by trees till you reach it.
There, at the far end, was the hoped-for spectacle: a cluster of strikingly unusual horses grazing. Snowy white with flowing blond manes and tails, they could have been ghost horses, or unicorns without the horns. This had to be the herd.
No one had mentioned their coloring, not the variety we'd expected, and we hadn't thought to ask about it. Even from a distance they were magnificent — 14 of them, big, each one a study in sharp-chiseled, thick-bodied muscle.
Slowly we walked toward them, made a fish-hook around and saw in their midst a black-as-carbon colt lying on the ground (he was fine; his mother nosed him hard and he leaped to his feet). We learned later that all the colts are born black but turn white as they grow up, and that an appaloosa in the herd early on could account for the striking coats. A dark horse is a youngster.
The horses were wary, though clearly not afraid, and, tails swishing, moseyed slowly ahead of us back toward the parking area. But the sudden engine noise of another visitor's car spooked them, and they bolted, vanishing among the trees like apparitions. We didn't catch even a glimpse of them again. But that was OK. Mission accomplished.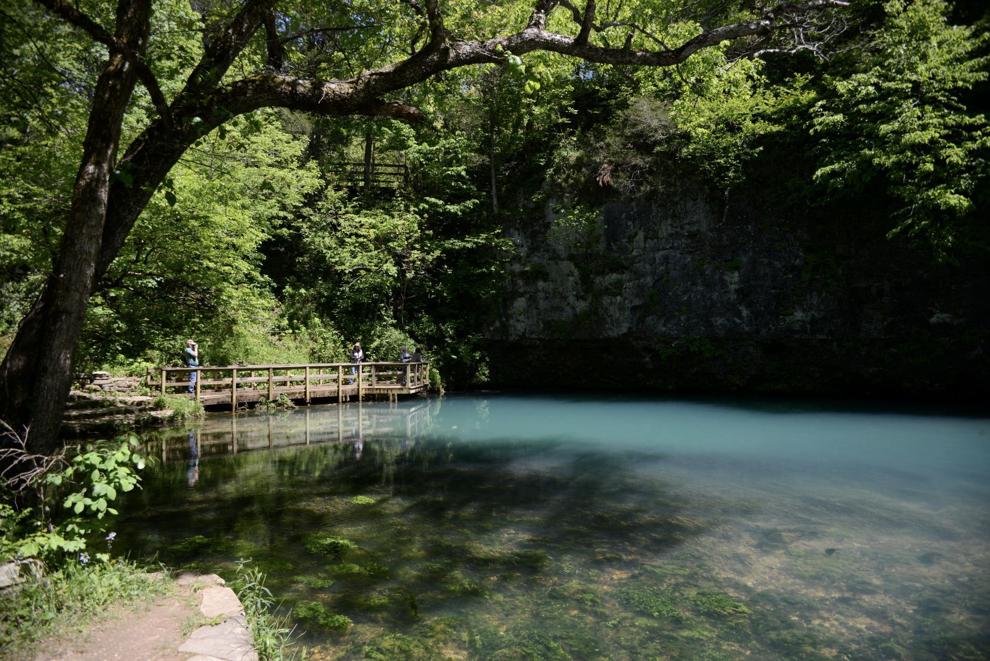 Thrilled by the unexpected ease of it, we spent the next two days in search of the other herds. Two of the area's famous — and beautiful — richly turquoise springs were nearby possibilities, Blue Spring off Highway 106 (the road in is extremely rough) and Round Spring north off corkscrew Highway 19. No luck seeing the Round Spring herd, but the springs are definitely worth a visit. And add to the list Alley Spring, west of Eminence off Highway 106, for the sheer gorgeousness of the place, with its stately historic ruby-hued mill and nubby walking trail that completely circles the enormous spring.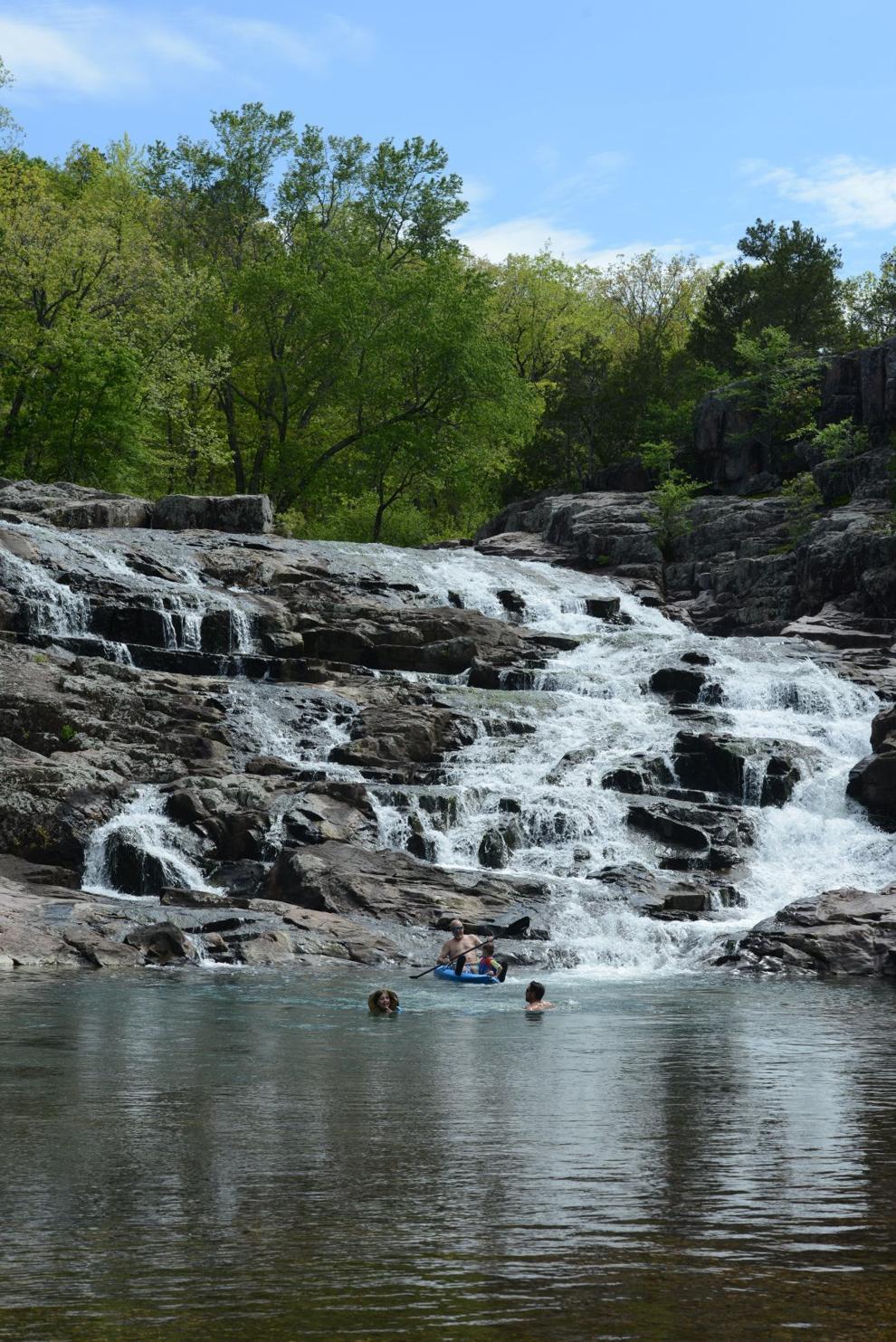 And for an amazing surprise — if you've never been there — visit Rocky Falls (also off Highway 106). No horses there either, but oh, my. You can hear the roaring falls from the parking area, but don't see it till you've walked the short path to wide Rocky Creek beach. Then, looking to your right, you gasp as you see the towering cascade. Frothy walls of water gush through a dozen channels, racing over the 40-foot volcanic cliff of purple-brown rhyolite-porphyry to splash noisily into emerald Rocky Creek. The falls alone is reason enough to visit Shannon County. Photos don't begin to do it justice. If Missouri has Seven Wonders, Rocky Falls is surely one of them.
Another visitor we spoke with briefly at the falls, also interested in the horses, said he'd seen the Broadfoot herd just days earlier at the Angeline Conservation Area. It was the other herd we'd most hoped to see.
No sign of horses at the Angeline that day, and no one around to ask, so we drove on. The gravel road grew more winding, steeper, rougher, narrower. We came to a road on the left (unmarked Sutton Creek Road), and as our directions had been a little fuzzy, made the turn. Big mistake. We then spent the next two hours frustrated, bumping through wilderness, fairly sure we'd made a mistake, unable to turn around, and no cell service. After splashing through two shallow creek beds, both of which turned out to be Sutton Creek, we could finally turn around, and bumped back to County Road 205. (Later we could verify the route on a Google map.)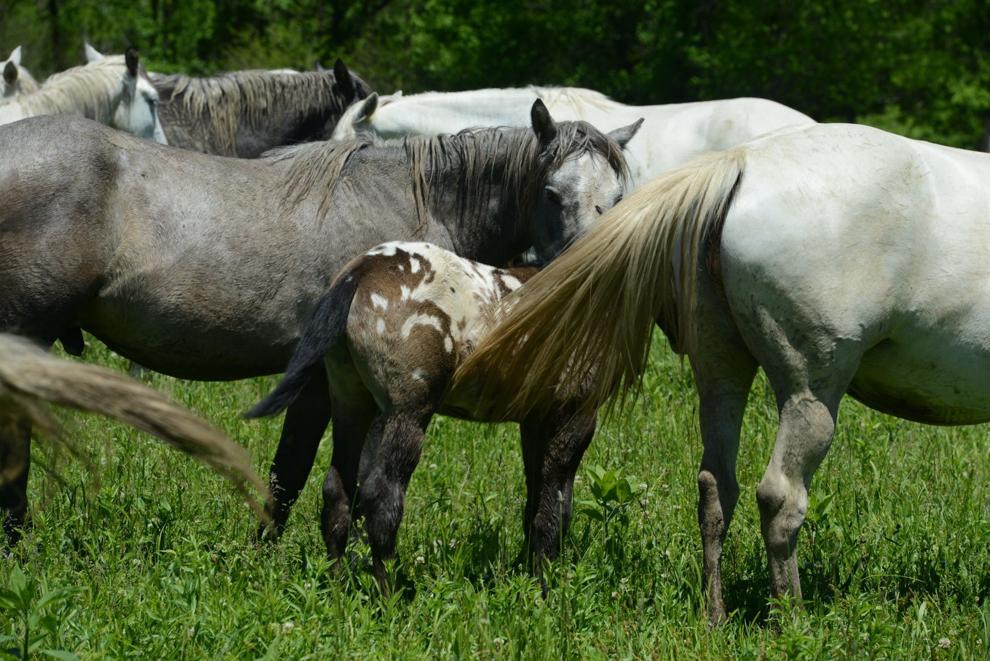 Eventually we made our way into a valley, an enormous field, lush with grass and flowers, rimmed with stout, thickly treed hills — Broadfoot, our destination. This had been a farm since Civil War days, Dyer had said, and until the 1960s, before it became part of the NPS, was owned by farmer Darrell Broadfoot. The free-ranging herd may even have included some of his animals.
This day they were here — sixteen horses, magnificent all, peacefully grazing, only mildly curious about our presence. They had no idea what we'd just been through to find them.
Information about accommodations, dining, shopping and recreation in Shannon County is available at visiteminence.com.