Self-taught artist and figurative painter Maxine Long, better known as Maxine Thirteen, came onto the art scene in St. Louis three years ago with a splash Esther Williams would have envied.
Film goddesses like Williams, known as the million-dollar mermaid, and leading men of the golden age of Hollywood are often the subjects of Long's paintings. She also paints movie monsters — stitched together in a lab, deep in lagoons, men invisible to the eye.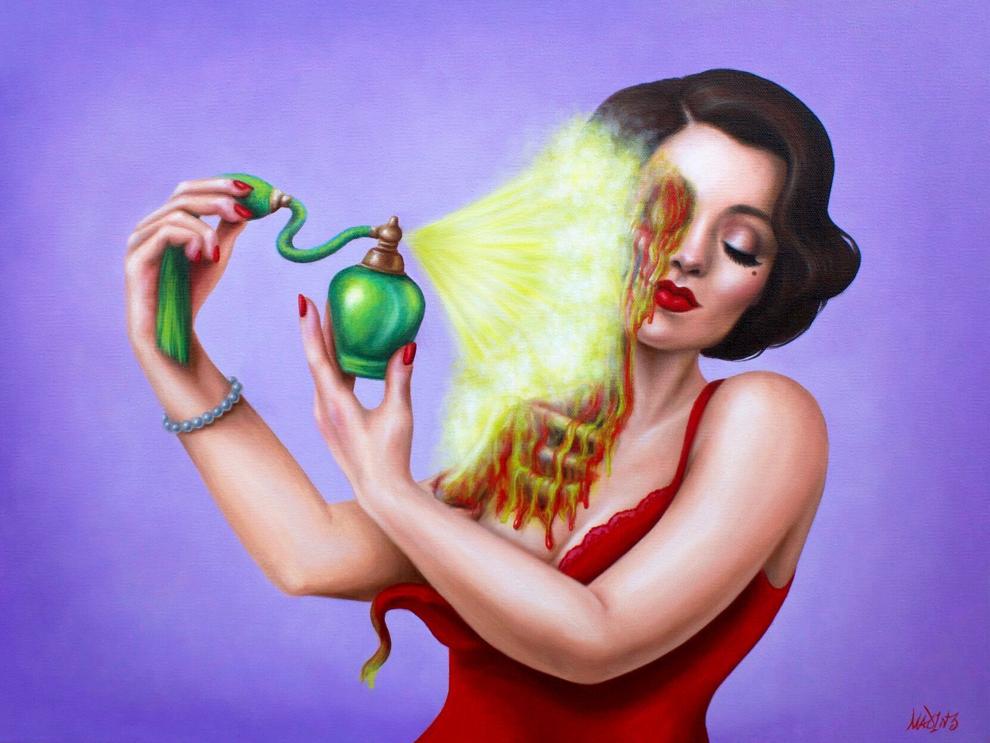 "I've always made art of some sort growing up, but in 2018, I taught myself to paint in oils," she says. That year she showed up frequently at art events, connecting with artists and galleries, and planned to eventually make her living as an artist.
In 2019, she took a job as the art director at the nascent 31art gallery in south city and became a resident artist there. She nearly met a personal goal to exhibit every month of 2019. She landed showings in 11 of the 12 months at multiple venues, including the Angard Arts Hotel, the Koken Art Factory, the Soulard Art Gallery and at Let Them Eat Art in Maplewood.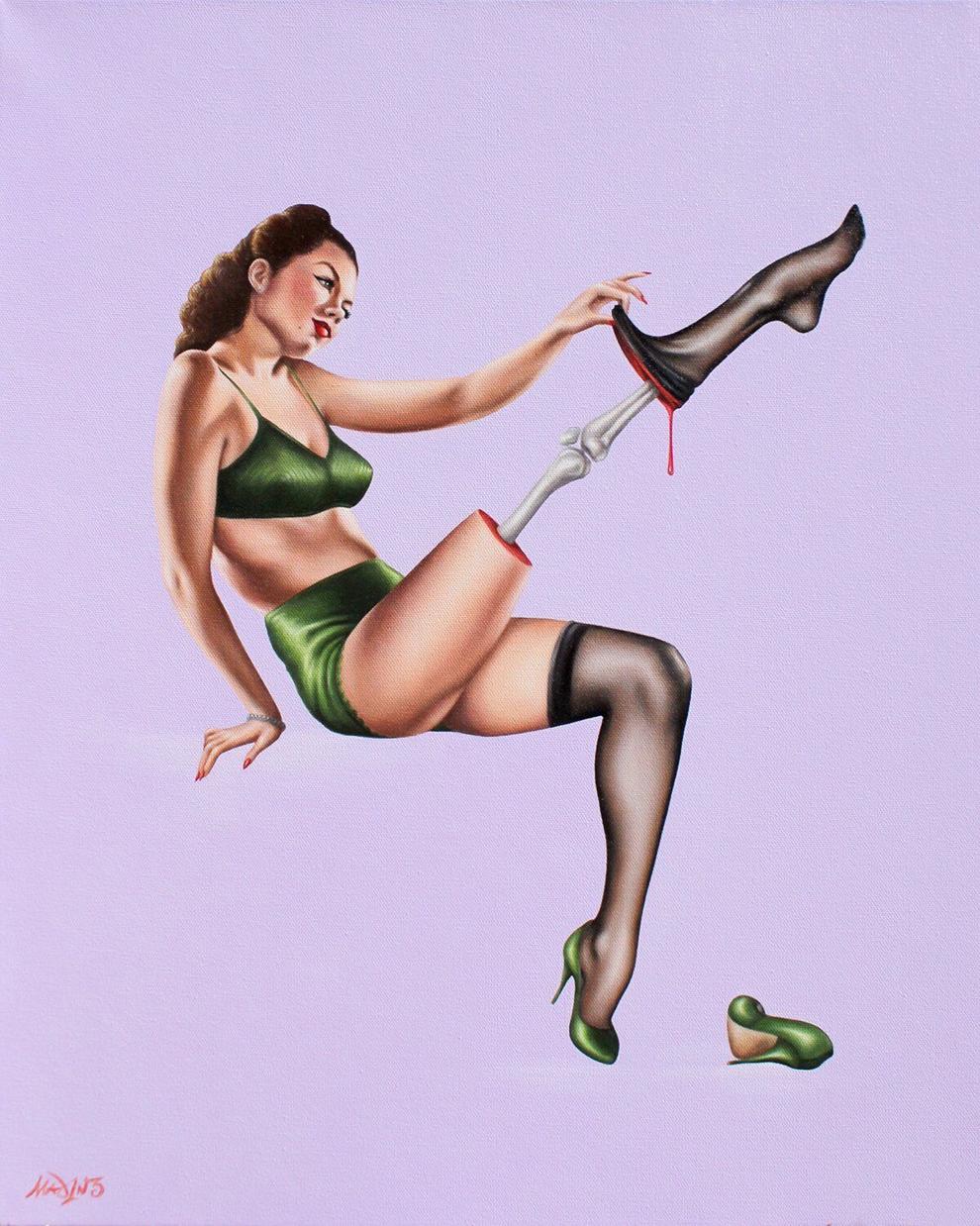 'Glamour is what I sell, it's my stock in trade.' • Long grew up watching a plethora of vintage movies, thanks to her parents. "Their huge VHS collection has a lot to do with my love of movie stars, plus we would check out even more at the library," she says.
"I loved the dialogue in old films, the fashions and the lighting in these black-and-white films," she says. Her paintings include dramatic lighting and over-the-top glamour. She portrays her subjects in expressive colors, capturing big personalities in vibrant tones that demand attention.
Want to buy some illusions? • She also paints the glamour girls of the era. "I love the old pinup art," she says, "but beauty standards have changed. The pinups were mostly portrayed through the male gaze. Women attained those glamour standards at a price that was often detrimental to their well-being," she says.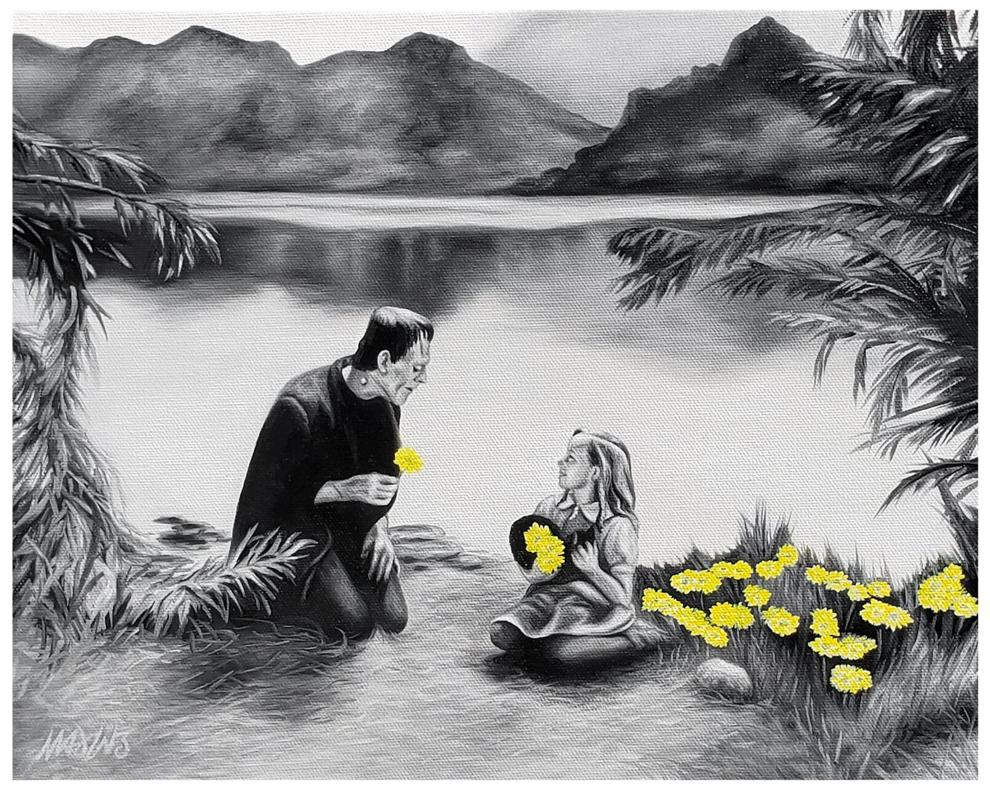 She drew on movies again for touches of the macabre — the skeletal visage beneath the makeup, the leg dripping blood.
Let's go backward • Although the pandemic affected Long's ability to show her paintings and connect in person with fellow artists, she used the time to paint.
"I put together the 'Inside the Box' series. It started with a self-portrait I created to mark my 25th birthday in March of 2020. I wanted to come up with a concept where I could do a self-portrait but would not fully reveal myself to the public," she says.
She painted her portrait in glimpses, 2-inch square canvasses arranged on a background: brows raised, eyes wide apart, a mouth whose smile is only imagined, hair rendered as frame, a portrait of the artist, fragmented.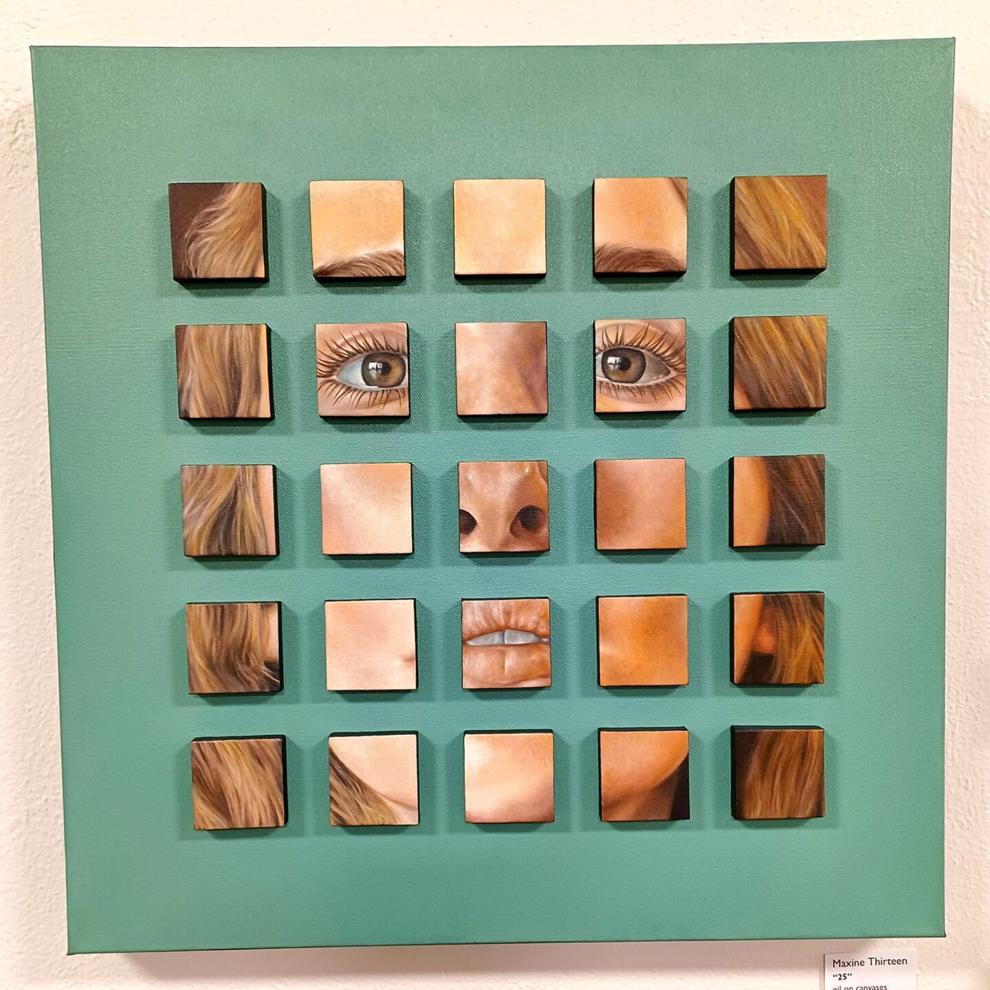 "When I started painting I used those small canvasses to experiment before I moved on to larger forms. During the pandemic I used them to process my feelings as I went through it for two years," she says.
"Everything was canceled. There were no shows, no places to exhibit work. Growing up I just appreciated the process of making art. I was able to get back into that space during the pandemic.
"I wasn't fixated on exhibitions, or whether anyone would buy it. I changed my mindset. I am happiest when I am creating art," she says.
Shall we dance? • She also realizes the pandemic offered opportunities. Her husband, Colin, began working from home. She had overtaken the dining room in their one-bedroom apartment as her studio.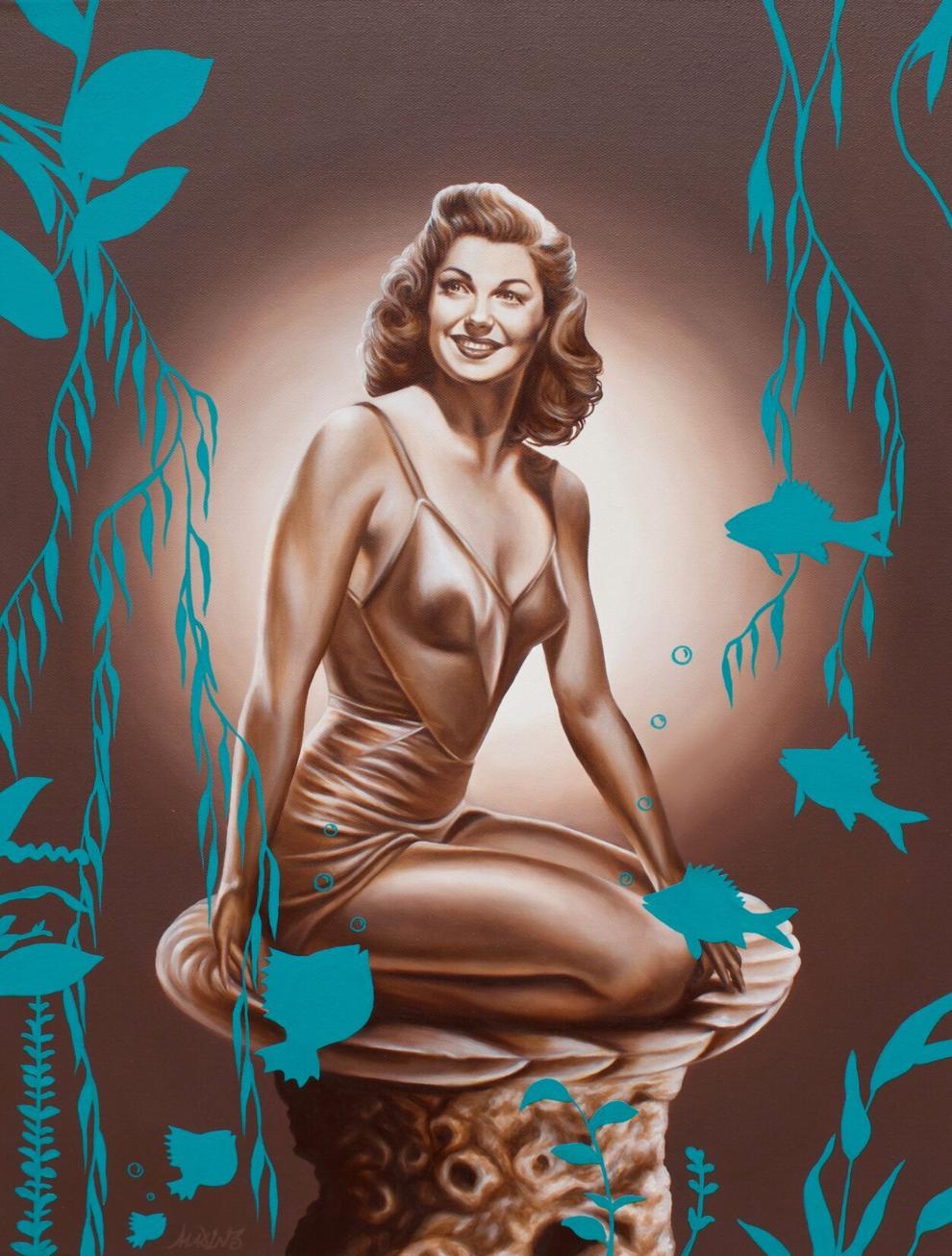 After a year of close quarters, they purchased a duplex. "One side is office and studio space, and we live in the other. I'm creating more work, and I'm not precariously stacking paintings on top of one another," Long says.
"At the beginning of the pandemic, I'd looked at my world from a perspective of negativity — what I'd lost, all the things I couldn't do any more," she says. "Inside the Box" includes a painting, "Decade," that meshes a man's face with a woman's face.
"That painting is about my husband and me. I finished it in January 2022 to mark the decade we've been together. I actually got to hang out more with my husband these past two years, which I appreciated," she says.
A show of Maxine Thirteen's paintings is currently at Buder Library until March 30.
The "Inside the Box" show will be on display at 31art gallery until the end of April.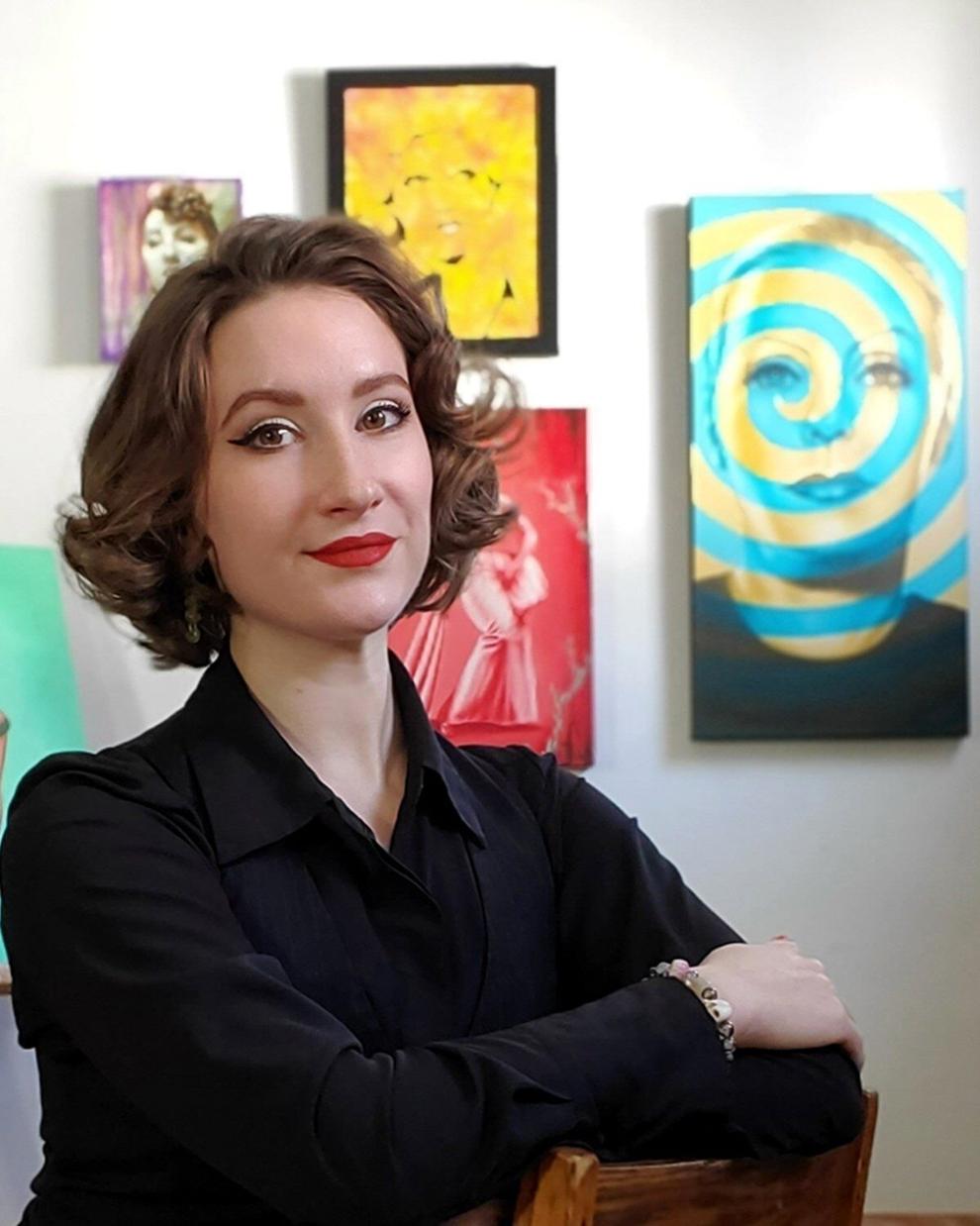 Artist • Maxine Long, who paints under the name Maxine Thirteen
Family • Husband, Colin Long
What she does • Maxine's artworks sometimes explore the past, often in portraiture of iconic movie figures of Hollywood's star system. Some of her work includes macabre elements as social commentary in a nod to vintage horror and sci-fi. She paints mostly in oils on canvas but does use different substrates and media as she sees fit. She also makes prints and limited-edition prints of her work. She is currently a resident artist and the art director at 31art gallery.
Where to buy • Her work is available at 31art gallery, 3520 Hampton Avenue, and Artisans in the Loop. She also sells through her Etsy store, etsy.com/shop/MaxineThirteen
How much • Prints of her work range from $15 to $45; original paintings range from $200 to $800. She also accepts commissions, which are priced individually.