Organized chaos inspired a sculpture, a quartet of blue glass elements animated by their base of blue and black rods, the mayhem restrained yet palpable. Bright spikes of green accented with yellow and black sway above a colorful mélange suggestive of blooms. The painting is a magnification of moss, its tentacle-like rhizoids, softer gametophytes and sporophytes turned upside down.
Sterling silver bracelets with fused glass elements wait next to parti-colored glass pendants, some slipped on cords, others resting on sterling silver chokers. The sculptures, paintings, and jewelry are the work of one artist, Gregory Dierlam, owner of Art Meets Vintage, the shop and gallery he opened 2018.
Going once, going twice ... • "I think I've been preparing to open a business my whole life, starting with going to auctions with my grandpa when I was a kid," Dierlam says.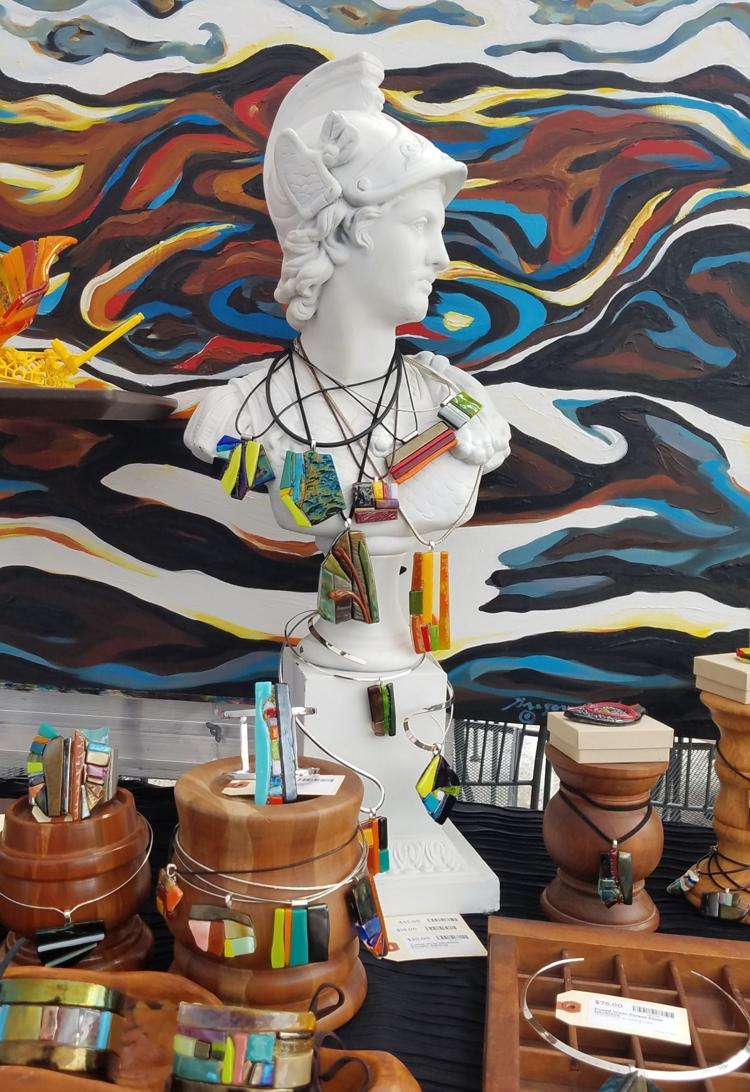 Art-ward and onward • Just as his grandfather encouraged Dierlam's inner collector, his parents fostered his artistic talents.
"I grew up in a town of 3,000 people, Fort Branch, Indiana," Dierlam says. "I was one of those kids who wasn't great at sports, but I loved cartoons and doodled a lot.
"My parents found an art instructor named Tinsley Webb in a nearby town, Princeton. Every Saturday morning they drove me there to take group lessons. Tinsley was such a quirky guy. He had this little mustache, and he always had a beret cocked on his head. He consistently called me old-timer.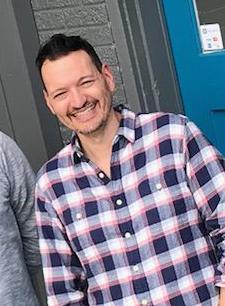 "There was this man who set so many people on their course to creativity, I was in a room full of artists. It actually makes me laugh every time I think about him."
Art and life • The lessons he learned early would ground Dierlam throughout life. "When I went college I switched from a minor in art to art as my major, and earned a bachelor's degree in art education for all grades.
"I'm 50 years old, and I've worn a few hats, always in something creative," Dierlam says. "I worked in stores and traveled regionally as a makeup artist before I made the leap to teach children and work with seniors. I get some longevity in a career, and then I like to shake things up."
Shake it up, baby • Dierlam moved from Fort Branch into steadily bigger ponds, first to Evansville, next to Louisville, and then to St. Louis 14 years ago.
"Moves can be pivotal points in life," he says. "I thought 'Missouri is going to be a new start,' and it was. I've discovered many opportunities here."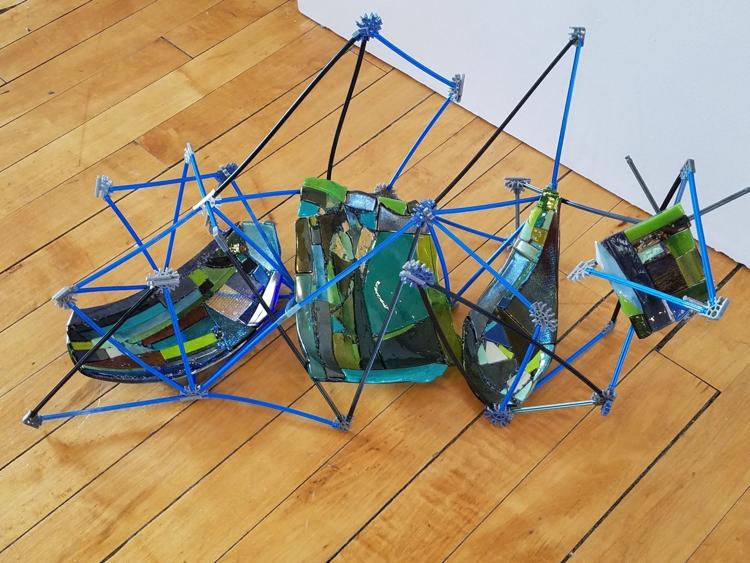 Seize the moment • In 2008, Dierlam bought a glass piece at an arts festival from Lisa Becker, owner of Art Glass Gallery, which led him to take classes in fused glass work at her gallery. Once he'd learned the basics he booked studio time to create personal work.
"I wanted to make fused glass my own, mimicking the organic qualities of blown glass," he says. He uses repurposed materials that reduce waste that bring a serendipitous quality to his work. He often digs through scrap buckets of cast-off glass to find his materials.
"I'll sit with my coffee in the morning and build my compositions, like working a puzzle."
Ten years after their first encounter, Becker offered Dierlam the space above her gallery to open Art Meets Vintage.
Piecing together a community • Dierlam's organic approach to art worked to build his gallery of artists as well. He recruited artists he liked at first, but, like his art, the gallery grew organically as word spread.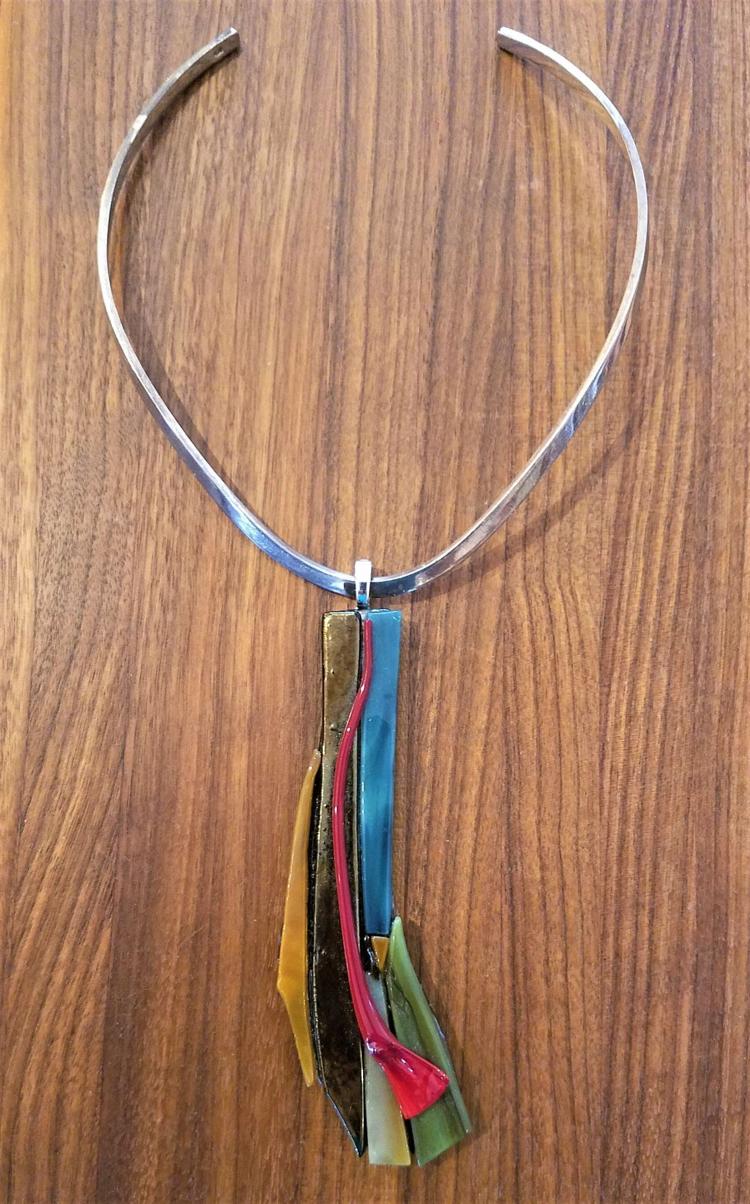 "At any given time you're in the gallery, you're going to meet me or an exhibiting artist. Art Meets Vintage has been so much more than I anticipated," he says. "It's elevated to a level that surprised me. The art has taken over."
Family • Dierlam and his partner, Bob Gettemeier, have been together for 24 years. They live with two Maine coon cats, Lele and KT.
Home • New Town, St. Charles,
What he makes • Dierlam makes modern sculptures and jewelry from discarded, recycled and repurposed glass and found materials, following a personal ethos to lessen waste and preserve the environment. His abstract paintings examine how beauty can be found in small details.
How much • Works range from $25 for an art glass pendant to $500 for a fused nested glass sculpture or oil painting.
Be the first to know
Get local news delivered to your inbox!