When artist Melissa Schmidt sets up her booth for the Sept. 10-12 St. Louis Art Fair, she will place two posters front and center featuring her blown-glass bubble jewelry from the September issue of Vogue Magazine.
In June, as she was driving home from a show in Chicago, Schmidt got an email from Vogue requesting six pieces of her jewelry for a fashion shoot. "I had six days to get the pieces to New York. None of the requested pieces was made. With major time management, I got it done," she says.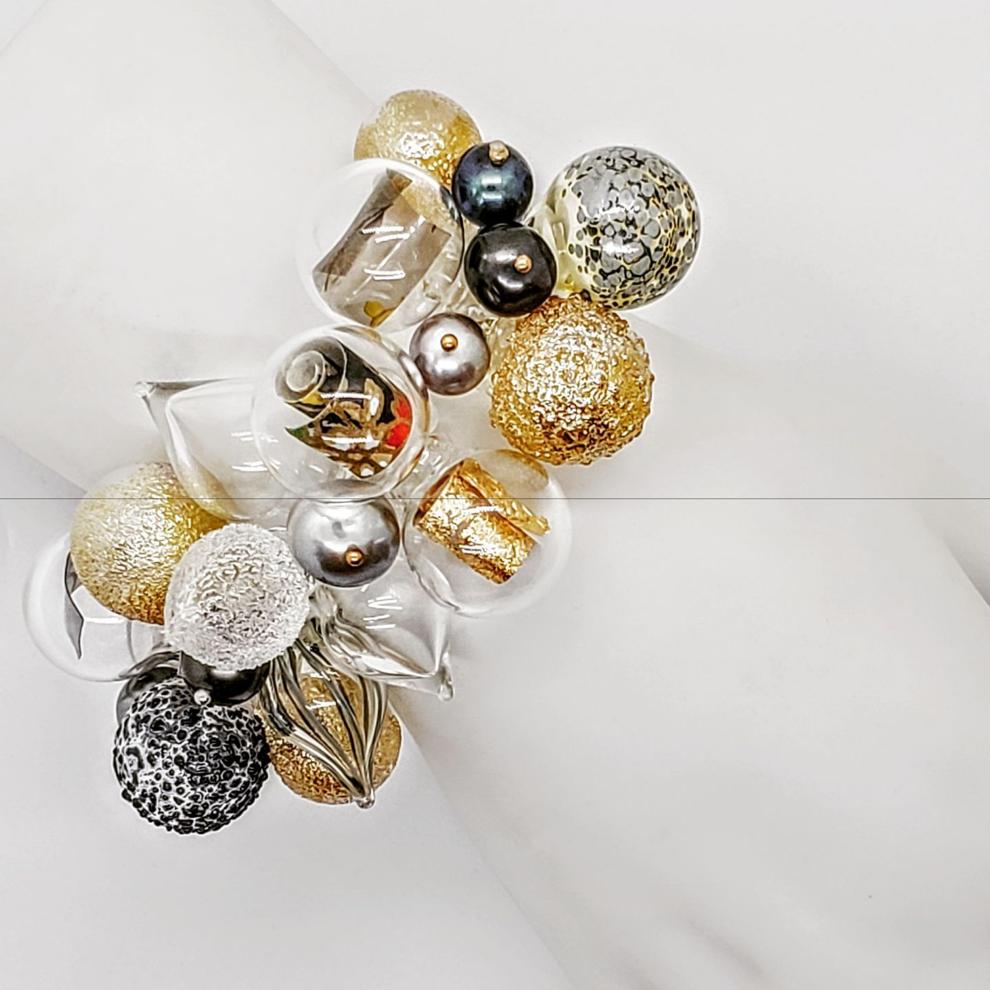 When she got the email that the pieces would be featured in the September issue, she wondered how they would appear.
"When I got the photos from the shoot, and I saw my two bubble necklaces worn with a patterned jacket, a quick look at the buttons on the jacket told me all I needed to know — it was by Chanel. My bracelets appeared with a Givenchy outfit.
"My stepdad's partner, Dianne Zebell, who is like a stepmom to me, has a phrase for when things go really wrong. It worked for me when things went so right with Vogue — 'I don't even have a file for that!' — I just don't."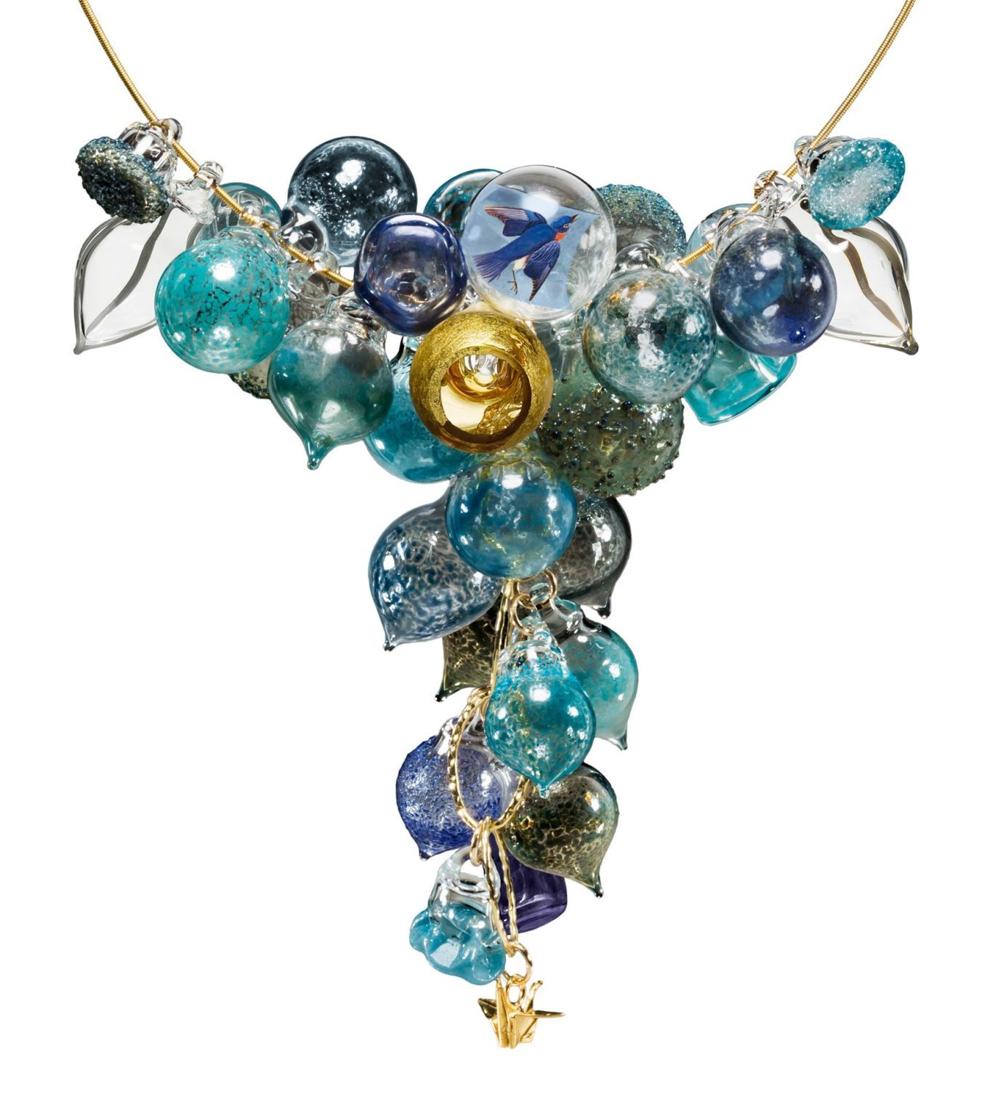 Just bead it • Schmidt didn't study fashion in college. She followed in her mother's footsteps and studied interior design. She stumbled into her talents for making jewelry 30 years ago when she discovered the glass beads at the now-shuttered Zuma Beach Bead Co. in University City.
"I was immediately drawn to making my own statement jewelry," she says. "I started with solid glass beads and hand tools. A few years later when I took a three-day class just for fun to make hand-made beads with glassmaker Sam Stang at his Augusta studio, my work changed overnight."
She made lampwork glass beads, shaping molten glass over and through a torch, to form amazing, intricate designs. With her own unique beads anchoring her designs, Schmidt began selling her jewelry at art fairs in 2003. "I was working full time in interior design, and doing fairs on weekends, and not really selling that much."
Schmidt knew there was a market for statement jewelry. "My stepfather, David Charak, bought exceptional jewelry at high-end craft fairs for my mother, Jacqueline Charak," she says. "His gifts inspired me."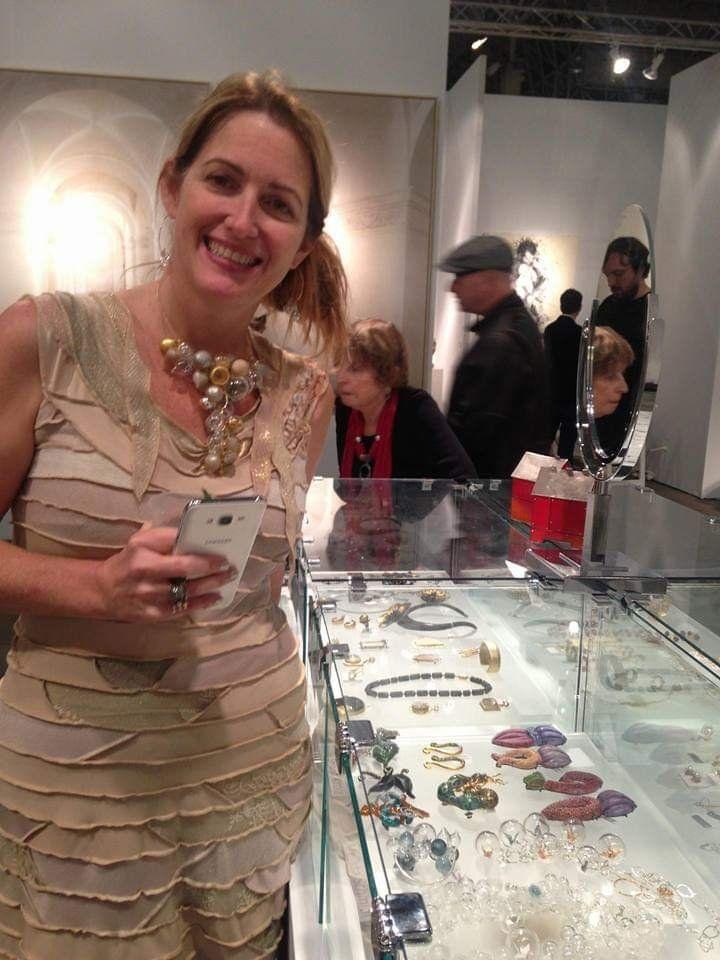 Everything old is new again • Her work changed, and her sales soared a few years later, when Schmidt took her handmade glass beads in a new direction. "I had found a card of blown glass buttons that were over a hundred years old," she says. The buttons, light and ethereal, pushed Schmidt in a new direction. "I learned to blow glass bubbles," she says.
"They start with tubes of Pyrex glass. I leave an opening to insert things in the bubbles. With the new work, my sales took off," she says. "In 2011, I began making art jewelry full time."
A life in pictures • In 2008, when Schmidt was still perfecting her craft, her mother experienced a recurrence of cancer. "I decided to make a necklace that year for her 60th birthday with 60 photos from throughout her life — film snippets — that I placed in 60 tiny bubbles," Schmidt says. "She loved it." Her mother died a few weeks later.
"My dad, Edward Schmidt, always had a camera around his neck and took lots of photos when I was growing up," she says. "He's an artist, a painter and my interest in film probably comes from him."
Today, Melissa Schmidt makes custom memorial bubble sculptures for people who've experienced the loss of a loved one.
A profusion of cranes • Schmidt's iconic bubbles come in all sizes and colors, some with patterns, others swirled with color, burnished with gold, sometimes with applied glass decorative elements, all strung on strong chain. She fills the bubbles with gold leaf curls and twists, with film snippets, cutouts, paper, feathers, and the tiniest paper origami cranes, each hand crafted by Schmidt.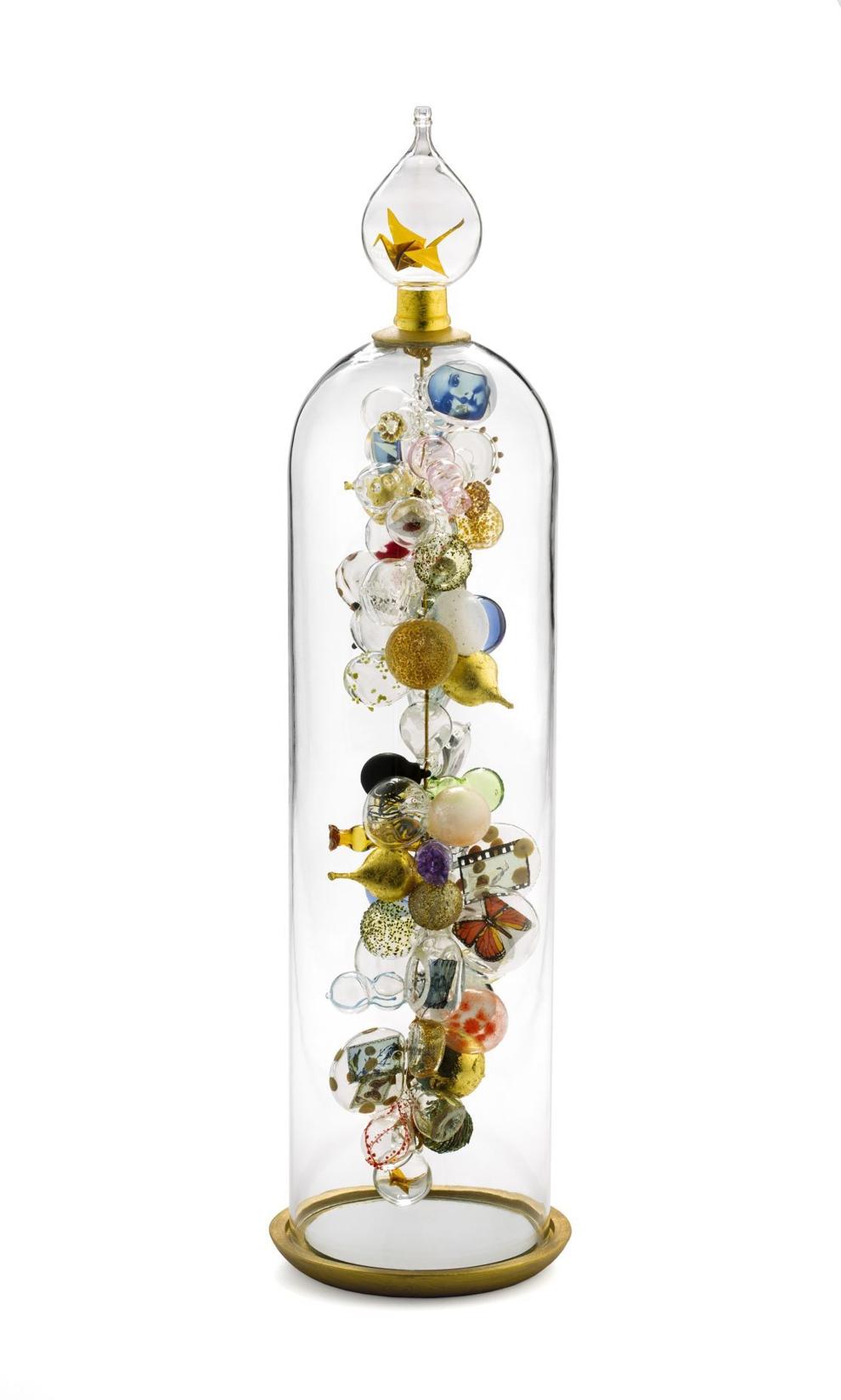 "I'm aware of the symbolism of the crane," she says. She knows they represent harmony, grace and beauty, but something that unexpected happened when she placed the cranes in the bubbles. "They move within the bubbles — it has to do with balance. The wing tips just brush the sides of the glass, so as the person moves, the cranes balance, turn and move as well."
Melissa Schmidt Contemporary Glass Jewelry
Family • Schmidt and her husband, Gary Clark, have one son Jack Clark, 17. They share their home with two rescue dogs: Scruffy, a Brussels Griffon, and Nibbler, a Boston terrier. 
What she makes • Schmidt makes casual and high fashion blown glass jewelry including earrings, necklaces and bracelets. She also makes small custom sculptures for the home.
Where to buy • Schmidt, one of the juried artists at the St. Louis Art Fair in Clayton, will sell her jewelry there Sept. 10-12. Her work is available locally at Craft Alliance Gallery. She also sells online through her website, melissaschmidtstudio.com, as well as on Shopify, Artful Home and Etsy.
How much • Schmidt's pendants range $50 to $75; earrings sell for $95 to $280; bracelets $150 to $340; necklaces $130 to $3,600