When Taylor Saleem found a part-time job in college at a local bead store, the political science major with a minor in communications didn't realize the position would impact her career path. "The owner me asked me if I could tie off and crimp during the interview. I said, 'Of course.' Then she mentioned five different skills, I said yes to each, and she hired me." Saleem then headed to the library to learn the techniques she'd claimed to know.
"I worked at the store from 2001 to 2006," Saleem says. In 2003, she launched Rare Bird, a line of beaded jewelry. A chance encounter at a flamework bead-making class with a group of women metalsmiths fueled her desire to work with metal, most often sterling silver. In 2014 she changed her company name to Taylor Saleem Jewelry.
Moving to metal • As a budding metalsmith, Saleem watched YouTube tutorials, read articles, experimented and discovered happy and not-so-happy accidents in the process. "I like to say if you don't know the rules, you don't have to follow them," she says.
"At first, most of my tools came from the hardware store. I took my father's mallet from his garage, and I use it still. For hand finishing I've used sanding sponges and things I've found at Lowe's. I don't know the proper terms for some things, so when I teach I'll say 'you smudsh this' or 'push this together,' but that's OK. Find what works for you."
After the birth of her daughter, Naomi, Saleem set up a studio in a spare bedroom at her University City home. "My husband tore apart an old writing desk, raised it up and modified it for my workbench. We call it the Franken-bench," she says.
The pieces she created on that ersatz bench led this outgoing artist on a revealing journey of self-discovery.
A heritage in silver, stones and beads • Saleem often enhances her sterling silver jewelry with turquoise or sapphires, cool colors that hint of the oceans. Hanks of African trade beads and glass beads hang on the wall.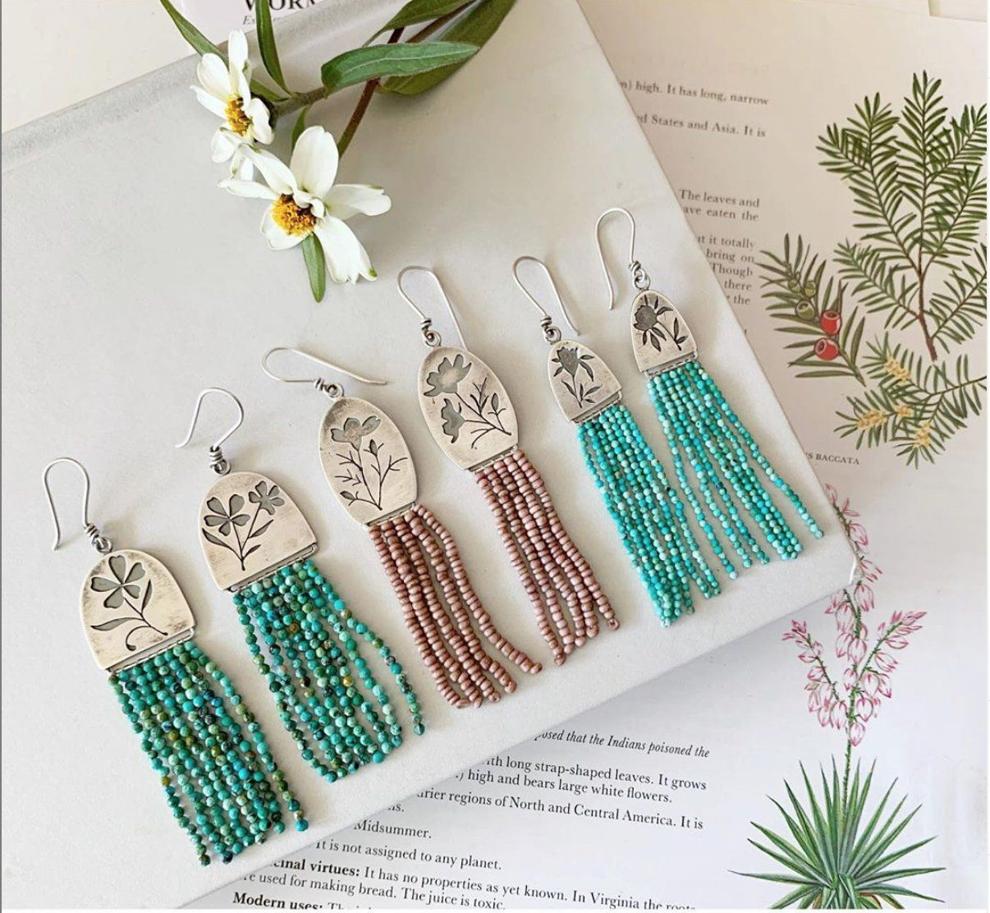 "I learned my heritage is 17 percent Nigerian through Ancestry.com. My beadwork is influenced by the multistrand jewelry of the Yoruba tribe. I recently bought 45 pounds of African trade beads from a gentleman from Gabon that I am incorporating in my pieces," she says.
Saleem, who is biracial and identifies as Black, integrates her European ancestry into her pieces with flowers, cut into metal or cast. "When I worked part-time as a librarian, I discovered Culpepper's Complete Illustrated Herbal," she says. The book Nicholas Culpepper penned more than 350 years ago still inspires herbalists, writers and artists today with its complex language of flowers.
Each photo in her Taylor Saleem Jewelry Instagram account carries Saleem's notes, often lyrical, sometimes funny, and always encouraging. "Storytelling is important in my work. I have depression, which went undiagnosed for a long time. Now diagnosed and treated, when I'm feeling something I can't verbalize, I can say it through the flowers."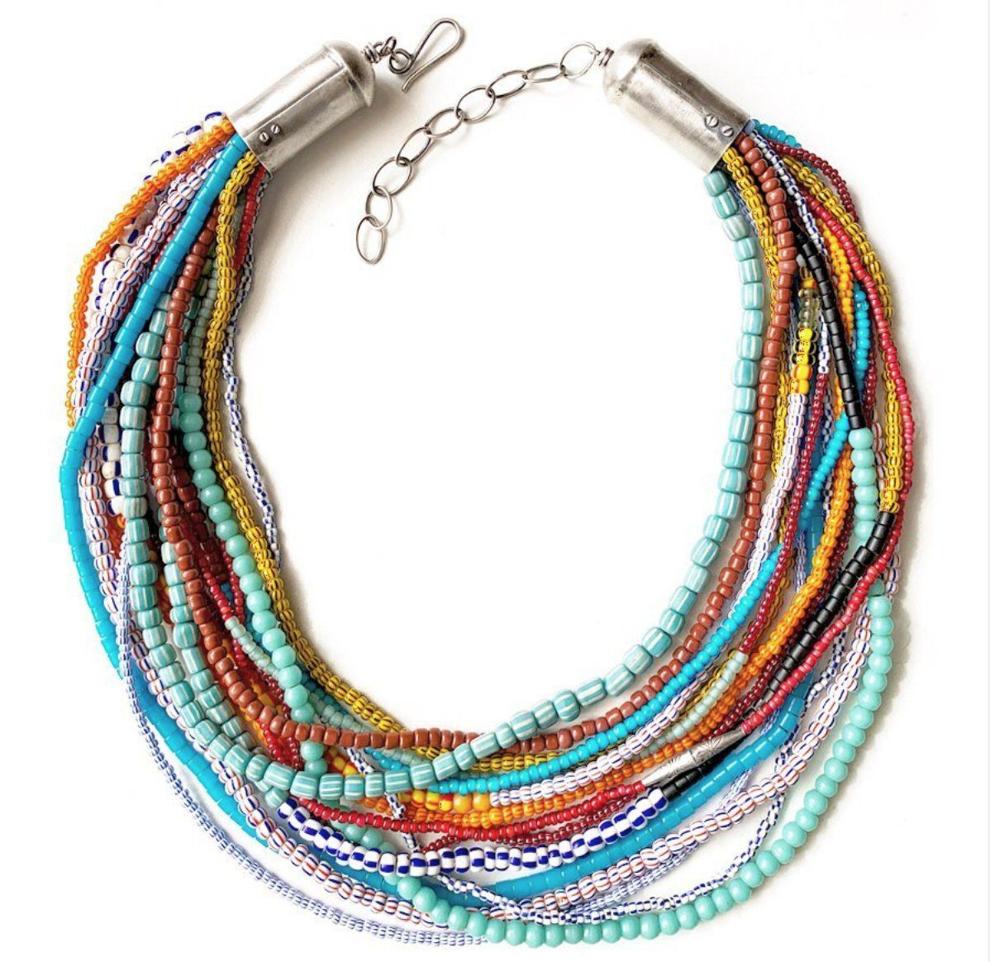 Art and life in the time of COVID • Saleem works each day to find balance during the pandemic. "Sales have increased dramatically since the shutdown. I think it's because people are staying home, looking for ways to connect through the internet. Independent of saying 'I have these things for sale' I've been open with my followers. Teacher, mom, wife, chef, artist — I've shared my struggles with them."
To help keep their children occupied during the workday, Saleem and her husband, Joshua, instituted "Camp Saleem" at their home. "We made a big chart with a fun list — read a book, write a letter, call a friend — we've got tons of suggestions. They have to complete 10 things every day from the list. I get lots of visits when they come in to tell me what they've done. There's been many late nights when I can finally work," she says.
But also ... art and racial justice • Saleem believes the death of George Floyd and the aftermath of protests changed the dynamics of race, even in the art world. "People are taking a closer look at artwork from people of color. They want to know the influences behind the work, and not just think 'Oh that's cool. I'll buy that.' There's a shift from cultural appropriation to cultural appreciation," she says.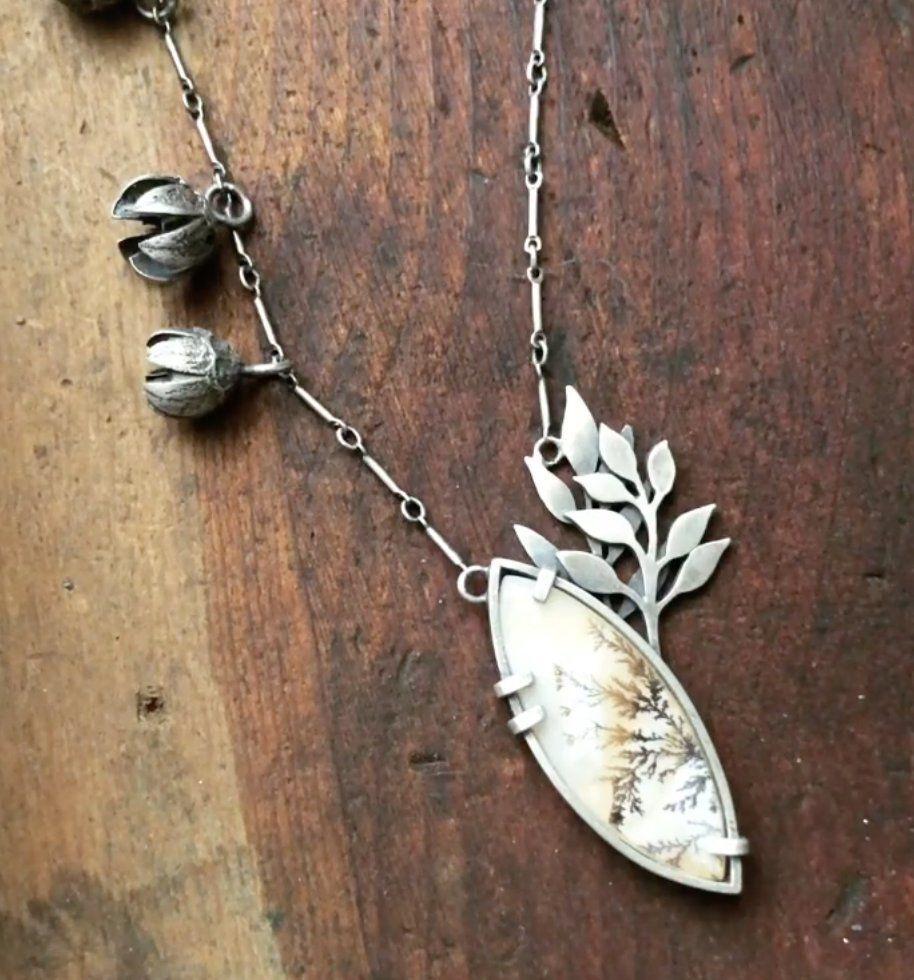 "I've got a lot of pieces I call 'but also.' Those are the pieces with African trade beads combined with florals. I'm not just one thing. Yes, I'm a businesswoman and I'm a mom. I'm Black, but I have European ancestry. I want people to know they don't just have one story. Our but also ... stories create better understanding of who we are."
Family • Husband and business partner, Joshua Saleem; daughter Naomi, 10; William, 7. Last February the family lost Ruthie the beagle who slept under Taylor's bench most days until she died at age 14.
What she does • Saleem is a skilled metalsmith, mostly self-taught, who works primarily in sterling silver accented stones, beads and more to create jewelry with inspired by her lived experience and both her African and European heritage.
How much • Most pieces are in the $130 to $300 range; a few are slightly higher
Where to buy • Saleem primarily sells through her website taylorsaleem.com. Her work is also for sale at Urban Matter and Union Studio in St. Louis and at the Artisan's Bench in Brighton, Michigan.