The mystery of who threw a Dr Pepper bottle into the river with a message inside in 1984 has been solved.
On Monday, 12-year-old Jimmy Humphrey of Hermann found a glass Dr Pepper bottle with a message inside near the banks of the Gasconade River near Hermann, Missouri. An unsigned note inside, dated March 1984, said it was thrown into the Big Piney river at Dog's Bluff in Houston, Missouri, nearly 200 miles away.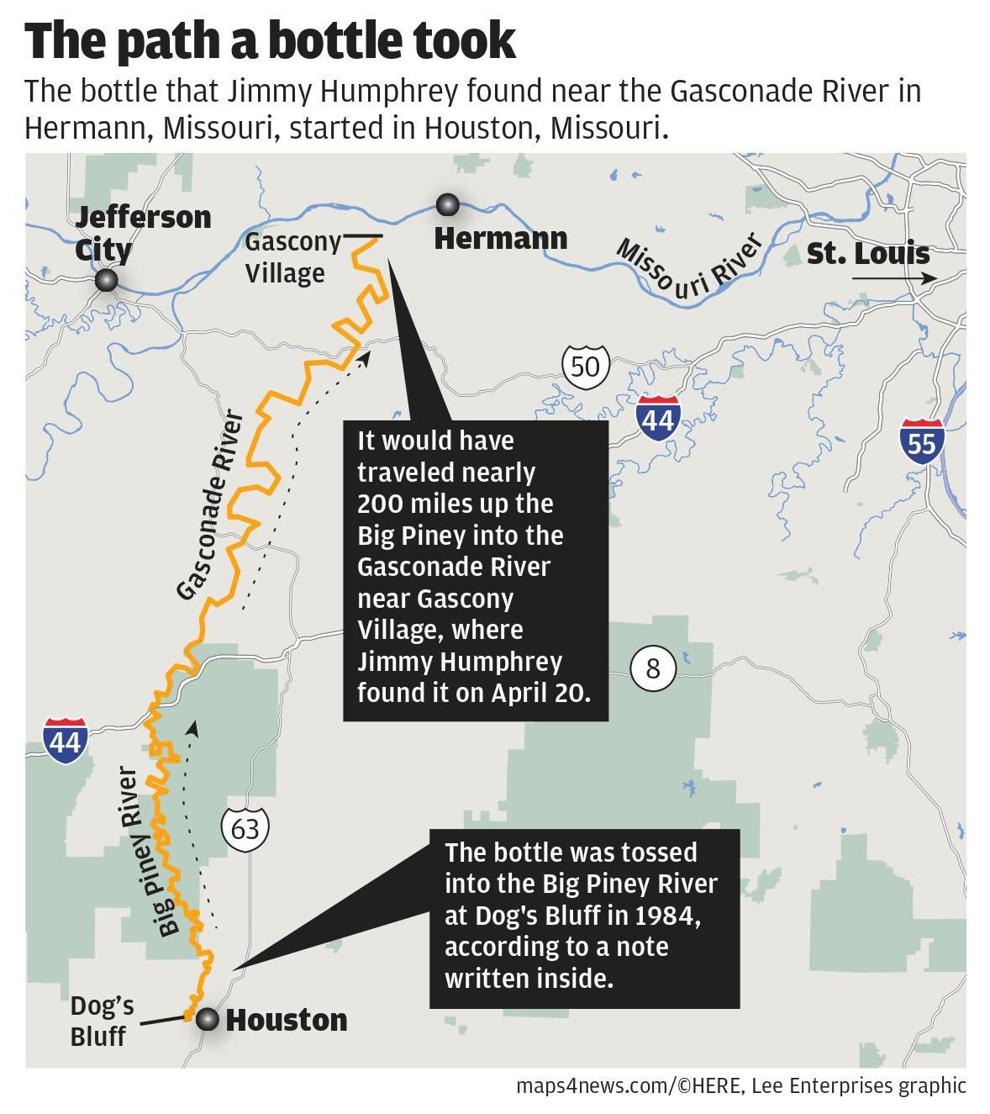 John Thomas, 41, a police officer in Willow Springs, Missouri, about 30 miles south of Houston, said he was the little boy, then 6, who threw the bottle into the river. His wife, Krista, saw a story about the find on Facebook.
The note didn't have a name, but it did have an address. Facebook sleuths had mentioned Roger and Wilma Hearst lived in the house around that time. That's Thomas' mother and stepfather.
Texas County Assessor Debbie James had said another man lived in the house at the time. That man, Ed Williamson, said this week he didn't remember throwing the bottle. Texas County records reveal that the Hearsts bought the home in November 1984 from Williamson. John Thomas wasn't sure about the discrepancy in dates.
He says he definitely remembers throwing the bottle in the river.
He had lived with his father in Oklahoma and had just moved to Missouri to live with his mom and stepfather, he said.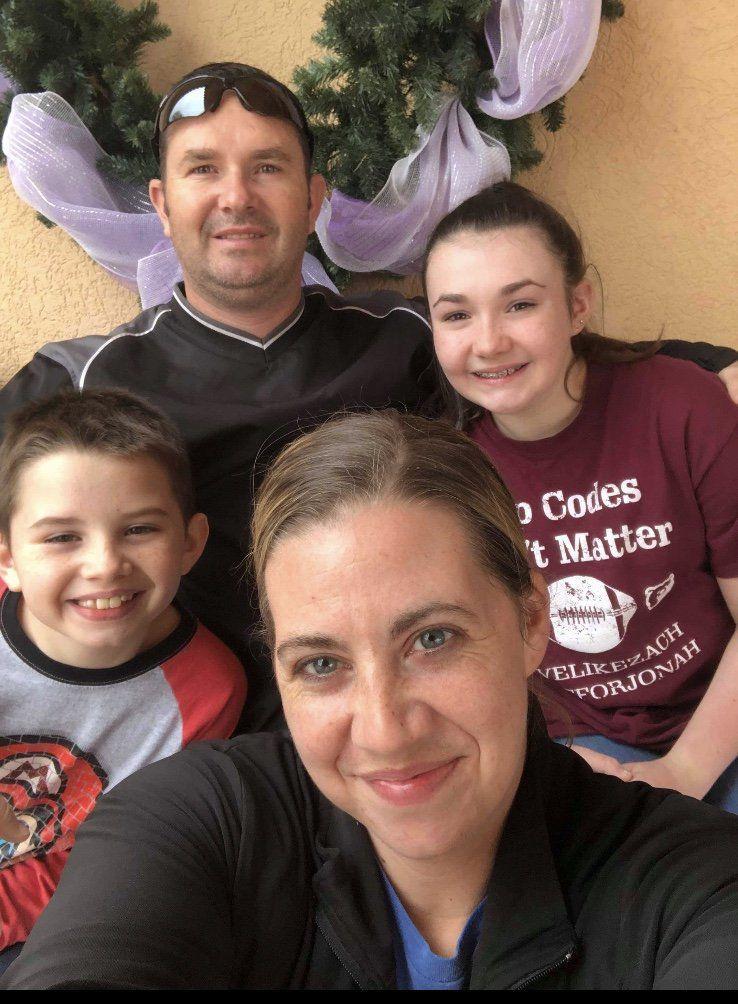 "We were just kind of cooped up in the house, and they were showing me a few hot spots since I was new to the town," he said. "We went down there, I was chasing frogs and playing in the mud. My stepfather drank Dr Pepper — that was his bottle."
His mom helped him write the letter, and he threw the bottle in the river, watching as it bobbed away in the water.
He didn't think anyone would find it, hadn't thought about it until he heard the news and saw pictures of the bottle and note. The printing is his mom's, he said.
"I was telling my other officers here at Willow Springs, I was just kind of blown away a glass bottle would last that long, after bouncing around by floodwaters and rocks. The fact that it survived, it feels like a miracle to me. It's pretty awesome."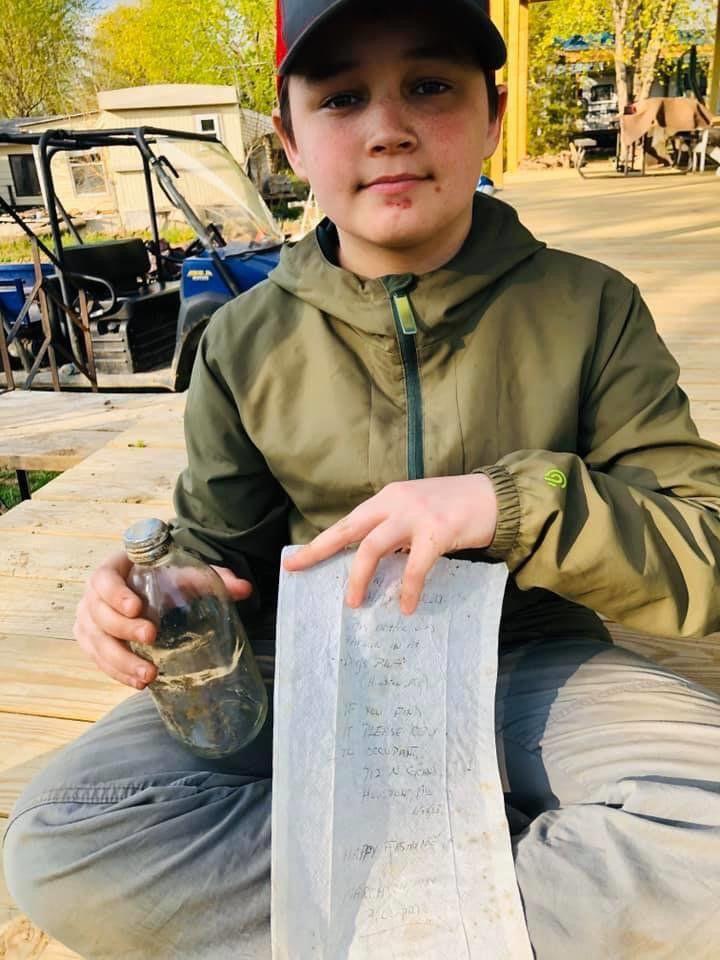 Jimmy's mom, Cristen, and Thomas' wife have messaged each other, and the families plan to meet after the coronavirus pandemic dies down. Thomas' mom and stepdad now live in Springfield, Missouri, but he hadn't talked to them about the find as of Thursday afternoon.
Krista and John Thomas have a daughter, Madison, 13, and a son, Matthew, 7. He's never thrown a bottle into the river with them, he said, but after this, maybe he will.
"I think it would be neat for them to go 35 years and see something like that," he said.