The largest women's outdoor organization in the country, which now numbers 16,000 members, began unexpectedly in 1998. Sisters Maurrie Sussman and Becky Clarke were simply having a good time learning how to fly fish in Montana while camping without their husbands.
Afterward they laughed and talked about how much fun they had and invited eight girlfriends on another outdoor fly-fishing adventure. Soon the women were planning more camping trips in the West and inviting still more girlfriends, who in turn invited their girlfriends.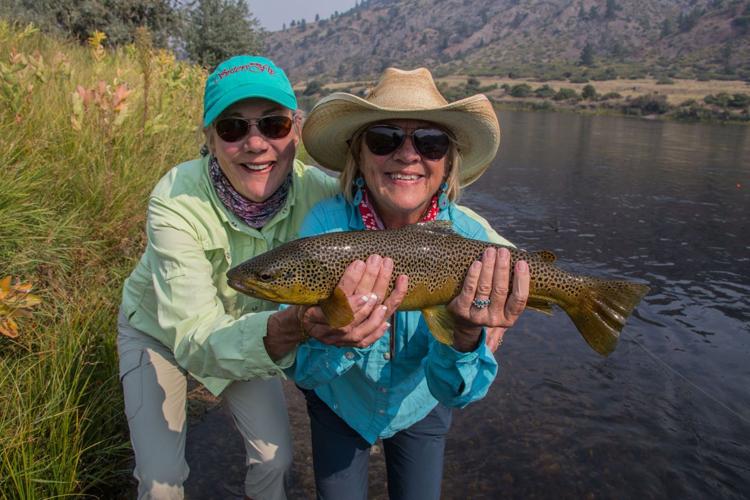 A year later, in 1999, they realized they had a naturally growing network of "sisters" whom they liked, and who bonded while sharing outdoor experiences with other women with similar interests, and Sisters on the Fly was founded. "We would rather be sitting around the campfire telling stories and sleeping under the stars than ordering room service in a five-star hotel," Sussman says.
Today the organization has 6,700 active members with chapters in every state as well as Australia, New Zealand and Canada. As of 2019, Missouri had 162 members and Illinois had 106. States claiming the most members were Texas with 1,152, California with 885, and Washington with 363.
According to Sussman there is only one rule, which is "no men, no kids, and no dogs." "We do not want to take care of anyone or anything. We love our husbands, but we see them all the time anyway. We are self-sufficient thrill-seekers helping each other to get outdoors and have fun," she says.
In addition to several yearly national events, a "sister/wrangler" in each state organizes local activities. While centered on outdoor adventures such as fly fishing (of course), kayaking, hiking or parasailing, activities have expanded to just about any recreation one of the sisters wants to sponsor. Included have been such diverse interests as ukulele lessons, master gardening, mushroom foraging and Dutch oven cooking.
"Last year we had over 1,000 different events," Sussman says. "The idea is to bring your girlfriends along and get out and do something fun and different and beautiful and fresh and natural. You introduce them to something new maybe and they introduce you to something new."
The pandemic has canceled a few this year, but most are still planned. A recent blog by Sussman to the club reads: "Now that the CDC has lightened up just a little bit, please be careful. Follow the rules and guidelines set by your State and CDC officials. Practice Social Distancing ... have a tailgate party sitting in your own space! Plan a picnic! Bring your lunch and your own quilt. ... We are sisters and we know how to have good, safe fun!"
"The idea was always to get women into the outdoors," Sussman said in an interview. "We did not start out to empower women, but it sure as heck ended up that way. They learn to do things they've never done before. It's amazing how protected women are, and it's empowering in that we're teaching them new skills for survival. I think the biggest thing is they learn they can do things they've always wanted to do with the support of women behind them."
When Sussman and Clarke were learning to fly fish, they were camping in two vintage trailers, the result of growing up in a family that loved to travel and camp. Early in the life of Sisters on the Fly, new members were also encouraged to buy a vintage camper, fix it up, and travel to the next adventure hauling their bed in the rearview mirror.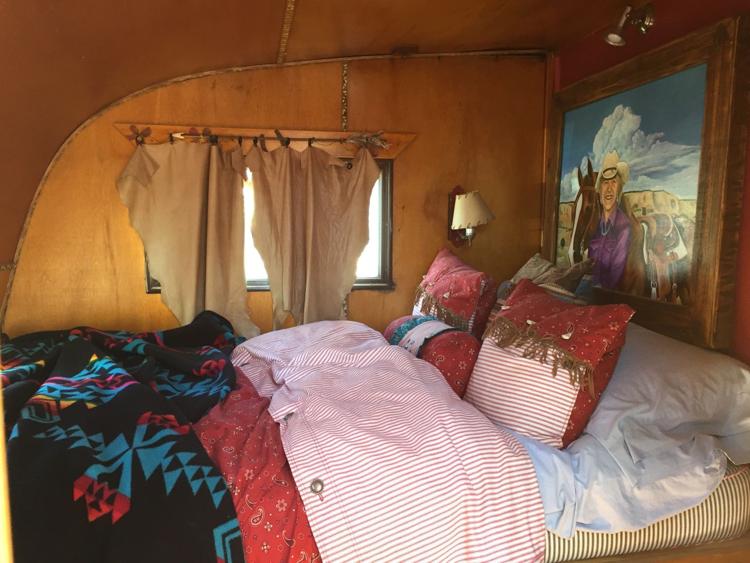 While pulling a trailer to events is not a requirement, thousands of the women do own and travel with a trailer. Those who do, create folk art bedrooms on wheels from rescued aluminum and wood trailers Americans long ago pulled behind station wagons.
Each trailer is given a creative name such as "Toto's Tin Can," "Nana's Timeout" and "Fish Tale." Most are decorated outside with graphics depicting the name of the trailer.
Even the club website lists trailers for sale, and articles offering advice and contacts to help restore the trailers.
"We used to find them in fields and buy them for $50," Sussman says. "Now they are hard to discover." (Sussman owns six. Clarke has two).
Besides being a fun hobby, the trailers add another element of self-empowerment. "Traveling while pulling your bedroom is a really big deal," Sussman says. "Learning how to hitch and unhitch it is a big deal, and so is backing it up and parking it. Most of us do it as easily a threading a needle."
In Missouri, Helen Elston joined Sisters on the Fly in 2002. She is "Sister 99," (each sister is given a lifetime number when they join) and lives in Springfield, Missouri. "I found my trailer in a field in such deplorable condition that I had to buy tires to get it home," she recalls. "I named it the 'Giddy Up Girl' because I was ready to travel. Now it is painted on all four sides with a Western theme, and the indoor décor is all western as well. If you pass me on the highway you will know it is me because I have two horses painted on the back staring at you."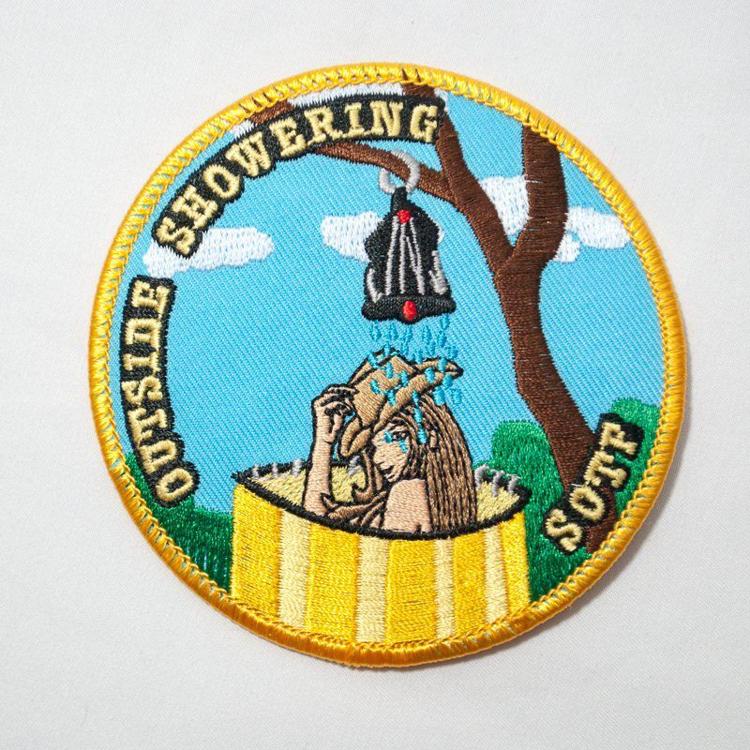 Debbie Morse of Lake Saint Louis joined seven years ago and is sister 5,427. "I found my trailer on eBay. It was in Ohio, and in great shape," she remembers. "An interior decorator had owned it, and although she was not a club member, decorating it was her hobby. She had redone the entire inside.
"It is a 1966 Beeline, so I just call it 'The Bee' since it is yellow and white. It is very easy to tow."
Morse enjoys the friendship of women she would otherwise never have had the opportunity to meet, and the independent spirit of the sisters. "You can do antiquing with 10 women or sit by your trailer and read, and no one cares," she says.
Morse has taken "The Bee" to several weekend outings in Kentucky, Ohio, Illinois, Kansas and Texas. She has also done a portion of two longer Sisters on the Fly outings. One journey was following the trail of Lewis and Clark from St. Louis to Oregon, and another was towing trailers along historic Route 66 from Chicago to California.
The "sisters" consider themselves "Girl Scouts with martinis" and have duplicated how their younger counterparts measure accomplishments by creating their own categories of merit badges, which they sew on sashes or denim jackets. Some, such as "cigar aficionado" and "Nymph" (awarded for showering outdoors in your birthday suit) would not qualify for awards to the younger scouts, but other badges are also awarded for more "normal" categories such as learning to horseback ride or geocaching.
There are yearly activities where spouses ("Mister Sisters") are invited, and even events such as "Grammas on the Loose," where members take grandchildren on organized outdoor trips, such as to Yellowstone National Park.
National events, which typically last a week, draw up to 100 women to campgrounds across the country. Smaller regional events usually last three or four days.
"When we travel in caravans and pull up to a campground, we are frequently mistaken for a traveling circus because of our decorated trailers," Sussman says laughing. "Then when we tell people we are 'Sisters on the Fly,' they sometimes think we are a group of nuns."
---
"Rollin' on the River": Aug. 20-23 at the Eureka KOA campground
Sisters on the Fly Official Song
They are modern day cowgirls
With hearts as big as gold
And a rainbow trout to fry
They are modern day cowgirls
They are Sisters on the Fly
Won't you come along with us
And we'll step back in time
And live again those carefree days
Kiss that nine-to-five goodbye
They are off to see America
Ridin' wild and ridin' high
They have more fun than anyone
It's more than just the fish tales
Or kayak trips and horse trail trips
It's more about empowerment
It's all about the girl inside
Ridin' wild and ridin' high
So take the bait and make a date
Amy Bertrand • 314-340-8284
@abertrand on Twitter
GET OUT OF TOWN with our weekly newsletter full of tips, tales and reviews.