CASEY, ILL. — Something big will happen in Casey.
Well, you can argue that's been happening for a while, at least since 2011, when the town became home to the world's largest wind chimes.
That was just the beginning.
On Sept. 28, officials from the Guinness Book of World Records will be in Casey (pronounced "Kay-zee" by locals) to certify the world's largest golf club, gavel, twizzle spoon, teeter-totter, barbershop pole and key.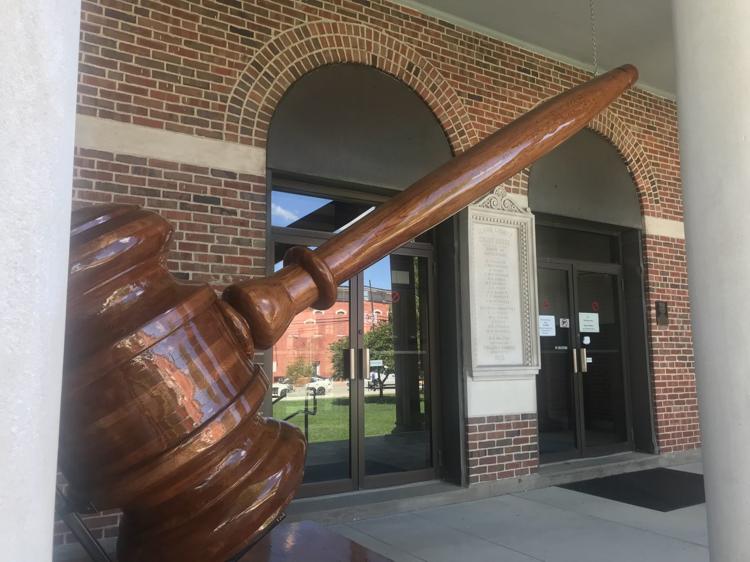 That makes 12 world's largest objects for Casey and the neighboring town of Marshall, where the gavel rests under the portico of the Clark County Courthouse.
(The big crochet hook and knitting needles held the world's largest title until 2017, when crafty folks across the pond in England made bigger ones.)
Casey is a town of about 2,700 people on the eastern end of Illinois along Interstate 70, about halfway between St. Louis and Indianapolis. The man behind the big things is Jim Bolin, 54, who grew up here and is vice president of Bolin Enterprises Inc. His dad started the business, which does maintenance on oil and natural gas pipelines. They have access to equipment, people and supplies to make the big things.
Casey, Ill. businessman spears effort to bring tourists to town by building the world's largest rocking chair, mail box, golf tee, and many other giant things.
The barbershop pole, which spins, is about 15 feet high, and the top and bottom are made out of an old anhydrous ammonia tank. The golf club handle is made of an old aluminum light pole, and the head of persimmon wood. Golf clubs were originally made of the same wood, Bolin said.
"What drove me to that — no pun intended — is I had a persimmon tree die in my backyard and I had it cut up," he said.
The key, about 26 feet long, is an exact replica of Bolin's Chevy Silverado work truck key. The teeter-totter, about 82 feet long, sits in a landscaped lot just across from the world's largest rocking chair.
Weather permitting, Guinness, Bolin and city officials will host the certification presentation ceremony atop the teeter-totter. The measuring of the objects starts at 9 a.m. at the key, and the ceremony will be held immediately afterward, at about 11:30 a.m.
Bolin and his workers built the big things to revitalize the town's downtown business area, and it's working. Just in the past few years, about a dozen businesses have opened or are about to open along or off Main Street, where tourists flock to see many of the big things. He estimates about 1,500 to 2000 people visit a week in the summer. Increasing publicity, including national coverage on "CBS Sunday Morning" and the Travel Channel, has brought tourists from around the country and world. A welcome center is expected to open soon.
"People are getting a vision now, and it's not just the world's largest things," Bolin said. "That's what's going to sustain Casey. If we get some really cute, nice shops, people are going to come back for the shopping and the atmosphere."
Deborah Black opened Deborah's Attic in 2016 and has enjoyed watching businesses pop up and become neighbors — the Eighteen-Ninety Sleepover, a boutique hotel, opened next door in 2017, and Tetzel Prime, a pretzel shop, will open soon across the street.
"I definitely think the big things are why Casey is growing," she said. Customers usually start their visit to the store by spinning a giant wooden top on the sidewalk outside. "You look at any other small town of 3,000 people and people don't go to see their shops."
Black, 67, moved to Casey as a teenager. She shopped there when downtown was bustling and drove through when the storefronts emptied. "I think people are proud," she said of the big things. "I think people can say, 'I'm from Casey,' and others say, 'Oh, that's where the big things are.'"
Maurah Bolin, Jim Bolin's daughter-in-law, renovated a garage on Main Street and opened the Olive Tree Marketplace last year. The store sells home décor and hosts workshops, and they also rent a corner of the building to Wildflour Bakery. Business has exceeded expectations, Bolin said, and she's noticed more local customers in the last six months. "There had never really been a reason to shop in town," she said.
Jim Bolin hopes one thing will bring visitors back: the assurance they'll see something new, whether that be a giant object or a business.
A giant set of deer antlers that once served as a promotional piece for Jagermeister will go up by the end of the month. So will a mousetrap, with a "trapped in Casey" sign next to it for photo-ops. Bolin is working on a boomerang and a Pokéball, too.
After the coordination it takes to build world's biggest things and get certified for Guinness, he's just going to focus on big things, not necessarily biggest things, and work on county issues. He sits on the Clark County Board. His dream is to get more people off the interstate to drive the Old National Road to Effingham, perhaps build a bike trail.
In other words, he's dreaming bigger.