When people talk about St. Louis, they might mention the Cardinals. They might say the city has some decent barbecue or a park bigger than New York's Central Park.
What they don't talk about is TikTok, the popular app known for dancing, comedy and social media's latest trends. That's because St. Louis isn't a hub for TikTok — not like Los Angeles or New York City, at least. There aren't houses packed with TikTok stars. There isn't, really, even a TikTok community.
Or at least that's the way it may seem on the surface. But there are still TikTok creators — some with millions of followers — tucked away, here, in St. Louis. They stretch from dancing teenagers to watercoloring artists to shopping moms. Here are six of their stories.
6 STL TikTok stars
'On TikTok, I don't give a damn'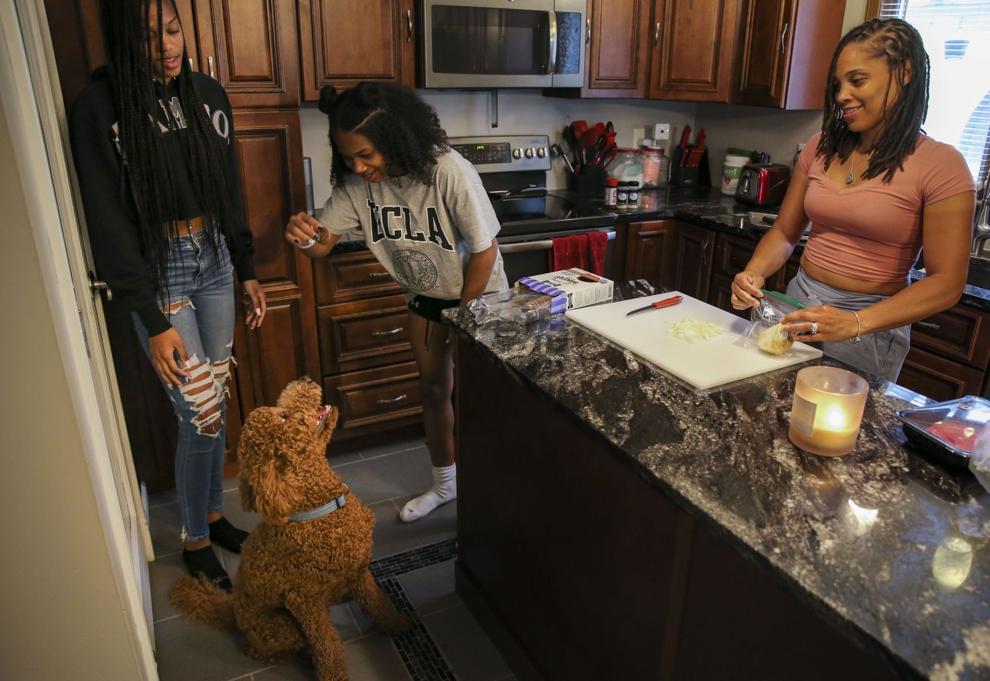 Yelle Adams, 37, Lake Saint Louis, @yelleadams, 650,000 followers
Yelle Adams' TikTok channel started with a rant. A rant about her kid that, within days, had thousands of views.
"I think I was more shocked than anything, because I'm like, where are these people coming from, like what do they want?" says Adams, 37.
Adams tried to build off the burst of followers by posting a variety of videos — anything from dances with her daughters to clips of her time as a bodybuilder to more rants. She would have some big videos here and there, but nothing seemed to stick.
"I was like, well, that was just luck," she says.
Then Adams, who lives in Lake Saint Louis, came up with another idea: She would vlog her birthday adventure to buy high-end shoes at the mall. The video went viral, and Adams found her niche — vlogs, or a video compilation of clips from real life, not scripted like some TikTok videos.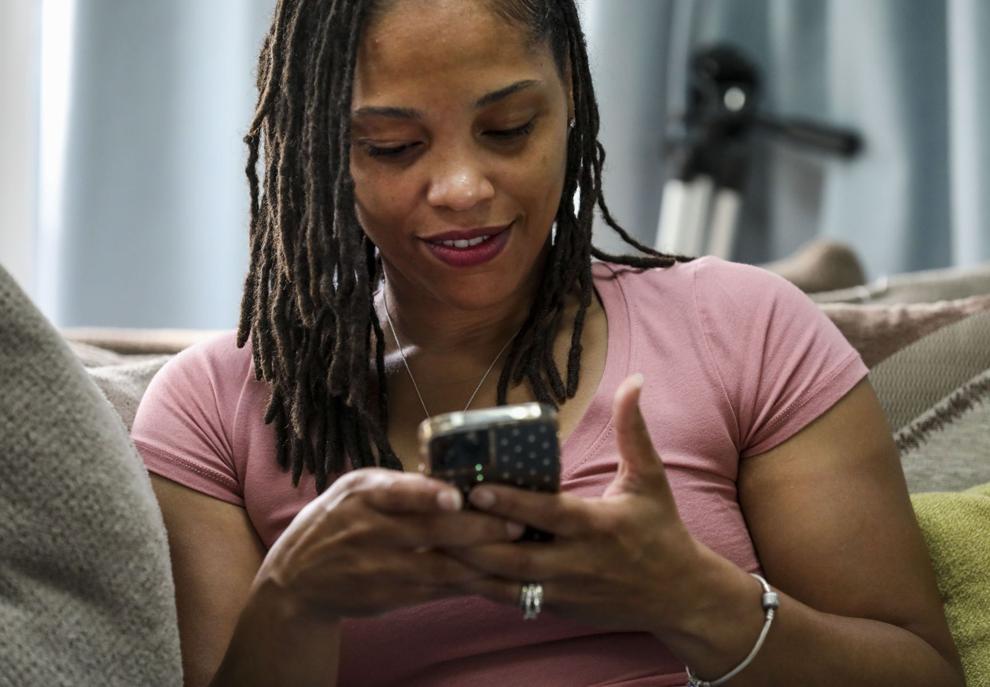 At the time, Adams had around 20,000 or 30,000 followers. Seven months later, she has nearly 650,000 followers.
Adams' shopping videos have morphed into a series called "My Day in 60 Seconds." Some videos feature Adams' daily life as an insurance agent and owner of a trucking company. Her most popular videos, however, feature Adams and her family zig-zagging from store to store, buying Lululemon summer outfits, Ray-Ban sunglasses and tie-dye Crocs. Although she might add some narration over the final video, none of Adams' TikToks is planned. They are just short snapshots of her everyday life.
"On TikTok, I don't give a damn," she says. "This is who I am. Nothing is scripted. I'm not holding back. What you see is what you get, and I'm just real."
Adams' free-flowing personality and creative vlogs have made her a mini-celebrity in the St. Louis area. On one of their recent shopping excursions, Adams and her family were approached by 10 separate people.
"That was probably the most memorable moment that I realized, um, yeah, I might be kinda big out here in these streets," Adams says.
From Topgolf to TikTok content house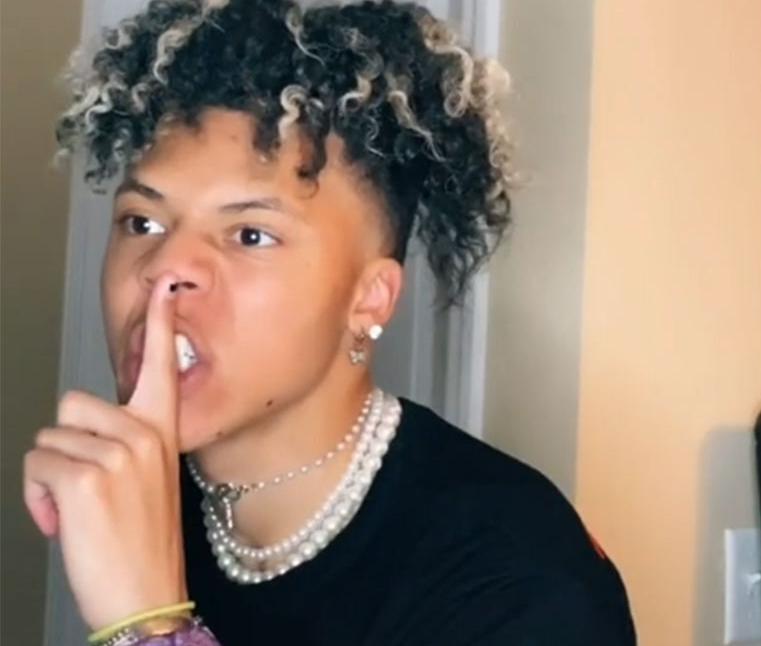 Corbin Cunningham, 21, originally from Ballwin, @c0rbo, 1.4 million followers
In between shifts at Topgolf in Chesterfield, Corbin Cunningham started filming TikTok videos. Not a lot. Just a dance video here and there in the basement of his Ballwin home.
At the time, Cunningham didn't know what he would do with his life. He had dropped out of college three days into his junior year. He considered modeling. He thought about going into TikTok as a full-time job but had only 100 — if not 50 — followers when he left school.
That changed in February 2020, almost a year after Cunningham made his account, when he began creating comedic videos. He bought a ring light, wrote scripts and made three videos a day.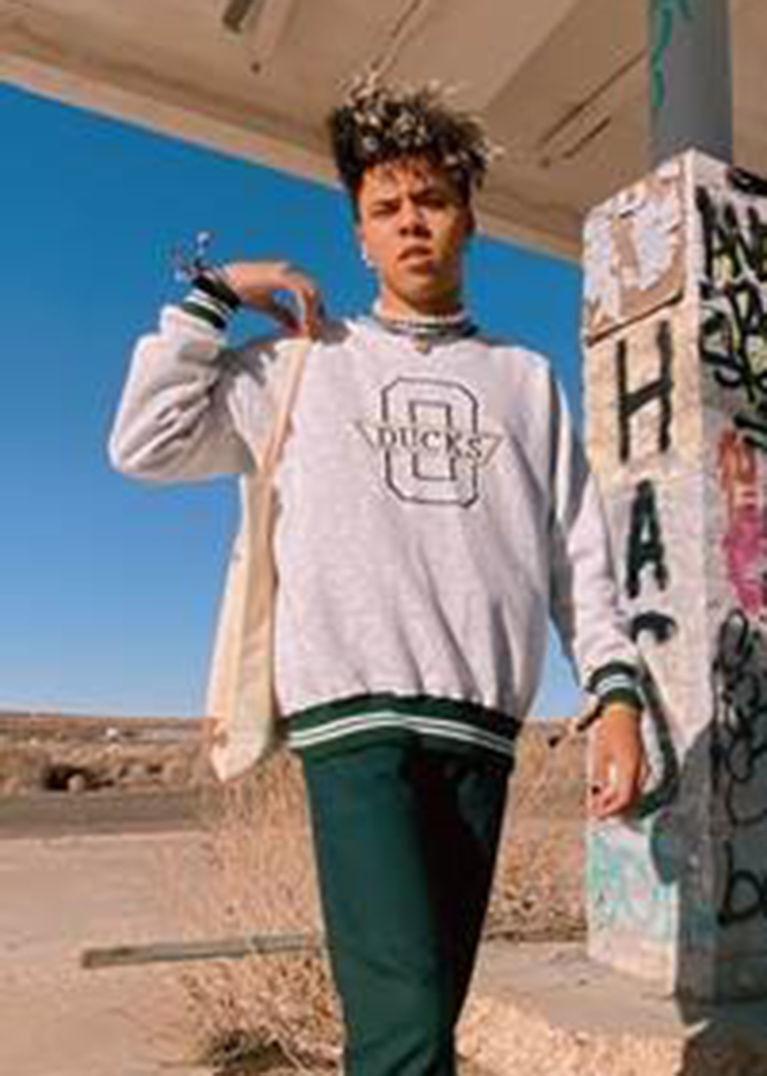 Cunningham never did return to Topgolf. By the summer of 2020, he had nearly 500,000 followers. Since then, it's been TikTok all day, every day. And that meant moving away from St. Louis.
"St. Louis is hard to do anything that's outside of an actual, real job," he says. "Modeling, acting, social media, YouTube, rapping — it's hard because there's not a lot of connections."
Over the last year, he has bounced around, living in "content houses" in Orlando, Florida, and Kingsland, Texas. In February, Cunningham packed his bags for a new content house in Mesa, Arizona, called "Mt Olympus AZ." That's where he currently lives, with five other TikTok creators and his manager. Cunningham spends his days spitballing ideas, making videos with others in the house, treating TikTok as a full-time job and exploring additional opportunities in modeling and acting.
"I can be in an area where TikTok is more acceptable, too. If I'm making TikToks, they're not like, 'What is he doing? He's weird,'" he says.
Cunningham might now have 1.4 million followers, but moving away has been a change. Before last year, Cunningham had never lived away from home. He misses his room. He misses his family and Chihuahua. He misses walking into the kitchen and smelling his mom's home-cooked food.
"The biggest adjustment is being in my house without my fam," he says. "Because I got a whole new family now, so I gotta get used to that."
Dancing 'for fun'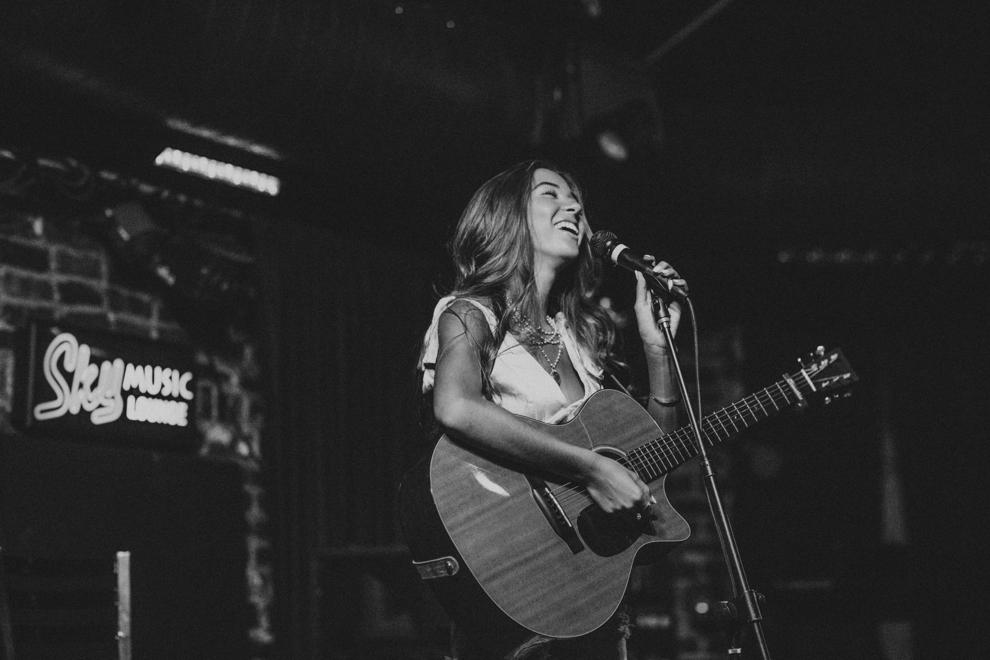 For some people, TikTok is a full-time job. For others, it is just an extra source of income. For Evanthia Theodorou, it is neither. She doesn't have a detailed posting schedule. She doesn't sit and think of video ideas for hours on end. Her system is simple. When she wants to dance, she dances. And then she posts those dances on TikTok.
"It was just something that I do for fun," she says. "It's not really something that I just work on constantly."
Even if she wanted to commit more time to TikTok, she probably couldn't. Originally from St. Louis County, Theodorou, 16, moved to Los Angeles three years ago to pursue a career in acting and singing. Now, she travels back and forth throughout the year.
Between acting, singing, guitar lessons and homeschool, she sneaks in TikTok videos for her 608,000 followers when she has the time. But that's OK, because Theodorou doesn't need a lot of time to make her videos. She has taken hip-hop dance classes and, by this point, she's done so many TikTok dances that they take just a few minutes to master.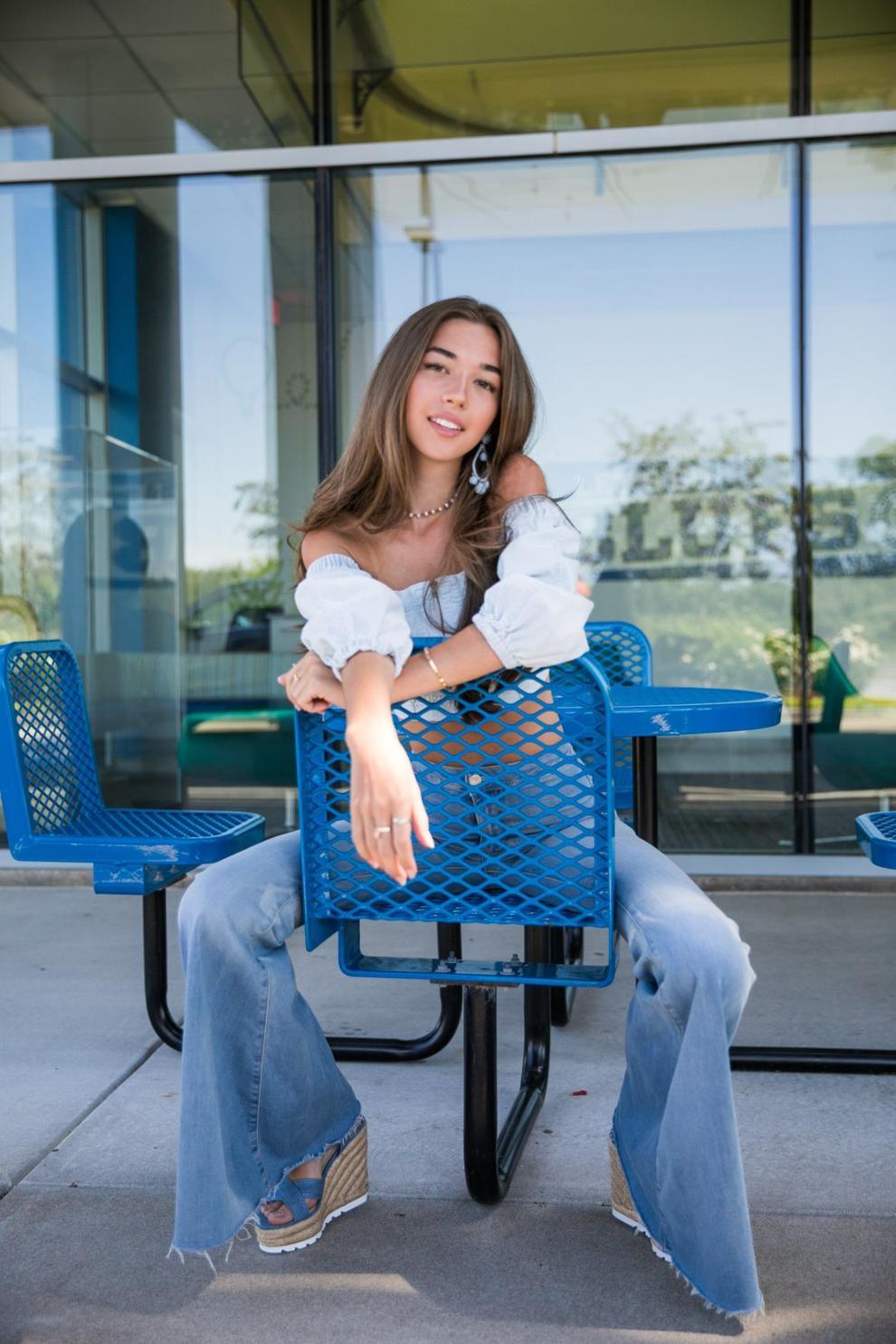 Recently, she tried a new dance, the "Gimme More" dance, that took her "a while" to learn. "I practiced so hard in my kitchen," she says.
When asked how long the dance took to learn, Theodorou pauses.
"A while was actually not that long. ... It usually doesn't take me long to learn dances, so when I say long, I guess I mean 15 to 20 minutes," she says, laughing.
And that's what makes TikTok enjoyable for Theodorou. There is no long, stressful process. She just dances.
A family media sensation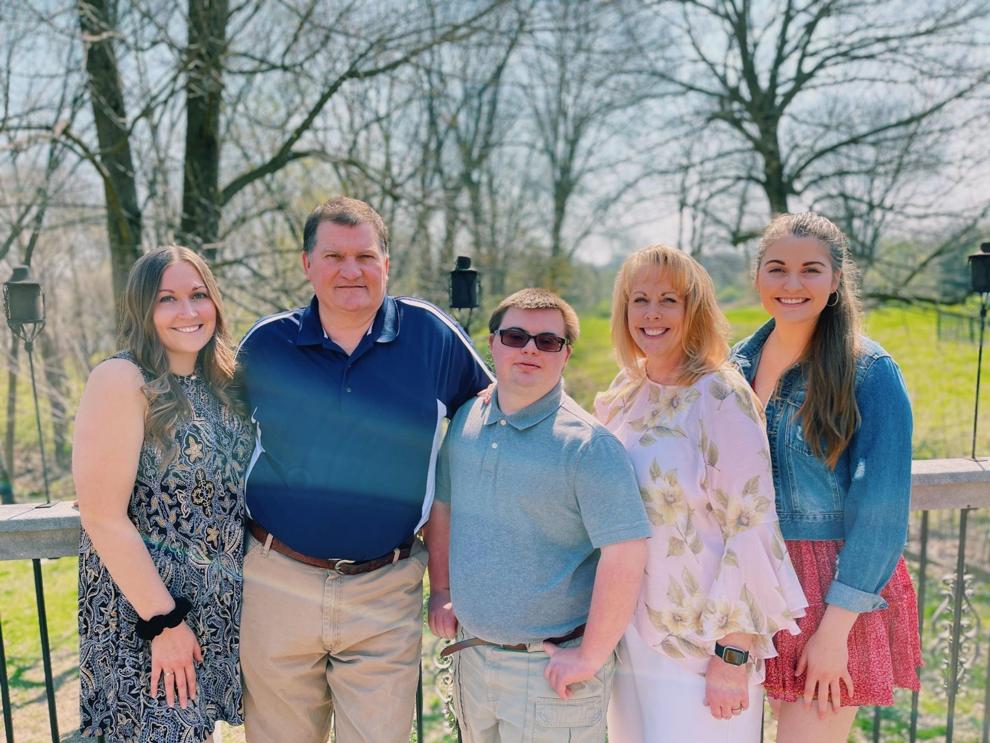 The Baker family, west St. Louis County, @bakerbanter, 2.2 million followers
It was a hectic day for Jenna Baker. For starters, it was her younger brother Derek's 24th birthday, and she had to finish editing his birthday vlog. She hoped to complete the vlog earlier in the day but kept running into technical difficulties. On top of that, she was leaving St. Louis in two days for vacation, requiring her to plan 21 videos of Baker Banter content. That meant Jenna couldn't waste a moment. On one screen, she had Zoom open. On the other, Final Cut.
Baker, 27, seemed used to multitasking — she didn't hesitate or stumble over questions. That's just life as manager of @bakerbanter, a TikTok account with 2.2 million subscribers.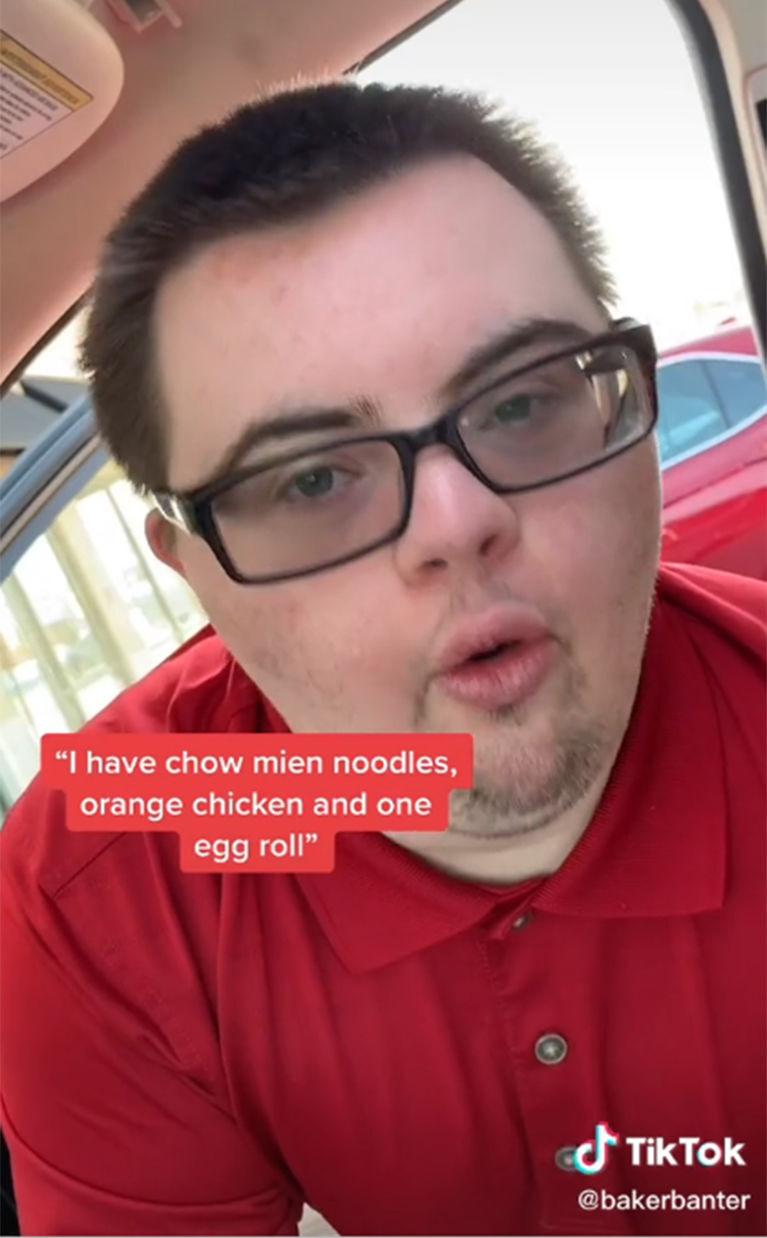 The Bakers started their family TikTok account one week into quarantine. With newfound free time, they needed something to do from their home in St. Louis County. Derek always wanted a YouTube channel, but they landed on TikTok. The sisters, Jenna and Katy, would hold the camera, edit the videos and do the behind-the-scenes work. Derek would be the star.
Almost instantly, people started gravitating toward Derek.
"He's just got this hilarious personality, and he's so quick-witted, and he just has so much happiness and so much love and so much sass," Jenna says. "He's just got a big personality in many different directions, and so we thought the world could use some positivity."
TikTok has given Derek, who has Down syndrome, a platform to tell his own story in his own voice.
"I think it really helps everyone gather a better understanding and be more comfortable around people with disabilities," Jenna says.
Derek's charisma has earned him interviews with the "Today" show, Sports Illustrated and "The Bump," a WWE show. Derek's not shy in saying "The Bump" was his favorite interview. "I eat, sleep and breathe WWE," he says.
They've since turned Baker Banter into an LLC and, even though they have an accountant and a lawyer, the last few months have been busy for the family, stuffed with TikTok-related interviews.
"We're still kind of getting our feet wet when it comes to talking with people," Jenna says. That's when Derek brings his foot to the Zoom screen. A huge smile stretches across his face as he shakes his foot back and forth.
"It's a foot!" he says chuckling.
"See, that's what I'm talking about," Jenna says. "You can't make this up."
All things Missouri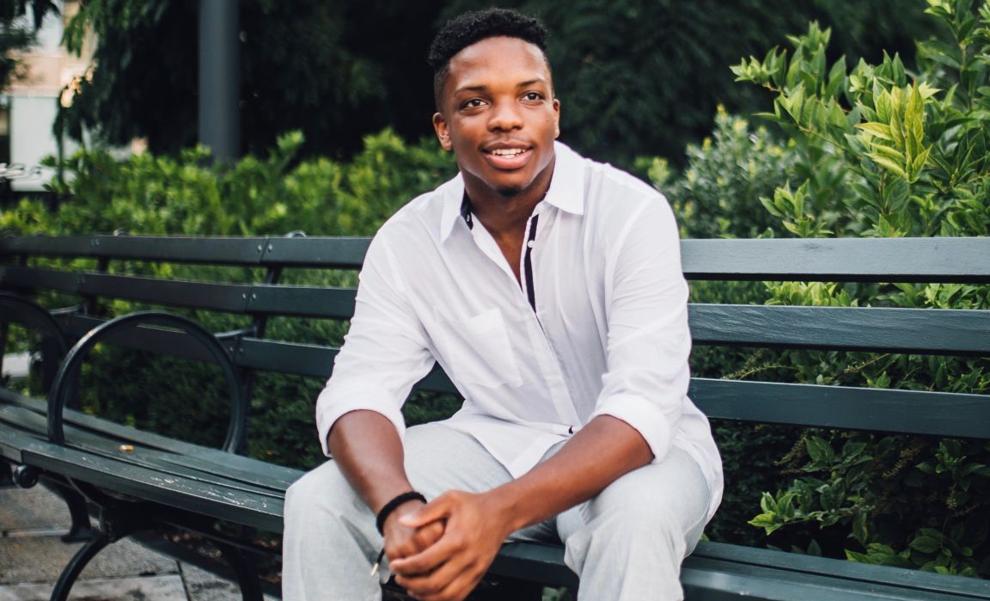 Sometime in the fall of 2020, Devin Dalton's friends staged a "TikTok intervention." No nighttime scrolling. No checking before football games. For that one week, Dalton had to sign off of TikTok and take a break from making videos.
"Now you rarely see me on (TikTok)," says Dalton, 18, a senior at Francis Howell High School. "And people are like 'Oh, you're still addicted' to TikTok. Like you can check my screen time; I'm rarely on it."
From his home in Northwoods, Dalton takes out his phone and opens up his screen time. "Today? It's probably not that high. Let's see."
"Oh," he says, chuckling. "Um. I've been on TikTok for three hours and six minutes in total today." He pauses. "It's kind of an improvement."
It is kind of an improvement. Before that intervention, Dalton says he spent five or six hours a day on the app. For good reason though — Dalton is a member of the "Missouri Hype House," a TikTok page created by multiple Missouri-area TikTok creators who make comedic videos about the state.
To even join in the first place, Dalton had to submit an application. As the months wore, everyone else stopped posting, but Dalton continued. Now, he is practically synonymous with the account, where his videos range from poking fun at the always-changing Missouri weather to pairing Missouri high schools with sound effects.
"I go through my For You page a lot, and I see people do ideas and I think, how can I tie this back to Missouri or how can I make this something that people from Missouri would like?" Dalton says.
In the fall, Dalton, who is president of his senior class and co-president of his school's student council, will be attending the University of Missouri-Kansas City. He calls it "ironic," given how much he likes to roast the state.
"I say that I don't like living in Missouri," he says. "It's not that bad, but, you know, there are other places you can live."
Art in motion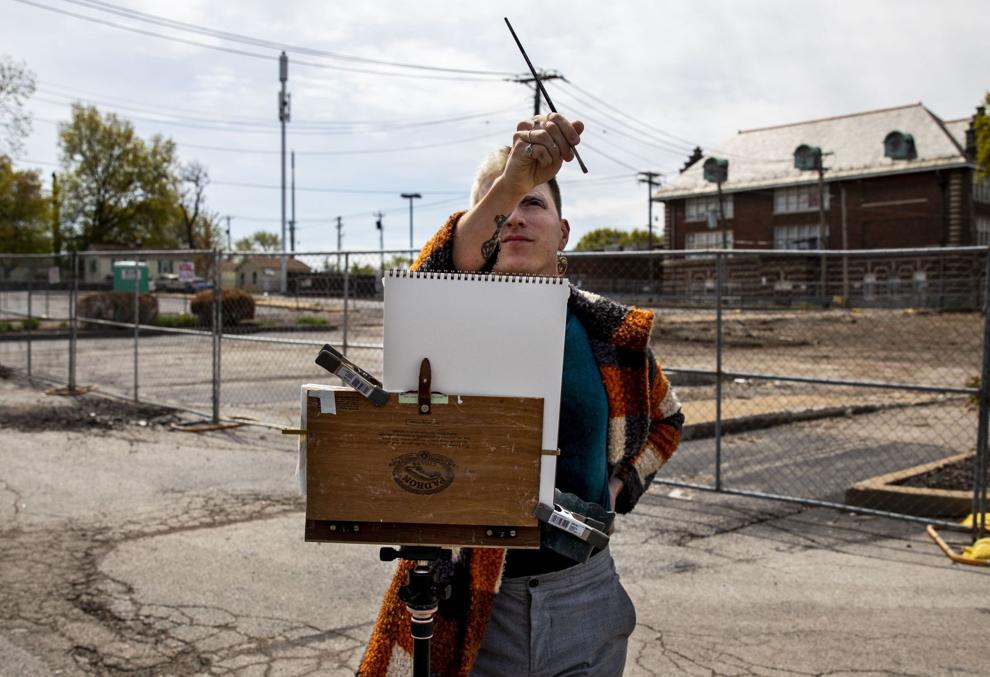 When Nicholas Holman woke up on vacation in the Ozarks recently, he didn't know what to paint. He just started walking around, searching for something to catch his eye. That's when he noticed fluffy white clouds dotting the sky. To the surprise of his friend, Holman instantly lighted up.
"You like clouds?" his friend asked.
"Yeah!" he responded. "I mean there's so much to look at now, instead of just a hazy blue!"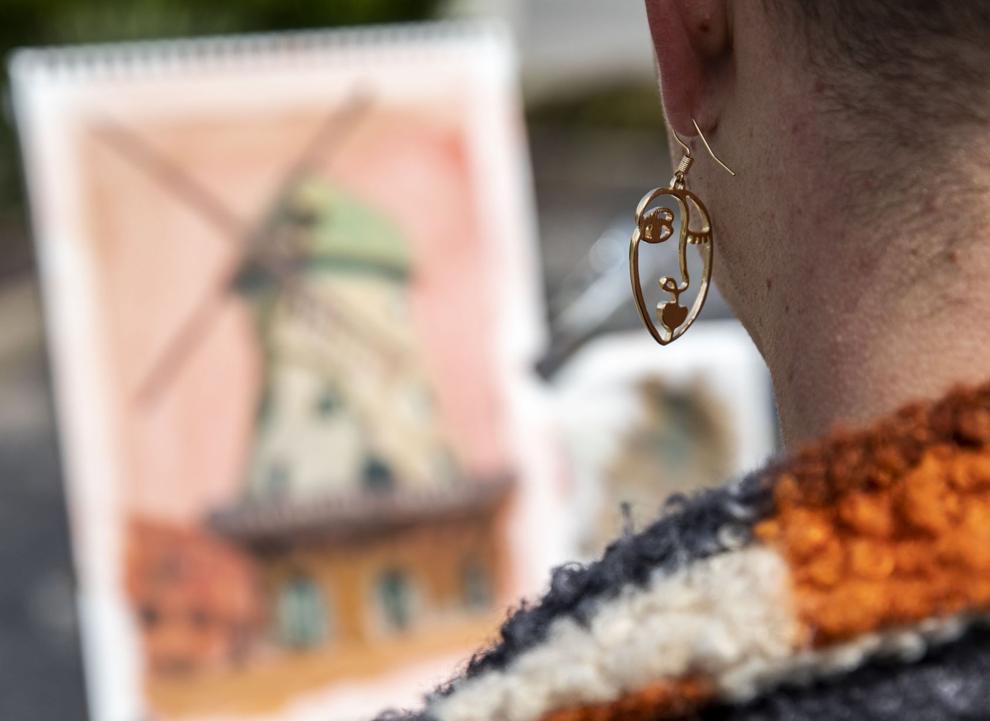 So Holman spent his vacation on a dock, painting the clouds and posting the process on TikTok. That's a normal day for Holman. Vacation or no vacation — he wakes up, paints and then paints some more. On TikTok, Holman aims to create eye-catching artwork that will bring people to his TikTok account and then, hopefully, to purchase his art. It pushes himself to try on new styles, new colors, new brushstrokes, new series ideas that will grab people's attention.
This month, Holman, who lives in Shrewsbury, is painting outside every day, focusing on the things we overlook — weeds, clouds, a hose outside of a house.
It is these kinds of themed series that have helped Holman surpass more than 200,000 followers. One month, he used randomstreetview.com to draw various locations in the world (one of his most famous TikToks is a painting of a corner in Belgium). In another series, he created colorful illustrations of all 50 states.
Although Holman, 27, may seem like he's been painting for years, he only began in 2015, when he wanted to create his own arm sleeve tattoo. He didn't end up drawing his own tattoo, but he did continue making art, even attending school for a year and a half. Since then, he has been freelance painting — and posting on TikTok. Holman's TikTok is a mosh pit of his swirling interests — from cat portraits to teaching tutorials to watercolor paintings of the Cathedral Basilica of St. Louis.
"I think it's been cool because it's not just like a stagnant image on Instagram," Holman says. "It's me and my personality, so I think those two go hand in hand."
Photos: Local TikTokers gain big followings
Nicholas Holman gains following through personality and art on TikTok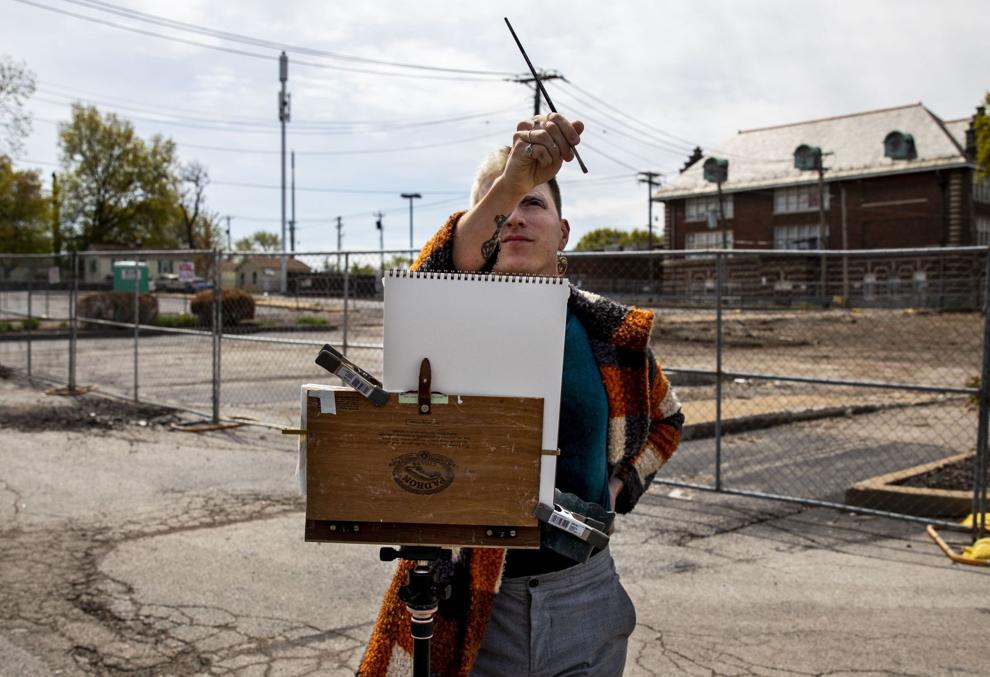 Just living her life: Yelle Adams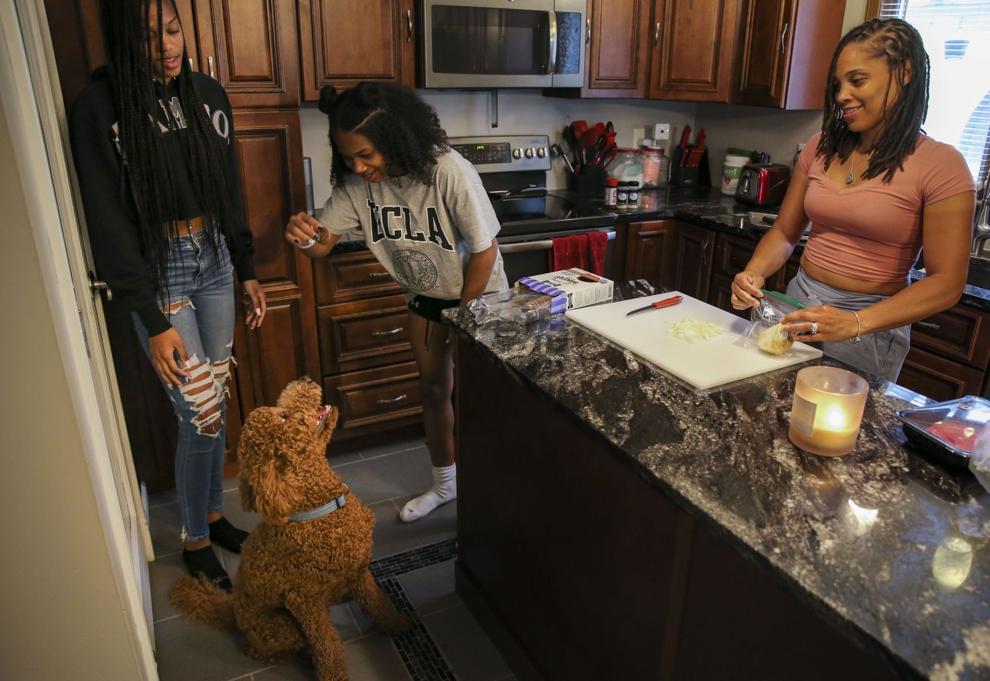 Yelle Adams: Just living her life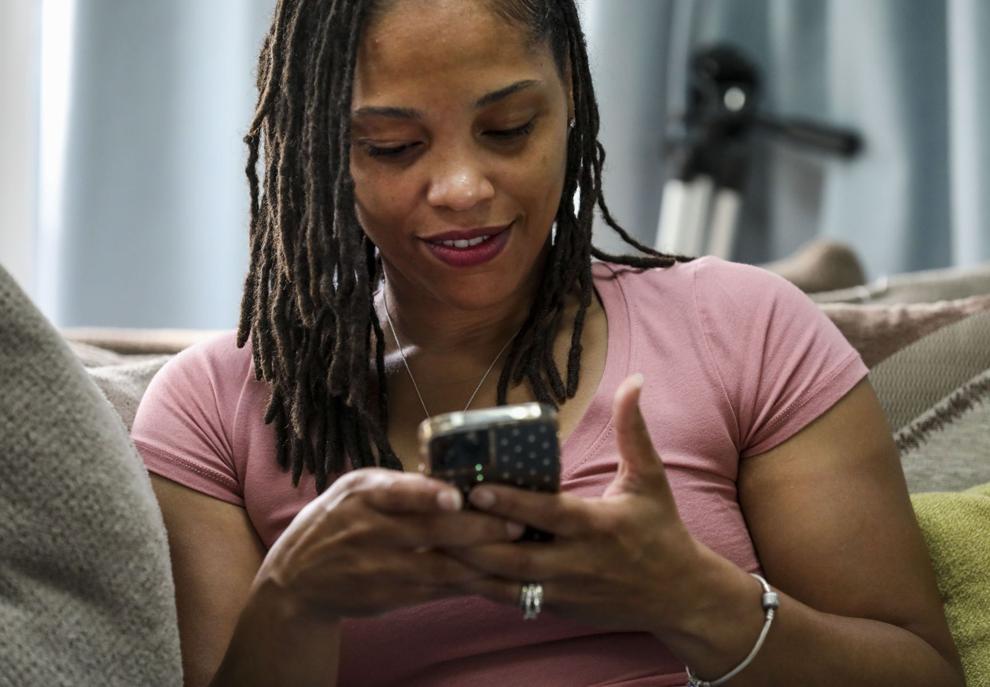 Nicholas Holman gains following through personality and art on TikTok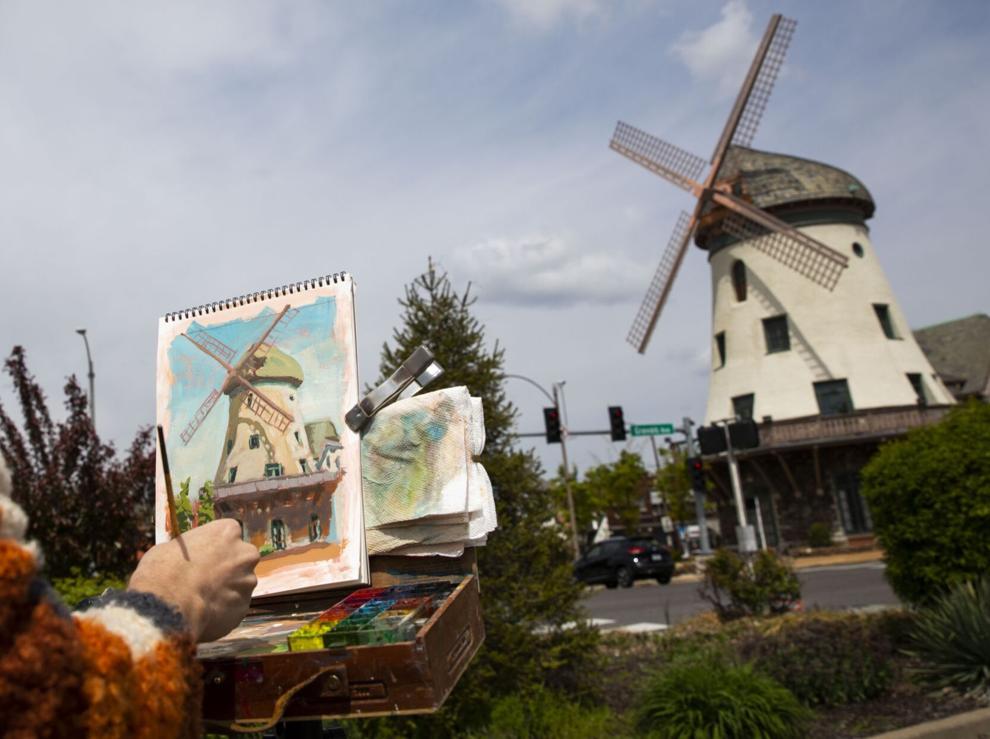 Nicholas Holman gains following through personality and art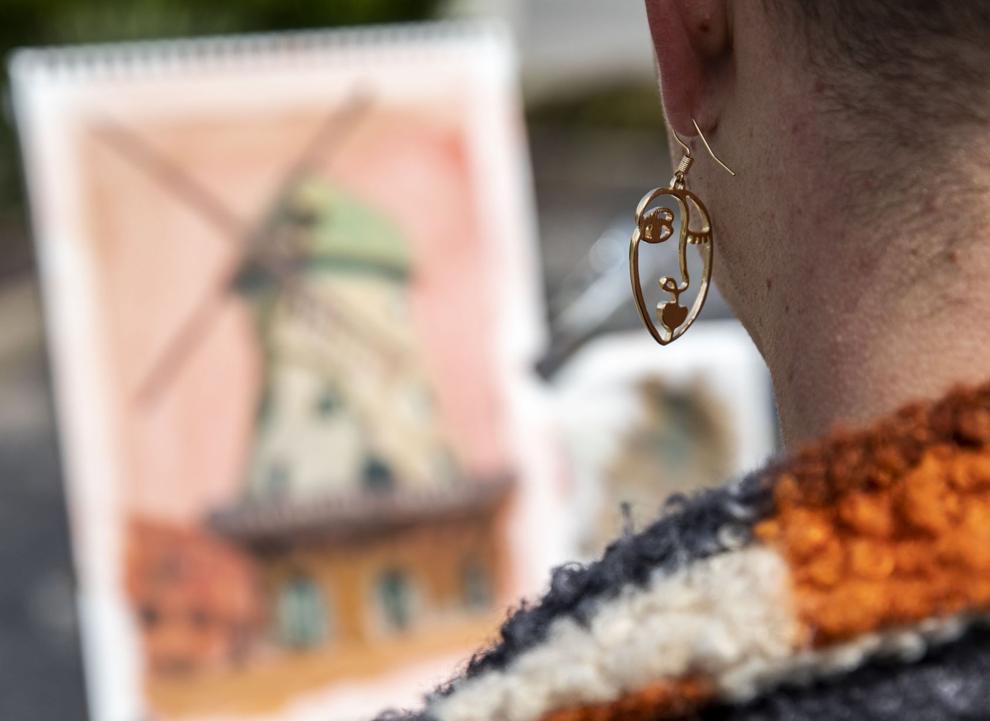 Just living her life