Monica Dietz called her mom at 2 a.m. on Mother's Day crying hysterically. She was sitting in her car in a McDonald's parking lot in Bloomsdale, Mo., after finding her boyfriend sleeping with another woman.
"Come home," her mother begged. "Just come home."
Dietz, then 18, was addicted to alcohol, Xanax and synthetic opiates. She wasn't ready to come home. She slept in the parking lot that night.
That spring in 2016, she was going to sleep drunk and high and waking up drunk and high. Her boyfriend was in his early 40s, and when he got high, he got violent. Two months after that call, there was another fight.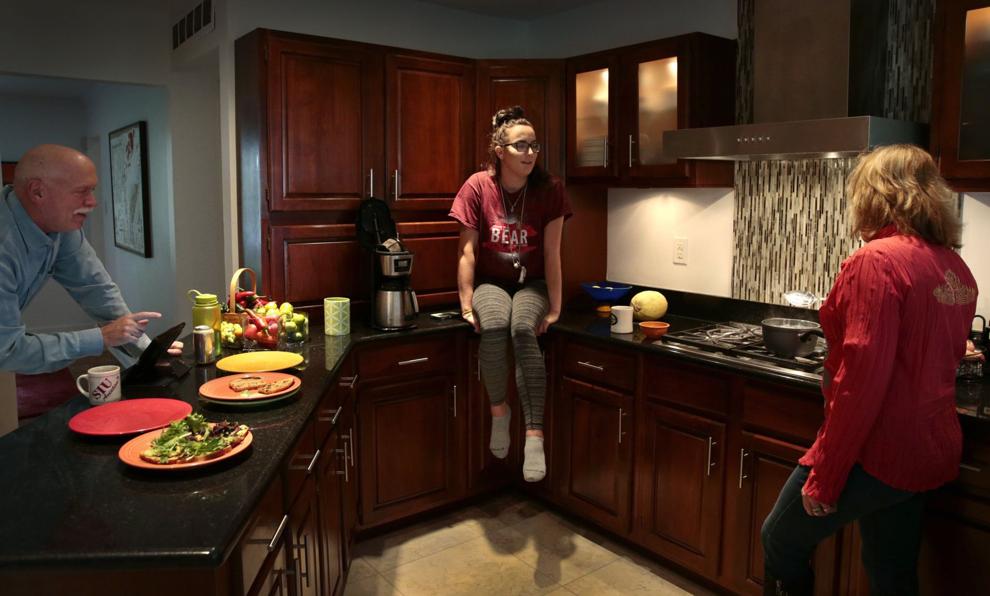 Dietz packed up all her stuff from the basement of the house in Lake Saint Louis where they were staying. She took whatever drugs she could find and asked the woman they were staying with to take her somewhere else.
"Didn't you see what he just did?" she said. "He beat me up in your front lawn."
The woman dropped her off at a friend's house, where Dietz blew through the drugs and waited for three days before calling her mom again. She needed time for the cuts to heal. Not the bruises that he inflicted on her, but the cuts she sliced into her own arms after their fight.
Kathie Thomas, an innovation business consultant and mother to two girls and stepmom to three more children, was on the tarmac on a delayed flight when the call from Dietz finally came.
"You're going to have to do the work," she told her daughter. She wanted her daughter to go to five meetings a day. Her mother would refuse to give up on her.
On July 11, 2016, Dietz moved back to her parents' home in Chesterfield and started going to Alcoholics Anonymous meetings. It was her first full sober day in five and half months.
It was anyone's guess how long her sobriety would last.
Thomas adopted Monica and her younger sister from Russia when they were babies. Dale Dietz had three children from his first marriage. After Kathie and Dale got married, he eventually adopted Monica and her sister. They grew up in an affluent, suburban home, attending the best private schools with involved, caring parents.
Monica struggled to find her place early on. She remembers a boy pushing her down at recess at Forsyth School in first or second grade.
"Your mom didn't love you. That's why she gave you away," he said, while she lay in the wood chips.
But she had some friends, loved to play sports and got accepted to a local all-girls Catholic school. Middle school turned into a nightmare. Girls pushed her out of social groups and physically into lockers. The bullying made her anxious and depressed. She started seeing a counselor.
In 8th grade, she stumbled onto a picture on Tumblr as she was scrolling through the blogs. A photo of a young girl's arms caught her eye. They were covered in shallow cuts, up and down each side.
"Oh, this is a way to deal with things," Dietz thought. She wouldn't be asking for help with her problems. She could cut her bad feelings away. In 9th grade, it started with push pins scratching her skin. Within a few months, she was stealing her father's razors from his workshop in the garage.
"I cut, so I wouldn't have to feel anything," she said. She ran the shower a lot. She used concealer, powder and setting spray on her arms to cover cuts as they healed.
One day she got careless.
Her basketball coach saw her arms. They were covered in cuts. He called her parents, who immediately found an outpatient program. But Dietz didn't think she had a problem. She had transferred to a private school for high school that felt like a better fit. Her grades were great. She was playing varsity basketball, belonged to the drama club and was co-captain of the cheerleading team.
"It was attractive in a way because I could control (cutting), and I couldn't control friends or family," she said. That summer, her parents caught her self-harming again.
This time they sent her to an intensive, inpatient program. They had been on high alert. Her parents had firewalls and spyware on the technology in the house. They locked up all the scissors, knives, tacks, paper clips, blades and kitchen knives. It didn't stop their daughter.
In and out of treatment, she never stopped cutting. She believed she had found a way to deal with her problems.
In fact, she had become addicted to a free and legal high. Doctors who specialize in self-harm say cutting releases opiates, which numb physical and emotional pain. The body also develops a tolerance to it. The more you cut, the more frequently and deeper you have to cut to get the same psychological and physiological effect. The neurochemistry of the brain prevents cutters from completely feeling the pain they are inflicting upon themselves.
By the end of her sophomore year, her arms and legs were covered in cuts.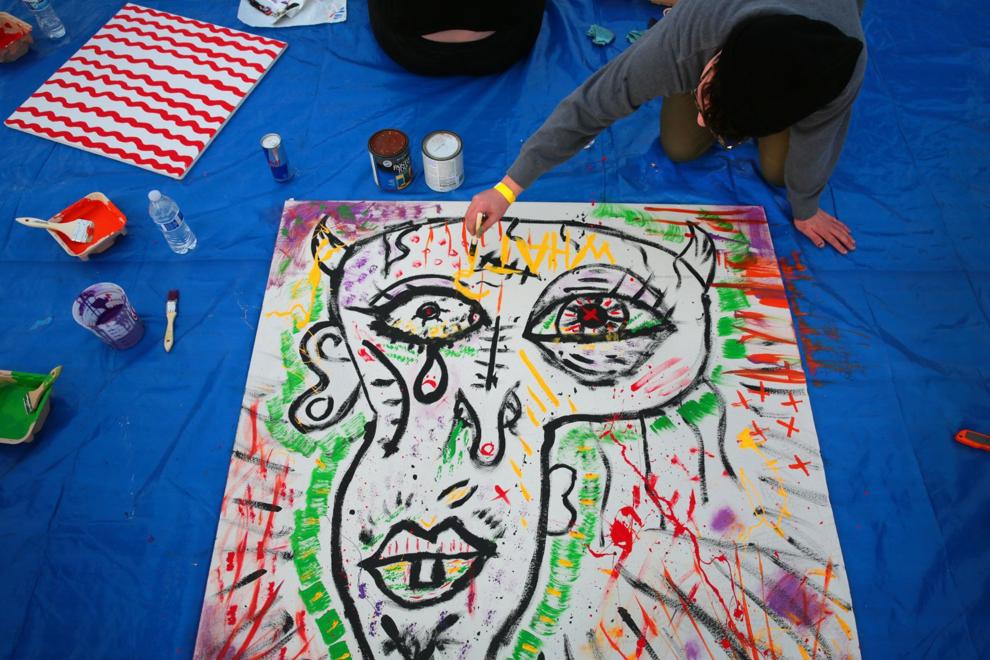 Drastic measures
Two weeks before the end of her sophomore year, her parents woke her up in the middle of night. They were taking her to the airport. Dietz asked about her suitcase.
"You won't need one," her mom said. Upon the recommendation of a friend, they had found a wilderness camp for struggling teens. They would have no direct contact with their child, except through letters they would write her. They could talk to her counselor once a week.
For 96 days, Dietz lived under a blue tarp in the mountains in St. George, Utah. There were no showers, no regular clothes, no technology — only other teens and counselors to talk to.
She talked about her fears — that no one liked her, that she wasn't good enough, she wasn't perfect, that she was worthless.
Thomas missed her daughter badly. She made huge paper collages while she was gone. She poured her worries, her sadness and her fears into her art. She tried to capture the enormity of her feelings on 5-foot-by-4-foot plywood.
She wrote her daughter letters and prayed. She knew her daughter had to hit bottom and had to decide to want to change.
"You have to wait that out," Thomas said. "That's hell. That's a parent's idea of hell."
They went to visit Dietz in July. A few weeks later, they told her about a therapeutic boarding school they had found in Utah where she could finish high school. By this point, Dietz was willing to accept that she needed help.
She finally got to take a real shower. Then, the counselors drove her four hours to her new school in Erda, Utah. There, she made friends again. She was able to ride horses. She only self-harmed once, using fake nails. She finished high school a year early and graduated July 21, 2015.
It was time to come home.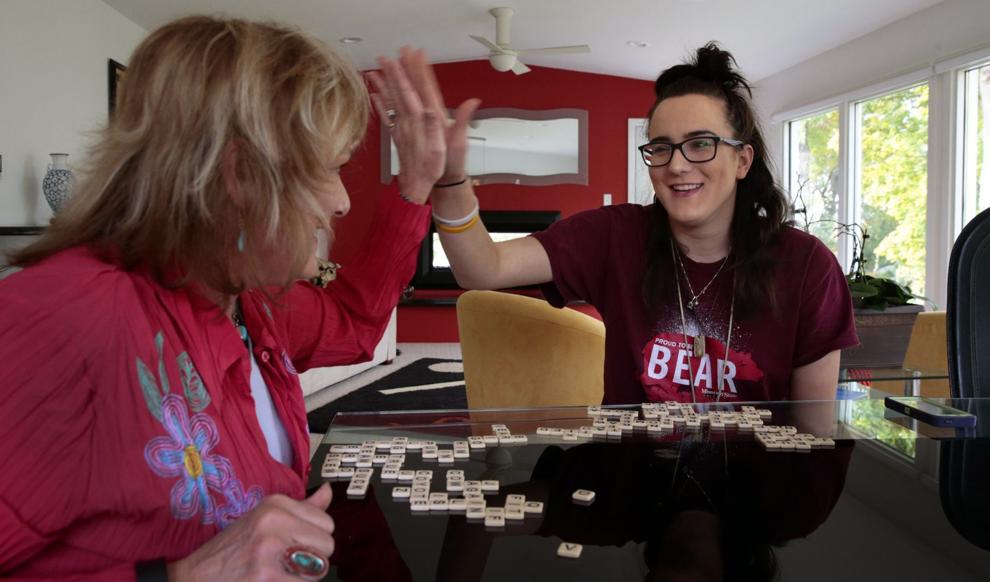 Homecoming
It finally seemed like Dietz's life was back on track. That summer she got a job at a local Montessori school and enrolled in community college. But back in the same environment, the same demons crept back — her insecurity, fears and anxiety. Instead of attending classes, she started hanging out with her old friends. She hated her parents and their unreasonably strict rules, like a 9:30 p.m. curfew. Six months later, she started cutting again. By the end of the semester, she had failed all but one of her classes — psychology. She wanted to die. She cut herself so many times that her therapist told her to go back to the hospital.
In the psych ward, they had her on a cocktail of drugs: Xanax, Oxycodone, Trazodone, Seroquel and Abilify. When they would release her after several days, she would threaten to kill herself and end up back in the ward.
At one point, she was transferred to a geriatric psych ward where she learned to play gin rummy with the elderly patients. It was also where she used the blunt edge of a golf pencil to scrape patches of skin off her arm. She still has faint scars from those gouges.
It was in a hospital psych ward that she met a 42-year-old addict who became her boyfriend. Because she was 18, no one could stop her from leaving the hospital with him when she was discharged.
The fall
It was with him that she first intentionally got high on Xanax and beer. Even though she was getting high every day, she managed to work full-time as a certified nursing assistant. Her mom came to visit her once a month. She was horrified but wanted to keep some kind of connection with her daughter."It's beyond our control," her father said.
Eventually, the relationship and drugs were beyond Dietz's control.
It was after that traumatic call to her mom that Dietz finally agreed to come home. A woman at an AA meeting told Dietz and her mother about the Crossroads Program that treats addiction in teens and had helped her son.
It cost $9,000, which is a small sum compared to what Dietz's parents had already paid for her treatment. They've spent her college fund; they've tapped into their retirement savings. But, they knew it was a matter of life and death.
Drug overdoses are now the leading cause of death for Americans under the age of 50.
Dietz started an outpatient program, which she went in and out of for eight months. It transitioned into a support group program. Patients typically stay in the program for two and half to three years. The counselors understand teen brain development. They work to create entire new environments and social groups for teens to avoid old triggers and habits.
It's been a place where Dietz has formed tight bonds.
When Gabby Breiten, 21, of Wildwood, walked into Crossroads this summer to get help for her drug and alcohol addiction, she entered into a room where a small group of teenagers was playing cards. Dietz was the only other girl there. Dietz introduced herself and hugged her.
Breiten was less than two months sober when Dietz had her one-year sobriety anniversary. She cried while she watched her friend's ceremony.
At that point, Breiten still doubted if she could stay sober. "But I definitely thought, that could be me."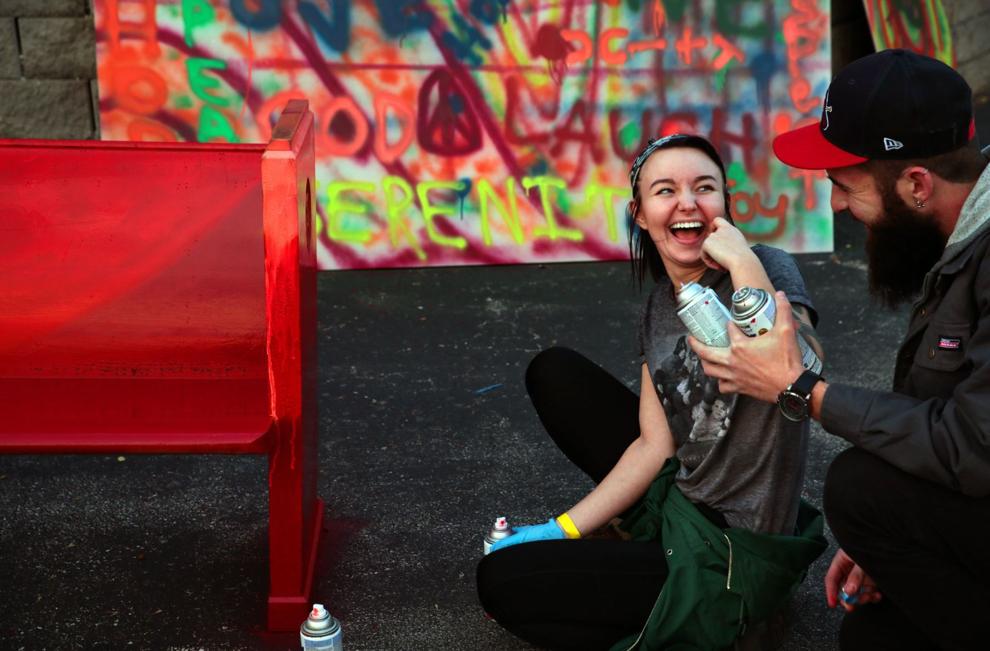 Rehab programs also have heartbreak. Dietz fell for a boy in recovery who died of a heroin overdose after he had been three months sober. He was 24.
How had she managed to avoid that fate? She channels her gratitude in trying to help others, while her mom has launched an arts program to help teens maintain sobriety.
Hope Creates supports teens and young adults in recovery by giving them opportunities to engage in and create all sorts of art. Thomas started with monthly pop-ups in April and invited all the Crossroads families. They've had events in which they paint, tie dye, play music, perform improv and hang out.
Last weekend, they spray-painted large pieces of drywall, canvasses, pews and trays for a permanent installation in a new shared working space in an Overland warehouse. In their future studio space, there are two old sofas, a couple of drum sets and some chairs. Pretty soon, they will have work benches for members to come in and work on their projects, which they sell to raise money for the organization.
Outside, about 50 young people painted abstract and graffiti-like designs, a few of which included words like "sober" and "be grateful." Dietz has an app on her phone that tracks how many months, weeks, days and minutes she has been sober. It's been a year and nearly five months.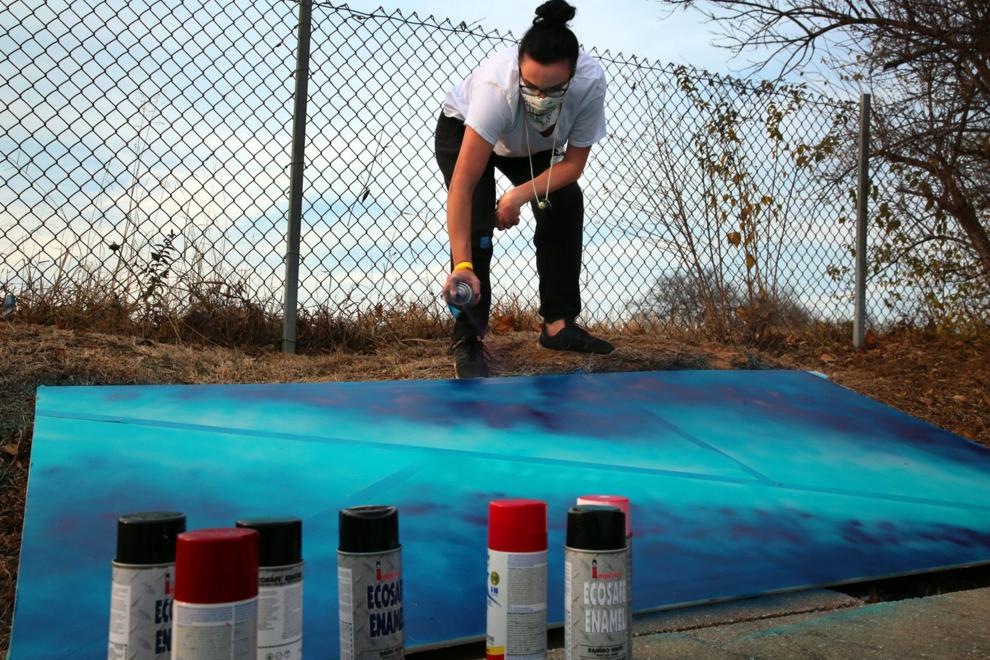 She spent two hours creating a galaxy with five different shades of blue, purple, charcoal and white splatter. She took a break from painting, inhaled an e-cigarette and looked around at all the people painting and talking around her. A friend helped her carry the painting inside.
She peeled off the lines of tape she had put down before painting, revealing the stark white lines underneath.
Then, she called over her mom, who had been running around organizing the event.
"Mom, I finished it," she said. Her mom stood over the divided, riveting galaxy at her feet, surrounded by the energy of recovery around her.
She studied it for a minute and looked at her daughter.
"Wow," she said. "It's perfect."