This is the first of a two-part series examining the mental health crisis among young adults and part of a monthly series on mental health. 
Irfan Akbani was worried about one of his newly pledged fraternity brothers at St. Louis University this spring.
The student seemed "off" — not like his usual self. Akbani, a junior, didn't think the younger student would confide in him, but he wanted someone to check in with him. Akbani approached the newly appointed mental health chair in his frat.
"There's something going on," he said. His fraternity brother promised to look into it. Akbani has been on alert this semester with a heightened awareness about mental health issues.
Many on the campus have been.
Three undergraduate students and one medical resident died of suicide at SLU this school year, the university confirmed.
"If you asked a lot of men, 'Who would you call if you needed help,' a lot of them would say, 'Nobody,' Akbani said. He is convinced that a far greater number of his peers think about harming themselves than anyone is willing to admit.
Akbani's hunch is reflected in the most recent data available through the Missouri Assessment of College Health Behaviors, an annual survey of 8,000 to 11,000 students from 24 college campuses in the state.
One in four students said they had thought about suicide in the past year, according to the 2021 data. That's an increase from 2016, when 17 percent of students responded that they had experienced suicidal thoughts.
"That's alarming," said Liz Sale, research associate professor with the Missouri Institute of Mental Health, University of Missouri-St. Louis. "One in four. That's a scary number. It's definitely something to be worried about," she said.
Missouri's skyrocketing rate of suicide among young people prior to the pandemic is even more alarming.
Nationally reported data about the years preceding the pandemic reveal a crisis that's been building for years: Suicides among children and young people ages 10 to 24 rose 57% from 2007 to 2018, according to the U.S. Centers for Disease Control and Prevention. During that same time period, suicides among young people in Missouri spiked 85% — significantly higher than the national increase, according to data from the Missouri Department of Health and Senior Services.
Sale said there are normal cyclical patterns in suicide numbers, and so far, she has not seen any unusual increase among youth and young adult suicide rates in Missouri from 2020 to 2021.
There is, however, a documented spike in rates of mental health disorders among young people. Prescriptions for antidepressants rose 38 percent for teenagers from 2015 to 2019, according to data from the mail-order pharmacy Express Scripts.
These disturbing statistics don't tell the whole story of adolescent mental health, however. Young people are also having more conversations about the underlying causes, proposing their own solutions and trying to engage groups that have historically been neglected in mental health outreach and suicide prevention. Despite the indications of increased anguish and emotional pain among young people, there's also a current of resilience.
Why is this happening?
Suicide is not a single cause-and-effect phenomenon. Researchers have been studying multiple factors regarding why young people are feeling more anxious and depressed, which may include a decline in sleep, decreasing amounts of physical activity, increased loneliness and the impact of social media use. For marginalized groups, such as LGBTQ students and Black teens and young adults, their experiences with discrimination, exposure to racialized violence, prior trauma and access to resources may be also be contributing factors to declines in mental health. Missouri's survey data also suggests correlations between suicidality and substance abuse and experiences with abuse in intimate relationships.
Katie Heiden-Rootes, a professor of family and community medicine at SLU's School of Medicine, is a principal investigator of a major grant focused on improving behavioral health services for children and adolescents.
"I think about suicidal behavior and ideation as the intersection of being hopeless and feeling helpless," she said. When young people feel unable to meet the challenges ahead of them, they can feel overwhelmed.
Students may appear as though they have it all together while feeling tremendous self-doubt and fear internally and facing something that feels insurmountable to them, Heiden-Rootes said.
Joan Masters, project director of Missouri Partners in Prevention, which administers the survey of college students in the state, pointed out some notable findings in the recent data. Researchers found higher rates of suicidality among students who reported frequent or daily marijuana use. Masters cautioned that correlation does not mean causation in this finding — frequently using marijuana does not cause thoughts of suicide. It may be that students with untreated mental health disorders are more likely to try to self-medicate, she explained.
The survey results also found increased suicidality among students who said they had experienced abuse in an intimate relationship. Another startling finding: Nearly 40 percent of the college students who responded said they had experienced abuse in an intimate relationship in their lifetimes.
Students may be struggling with anxiety from trauma experienced before arriving on campus, which may be exacerbated by increased isolation and loneliness in college. The survey data indicated that the issues of substance abuse prevention and violence prevention are very much related to lowering suicidality, Masters said.
When a student leader dies
In February, Orli Sheffey, 19, was in her third week of training to become a peer counselor for Uncle Joe's, a student-run counseling organization at Washington University in St. Louis. An involved student on campus, she was among 20 students selected out of about 200 applicants to learn how to support her peers when they needed someone to talk to.
That same week she died of suicide.
"That was a very, very hard thing to cope with," said Emily Angstreich, a senior graduating in psychological and brain sciences who will be pursuing her doctoral degree in clinical psychology. She is a director for Uncle Joe's, where she was hearing about a number of suicide attempts among students and increased levels of suicidal ideation. Sheffey was one of two students who died this academic year at WU.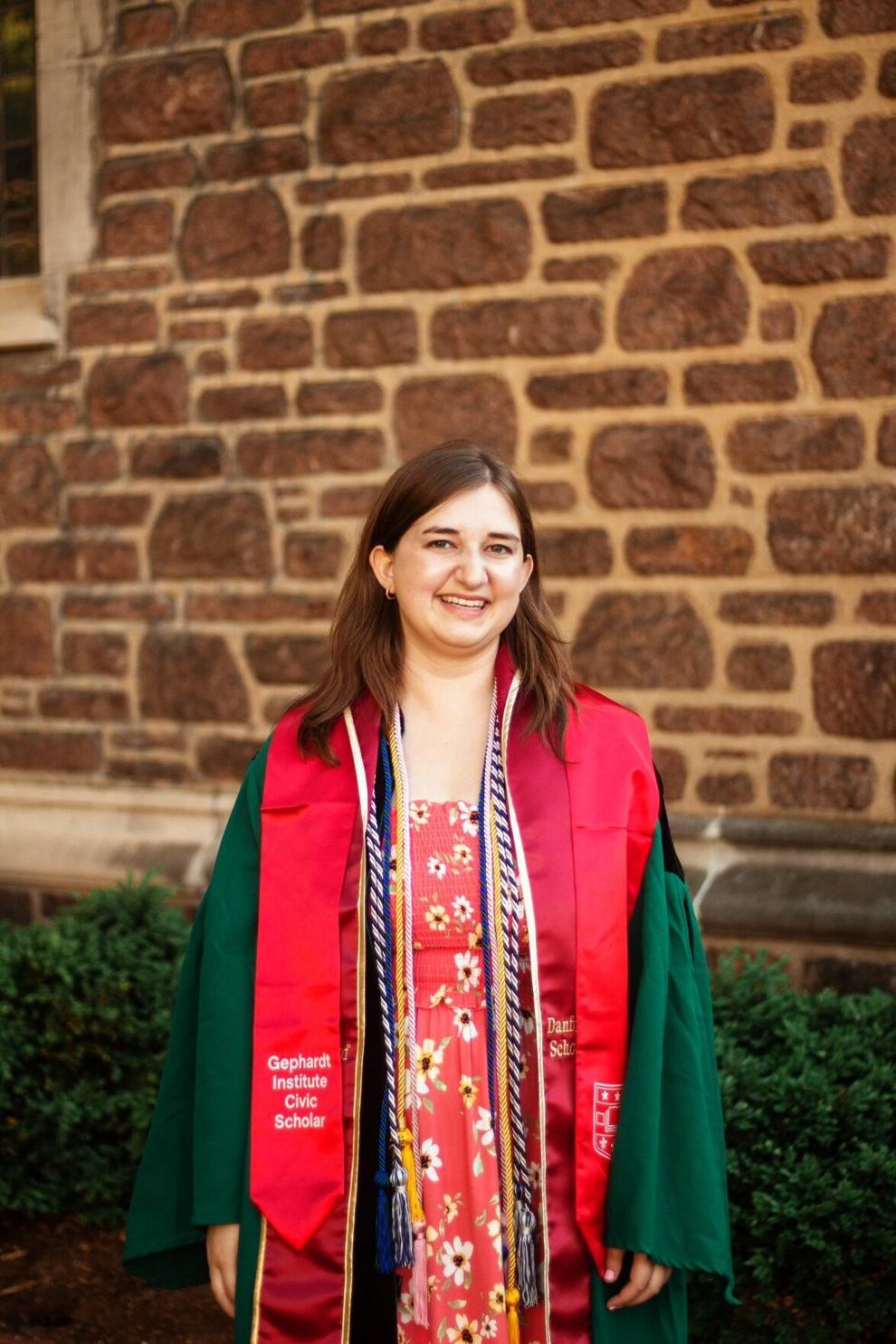 The isolation of the pandemic made it harder for students to find their community of close relationships and create a sense of belonging, which worsened pre-existing levels of loneliness, Angstreich said.
"The pandemic really brought out things that were already there and pushed them to the forefront," she said.
She's beginning to notice a cultural shift in how students talk about receiving mental health treatment. She doesn't see needing talk therapy as any different than needing physical therapy. It doesn't mean there is something wrong or broken with a person.
"It's a way to get a more nuanced and complex understanding of yourself," she said. Sheffey's death hit close to home for Angstreich. It made her question if she could have done more to reach her classmate.
"It was hard for me to realize that someone who had access to every single resource didn't feel like she could use them."
Why students refuse to get help
In his conversations as a student leader in several organizations on campus, Akbani has heard the reasons why students, especially young men, are unwilling to seek help. Students are afraid of being seen differently or judged by their peers. They worry that getting a diagnosis might prevent them from pursuing a career in a certain field. They are really scared of losing their rights and ending up hospitalized if they talk to a school counselor about their suicidal feelings, he said.
"What will happen if you confess these thoughts?" he said.
Findings from Missouri's College Health Behavior Survey found similar concerns from students. Of the students who reported having suicidal thoughts or attempted suicide in the past year, only 38 percent sought assistance. Among those who did not, the greatest barriers were: feeling shame, being afraid of judgment, lacking insurance or ability to pay for treatment and fear of hospitalization. Forty percent of these respondents reported that they didn't seek help because they didn't think they needed it.
Anna Gonzalez, vice chancellor for student affairs at Washington University, said the university changed its messaging around mental health resources to address this very phenomenon. Despite calls from students for better mental health access and shorter wait times for sessions, only a small percentage of students initially downloaded a new app offering timely help, which launched around January.
"They feel someone else needs it more than I do," she said. Once the university started pushing out the message that the services could accommodate anyone who needed them, regardless of severity, it saw an uptick in use.
How have universities responded?
Gonzalez has led Washington U. to think more proactively about what good health means in college. The university added counseling services available 24/7 via Zoom or phone call. It ramped up mental health training for faculty, staff and student leaders. It introduced the timely care app that could instantly connect a student seeking help with resources — a significant change from the long wait times to get an appointment. During the last few weeks of school preceding finals, the university introduced rapid, no-wait in-person appointments for counseling, in addition to the telehealth resources.
Gonzalez also wants students to become more attuned to factors that influence their overall health — how much sleep they need, their nutritional needs, their stress triggers — and learn the tools to better cope .
"We are changing the culture here at Wash U and outside of Wash U," she said.
One major area of concern for her involves the persistent and unhealthy levels of loneliness reported by college students nationally. Now that so many young people make and maintain relationships online, they may need support in learning how to initiate and sustain new friendships in person, she said.
Heiden-Rootes, at SLU, said bringing young people together in celebration and around particular interests is key to fostering connections and a sense of community.
The university also created a new administrative position last August; Eric Anderson was appointed assistant vice president for student well being. He has worked with the counseling center, health center, ministry team and recreation and wellness departments to help those most impacted by the deaths on campus this year. The university hired additional counselors and expanded the way services are delivered, along with mental health first-aid training. The university established six new student support groups, built in student well-being days into the calendar and offered several mental health workshops. SLU also created a task force comprised of students, faculty and staff to look at the broader ecosystem of student well being. The task force will deliver its recommendations at the end of this month.
Akbani said the demands of coursework is typically the No. 1 stressor for students. Work piles up, in addition to outside responsibilities, and there doesn't seem to be much flexibility in assignments, he said. He is a pre-med student taking 18 hours of classes, serves as an officer in three student organizations, belongs to a fraternity, volunteers at a soup kitchen and is doing extra science research outside of his classes.
"It does take a toll on me," he said. But he knows how hard it is to get into medical school and feels he has to manage this level of work to have a competitive application.
"Suffering in silence is kind of the norm around men's mental health," he said. That's something he is hoping will change.
Suicide is preventable and support is available. The National Suicide Prevention lifeline number is 800-273-8255.
The second part of this series will look at how students are raising awareness and trying to help their peers, the research investigating the rise of suicide among Black youth and offer recommendations for parents and adults.
There was a mental health crisis in America before the pandemic, and the coronavirus outbreak brought even more people and systems to a breaki…