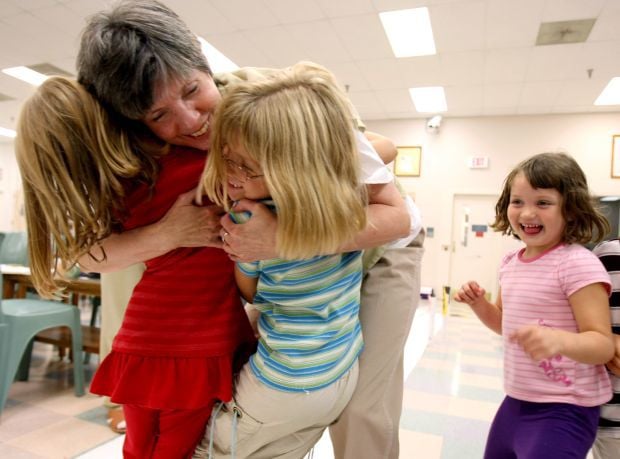 When I read my colleague's report that Gov. Mike Parson will soon act on a number of prisoner clemency petitions, my heart leapt.
I have spent two years getting to know the case and family of Patty Prewitt, who has been imprisoned for 34 years as part of a 50-year life sentence. I made the documentary, "33 and Counting,"  about her compelling case for clemency.
After seeing the report, I messaged her daughter, Jane Watkins, who has visited her mom every month in prison since she was incarcerated until this pandemic stopped the visits. She hasn't seen her mother, now 71 years old, in a year.
Around the holidays, the hope for an act of mercy by the governor is constantly on her mind. This latest announcement makes it hard to think about anything else.
"I'm cleaning house like a crazy person," she said. "Thinking what I will cook for her, letting her soak in a bath."
These are the fantasies of freedom from a family who has also suffered for decades. When I interviewed Prewitt for my film, she told me that the families of women in prison are emotionally imprisoned along with their mothers. 
"Emotionally, we have to be cautiously optimistic," Watkins said. "It's hard to know you might be setting yourself up for another big disappointment."
Prewitt's case is unusual because newspapers around the state, including this one, have argued for her release. A large number of Missouri lawmakers, both Republican and Democratic, have urged the governor to act. Countless former inmates have spoken about how Prewitt helped changed their lives for the better. The former head of the Missouri Department of Corrections has publicly called for her release — the only case he's ever done so — because of the remarkable contributions she had made in the time she has served. And all of Prewitt's adult children, who lost their father when she was convicted of his murder, want their mother to come home.
Her case is among three others the Post-Dispatch highlighted last year as worthy of the governor's power of clemency. 
Mary Pickard, also in her 70s, pleaded guilty to murdering her husband more than 20 years ago. 
Her petition and the clinical psychologist who evaluated her graphically described the years of physical and emotional abuse and repeated sexual assaults she endured at the hands of her husband. 
The beatings and sexual assaults got to the point where she tried to escape to their guest room at night. I've never forgotten the horrific details of that abuse after reading the report. Considering her circumstances, her age and the two decades she has already served, the governor should have mercy on her. 
There's Renae Green, who has served 29 years for a robbery in which no one was injured. She was addicted to drugs and robbed a pharmacy at gunpoint. There are murderers who have served far less time than her. Her debt to society has been long paid.
Similarly, the punishment for Timothy Prosser, does not fit the crime. He was a meth user who was sentenced to life without the possibility of parole after he was busted cooking meth in his trailer. 
Even the prosecutor in his drug-trafficking case — that is, the man responsible for locking him up for life — has sent a letter to Parson arguing for Prosser's release.
I'm sure there are plenty of worthy cases in the thousands of clemency petitions that have piled up over the years. I applaud the governor for committing to take action on some of them. 
As we all know, our justice system is imperfect. Sometimes, innocent people are sent to prison. Other times, an unusually cruel and harsh punishment disproportionate to the crime is given. And in some cases, the circumstances of an individual's life are so compelling that they must be taken into consideration, if the goal is rehabilitation and justice.
Still, their loved ones hang onto hope, year after year.