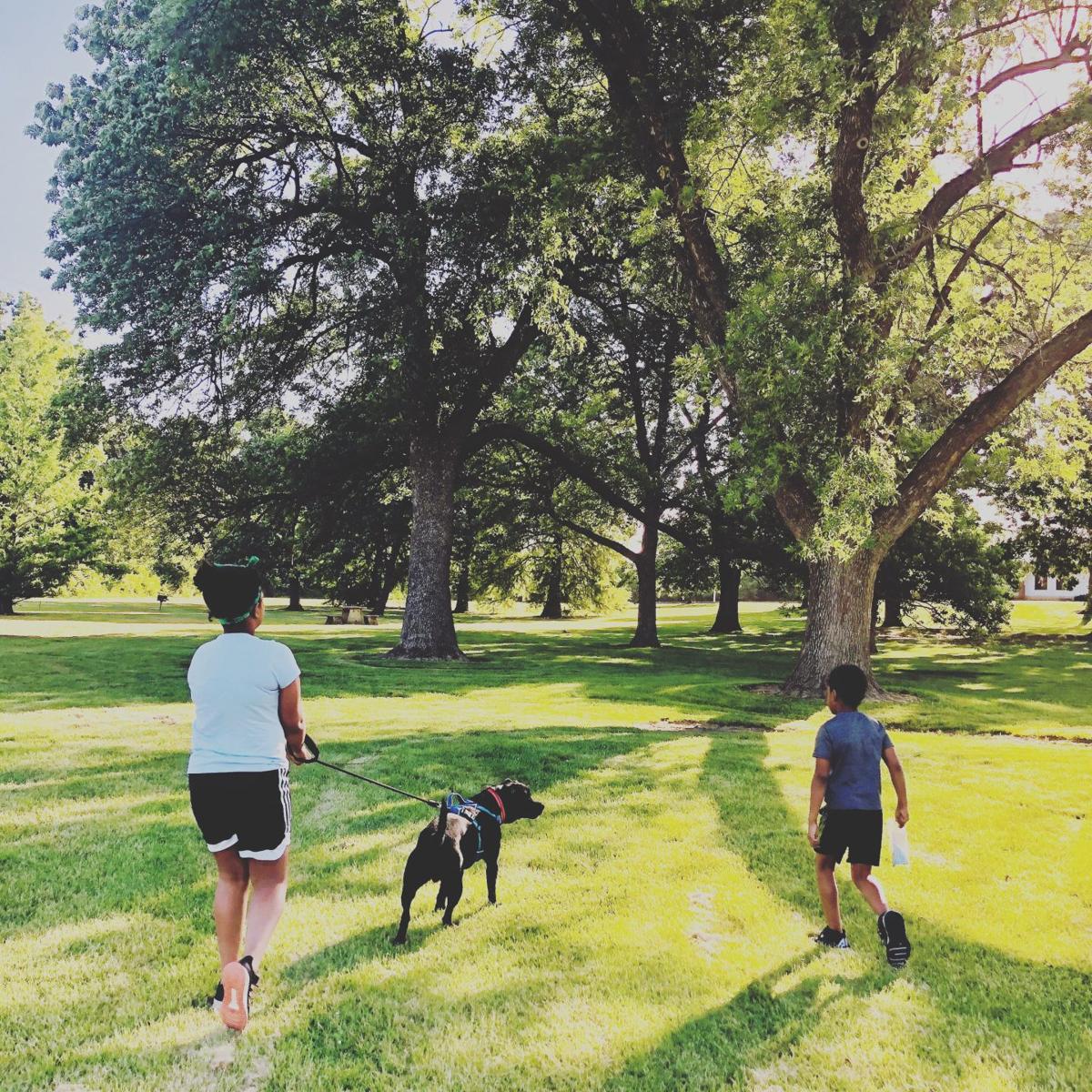 A loud banging on Chinyere E. Oteh's door at 2 a.m. jolted her awake.
She got out of bed, confused and scared, and looked down the hall of her 800-square-foot University City home. A light shone through her living room windows. Terrified, she started to shake. The banging moved toward her bedroom on the side of the house. The flashlight beamed into her room.
She stood frozen in the hallway.
Oteh began to think it might be a police officer. The person moved outside her children's bedroom. The person banged on the windows. She opened their door and found her children awake and frightened.
"Be quiet," she said, getting them out of their beds and into her room. The loud knocking migrated to the door at the back of the house, close to the bedrooms. They stayed in her room. The person returned to the front of the house and resumed banging on the windows.
Now, Oteh was shaking uncontrollably and called her daughter's father, who lives a few miles away. About four minutes had passed since the pounding on the door began. He didn't answer at first, but then he called back.
"I need you to come," she cried. "Someone's here. I'm terrified."
Oteh, a librarian and graduate student, who detailed this account later in a post on Medium, says it didn't occur to her to call 911 for help. She says she never heard the person identify himself as an officer, but even if she had, she wouldn't have answered the door. She feared ending up like Breonna Taylor, a 26-year-old Black emergency medical technician who was fatally shot in March by Louisville Metro Police Department officers executing a no-knock warrant to enter her home. From what Oteh has seen and experienced, she doesn't believe the police are there to protect or serve her, her family or anyone who looks like her.
That belief is so deeply ingrained that she couldn't call for help when she felt most vulnerable, alone and scared. That night, her daughter's father arrived and stayed for more than an hour to help her calm down. She felt traumatized.
The next day, she called the University City Police Department. A Black, female officer came by to talk to her. The night before, a cop had noticed that Oteh's car door was wide open in front of the house. He was knocking around the house to see if everything was OK.
University City Police Capt. Fredrick Lemons said the officer identified himself more than once while investigating. Oteh says she never heard any identification.
"If that police officer had not knocked on her door, he would have been in dereliction of his duty," Lemons said. Oteh has talked to the police chief, Lemons, her congressman and state senator's office about the incident. She wants the police department to pay for six months of therapy for her and her two young children to deal with the trauma of the experience.
The police department offered its chaplain for counseling but has not agreed to pay for therapy. In their view, the officer did nothing wrong. In fact, he did exactly what he should have done. It's not their fault if a cop simply doing his job could be traumatizing to someone, Lemons said.
"We didn't have anything to do with Breonna Taylor," he said. "How would it be if everyone who had any interaction with an officer felt traumatized and wanted counseling or compensation?"
Of course they didn't have anything to do with a killing in Louisville. But Oteh's feeling of fear was primal given the brutal incidents the country has seen involving the police and Black people.
So, why isn't there a community resource to help people like her process and deal with this kind of trauma? If the role of public safety is to help people in a community feel safer, then why can't we make counseling resources available to make that possible? When people advocate for greater investment in social services and restoring community trust, these are the types of things that can help overcome deeply embedded wounds.
Oteh isn't asking for a blank check. She's asking for healing.
Dylan Park, a writer and director based in Los Angeles, recently tweeted a thread about the death of Elijah McClain, an unarmed 23-year-old Black man who died after Aurora, Colorado, police officers put him in a chokehold last year.
Park wrote: "I think about black people who are terrified for their lives when they're stopped by police. They're so scared that their first reaction is to run or to struggle. It's literally how we, as humans, are programmed when we're in danger. It's fight or flight. And because we've seen people who look like us getting killed on the news every (expletive) day, fear and anger are the natural responses around police. If we don't run, they kill us. If we run and/or fight for our lives, they kill us. The deck is stacked against us. When I see Elijah's face, I see myself. We look so alike that we could be related. Hell, my middle name is Elijah. When I see Elijah's face, I see the face of a beautiful human being who should still be alive."
When Oteh heard banging in the middle of the night from someone trying to protect her, she saw the face of Breonna Taylor.
Be the first to know
Get local news delivered to your inbox!