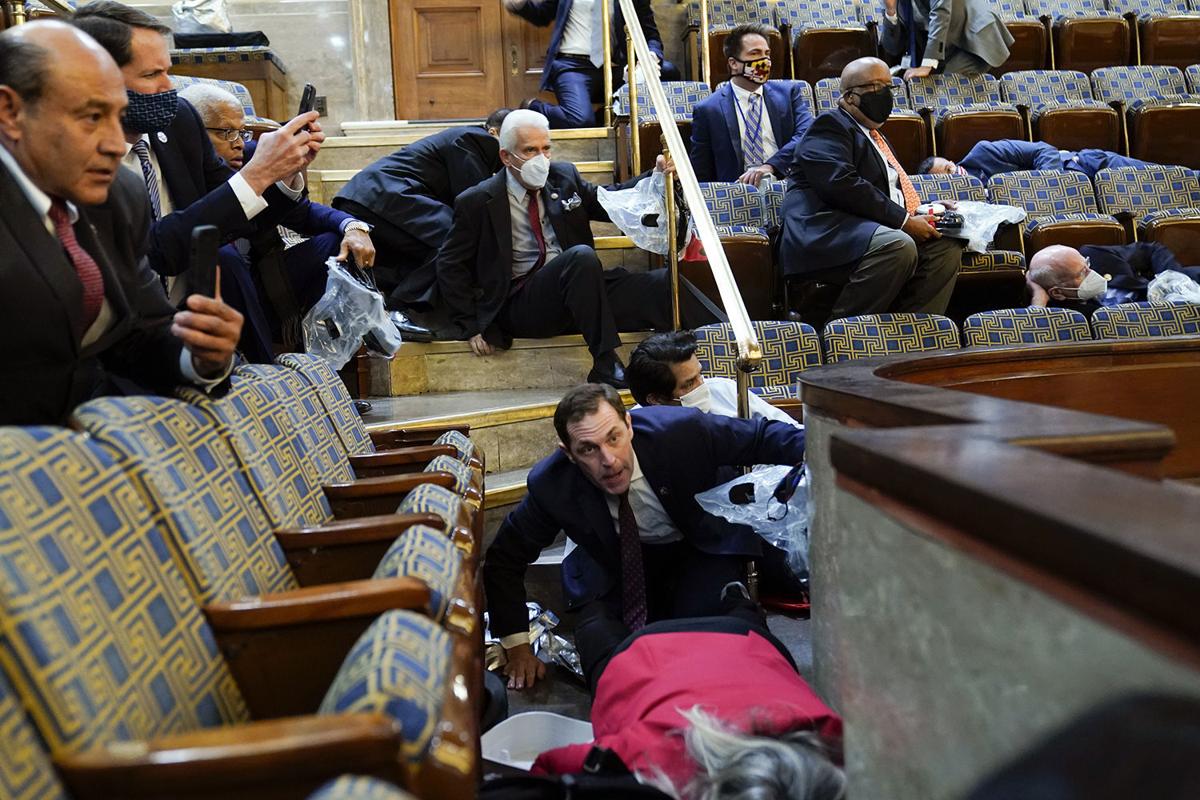 An older, white male Trump supporter has repeatedly warned me about an impending insurrection.
He's been writing to me regularly for several years, but after the last election, his predictions had become more dire and frequent.
"In my opinion this action, along with President-elect Biden's other promises to overturn the Constitution can only lead to violence and even civil war," he sent on Dec. 23. (Biden has never said he would overturn the Constitution.)
A few days prior, this reader wrote to say he was "getting the impression that people are moving from complaining to preparing." A week before that, he said: "I sense gunsmoke and violence and blood in the future." Shortly before that, "I am horribly afraid that the troubles will make the Watts riots look like a love-in."
As horrifying as the images were on Jan. 6, it was no secret or surprise what was coming. Trump loyalists and conspiracists were openly planning an insurrection on the internet. President Donald Trump, who incited the attack on our Capitol and on democracy, had been promoting a protest based on lies of election fraud for days on Twitter. He reiterated his love for his supporters soon after they had breached the Capitol, broken windows, vandalized and stolen items, and waved Confederate and Trump flags in the nation's halls of power.
So, while everyone knew — including our own Sen. Josh Hawley who fueled the fires of false grievance — no one took it seriously.
I had feared this exact scenario.
My parents emigrated from a country that has had four coups and several attempted coups in its short history. We never talk about the political instability they left.
This week, I talked to my children about an attempted coup in America. They watched as the peaceful transfer of power was shut down. And hours later, six Republican senators and more than a hundred House representatives sided with the man who sent armed rioters storming into our nation's Capitol. Trump's loyalists in Congress continued their attempts to delay and cast doubt on a fair and lawful election — deemed so by dozens of courts and judges Trump himself appointed.
As the events unfolded, I received a text from a friend in Missouri asking if it was safe to go outside to hike in a park. Others asked what kind of accountability there would be for those brazenly desecrating democracy. I heard from several immigrants and children of immigrants who thought they had left scenes like this behind.
Adults may have been stunned, but our kids weren't really fazed.
This is the generation that has come of age in a time of protests, state violence and political chaos. They are living through an information war that recruits their peers. They've seen schools turn into killing fields. The online spaces where they socialize are peppered with insults and dehumanizing remarks.
As the shock of what happened on Jan. 6 wears down, it should prompt us to take more seriously the threats of violence that lies ahead.
The reader who emails me about civil war has simultaneously complimented my writing and denigrated my religion. He recently accused my newspaper of following the methodology of Joseph Goebbels, the minister of propaganda of Nazi Germany, adding that the abuse inflicted by my colleagues is "beyond the pall."
"As with Herr Goebbels, eventually justice will strike back," he wrote to me a week after the election.
What does justice look like to the devoted followers of a corrupt and malicious leader?
We saw signs of it on Wednesday. One of the rioters scrawled a message on a door in the Capitol.
"MURDER THE MEDIA," it said.
NOTE: An earlier version of this column misstated that the peaceful transfer of power had never been disrupted. It has been updated since.