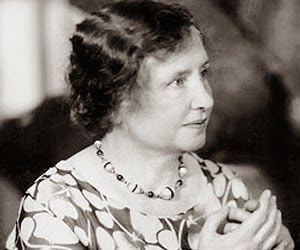 People believing or spreading crazy, false ideas is hardly newsworthy these days. But there are compelling elements to a recent viral bit of misinformation about an American hero.
Hollywood screenwriter Daniel Kunka shared a startling discovery on Twitter earlier this month after having a conversation with his teenage nephews and nieces: They claimed Helen Keller was a fraud, who had never written her books or accomplished what is attributed to her.
This absurd belief may have arisen from a joke that morphed into a meme spread widely on TikTok, a video-sharing social media channel popular with teens.
"They believe people around (Keller) 'pumped her up' and wrote the book for her," Kunka posted earlier this month, referring to Keller's autobiography in the exchange with his younger family members. "And apparently 15 million others on TikTok feel the same way."
"This isn't from lack of education or empathy," Kunka said. "This is more about how groupthink can travel through social media like a virus until it suddenly just becomes the truth, I think."
We've all seen this disturbing phenomenon become commonplace in recent years. There are millions who believe that former President Barack Obama wasn't born in America, or that he is a Muslim. Or that the Holocaust didn't happen. Or that the coronavirus is a hoax. Or that Sandy Hook was staged. Or that Donald Trump actually won the last presidential election.
But in the case of each of these lies, there are people who stand to benefit by duping others.
The lie about Keller strikes closer to the "flat-Earth" variety of conspiracy. Who benefits from spreading such an easily disprovable, silly lie?
Isabella Lahoue wrote a post on Medium outing herself as a member of Gen Z who doubts Keller's existence. She wrote that she considers the inspiring historical figure to be an "urban legend."
"Maybe we don't believe in her because we're growing up in a world of fake news. We know the power of manipulation and lies in the media, and we're losing faith in the sources everyone once trusted," she wrote. "There's too much data and too many lies circulating for us to process and believe it all."
This is a significant admission. Bad actors have capitalized on information overload and the inability to discern what is true to manipulate millions. They've targeted social media as the most fertile ground to spread lies and chaos.
When Kirk Adams, president and CEO of American Foundation for the Blind, heard about the fake Keller meme, his first reaction was to laugh.
"That is so absurd that it doesn't merit arguing," he thought. But the head of the organization where Keller had worked for more than 40 years quickly realized it gave them an opportunity to educate people. Their site offers free, accessible resources for parents and educators from the Helen Keller archives. There are lesson plans for how students can conduct inquiries and do research online — a paramount skill in today's world. This is the way to counter the efforts of those grooming Generation Z to distrust verified facts in a post-truth age.
The most perplexing thing about the rising tide of fact-deniers is the segment resistant to any evidence that might sway them. They will discount verified video footage, phone calls, historical records, data and science that is contrary to what they have seen on YouTube, TikTok, Reddit or on propaganda sources.
A longtime reader once told me that "Jesus Christ himself" could say Obama was a Christian, and he still wouldn't believe it. So, how do we prevent a younger generation from sliding into this same entrenchment in misinformation?
We must ignore the temptation to write off misguided beliefs with horrified amusement. The pandemic has driven home the deadly consequences of the unchecked spread of misinformation. The Harvard Kennedy School Misinformation Review published a study in August investigating the spread of COVID misinformation on social media, and how content moderation by these sites can help contain the spread. They found that mainstream sources like Fox News and the New York Post actually do more to spread conspiracy theories than alternative sources because social media platforms filtered far fewer conspiracy posts from mainstream sites. These platforms were too slow to react to the magnitude of misinformation being spread, the researchers found.
Just as the American Foundation for the Blind did, we have to react as soon as we learn that misinformation campaigns are gaining traction. Generation Z considers itself to be the most inclusive and embracing of diversity yet this meme perpetuates a harmful myth about those with disabilities. The idea that Keller's disabilities would have made her accomplishments impossible reveals an ugly bias.
Helen Keller was a champion for fairness, justice, intellectual rigor and curiosity. When Nazi students in Germany included her book among those to be burned, she wrote a scathing letter:
"History has taught you nothing if you think you can kill ideas. ... You can burn my books and the books of the best minds in Europe, but the ideas in them have seeped through a million channels and will continue to quicken other minds."
Imagine what her response might have been to her modern day social media erasure among young people.
Indeed, a million channels can quicken other minds.