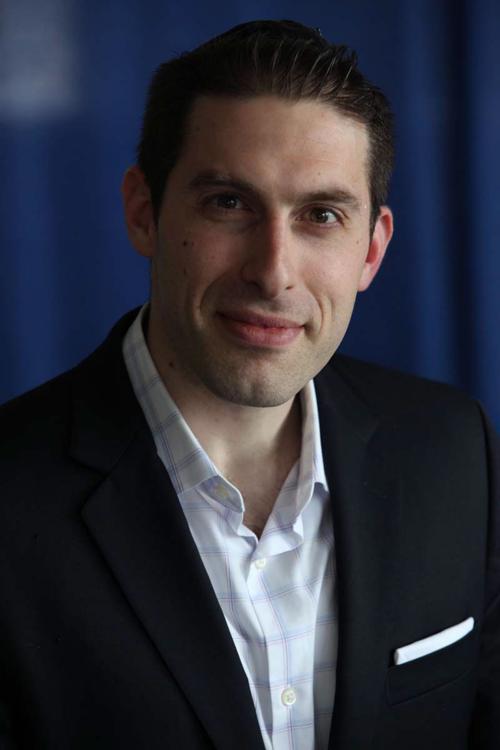 Charlie Harary, the author of "Unlocking Greatness: The unexpected journey from the life you have to the life you want," will be speaking in St. Louis on Thursday. He shared this excerpt of his new book:  
How do we change our focus away from the negative aspects of our lives?
Every parent already knows.
When a child falls on the floor, what do parents do? First, they clean them up and make sure nothing is broken. But the child is likely still crying with no signs of letting up.
What do parents do to calm them down? Reason with them? Nope. Beg, plead, lecture, or discipline them? Not going to work.
How do they get them to stop crying? They distract them. They make a joke, blame the floor (ever try that one?), or promise them ice cream. (It's amazing how much parenting is based on sugar consumption.)
They change their child's focus. Why? Because when their attention moves to something besides the pain, they actually feel the pain less.
Learning to shift focus isn't just about distraction. It's a way to create neuroplasticity. When you shift your focus from something that's negative to something that's positive, and you do it again and again, thanks to neuroplasticity, you make it easier to focus on the positive, instinctively.
Identifying what we want and need to focus on will be covered extensively later on in this book, but let me give you three examples of how shifting focus can change how you feel.
If you're married and your marriage is not amazing (assuming that both you and your spouse are not bad people and you want your marriage to work), try to following: When you look at your spouse, think about what you're focused on. Is it what's wrong with him or her? Are you thinking about the times he annoyed you, the way she disappointed you, the expectations you had for marriage that have not been realized in your life? As you look at your spouse and continuously focus on what is wrong, what you're doing is developing a picture that is negative or disappointing. As a result, that feeling of disappointment translates into how you interact. That disappointment poisons your schema's "view" of your marriage.
So for one week, try something new. Whenever you're frustrated, just shift your focus. When you look at your spouse, identify the five best qualities about him or her. When he's disappointing you, is he still trying? If so, focus on the trying. Focus on the positive effort. Better still, go back to the reasons you got married and try to see those things in him, separate from the pressures of raising children, finances, or anything else that's dragging your marriage down. For one week, try to consistently focus on the positive traits of your spouse. Force yourself to think about them. Shift your attention to those positive traits, over and over again. Force your brain to see those positive traits.
Even if this feels unnatural at first, you will start to change your schema. You will start to see the positive more easily and therefore feel more positive about your spouse and about your marriage. That will let you feel happier just to be around him, and that will ultimately translate into how you feel about him and how the marriage develops.
Another example: happiness. Years ago, a mentor of mine told me, "Every morning when you wake up, write down four things that you're grateful for. Spend just one minute thinking about your life without those things and then being grateful for them." Your eyesight. Your hearing. Your ability to walk. Living in a home. Living in a secure environment. Having the ability to support yourself. Having a family. Whatever it may be, you have lots to be grateful for.
But here's the trick, he said: You can never repeat any of the things on your list. For the first week, it's pretty easy to come up with that list. But after that week, it takes effort. You have to find things that you've never taken the time to be grateful for in the past. And so you train your brain to look for things to be grateful for throughout your day. You start seeing them and taking note of them: that you didn't miss the bus, that your digestive system can break down foods, that your immune system kept you from getting sick this winter.
When you train yourselves to look for four things to be grateful for every day, in time you'll find yourself feeling happier. Why? Because when you're looking for things to be grateful for, you are shifting your attention, however slightly, to becoming more positive about your world and about your life, which your mind then translates to feeling happier. All it takes is that shift in where you're focusing your attention.
When you spend time shifting your attention, even just a little bit, you're able to change how you feel and therefore change how you experience life.
This excerpt is reprinted from "Unlocking Greatness" by Charlie Harary with Mark Dagostino. Published by Rodale Books, an imprint of the Crown Publishing Group, a division of Penguin Random House.
To see the author in St. Louis:
The Aish St. Louis Jewish Speaker Series presents Charlie Harary  at 7:30 pm on Thursday, March 15, at the JCC.  For more information, call the Aish office at 314-862-2474. The first hundred people to RSVP will receive a free copy of Harary's book.