It took six weeks for Mandy Beckmann of Festus to feel comfortable breastfeeding her baby. Her nipples hurt. She had two other young children also needing her attention. Nursing was challenging, to say the least. But she persevered.
So, when she saw an ad on social media for breast milk jewelry, she was intrigued.
"I thought it was weird, but I loved the idea of it," Beckmann, 32, said.
She is still breastfeeding her youngest, an infant, and had nursed her 4-year-old and 2-year-old each for more than a year.
"Breastfeeding is a freaking hard thing," she said. A unique piece of jewelry could be a great way to create a lasting memory. But she did wonder: Why would you want to wear your breast milk on a necklace?
It turns out women have all sorts of reasons why, which have fueled a cottage industry of DNA-inspired jewelry. Bodily fluids and parts can be preserved in resin and turned into rings, bracelets and necklaces made of placenta, breast milk, baby teeth, umbilical cords or locks of hair. Several of the artisans specializing in this type of jewelry stumbled into it when trying to create a keepsake for themselves or a friend. The mother may be seeking such a memento to celebrate a bond, capture an empowering birth or nursing experience, heal from a trauma or hold onto a memory.
Ruth Avra, in Bradenton, Fla., has been making jewelry since 2003. Her friend gave her her son's umbilical cord stump in 2012 and asked her to make something out of it.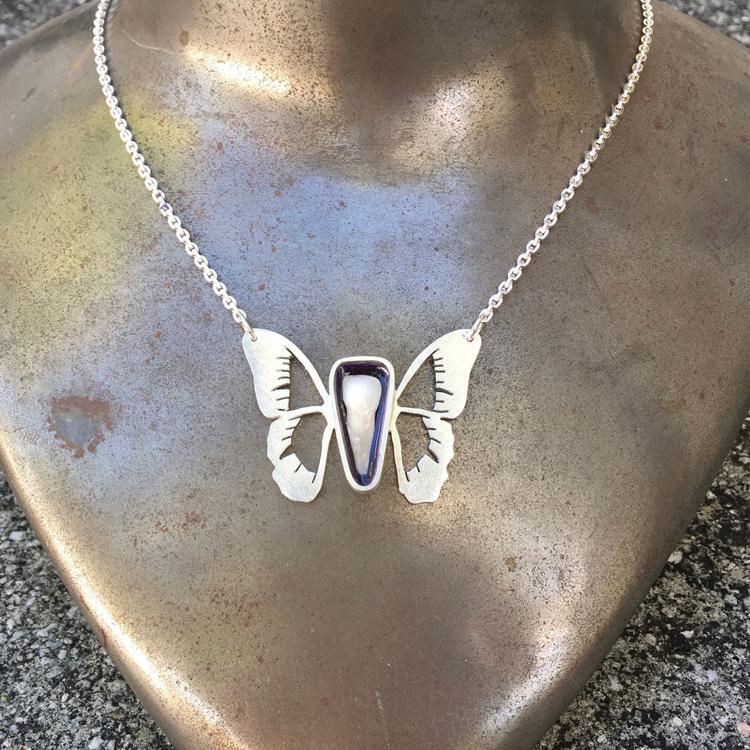 "I had no idea what to do with it," Avra said. It sat on her work bench for two months. She was also pregnant, and after her own son's umbilical cord stump fell off, she was struck by inspiration. She preserved the stump in resin.
"I made a wax carving. ... I didn't want to change the actual shape," Avra said. The wax carving is cast in sterling silver to make a setting in which the stump sits to create a pendant.
"It takes a certain person to love it," she says. "Some people think it's amazing; some people think it's disgusting."
She's expanded the line to include baby teeth, hair and placenta. For her, it's about freezing a moment in time, given how quickly childhood passes.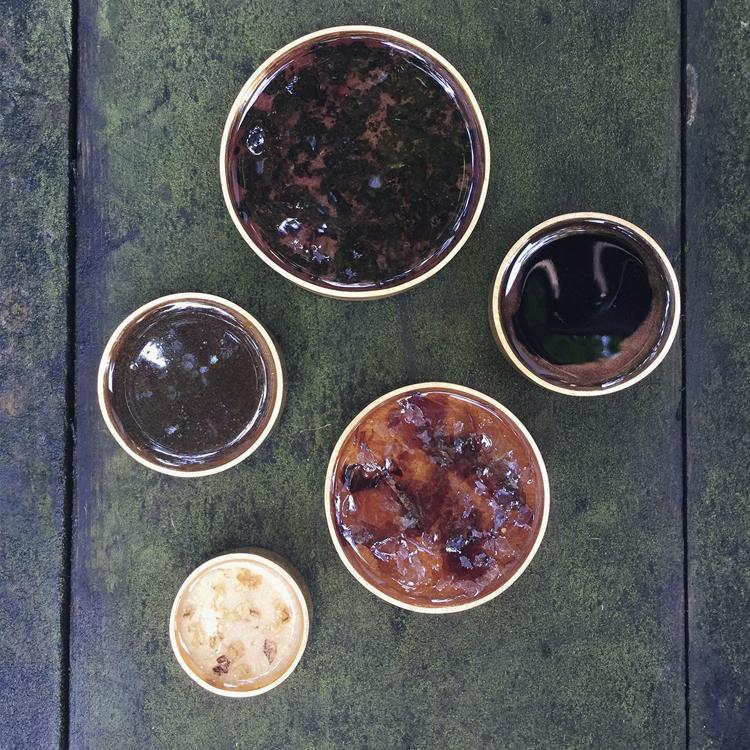 "It's about being able to remember and cherish and hold on to those connections," Avra said. Actress Mayim Bialik contacted Avra about creating a wall sculpture with specific bodily inclusions. Avra created circles of different sizes and filled each one with preserved parts, such as the amniotic sac, placenta, umbilical cord and foreskin from the circumcision. She wrote on the back of each circle what it contained.
Avra attributes the growth in her business to the rise of social media use among moms, who can share images of jewelry they've had made.
"It doesn't look gross," she said. "They come out more elegant looking than people realize when you just talk about what they are."
Ann Marie Sharoupim runs Mamma's Liquid Love out of Rutherford, N.J., and said her business began when a friend donated breast milk to her when she was struggling to produce her own. She was so touched by her gift that she created a necklace for her friend with the donated milk. When Sharoupim presented the necklace, which had taken a lot of trial and error to make, her friend started crying and said it was the most beautiful gift she had ever received.
Sharoupim launched her business when her jewelry was featured in a news story, the number of orders exploded.
"It started out as a gift and a hobby, and then it just blew up," she said. She gets requests from mothers who struggled to breastfeed and those who cherished the process. Some clients ask how they can be sure it's actually their milk being used to make the jewelry.
"I get that question very often," she said. Sharoupim says she takes pictures during the preservation process and sends them to the moms. There is an element of trust involved.
Beckmann told her husband that she wanted a breast milk pearl necklace as her "birthday, Christmas, Valentine's and Mother's Day" gift. She placed an order in November with Indigo Willow Breast Milk Jewelry and when it arrived three months later, she was thrilled with how it turned out.
"It looks like any other pearl, but knowing what's in it is kind of neat," she said.
Sometimes the stories behind the jewelry can be deeply emotional ones of trauma or loss. Melanie Fogarty started Beyond the Willow Tree, the first DNA-jewelry company in Australia and one of the largest of its kind worldwide. Some of her clients she will never forget. Fogarty was contacted by a woman who was dying of invasive breast cancer. She wanted 12 beads created out of a flowers from a special occasion and strands of her hair. She had a 6-year-old-daughter and wanted one of these gifts given to her every year, along with birthday cards she had pre-written.
The mother died a few months later.
Fogarty, who has made more than 120,000 DNA-inspired pieces of jewelry for women all over the world, says that holding onto a physical part of a person can give the wearer a feeling of being directly linked to their loved one or child. One mother sent her a lock of hair from her 5-year-old daughter who had been killed by a drunken driver.
"It was at this point I realized the impact I was making in creating such meaningful pieces for families," she said.
Interestingly, it's not just mothers who reach out to her with custom orders. Late last year, they received a request from an American family who wanted their grandfather's famous pasta sauce put into rings for the family to wear.
"I'll never forget opening up the package," she said, as the smell of the sauce filled her nose.
And, they have also fielded requests from men who want their semen put into a keepsake.
"This is something we definitely don't do," Fogarty said. "However, we are always unsure if this is a joke or if they are being serious."
Beckmann, who had a few extra breast milk pearls made for a smaller charm bracelet, said she likely wouldn't wear any other DNA jewelry.
"Some of it is a little far-fetched," she said. "But to each their own."