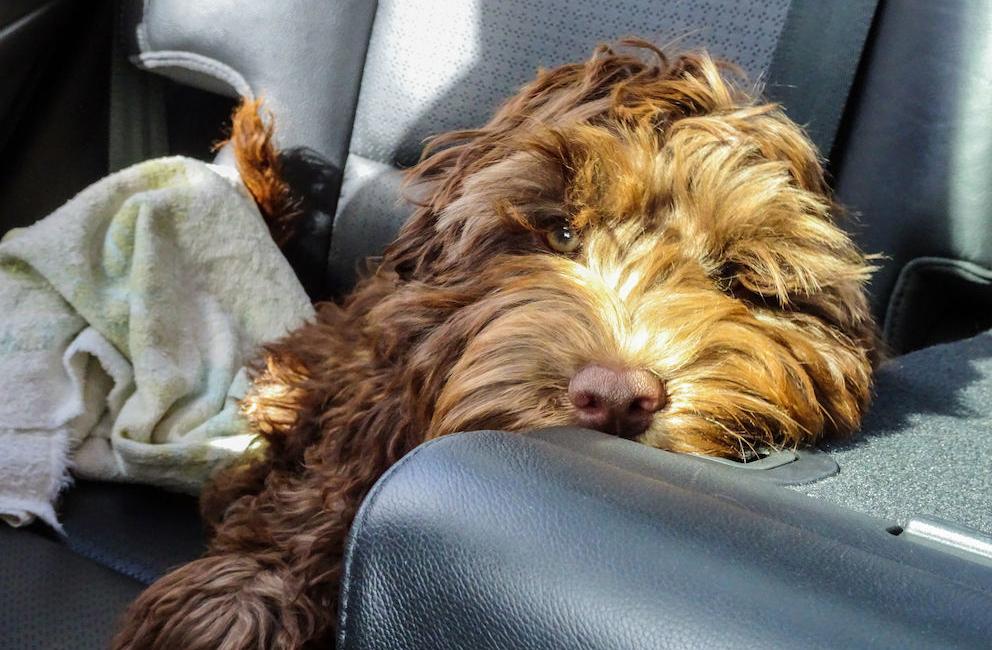 If you're thinking about taking your furkid on a special road trip, but are somewhat anxious about the prospect...we're here to help. Perhaps, you just don't know where to begin. Deciding where to go, where to stay, and then getting there can seem a bit daunting -- especially if you've never road-tripped with your pet before.
The key to a stress-free, enjoyable trip is taking a thoughtful approach.  We've broken it down for you — outlining the top considerations when planning a trip with your pet. 
1.  Select the "Right" Destination
The mountains? The city? The beach? Grandma's house?  With so many places to go, how do you choose?  It's essential to keep the best interest of your pet "top of mind" when determining where to go. And of course, your preference along with the opinion of fellow travelers are important as well! For instance, if your pet is a bit fearful or shy, taking him to a busy metro area probably wouldn't be much fun for him. Got a water dog? Great! Then a beach or lake getaway might be just the ticket. Selecting the right type of destination is key. You want to make sure your pet has an enjoyable and comfortable trip. When your pet's not happy, neither are you.
Another consideration when determining your road trip's destination is how long it will take to get there. Some pets LOVE car rides, others...not so much.  Some dogs have such high (or nervous) energy that only short trips are an option. You know your pet best. Determine how long your pet will be content with riding in the car -- and figure that into the equation when selecting your destination.
2.  Pick the Perfect Place to Stay
It's important to find the right pet-friendly place to stay that's best suited for your furkid(s) -- as pet policies vary greatly by hotel. Pet weight limit, number of pets allowed, and pet fees all have to be considered when booking a hotel. Once you find the right accommodation, consider requesting a first-floor room to allow for quick and convenient potty breaks for your pup.
During your stay, it is not recommended that you leave your pet unattended in the room unless absolutely necessary. If you must, be sure to minimize the time away and let the front desk know that your pet is alone in the room. Even the most well-behaved pet can act-out and stress- out in an unfamiliar environment.
The most common reason pet parents are tempted to leave their pets alone is when they are going out to dinner.  Fortunately, there are many options to include your dog.  Most restaurants with outdoor seating welcome dogs on their patio area. In addition, there are A LOT of breweries that allow dogs both inside and outside! Most breweries have regular food trucks, so check their site to see what fare they are serving up. Another option is to bring your favorite takeout to the brewery to enjoy while sipping a cold craft  brew!  And then you can always stay at the hotel and order room service or order takeout.
 3. Prepare for the Car Ride
Beep beep! Is your pet ready for the car ride? It's best to make a checklist of all of your pet's essentials to pack in the car. This includes his food, fresh water, medications, bed, toys, and of course a leash. Further, if your pet is a restless traveler, packing a toy that will keep him busy in the car might help. A Kong stuffed with something yummy usually does the trick.
Before you head out, have a plan to properly secure your pet in your vehicle for a safe and comfortable car ride. Carving out a space in the cargo area among the suitcases is not safe or comfortable. What's more, allowing your pet to be free range is not safe either.  A pet seat belt, travel kennel, vehicle pet barrier, and car seat are some good options to keep your furry sidekick secure.
Keep food intake to a minimum while in the car. Too much may upset your pets stomach. Ensure fresh water is available and plan to make more frequent pit stops for potty breaks. Look out for the "I have to go to the bathroom" stare so you can pull over and let your pet do his business. There are many pet-friendly rest stops that have designated potty areas for pets. Just make sure to have a poop bag on hand. Very importantly, never leave your pet in the car unattended, especially in the summer heat.
4.  Pack the Patience
The best thing to bring on your road trip is CALM ENERGY! Taking a trip with your pet strengthens your bond and creates new memories.  Show your pet that you are excited about spending vacation time with them, but don't be nervous. Pets are energy magnets -- when you are anxious, so are they. There is no need for stress, for you are a vacation planning SUPERSTAR! When in doubt, TripsWithPets will help you out as your reliable source for planning the best road trip full of good memories. With preparation and a positive attitude, your next pup road trip is sure to be a success.
About TripsWithPets
TripsWithPets has been helping pet parents find pet friendly accommodations since 2003. TripsWithPets provides online reservations at over 30,000 pet friendly hotels & accommodations across the U.S. and Canada. You'll find thousands of pet-friendly destinations like Fort Lauderdale, FL, Houston, TX, and Boston, MA. When planning a trip, pet parents go to TripsWithPets.com for all they need to book the perfect hotel for their pet -- including detailed, up-to-date information on hotel pet policies and pet amenities.