When Kareemah Moment began cooking meals for their dog, Ghost, Torre Finley wasn't sure how long her effort would last. But Ghost, the handsome pit bull/bull mastiff mix the two adopted four years ago, was highly allergic to commercially prepared dog foods, so Moment stepped up to the stove — and the oven — from the start.
Finley soon realized how serious Moment was about feeding Ghost well. Her treats not only tasted good, but they were good for the dog. "Torre encouraged me to start the business," Moment says.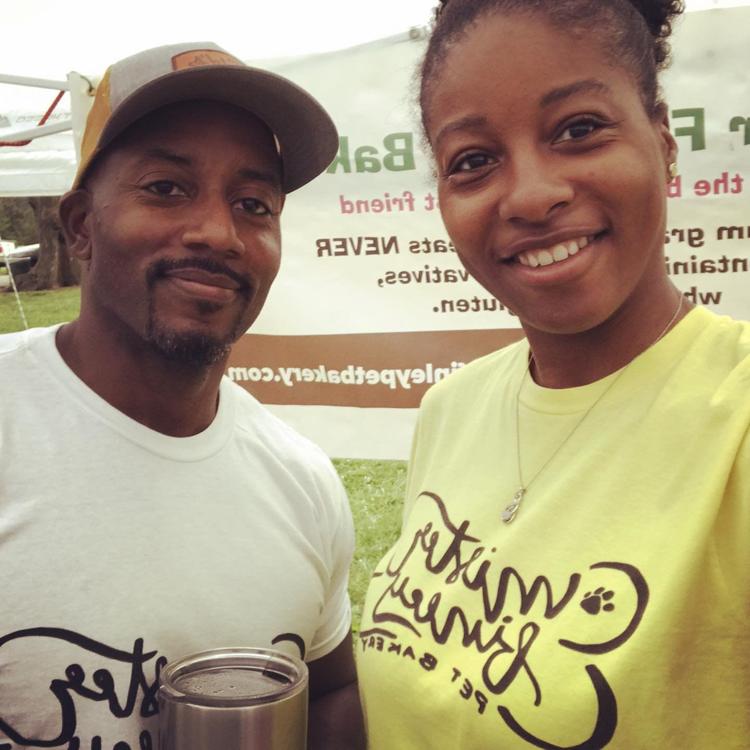 The result, Mister Finleys Pet Bakery, became a doggone-good venture for all three.
Ghost comes home • "We named the business after Ghost," Moment says. "When we got him, I was looking for a schnauzer, but Ghost was a timid puppy who really needed a home, so he came home with us. He's four years old now and weighs 98 pounds."
Mister Finley speaks • Today, Ghost takes his duties as chief taster and spokes-canine seriously. On Facebook, Instagram and TikTok he appears outgoing and enthusiastic. Did he outgrow his shyness? Not so much. "He'll do anything for treats," Moment says when asked about his TikTok performances. "What you don't see in TikTok is me, off to the side, holding a treat."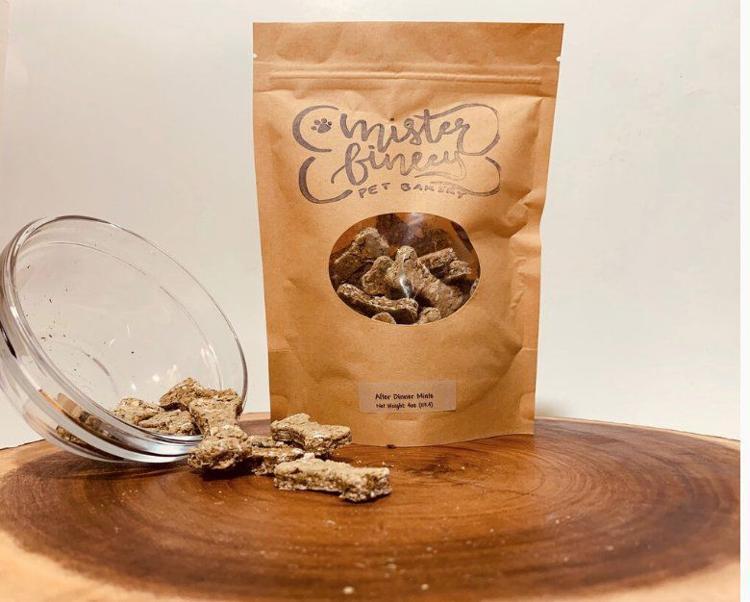 Wholesome treats baked with love • Moment's treats don't contain grain, corn, soy, wheat products, additives or preservatives. "We use our own special blend of premium ingredients like chickpea flour, almond flour and organic peanut butter with no sugar. We use canola oil in one dog treat and coconut oil in our tuna cat treat," she says.
In addition to bags of dog bones and cat treats, Moment bakes a few people- and dog-pleasing specials. "People really like our Doggie Pizzas, four-inch rounds that look like a pizza," she says. "We also make a pizza bone with pizza ingredients wrapped inside.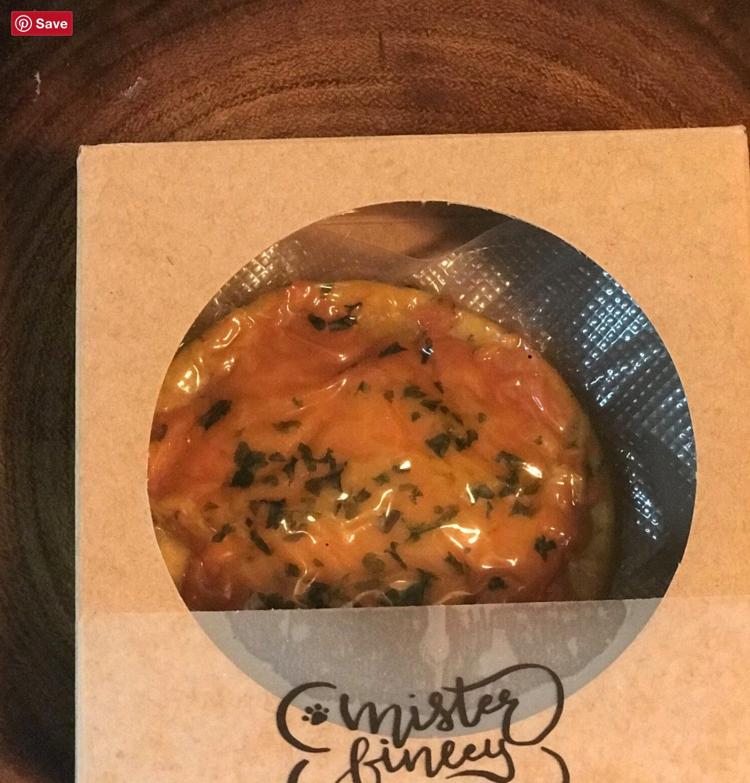 "Another good seller is our peanut butter and apple bone drizzled with bacon and peanut butter. I've tasted that one and it's pretty good," Moment says.
Wrap it up; I'll take it • The understated packaging is also a credit to Moment. "I'm very creative, and I knew how I like things, so I designed the logo myself. I wanted it to be simple, clean and eco-friendly, which is how I came up with the stamp idea. All our packaging is hand-stamped," she says.
Mister Finley, Mister Finley Go! Go! Go! • Although their pet treats are sold at several retail locations and online through their website, Moment and Finley add pop-ups and selling at Tower Grove Farmers Market to their marketing mix. When they do an event, Moment's niece, 8-year-old Taylor Pearson works alongside them.
"She comes up with creative cheers about buying treats, takes payments and gives people their treats," Moment says. "She even steps out and does little dances and cheers to get the crowd going."
The man behind the curtain • Moment and Finley both bake treats, but Finley handles the behind-the-scenes activities. "Torre also packs up and sets up for us at markets. He runs the social media, packs orders and delivers packages to the Post Office," Moment says. "And he encourages me.
"I was so nervous when we started, first of all because I'm a woman. I don't see many people who look like me in the dog business, so having his support means a lot. Everyone has been so welcoming to me."
Nursing a career • Moment doesn't just make dog and cat treats, she's a full-time nursing student at St. Louis Community College at Forest Park. "I want to be a nurse practitioner, so I have a long road ahead," she says. "I meet a lot of different people, I'm a friendly person, and we need nurses. I've gotten a lot of encouragement for this choice, even from random people I meet on the street. I'll still keep baking, though."
---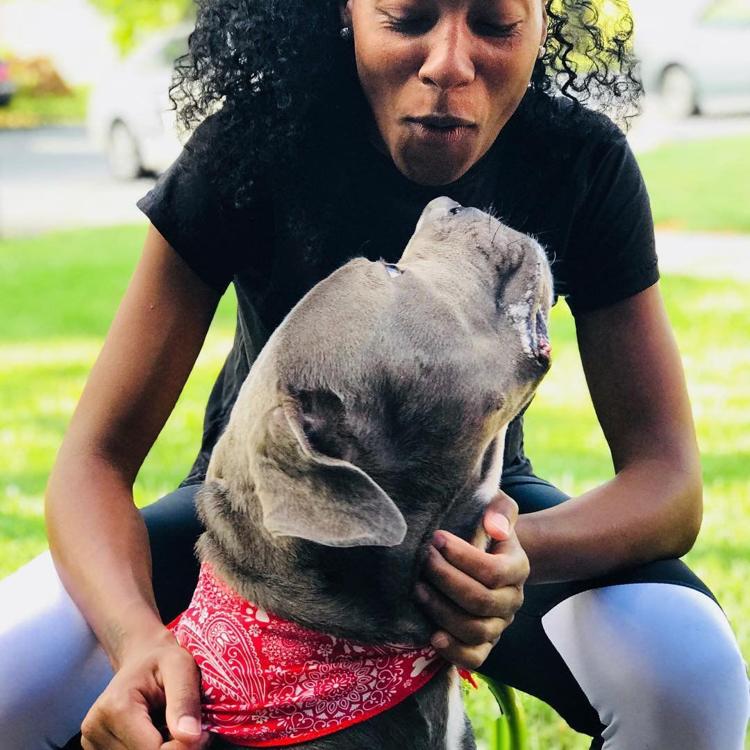 Makers • Kareemah Moment and Torre Finley
Ages • Moment is 31; Finley is 38.
Family • Moment and Finley are life partners. Their dog, Ghost Finley, is a bull mastiff/pit bull mix who is the inspiration, namesake and spokes-canine for Mister Finley Pet Bakery.
What they make • All-natural treats made without grain, wheat, soy, corn, preservatives or additives for all pets, but especially for pets with allergic reactions to mass-produced treats.
Where to buy • Green Earth Art Co., Local Harvest, the Wagamama at Thies Farm, Tower Grove Farmers Market, and online at misterfinleypetbakery.com. The treats will soon be available on Amazon as well.
Get a dose of adorable in your inbox
Receive local adoptable pets PLUS updates for pet lovers in your inbox every week!