Dear Cathy: How do I stop my 8-month-old cat from biting me? I think he wants attention but that's a lousy way to get it. He doesn't bite my partner, just me. Also, are there any ways to keep the same kitten from pulling all the toilet paper off the rolls? — Judy, Tucson, Arizona
Dear Judy: An 8-month-old kitten is probably biting because he is teething, and his gums are sore. It's likely just a phase, but phases need to be monitored and managed to ensure they don't become habits.
Cat play is nothing more than a display of a feline's hunting behaviors, which means they stalk, pounce and bite things when playing. To avoid getting bitten, never use your hands as playthings. Keep stuffed socks, feathered wands, and other cat toys handy to quickly distract and play with your cat instead. This will keep your hands free from bites and your cat happy and content.
Some cats though, take biting a step further. One minute, you're petting your cat and having a happy moment, the next your cat nails you with their claws or mouth.
This is always a scary moment for the pet parent who wonders what on earth they did to deserve a bite? Or they wonder what's wrong with their cat?
Assess their tolerance to touch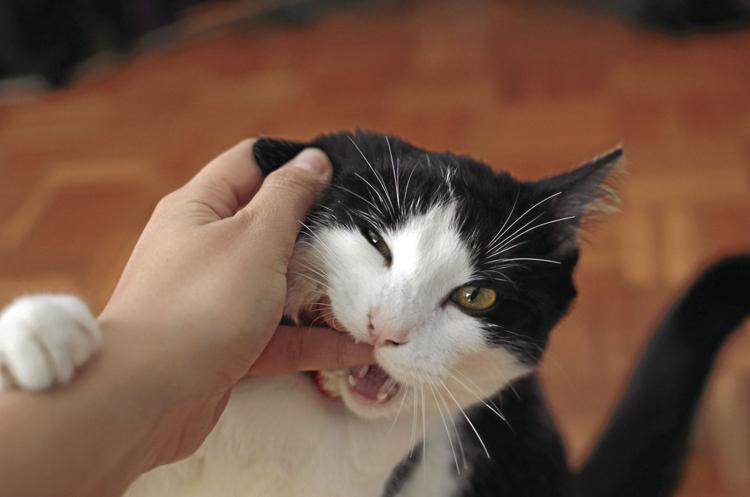 There is nothing wrong with your cat and your cat is not misbehaving. But as a pet parent, you did do something wrong. You likely stroked your cat above his level of tolerance while your partner may stroke the cat below his level of tolerance. Cats are extremely sensitive to touch and other stimuli and when they are overstimulated, biting is often their go-to to tell you to stop petting them or remove the stimulus in the room. It's called petting-induced or overstimulation aggression and is fairly common among cats. This behavior has nothing to do with how the cat feels about you, but with what is happening around them.
Be respectful of your feline's tolerance for touch. Some cats might tolerate five minutes of petting, another cat may only tolerate five strokes, before they turn and bite the hand that feeds them.
There are warning signs, like ears that twitch back, dilated pupils, and a rigid, slow-moving tail. Learn your cat's tolerance for touch and don't pet him one stroke more.
It's instinctive to want to pet your cat, but sometimes you have to override your instincts to abide by your feline's wishes. Cats generally are content sleeping on your lap and maintaining contact with you in that way. Even if you are not petting your cat, you both will still benefit from the close contact.
Rambunctious reactions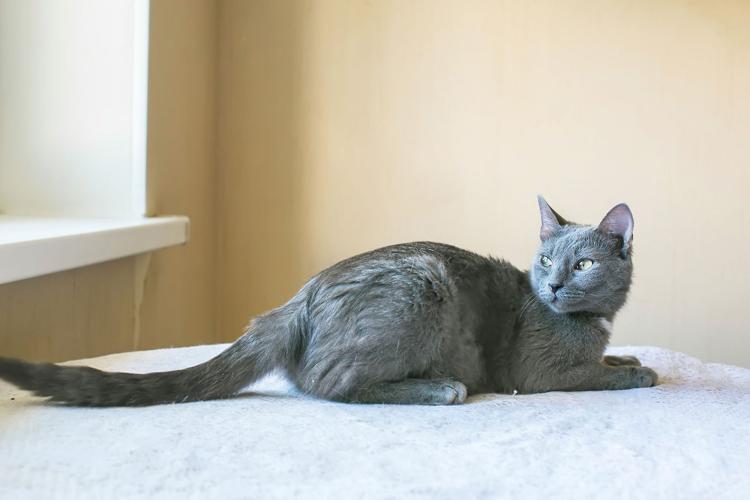 Pent-up energy also can contribute to overstimulation aggression. Exercise helps. Make sure your feline has lots of toys, a cat tree, and at least 10 minutes of playtime/exercise, twice daily. If cats are tired from play, they are less likely to be aggressive and/or bite.
To address your second question, there are covers you can mount on the wall to keep your cat from unrolling the toilet paper.
You also can put the toilet paper on the roller, so the paper has to be pulled from the back of the roll, making it harder, but not impossible, to pull on. You also can place it out of your cat's reach, like in a basket on the counter or on the tank of the commode.
Cathy M. Rosenthal is a longtime animal advocate, author, columnist and pet expert who has more than 25 years in the animal welfare field. Send your pet questions, stories and tips to cathy@petpundit.com. Please include your name, city, and state. You can follow her @cathymrosenthal.
---
The 8 best cats for people with allergies
Intro
If you're an animal lover that suffers from pet allergies, you're not alone. According to the Asthma and Allergy Foundation of America, as many as three out of every ten people in the U.S. suffer from pet allergies. Of those, allergic reactions to cats are some of the most common. In fact, it's estimated that cat allergies are about twice as common as those caused by dogs.
What causes cat allergies?
Allergies are the immune system's abnormal response to otherwise harmless substances called allergens. A person with cat allergies has a hypersensitive immune system that triggers a reaction when the body comes in contact with, or proximity to, cats.
While many people think that a cat's fur is the primary allergen, it's actually a widespread misconception. According to the American College of Allergy, Asthma, & Immunology, the allergic potential of cats is not driven by their fur, but rather by the presence of a protein (Fel d 1) found in the animal's saliva, dander, and urine. Although the fur itself is not an allergen, it can collect saliva, dander, and urine, in addition to other allergens like dust and pollen, which means that cats with less fur may be less likely to collect allergens and easier to keep clean.
One of the reasons cat allergies are so common is that the size and shape of the Fel d 1 protein molecule is conducive to remaining airborne for long periods of time and subsequently sticking to fur, carpets, fabrics, and other surfaces. This is why highly-sensitive people can experience cat allergies even when an animal isn't present. Research has shown that cat allergens can even be found in relatively high concentrations in public places without cats, such as schools and libraries.
Is there such thing as a hypoallergenic cat?
Based on what scientists know today, all cats produce Fel d 1, meaning that at present, there are no truly non-allergenic cats. However, researchers at NomNomNow, a fresh pet food delivery company, compiled a list of breeds that purportedly cause fewer allergy symptoms than others. Additionally, there are a number of things any cat owner can do to lessen the allergic effects caused by their pets. For example, keeping surfaces in the home clean, bathing and brushing your cat regularly, installing a HEPA air purifier, and steam cleaning carpets can all help reduce exposure to allergens.
While no cat will be a great fit for people with severe allergies, here are the cats that may cause fewer allergy symptoms than others.
8. Cornish Rex
Photo Credit: imageBROKER / Alamy Stock Photo
Closely related to Devon Rexes, Cornish Rex cats are known for only having a single coat of fur, compared to most cats which have three. This lack of fur means that Cornish Rexes shed less than other breeds, but like the Sphynx cat, require frequent bathing in order to get rid of excess oil on the skin. The combined lack of shedding and frequent bathing reduces the buildup of dander and saliva on these cats, which in turn lessens the possibility of provoking an allergic reaction. Because of their thin, light coats that make them sensitive to low temperatures, Cornish Rexes are best suited for indoor living.
7. Devon Rex
Photo Credit: Łukasz Szczepanski / Alamy Stock Photo
The Devon Rex has several unique physical characteristics: large ears, a lightweight coat, and hair that grows in curls and waves like a poodle. Devon Rexes have a coat composed of soft down, with very little hair as a top coat. As a result, these cats do not shed as much as hairier breeds. This lack of shedding reduces the amount of saliva-coated particles in the air. While other hairless or less hairy breeds require frequent bathing, the Devon Rex requires less maintenance—for most grooming sessions, cleaning the paws and ears only will suffice.
6. Oriental Shorthair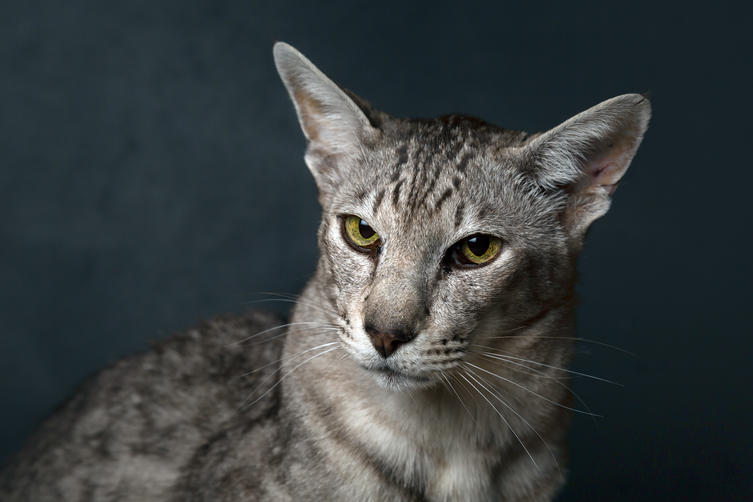 Photo Credit: Edward Phillips / Alamy Stock Photo
The Oriental Shorthair is part of the Siamese family of cats. With more than 300 colors and patterns, Oriental Shorthairs have the biggest range of physical characteristics of all cat breeds. With regards to allergies, they have a short, fine coat that does not shed often. Because of this, owners of Oriental Shorthairs report these cats spread fewer allergens around the house. Frequent grooming can also minimize dander, and as an extension the possibility of an allergic reaction.
5. Javanese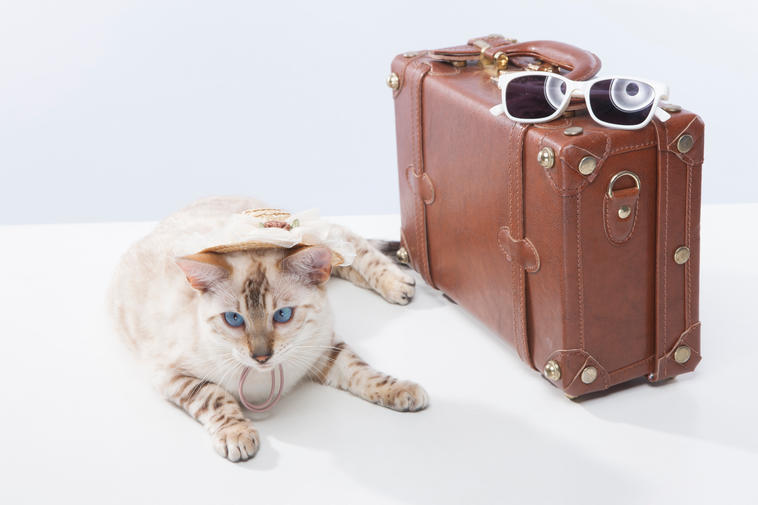 Photo Credit: TongRo Images / Alamy Stock Photo
Contrary to the name, Javanese cats are not native to the island of Java in Indonesia. Rather, they were bred in Japan and have adopted a southeast Asian name in the tradition of other Oriental (and especially Siamese) cat breeds. While most cats have three layers of coat (top layer, middle layer, and undercoat), Javanese cats have only a fine top coat. Because these cats have less hair, they do not shed as much and therefore are reported to collect and spread fewer allergens.
4. Balinese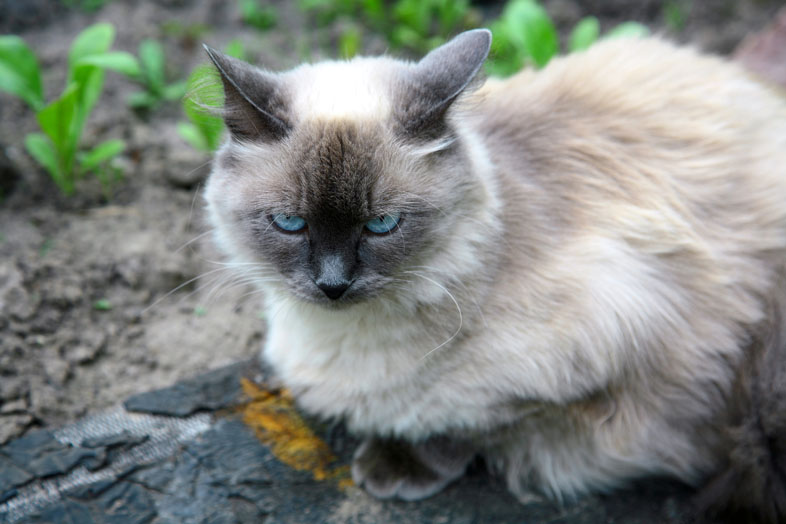 Photo Credit: Elena Kovaleva / Alamy Stock Photo
Also known as the "long-haired Siamese," Balinese cats, at first glance, do not seem like they would be good candidates for owners with allergies. However, like Siberians and Russian blues, they produce less of the Fel d 1 protein than other breeds and are therefore more hypoallergenic. In addition, this breed is notable for its single coat and relatively little shedding among long-haired cats, meaning it spreads less dander, too. Balinese cats are known for their intelligence and friendly demeanor.
3. Russian Blue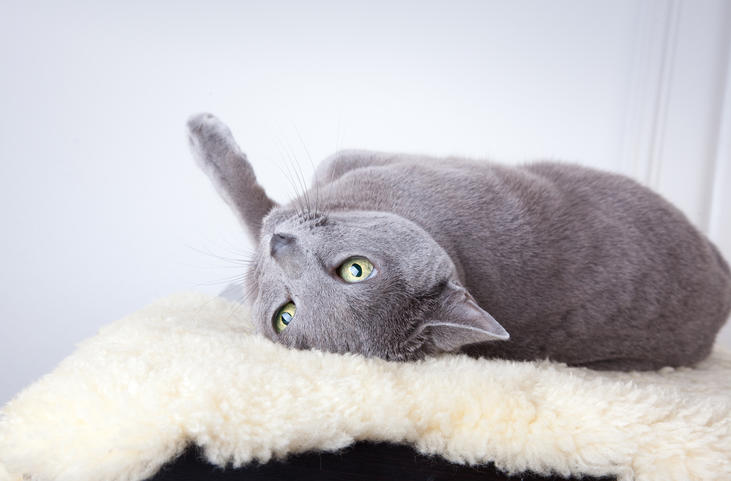 Photo Credit: Nailia Schwarz / Alamy Stock Photo
Despite its name, the Russian blue is a cat whose fur varies from a light silver to a dark grey. Russian blues are short-haired, but have double coats that have given them a reputation for density and lushness. Like Siberian cats, Russian blues are believed to produce less Fel d 1 and also shed much less than their thick coats would suggest. Personality-wise, Russian blues are pleasant companions who develop close relationships with their owners.
2. Siberian
Photo Credit: vvvita / Alamy Stock Photo
Siberian cats are highly athletic, strong, and long-haired. At first glance, these cats might not seem like they would be well-suited for owners with allergies. However, compared to other cat breeds, Siberians have less dander, shed much less, and produce lower levels of Fel d 1. This combination of factors decreases the likelihood of eliciting an allergic reaction.
1. Sphynx
Photo Credit: Krissi Lundgren / Alamy Stock Photo
Known for its hairlessness, the Sphynx cat was first bred in the 1960s. The Sphynx cat is frequently considered less allergenic because it does not have any fur to trap allergens. Even though this breed does not have any fur, Sphynx cats actually require a lot of grooming, especially baths, to remove oils on the skin and wax in the ears. Outside of their physical appearance and grooming needs, sphynx cats are well-known for being extroverted creatures, exhibiting friendliness toward strangers and affection for their owners.