When Larryn Porter leaves his second job, he heads to the home of his 5-year-old son to get him ready for bed and so they can watch a few minutes of wrestling together.
Porter, 30, works about 70 hours a week as a mechanic and salesman for an auto parts store. But every Sunday he takes his older two children, both 9 years old, to church with him. Sometimes, he takes their half siblings along, if their fathers aren't too involved.
"I'm trying to find a way to have more time for my children, he said. "You gotta be Superman at times."
Porter is a part of a counternarrative about African-American fathers emerging in popular culture and media.
Whether it's LeBron James in a video shooting hoops with his young sons, one barely above his knee, or Snoop Dogg with his children on the E! Network, the image of the African-American father may be aligning more closely with reality in many homes.
A national study released in December found that black fathers who live with their children are just as involved in parenting as other dads — or even more so. In this group, more black fathers reported reading to their children daily, feeding or eating meals with them daily and bathing or dressing them than Hispanic or white fathers, according to the National Center for Health Statistics.
African-American fathers are less likely to be living with their children than fathers of other races. Gretchen Livingston, a researcher with the Pew Research Center, says about 44 percent of black fathers were living apart from at least one child 18 years old or younger, citing data from 2008. That compares to 35 percent of Hispanic fathers and 21 percent of white fathers, she said.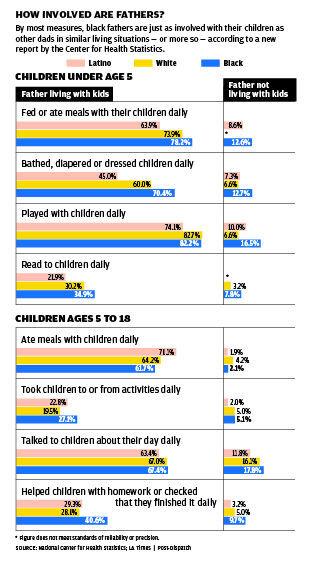 But compared to those who also live apart from their children, African-American fathers reported as much involvement or more than white or Hispanic fathers in the largest study of its kind, funded by the CDC.
"This isn't the only study that found this idea of a 'deadbeat dad' is a misnomer," said Patricia Kohl, professor at Washington University's Brown School of Social Work. She has done research and conducted focus groups completed last year with urban, African-American fathers.
"They very much desire to be a part of their children's lives, even though there were barriers for dads not in the same home," she said. "As a society, we've placed that label on this group, and it's hard to overcome that, but I really don't believe it's accurate."
For many years, the public policy around engaging fathers was about getting them to pay child support, she said.
"There's been a shift at the policy level that father involvement is much more than that," Kohl said. "It's also relationship-based."
Her work was done in partnership with the Fathers' Support Center of St. Louis, founded by Halbert Sullivan.
"The African-American father may be trying harder because he's been knocked down more than anyone else," Sullivan said. "There are 25 million children in America growing up without a father in the home. A little more than a third are African-American," he said. "It seems (they) get the finger pointed at them most often."
Porter says his father wasn't a part of his life growing up. "I met mine at 19; he's a drunk."
It pushes him to be as involved as he can with his own kids. "I don't want my children to go through that," he said.
Roberta Coles, professor of sociology at Marquette University has studied race, family and fatherhood. She says while this wasn't the first study to suggest that African-American fathers are just as engaged in child-rearing as other fathers, it was one of the largest with a national sample of more than 10,000 men. Most of the previous research focused on single mothers, she said. People assumed that nonresident meant being absent.
That's not the case in many African-American households, she explained.
It's true that when men don't marry the mother of their children, they are less likely to be involved, she said. So, why are black men more likely to be involved even while living apart?
"Black men grow up with less gendered views of what men and women are supposed to do," she said, especially those who grow up in single-parent households. Expectations for unwed fathers may have evolved in the African-American community to a higher standard, researchers speculate.
Cbabi Bayoc, a St. Louis artist and father of three, embarked on a project two years ago to paint one African-American father figure every day for a year. The project ended up taking almost 2½ years.
"I went into it as a subject to paint and came out of it with a lot of emotion," he said.
One of his clients who purchased three pieces is Roger Humphries Jr., 46, of St. Louis.
Humphries says the research doesn't surprise him because the African-American men in his social circles are also engaged fathers.
"I'm an active and present father. That comes from one, a desire to be; two, love for my kids; and three, it's what I grew up with."
He said it's worthwhile to consider what causes fathers to be absent in the first place. In previous decades, public policies such as welfare benefited single mothers and drove fathers out of impoverished households in order to qualify for benefits, he said. A bad economy disproportionately impacts minority men, which impacts their ability to provide for families and can lead to less family involvement.
Coles agreed that fathers are less likely be involved if they are unemployed or underemployed because mothers won't allow fathers to see children if they fall behind on child support. Or fathers may feel badly about their lack of ability to provide.
Earlier this year, Humphries and Bayoc had an informal gathering with other men to talk about the significance of black fathers.
"In the past 10 or 15 years there's has been outward discussion about men … when you see the destruction of the family structure," Humphries said.
Kenrya Rankin Naasel, a writer based in Washington, D.C., published "Bet on Black: African-American Women Celebrate Fatherhood in the Age of Barack Obama" last fall. She was raised by a single father, and said she was motivated to work on the compilation of essays because of the discrepancy between her own experience and the stereotypes about black fathers.
"They take being a father just as seriously as anyone else," she said.
She remembers a Mother's Day more than 20 years ago when she painted her father a sign that read, "Happy Mother's/Father's Day," because in her life, he was both.
She says the study results may reflect the years of outreach and programs for African-American fathers.
"The hope is that those programs are taking root, fathers are learning skills and how important it is to be involved with their children's lives," she said.