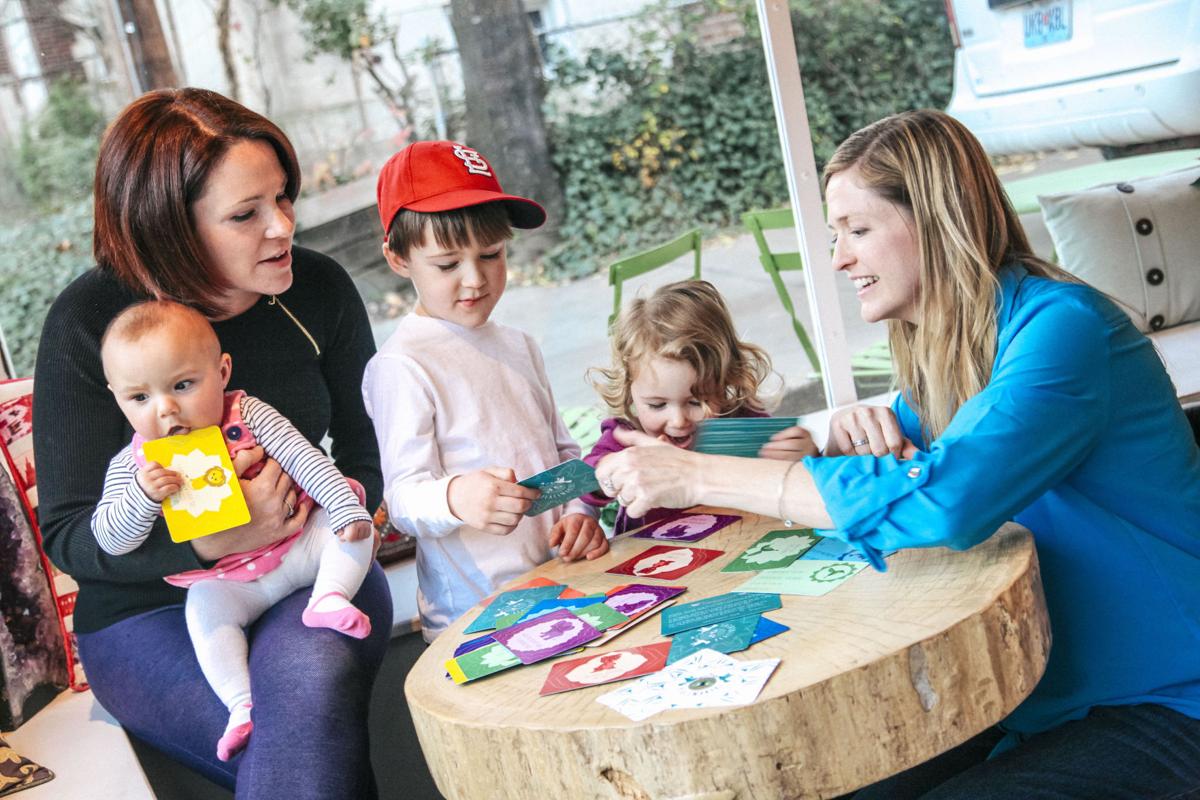 When I coerced my family to play a new card game designed to nurture our empathy, the first question was: How do you win?
"Oh my god, it's not that kind of game," I said.
We're a competitive bunch. Let's just say I've been uninvited from some family game night events due to unsportsmanlike behavior involving a Taboo buzzer. Also, there may have been loud allegations of cheating leveled against certain children based on flimsy circumstantial evidence.
Never mind that. This PeaceMakers game, developed by Suzanne Tucker, a local mom and parent educator, was bound to increase our compassion and peacefulness toward one another. Who couldn't use a little more of that in their families, especially this stressful time of year?
I was a little skeptical when the game arrived. It's a colorful deck of 42 cards with cute animal illustrations and a mantra printed on each card. Granted, the target age group for the game is 3 to 9 years old. I was going to try this exercise with a 14-year-old girl, who believes in her heart that she is unspeakably cooler than anyone in her family, and an 11-year-old boy, who would rather be playing baseball or video games than indulging my empathy-building projects. Oh, and a spouse who likes to win family game nights nearly as much as I do.
The cutesy deck seemed stacked against us.
Tucker said there are no specific rules. Everyone takes turn drawing a card, reading it aloud and then saying something about what they've read. You can relate it to an experience you've had recently, a thought or desire or even sing, dance or draw in response.
It's less a game, and more a reflection time.
Um, OK, this could be interesting.
My son drew a card that said, "I stick with things and get things done." He mentioned a school assignment that had taken some time, and we agreed this card described him well.
I drew a card that said, "I am a leader." I added: Yes, I am a leader in trying to get this family to do things even though no one really listens to me. That probably wasn't in the spirit of the positive affirmations, but Tucker had told me that was no "wrong" way to play.
The girl drew a card that said, "My mistakes help me learn and grow." She said she had nothing to say about that. In fact, she could not think of a single thing to offer in response.
"Just say something," I said, through gritted teeth.
"Fine! You don't have to get so mad!" she responded. She may have conceded that she has made some mistakes before, obviously not as many as rest of us.
It was my husband's turn, and his card said to sing a song, an instruction he whole-heartedly embraced as he began to serenade us. My son and I cracked up laughing, and my daughter bolted.
"Oh my god, I'm outta here," she said, on her way out.
We played a few more rounds, and I have to admit it was fun and sweet to have a few minutes to say positive things out loud to one another.
Tucker says families can take five minutes to pull a card either at breakfast before kids head to school or at bedtime to create a moment of calm and sharing. It's a mindful way to bring focus and set an intention.
She launched her idea for PeaceMakers via Kickstarter in March and doubled her fundraising goal within three weeks, raising $7,000. She's shipped boxes all over the world, in more than 20 countries, and is working to get the game into various school districts. Her goal is to help children learn to self-regulate their emotions and to seeing an end to shame, blame and pain in punishing children. Helping children (and adults) learn to identify their emotions is a critical part of that process.
"Name it to tame it," she said, "feel it to heal it."
Studies shows that emotionally intelligent people are more successful in life, and high EQ can be more valuable than raw intelligence and experience. Decades of research suggests emotional intelligence is a critical factor that distinguishes successful leaders and star performers in the workplace.
Beyond the skill-building aspect of this game, I enjoyed the experience of just joking around with and listening to the people I cherish.