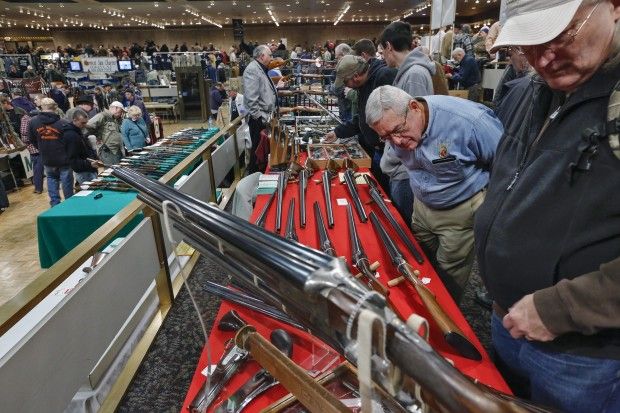 UPDATED: The number of school shootings has been updated to reflect reports that an 18-year-old college student was taken into police custody after he shot four people, killing one, in a confrontation near a residence hall at Northern Arizona University early Friday morning. By Friday afternoon, two people were shot on the Texas Southern University campus Friday and the suspect is still on the run, according to TSU spokesperson Eva Pickens.
There's no joy in arguing about a hot-button issue with someone you've just met online — unless you're an Internet troll.
Matt Sweetwood and I belong to opposing camps in the debate over gun control. He is writing a book about his experience as a single dad. He is also a pro-gun advocate who says he spent $100,000 in legal fees fighting the state of New Jersey to regain his right to own weapons. (He won that battle.)
I support public policy changes to ensure that one person's right to own guns doesn't infringe on another person's right to life — just as there are limits on my constitutional right to free speech that protect others from libel.
But an essay Sweetwood posted online suggests we share some common ground.
It's a post that turned him into a pariah among many in the pro-gun community who would have previously considered him a hero. Even before a gunman shot and killed nine people at a community college in Oregon last week, there was a mass shooting that prompted Sweetwood to pen a six-step solution on how to reduce gun violence in America. His list did not include arming classroom teachers.
Instead, he offered solutions supported by the vast majority of Americans, such as universal background checks for those wanting to buy a gun.
"You can't have holes," he explained. "It's like a border. Either you block it or you don't block it."
He also suggested a seven-day waiting period before a gun can be purchased and called for eliminating gun sales at events that do not report their sales.
"We need to know who is buying guns," he said.
The NRA wouldn't stand for any of these proposals, of course. And Sweetwood took it even a step further. He argues for a national database of all guns and gun owners.
"This way when someone commits an aggravated felony, we know they have guns," he wrote. "This is to track felons, not to track law abiding gun owners."
For these suggestions, he's been called a "Nazi" by many on his own side. He's Jewish, he told me, and certainly not a Nazi.
He's also suspicious of governmental overreach and understands the fear of those wanting to protect their rights. When his commitment to the Second Amendment is questioned, he has asked his critics if they've spent $100,000 of their own money fighting for their right to own a firearm.
He's no darling of the Left either, he says. He's angered gun control advocates by suggesting that anyone who has not committed a crime and is not mentally ill should be allowed to carry a weapon. His six-point proposal also calls for minimum mandatory sentences for crimes committed with a gun and states that police officers should be able to stop and frisk people.
He realizes that some of his suggestions are politically impossible, but his point was to spark a conversation between two sides that don't trust each other.
Gun rights advocates are convinced that liberals want to ban guns outright, he said. Meanwhile, many on the gun control side believe gun owners will not accept any restrictions at all.
"Ninety percent of the people are in the middle," he said. "They want reasonable restrictions."
But this is where he misses a crucial point in this debate. He's correct that most people support the same reasonable restrictions he suggested, such as universal background checks, but he ignores the fact the gun control lobby kills the mere suggestion of any such proposal and targets politicians who support similar measures.
Mistrust and hostility exist on both sides, but the power of shaping policy has completely tipped toward the gun lobby.
He and I debated about whether guns should be licensed and insured like cars. We disagreed on how to keep guns away from people who express suicidal or homicidal thoughts, either to friends or family members or doctors. Several recent mass shooters obtained their guns legally and had expressed their homicidal desires in some way.
But we agreed that the problem of excessive gun violence requires a different kind of conversation about solutions.
America has suffered a threefold increase in the frequency of indiscriminate mass shootings since 2011, according to researchers from the Harvard School of Public Health and Northeastern University. There have been at least 47 school shootings already this year. We have allowed more gun violence against the most vulnerable people in our country than any other developed country on Earth.
Reasonable people are disgusted by the idea that there's nothing we can do to prevent our children from being murdered in schools, theaters, malls and churches.
It's why staunch gun rights supporters like Sweetwood have also taken a bold public stand. He was surprised at the reaction his post provoked. Responsible and passionate gun owners like himself will be critical in moving the rhetoric around gun violence to a rational, solution-oriented place.
While neither of us changed the other person's mind on whether more guns make our country safer or less so, we agreed that those differences are beside the point.
We didn't need to see eye-to-eye on every aspect of this debate.
"Don't let perfection be the enemy of a solution," he said to me. Each side will need to compromise and give a little.