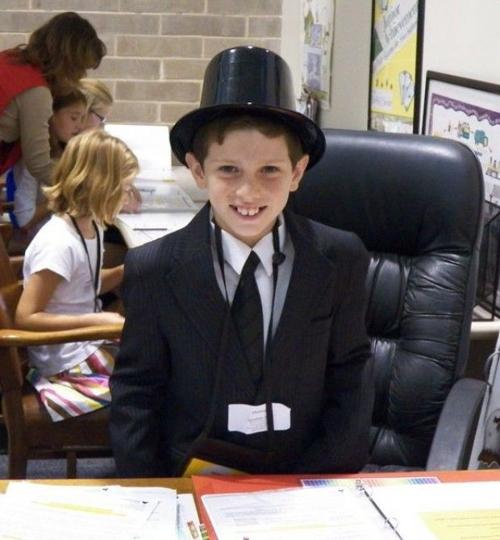 My child's CEO aspirations were quashed after just a day of managing fake employees.
He is one of 12,000 local students offered a dose of reality at one of the most valuable elementary school field trip experiences I've encountered as a parent.
It's offered by Junior Achievement, a nonprofit organization with 114 chapters across the U.S., which aims to educate students about entrepreneurship, work readiness and financial literacy. The St. Louis chapter, in addition to about 30 others nationwide, has a mock minicity in Chesterfield in which students spend the day learning how the "real world" works.
Each of the fifth-graders in our school applies for a job and is chosen to work in one of 17 businesses. They spend the day running the town — working, making financial decisions, paying taxes, shopping and running errands.
Imagine my delight when my youngest chose to work as CEO of MasterCard. (Local businesses that sponsor the hands-on learning center are named in the town.)
Perhaps this will be the first of several CEO positions, I said to him.
He headed to school in a pressed suit and tie, ready to conquer the world.
He came back a broken man.
"Oh my God, I don't want to be an adult," he said.
He ranted about his day as he took off his suit jacket and loosened his striped tie.
"First of all, there was a guy who couldn't do his work," he started. "Then, I had to sign my name about a hundred times. There was a problem with the payroll tax. I had to update the system five times before I could get it to work. And, I had to send the bill to the printer, and they denied it. Two times! Only one person paid their taxes on time. I had to work a double shift on a station I didn't even know how to do. And some people took way too long on their breaks."
Worn out and weary, he kicked off his dress shoes and said: "Everything hurts."
To anyone who has managed employees, his experience has the ring of truth to it.
Lori Jacob, president of Junior Achievement of Greater St. Louis, said the great thing about the BizTown experience is that it gives students a chance to realize the relevance of what they are learning in school. The participating schools complete 20 hours of a financial literacy curriculum. The trip to BizTown is the capstone experience. It costs schools about $15 per pupil, which is roughly half the actual cost of the program. Business sponsors subsidize the programming.
The program is so popular that a school that missed its day due to snowstorm offered to come back once the students had been dismissed for summer. And they did. Another school made up a missed day on a Saturday.
Jacob said Junior Achievement would love to accommodate more students, but their BizTown is booked throughout the year. Junior Achievement would need support from business sponsors to build another location to serve more students.
For any business that has bemoaned the lack of a qualified workforce, here's a chance to invest in teaching students skills that are critical to workplace success. Giving students a chance to run a business or town and manage their peers as employees is an eye-opening experience at this age.
I asked my daughter what she remembered from her trip there two years ago. To my chagrin, she had applied to be the reporter at the radio station. (Please consider a more reliable and profitable line of work, my child.)
"I learned that some people are bossy," she said. "And some people can't do math."
The CEO of the radio station she was working at ordered 500 pieces of coal instead of five due to a calculation error.
"You shouldn't trust some people with a microphone," she added.
She admitted that being a reporter was the best job in BizTown because "you can leave the radio station at anytime to do whatever. You have a pass to do that."