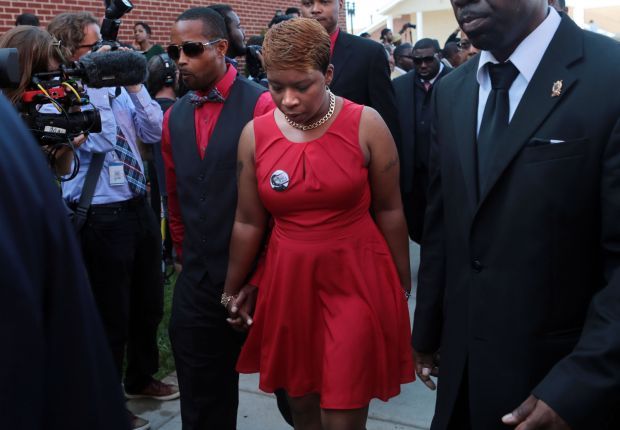 Whenever I've seen Lesley McSpadden on the news, I've wanted to look away from her pain.
It's the unspoken parental nightmare, of course, burying one's child. But, the details of her loss, which would tap into our country's darkest places, made that grief even harder to fathom.
I watched her a few times on television and read some of her comments in news reports. I don't want to imagine those moments: Getting the phone call. Seeing her son's body on the street. Crying and wanting to rush to your child's side. Kept away for hours, to simply watch him lie on the street and wonder what the hell happened.
Before he was shot by Ferguson police officer Darren Wilson, before he became a symbol for those speaking out against police brutality, before he was hailed as a change agent who could galvanize a nation to look inward, Michael Brown was Lesley's teenage son.
She lost him in the public sphere and has to grieve that loss in the most public way. She has to listen to his character questioned, wait months for answers and pray the truth comes out in the end.
How does a mother hold it together during these moments?
A woman who knew Lesley as a child shared a glimpse. Adrienne Hirschfeld was a room mother at Reed Elementary in the Ladue School District, one of the most affluent in the metro area, where her son went to school and Lesley attended as a transfer student, Hirschfeld said. 
In the fifth-grade memory book, Lesley shared a collection of memories, which reads like a grade-by-grade appreciation of each of her teachers.
There was Mrs. Williams, her first-grade teacher, about which she wrote: "I remember when I got hurt and she comforted me and said everything was going to be alright. I wanted to say that it hurt but when she said your going to be all right, the pain stopped." Thank you for everything you taught me, she wrote. "I owe it all to you."
In second grade, her memories are of Mrs. Sinder, 'because it seemed like she know how to solve all of my problems."
She wrote about the librarian, Mrs. Gould, who was "nice and cared for people white or black, ugly or pretty. She had a lot of courage because she was so nice to me and was always there..."
"I will keep you in my heart because you were a big help," she wrote about Mrs. Gould.
She appreciated the strict teachers, too, like Mrs. Petrick, "the lady that made you work all day non-stop. She made the rest of my friends and me work so hard that after class we felt like we had been riding a horse."
And, finally her fifth grade teacher, Mrs. Hampton, who she admired "because her heart is so big."
"Mrs. Hampton is also light-hearted, and if you want to know why it's because in the fifth grade she helped the homeless. I felt like when we saw her doing this, our whole class should have given her a hug. Mrs. Hampton we all care and I will keep you in my heart forever and won't let you out."
This was her innocence as a child.
It helped me understand her strength as a woman.
The picture of her childhood, in her own words, and that picture of her tear-streaked face forced me to spend today considering her pain.
Lesley wore a red dress to her son's funeral, a 'homegoing' celebration.
I could not look away from her grace.
I could not look away from her loss.