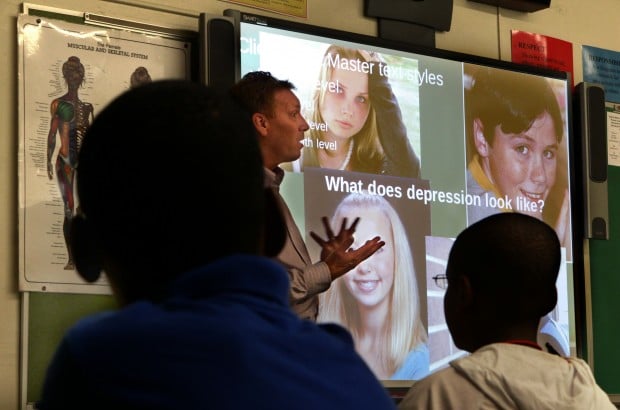 KIRKWOOD • The fact that they were mostly strangers, they said, helped them speak more honestly about a hard topic: bullying.
For about an hour on Saturday, 11 students from four high schools and two middle schools talked about times when they were picked on and times when they picked on others.
Some had been forced by parents to attend the "Symposium on Bullying" sponsored by the Kirkwood Human Rights Commission. Others came by choice.
Overall, about 60 people — most of them middle-aged adults — attended the symposium. They heard from Tabari Coleman, from the local Anti-Defamation League, and watched a video featuring students who had been ridiculed for their race, alleged sexual orientation, or disabilities.
Then the audience broke up into smaller groups.
Brian Barrett, 16, a junior at Lindbergh High School, led the discussion among the handful of students who attended in the high school's art room.
Their exchanges offered a glimpse into the pressures of teenage life.
How exactly do you define bullying? When is it different from normal teenage gossip?
"Where is that invisible line you cross?" asked Jonah Atchison, 15, who attends Governor French Academy in Belleville. "That's what we do as teenagers. We make fun of certain characteristics that we know sting."
Jo Anna Grant, 16, who attends Ladue High School, agreed. She said she and her friends play a game called "Burn," whose object is to come up with the most creative insult.
"We should probably stop playing that," she said. "But it's funny, so we keep going."
Grant also brought up the "list" that recently made national headlines at her school. Typically each year junior boys craft vulgar and obscene descriptions of popular senior girls and distribute it.
"People think it's funny that the so-called popular people have problems, too," Grant said.
Barrett asked the students to identify when they had been "bystanders," "comforters," "targets" and "perpetrators." Nearly all said that at some point they had played each of those roles — a good indication to Barrett of how complex the problem can be.
"The kids who have taken time out on their Saturday to talk about it and prevent it have all at some point been perpetrators," he said.
The youths also talked about the barriers between them, how lunchrooms remain segregated by race, the sport you play, or whether you take drugs or drink. Those distinctions, they said, often become the basis for bullying.
One African-American girl said she had been called an "Oreo" for having too many white friends.
Grant, who also is African-American, said that she had heard her dance team referred to as "too ghetto."
"When you are not sitting with someone, when you are not talking to them, it's easier to make assumptions about them," Barrett said.
Most of the group seemed to agree that it did little good to talk to teachers about bullying. Some said they had witnessed teachers making fun of students, too.
Barrett wanted to know what the students would do to help prevent bullying.
The answers varied. Some pledged to stop judging others before they met them. Others said they would no longer passively stand by. And still others said they would stop making jokes at their peers' expense.
"I'm going to try and watch what I say," Atchison said.