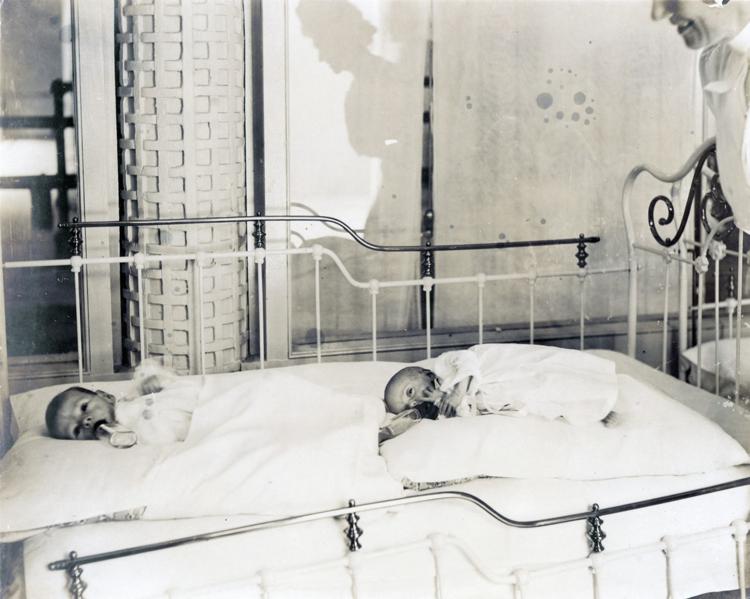 At the beginning of the American Century, premature babies were literally a sideshow exhibit. Visitors would pay to walk through rows of tiny babies in incubators. Hospitals had little regard for "weaklings," as they were known, and desperate parents would flock to these fairs for a chance at survival.
Dawn Raffel, author of "The Strange Case of Dr. Couney: How a Mysterious European Showman Saved Thousands of American Babies," tells the incredible account of a man who revolutionized neonatal care a hundred years ago. In her research, she explored how the exhibit went horribly wrong in St. Louis.
The concessions committee in St. Louis decided to shop the attraction to vendors who would offer them the highest cut of profits, she writes. They bypassed the men who had run the same exhibit at other fairs and awarded it to Edward Bayliss, a well-connected St. Louisan. He hired a doctor to run it who knew little about caring for premature infants.
"It was total greed," Raffel said. They were feeding the premature infants cow's milk, cereal and egg. Infants were vomiting and having diarrhea. The machines were overheating. The conditions were filthy, with flies swarming around. Out of 43 babies, a reported 39 soon died.
"Left unsaid, hushed up as much as possible in the interest of profit and image: the babies turning blue and dying in the incubator sideshow," Raffel writes.

She cites a scathing letter the director of the St. Louis Humane Society sent to the fair's president, David R. Francis, in which he writes, "...there is no doubt about the character of this place and that the babies are deliberately murdered through neglect and carelessness, and it must be stopped at any price no matter who has money in this show."
At the time, the Post-Dispatch published a very short blurb about the physicians being called before the health department — but no follow-up articles.
The profitable exhibit was allowed to continue.
When Martin Couney, the competing bidder whose own previous exhibits had a survival rate of 85 percent, heard of the mass infant deaths, he published an open letter in the New York Evening Journal stating, "The crime of the decade is being committed here at this World's Fair."
A new doctor, Dr. John Zahorsky, took over managing the exhibit. He instituted better and more sanitary practices and "slowed the march of death." He may have decreased the death rate, but Raffel argues that he may have had a far more damaging impact.
He concluded that premature babies shouldn't be kept in incubation institutes on a midway nor in a hospital, but instead preemies ought to be sent home. A fear of hospitalism, along with the horrifying specter in St. Louis, helped scare the medical profession off the use of life-saving incubators for years, Raffel writes.