If you never recycle, we need to talk.
And if you're recycling the same way you did 10 years ago, don't get too smug.
The well-intentioned and overzealous are often just as problematic as the indifferent.
If you're the person who looks at every object with a hopeful gleam that it too can be repurposed if only you put it in the blue bin, you are undoubtedly creating problems for recycling workers.
Pizza boxes? Yes. Starbucks cups? No. Your guide to recycling
We consider ourselves pretty good recyclers around here, but we'll admit that we too were shocked by a few concepts that required just a little rethinking. Debra D. Bass explains the reasoning behind some of the basics, because it might be more compelling than a list of arbitrary-sounding dos and don'ts.
Gary Gilliam of Resource Management Cos., the local processing plant in Earth City for the majority of the region's residential recycling, explains, "People (who recycle) are trying to do the right thing."
He literally poked through a house-high pile of discarded household materials a few weeks ago, pointing out the obvious and not-so-obvious mistakes. There was a broken kitchen trash can. That's a no-no.
Recycling plants need your help. It's a rare business model that can save taxpayer dollars and lower the cost of consumer products.
Extracting money from rubbish is capitalism's only means of sustaining recycling efforts. For now, that means sorting has to be quick and relatively easy.
Rethink trash
According to local studies, about 50 percent of your household waste is composed of recyclable items.
Yet in 2016, less than 10 percent of St. Louis residential waste was actually recycled.
Every day, Resource Management Cos. processes 400 tons of material from residential recycling bins. It's one of two local companies —Republic Services is the other — that operate in the region.
Sending waste to the landfill costs $33.98 per ton for St. Louis city. Sending it to the recycling center costs $15.60 per ton.
"Yes, every ton that goes to the recycling facility saves the city $18.38 to be exact," explains Elysia Musumeci with Brightside St. Louis. If you do the math, the savings add up quickly.
But there's no time or machinery to dismantle TVs, furniture or mixed media items fused with glass, metal, plastic and wood, like the aforementioned trash can. Those items are sent to the landfill after needlessly being carted to recycling centers that waste precious time weeding such items out.
The more efficient the system, the more cost benefit there is in recycling.
Tony Lamantia with Republic Services, echoes Gilliam when he says that anything that can be recycled, should be recycled. "Those materials just don't belong in a landfill," Lamantia said.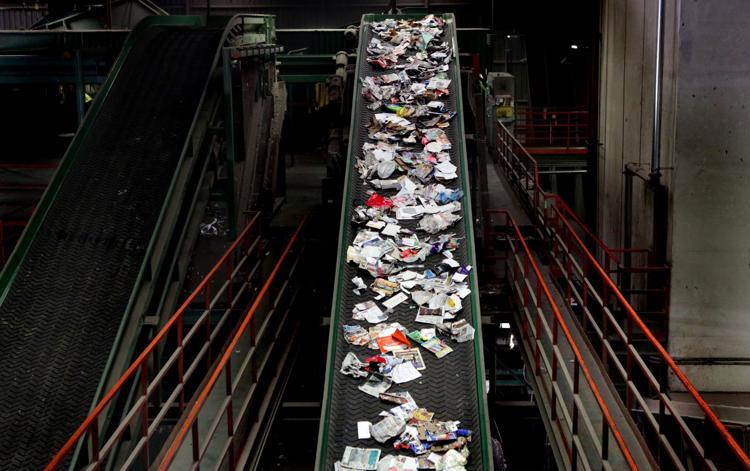 Waste not
A Recycling Economic Information Study commissioned by the St. Louis-Jefferson Solid Waste Management District said that recycling-related businesses support 16,000 local jobs, which account for a payroll of $639 million, including businesses that recycle and salvage everything from compost and textiles to electronics and scrap metal.
Resource Management Cos. employs about 50 people locally. The small operation manages to process 400 tons of material from residential bins each day, and they've got room for more. About 90 percent of that residential material is recycled. It's a pretty good rate, but it means at least 40 tons of material is being mishandled.
A good deal of plastic bags that could have been recycled end up going to the dump because they were placed in the wrong bin.
Gilliam said, recycling today is a choice; you don't have to participate. You bought that can of Coke, you can toss it in the trash if you want to, but you shouldn't.
In 1991, there were 149 solid waste landfills in Missouri. Today, there are 18. Within a few years, Gillian said that number is expected to dwindle to 14 for a number of complicated reasons.
So what happens when that number reaches zero, because that's how math works, right?
"Well, 'Then what?' is a really big question," Gilliam said. "And it's going to have some really expensive solutions."
Unnatural resource
Not all recycling is single stream, which encourages you to put everything that is an accepted recyclable into one bin without sorting. But here's the tricky part, single stream is both generous and selective. For instance, tires, batteries or clothing don't belong in residential recycling bins, but they can all be recycled.
Ultimately, recycling is a modern-day unnatural resource, Gilliam said. It's not about being a tree hugger or an environmentalist: "The economics of throwing something away after we use it, just doesn't make sense," he said.
The city estimates that half of what gets thrown into the trash and carted off to landfills could have been recycled, but not all of it belongs in the blue bins.
It's not magic
Single-stream recycling is for recyclable material, not office furniture, broken household items or clothing. That's just a few of the things we saw on a recent visit. "But someone might think that lawn chair is made of plastic or someone might say, 'Oh, that lamp is made of steel, that's recyclable,'" Gilliam said. Any chairs, TVs, clothing, scissors, electronics that you toss in the recycling bin take a ride to the recycling plant and then another ride to the landfill. It also increases the likelihood that something will sneak past them and end up damaging equipment. If in doubt, ask or trash it.
If we didn't address one of your questions here, you can call St. Louis Recycles at 314-772-4646 or email recycle@stlouis-mo.gov. And feel free to tweet photos, recycling complaints and inquiries @stlcityrecycles. In other regions, contact the local office listed on your refuse bill.
---
St. Louis Earth Day Festival
What: Learn about sustainable products and services offered by local businesses and organizations, meet area nonprofits that share Earth Day values, catch local musical acts and performance art, participate in a number of hands-on educational activities, and enjoy diverse cuisine featuring local, organic, vegetarian and vegan options. 
---
When: 11 a.m. to 5 p.m., April 22 and 23
Where: Muny Grounds, Forest Park