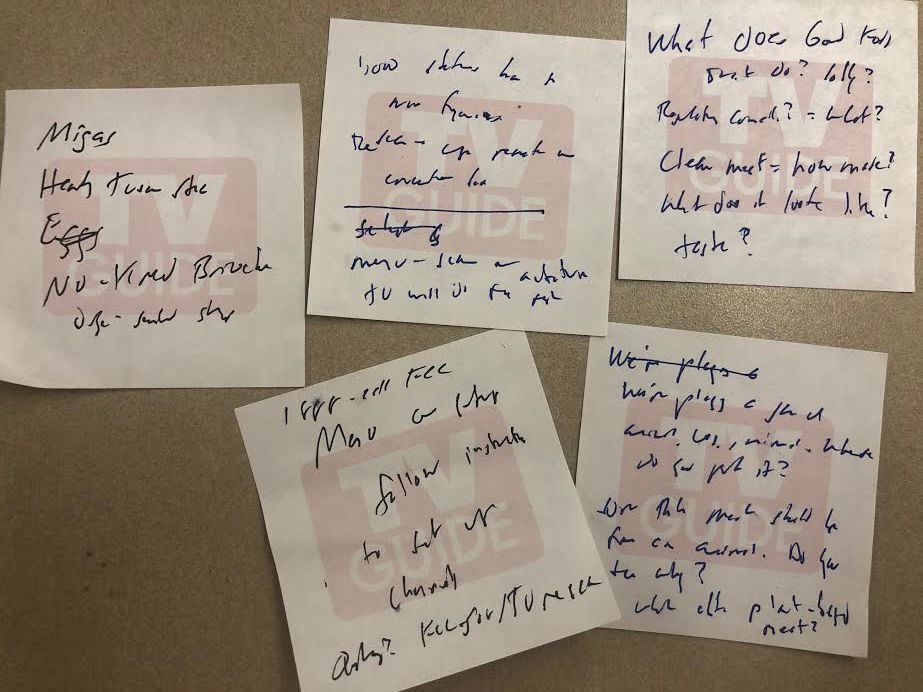 The worst part was the sticky notes.
I recently returned to my office for the first time in a few months, and by "recently" I mean "I am literally at the office now, writing this column on a computer that feels familiar and unfamiliar at the same time."
It is not an official return; I am not here for the post-pandemic duration. But a colleague texted me that she was coming to the office today and that two of our editors would be here, too, and that I should come and join them.
It would be like old times again, if for just one day. I could look at the back of her head. My editor could look at the back of my head. That's how our desks are lined up. Fun times.
The best part was the fleeting moments of camaraderie, the easy rapport that springs as naturally out of newsrooms as the whining and complaints. The other editor, the one whose head I see through the Plexiglas in three-quarter silhouette, welcomed me and said, "Are you fully vaccinated and ready for adoption?"
"I'm fully vaccinated, but I won't be ready for adoption for a week," I said.
That, as I said, was the best part. The worst part was the sticky notes.
It turns out — and I had forgotten this — that I write notes to myself on sticky notes and stick them to my desk. Some are ideas for stories. Some are phone numbers that I need to call. Some are questions for interviews.
At least, that's my best guess. My handwriting is notoriously illegible, even to me. And quick notes that I jot down to trigger my memory are unlikely to trigger anything more than a year later.
One phone number that was apparently quite important to me just before the pandemic hit is for what turns out to be a law firm in New York. I don't know why I was supposed to call it, but I hope it doesn't have to do with being sued. Another note reads "Migas, Hearty Tuscan Stew, Eggs (which is then crossed out), No-Knead Brioche" and something that looks like "drge-sanfrd shrop."
I have no idea what I was trying to say, or why I wrote the note. Were these ideas for stories? I know I have written about no-knead brioche and also about a hearty Tuscan bean stew, but I am pretty sure I have not written about migas. Migas are a dish of fried tortillas scrambled into eggs, and I do not much care for it.
Then I had to confront the phone, with 13 messages on it since I had last accessed the phone system from home. One woman had a question about a tube cake pan that she needed answered because she wanted to use it to make a cake. For Easter.
She was very nice about it when I called her back. She used a loaf pan as a substitute, which turned out well. I told her she could use a tube cake pan next Easter.
Then, I had to conquer a mountain of mail. A pile of new cookbooks was on the floor and another on my chair, and one of those plastic bins that technically belong to the U.S. Postal Service and are supposed to be returned to them was filled to the brim, mostly with magazines.
Most of the magazines were related to cooking, but among the stack was an alumni magazine from my college that managed to find its way to me despite being sent to 1133 Franklin Avenue.
There is no such address in St. Louis. There actually is a fairly short Franklin Avenue that runs through the Jeff-Vander-Lou and Grand Center neighborhoods, but it starts with the 2800 block. And my office address is not within 200 numbers of 1133, anyway.
What I'm saying is the Post Office is doing a great job and maybe they should have their white plastic bin back. Also, I might not have received the best possible education if my college can't even get my address straight. Was the Battle of Hastings really fought in 1492? That's probably something I should check.
Among all the mail was a press kit from a travel bureau in Alabama, touting the fine food in that state. Included in the kit were a wooden spork, two packs of moist towelettes, a tin of breath mints (not bad, actually) and a package of antacids.
I've been gone from my desk for a few months, and the most interesting thing that greets me upon my return is an implied PR pitch: Come to Alabama, where our food gives you heartburn.