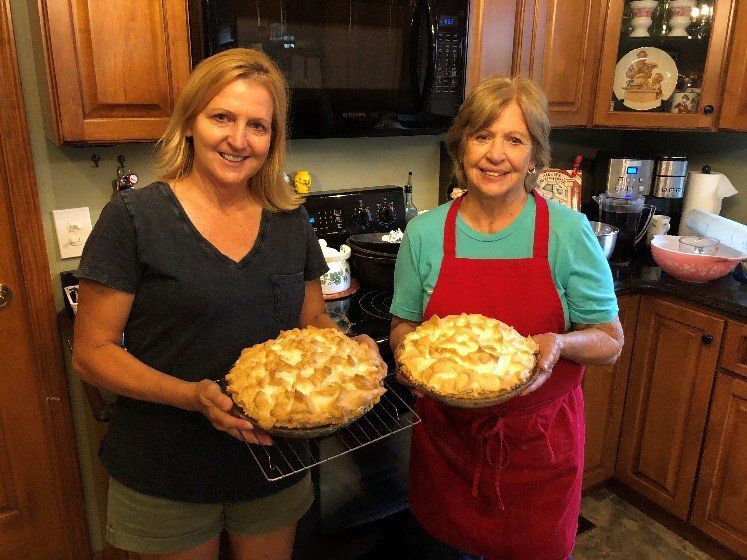 According to Karen Schulz, Pat Hartmann is a cooking legend in Millstadt.
It's possible that Schulz is biased. Hartmann is her mother. But even so, she said, the whole town knows about Hartmann's zucchini relish and chicken and dumplings and, especially, her pies.
Pecan pies. Rhubarb pies. Gooseberry pies. Lemon meringue pies. Pumpkin pies. Apple pies. Coconut cream pies.
"This lady is the queen of pie making," said Schulz, 58, of Ballwin. Every Thanksgiving it is understood and expected that Hartmann will be bringing the pie.
After Schulz's father died unexpectedly several years ago, Schulz — a retired teacher of math and gifted education in the Rockwood School District — realized that life is precious.
She decided to spend more time with her mother.
"Cooking and baking have always been a large part of her life. I thought that putting together a cookbook would be the best way to honor her and pass on her legacy to my children," she said.
Schulz came up with about 60 of her mother's recipes that she wanted to save for posterity, including fried chicken, round steak roll-ups and, of course, an impressive number of pies.
Pat Hartmann baking tip: Hartmann uses a ratio of three parts of lard to one part of vegetable shortening in her pie crusts, which makes the crust flaky but keeps it from tasting too much like lard.
Schulz is a visual learner, so she knew she wanted to illustrate her collection of recipes with plenty of photographs. Her mother, who is 81, did not like the pictures because she thought her hands looked old in them.
"These are the hands that have taught me how to cook and how to sew and took care of me when I was a child. I don't see old hands, I see hands that are of service, that have lived a very good life," Schulz said.
And that was the inspiration for the cookbook's title. She is going to call it "Made With Love By My Mother's Hands."
Schulz and Hartmann should be finished with their project in October, and calling it a cookbook may be overstating the case. It is a collection of recipes and photographs that, at least initially, will be printed in color on printer paper, slipped into plastic sleeves (to protect them from spots and spills) and held together in a three-ring binder.
Then again, it is also more than a cookbook. One of the unexpected joys of compiling it was Hartmann telling Schulz stories about growing up. These stories, called "A Slice of Family History," are scattered throughout the book.
One slice of family history, the one that accompanies the recipe for chicken and dumplings, tells of Hartmann's grandmother, who used her own chickens from the backyard to make it. She would use a length of wire to catch a chicken, and would then cut off its head.
While the decapitated chicken was still moving around on the ground, Schulz writes, "Mom and her siblings would run around and scream because they thought the chicken was going to get them."
Hartmann cooks by feel and by instinct, rather than by following set recipes, so it has been a challenge for her to stop herself and measure everything before putting it in a dish.
Schulz, meanwhile, has newfound respect for how much effort her mother puts into cooking. Her mom's zucchini relish, which goes into potato salad, chicken salad and more, takes a full 10 hours to make, spread out over two days.
Schulz has also learned the secret to her mother's culinary success: the liberal use of salt, sugar and bacon grease.
"I wouldn't say any of my mom's food is healthy, but it tastes good," she said.
When Schulz first had the idea for the book, she intended only to give it to her siblings, her children and a few close friends. But the response has been overwhelming, she said. Everyone she tells about the book says they want a copy of it when she is done, or even that they would be willing to buy a copy.
Right now, she hasn't decided what to do with the book, whether to keep it in the family or make it available to anyone who wants it.