No one serves popcorn at a funeral.
Popcorn is saved for fun occasions — movies and sporting events and parties at home. So when Matt and Michelle Helms were thinking of something new to grow on their Belleville farm several years ago, the answer was easy. They wanted something fun.
Their company, Ella & Ollie, grows and sells high-end popcorn, the kind you make yourself on a stovetop, in a silicone bowl in a microwave or even in a mesh basket over a roaring fire. Making your own popcorn from kernels is almost a lost art.
"Seventy-five percent of the market buys microwave or ready-to-eat popcorn. It's a wow factor, when people find they can easily make their own high-quality popcorn at home," Matt Helms said.
"I get emails from people saying 'My kids just saw popcorn pop for the first time.'"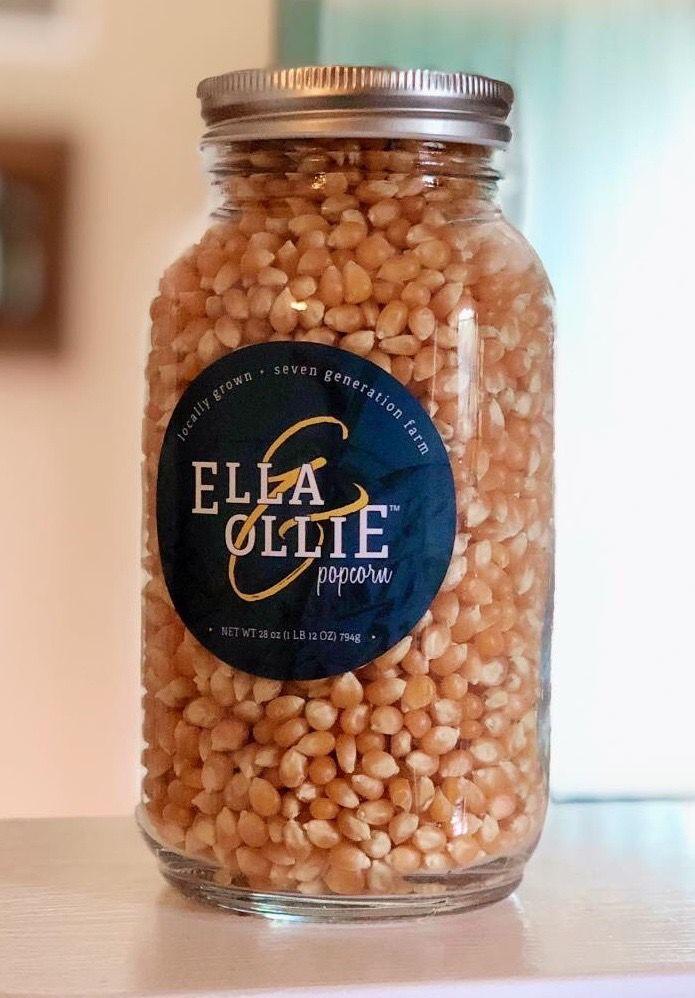 Ella & Ollie is named for the Helmses' 12-year-old daughter, Lily Ella, and Matt Helms' late grandfather Ollie.
Now 45, Helms grew up on the family farm — Lily Ella is the seventh generation to work on the farm. He fondly remembers eating popcorn with Ollie while watching "The Joker's Wild" and "Hee Haw" on TV.
Ella & Ollie began in 2017, growing popcorn on just two acres of the farm's 2,200 acres. This year, about 100 acres are devoted to popcorn.
The rest of the farm is dedicated to soybeans and field corn, which is primarily used for animal feed and ethanol. The Helmses don't grow sweet corn, which is what we eat on a cob. Popcorn is different because it has thicker hulls and less moisture; it is the only kind of corn that will pop.
But it is more complicated than that. All popcorn is not the same. According to Helms, it doesn't even taste the same.
Before starting out, Helms tried several different varieties of popcorn before settling on what they now market as their signature heirloom variety.
"The heirloom that we grow, if you put just a very light salt on it, it has a beautiful flavor; it almost tastes like it's been lightly buttered. We like the texture as well; it has a little bit more substance to it. Some people like it extremely light and fluffy, but we like the texture as well," he said.
The heirloom popcorn — its genetics go back to the 1950s — is a butterfly popcorn: It pops into appendages and wings, which have a little more volume than other kinds and can catch more butter.
They also grow two kinds of mushroom popcorn — these kernels pop into ball shapes, which are prized by gourmet shops and are used with caramel, powdered cheese and brightly colored, sweet toppings.
The company grows a white popcorn, which is a butterfly style like the signature heirloom, and also a variety that is specifically meant for movie theaters.
Movie theater popcorn is puffier than other types. With their eye on the bottom line, theaters want to fill their tubs with popcorn from as few kernels as possible.
Like so many other things in life, the science of popcorn involves an inherent trade-off. You can increase the yield, which brings in more money, but the quality and the taste is likely to suffer. Helms said he aims for a sweet spot combining a decent yield and the ability to resist plant diseases, while still tasting great.
Here is how that plays out. Different types of popcorn can pop anywhere from 20 times the size of the kernel to 50 times the size. One cup of Ella & Ollie's signature heirloom kernels yields 44 cups of popped corn. A cup of its movie theater kernels yields 48 cups of popped corn. A cup of its white kernels yields a little less than 44 cups.
Helms has a degree in agronomics from the University of Illinois, which helps when it comes to the technological side of farming (his day job, as he puts it, is with start-up company New Leaf Symbiotics, which uses microbes to increase yield and improve plant health).
Some of that knowledge is put to use with his popcorn. For a kernel to pop, it should have a moisture content between 13% and 14.5%. And it is even more specific than that. Popcorn heated in oil pops best with moisture content between 13% and 13.7%; popcorn heated in a microwave pops best between 13.7% and 14.5%.
Ella & Ollie sells both kinds. The company monitors the moisture of its kernels and uses fans built into its grain bins to add more moisture if necessary (by running the fans at night, when the air is more moist) or evaporate it (by running the fans during the day, when it is drier).
"People don't realize what is happening in this little purchase called popcorn," Helms said.
Don't even ask him about laser optical sorting. This technology runs every single kernel through a machine, tons of product an hour. Each one is checked with a laser, and kernels with defects are discarded.
There is more to a little piece of popcorn than you may think.
Ella & Ollie popcorn is available online and at smaller area markets, specialty stores, farmers' markets and general stores, and may soon be found in a major local grocery store chain. It is used at four area movie theaters, five stores that sell flavored gourmet popcorn and several stands and trucks that make kettle corn.