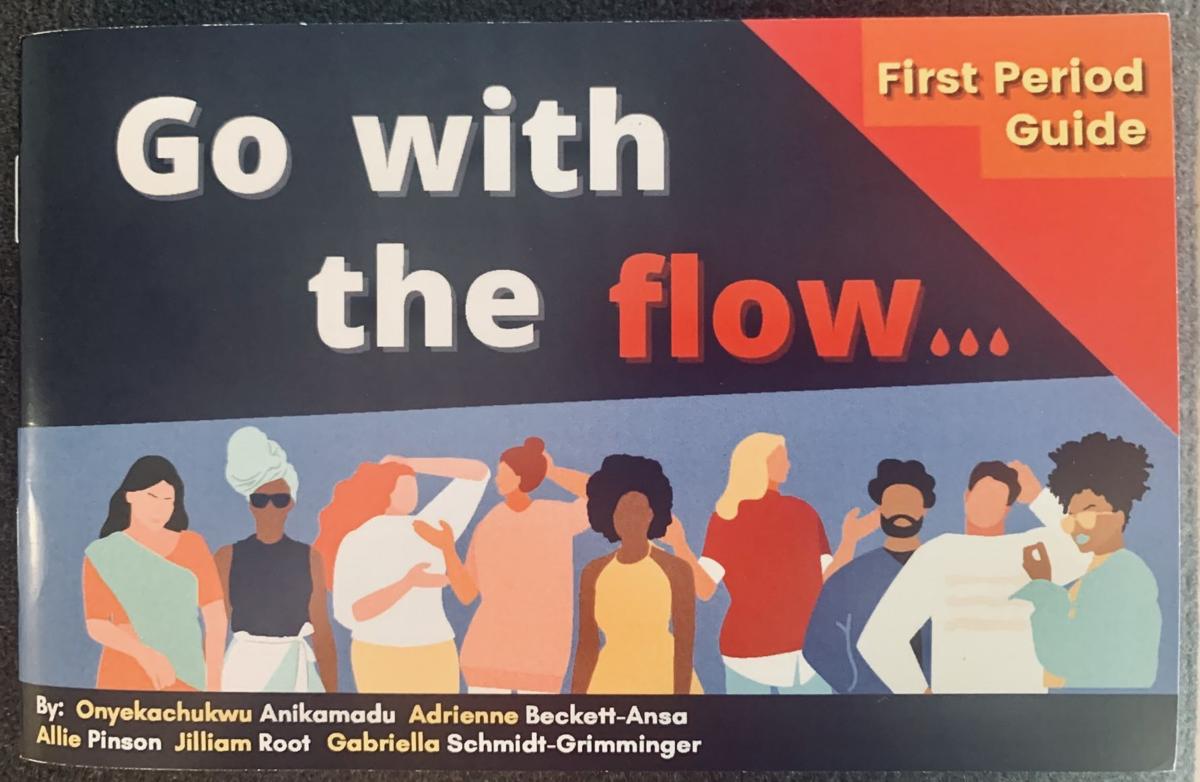 For decades, part of the puberty lesson in elementary school included a booklet given to girls about their periods.
Sanitary product companies created these pamphlets, which evolved over time to include more scientific terminology and fewer judgments about female sexuality. They were part "what to expect when you're menstruating" and part marketing for pads or tampons.
A modern iteration, "Go With the Flow … First Period Guide," shows how much the conversation around periods has changed in just the past few years.
First off, there's no mention of girls or women in this 28-page booklet.
Creator Onyeka Anikamadu, a public health graduate student at St. Louis University, said she and her team decided to remove those words after young people in a focus group said the language needed to be more gender-inclusive. References to female or woman were replaced with "individual."
The first page of the booklet says, "Even if you do not have a uterus, it is important to understand how a period affects others."
That's a good point. Knowledge about human reproductive biology is useful for all humans. I can appreciate that using the words "people" or "individuals" in the copy allows nonbinary people and transgender boys who may still menstruate to feel included. But there was a word used throughout the press release about this initiative that caught me off guard — menstruators. That descriptor, along with the term "birthing people," which has been used to describe mothers, reduces girls and women to our bodily functions. For much of human history, women were seen as little more than birthing vessels or chattel. Reverting to language that explicitly refers to women as "menstruator" or "birthers" seems like several steps backward rather than progress.
I'm sure there are women unbothered by these labels. But if we are trying to use words to respect how people want to be identified, then we have to respect that there are women who never want to be referred to as such. It may take a few more words for those who wish to be truly inclusive, for example, by writing or saying "girls and those who menstruate" or "women and those who give birth."
Beyond these semantics, the message was well received by the target audience.
Anikamadu, who received a grant to create this booklet, worked in collaboration with the St. Louis Alliance for Period Supplies, an initiative of the St. Louis Diaper Bank. She said the nine-person focus group liked that the booklet colors were not "too girlie," the cover didn't "scream period" and that the myth-busting section was included near the beginning.
The pamphlet shares information about period-tracking apps to prevent accidents and covers a wide range of personal hygiene products, including menstrual cups. The first menstrual cups had not yet been manufactured in America when I received a far older booklet in fourth grade. (The site of the defunct Museum of Menstruation has preserved vintage manuals at MUM.org/compbook.htm.)
The "Go With the Flow" booklets will be printed and distributed through a partnership between the St. Louis Diaper Bank and the Little Bit Foundation, which serves students in low-income households. The organizations will distribute 100,000 period products to students over the coming months.
A 2019 study by SLU found that 21% of low-income women and girls surveyed in St. Louis lack menstrual hygiene supplies on a monthly basis — a situation called period poverty. Only three states require schools to provide menstrual products in restrooms for free. Those lacking appropriate supplies make do with cloth, rags, paper towels or even diapers during their monthly cycle.
About 500 copies of this booklet will be included for younger girls receiving the supplies, according to Muriel Smith, executive director of St. Louis Area Diaper Bank.
Anikamadu says she's very happy with how the booklet turned out.
"We learned a lot through the process," she said. She also learned about gender-neutral language and how menstrual cups work in the process of creating the booklet.
Her admission made me feel slightly better about my own unfamiliarity with the new period talk.
Anikamadu, who is 24 years old, said her group thought it was being inclusive in its work before it received feedback from young people to the contrary.
"Younger generations are taught differently," she said.