As far as things for bald eagle Murphy and bald eaglet 23-126 go, life in their private enclosure at World Bird Sanctuary in Valley Park is pretty boring.
They eat chopped fish, venison and rat. The eaglet walks on its fuzzy hocks, not able to fly yet. Murphy, a 31-year-old permanent resident who broke a leg and then a wing years ago, cannot fly. His job now is to teach the eaglet how to be an eagle, and the eaglet's job is to grow up and imprint on its adoptive eagle dad.
So it's a very good thing they're oblivious to the worldwide media attention to their story. "CBS Sunday Morning" did a segment on them, and media sources from Australia to Denmark to Canada have checked in.
They're blissfully unaware of the countless questions on social media, the sales of T-shirts with their cartoon likenesses of them, the totes of Amazon packages that arrive daily from new fans eagerly fulfilling the sanctuary's wish list for unglamorous wishes like paper towels and power drills.
"People really need a story like this, more than ever," said World Bird Sanctuary executive director Roger Holloway. "I think that's a big part of that."
The story began back in early March, when Murphy, who came to the sanctuary in the early 1990s as a fledgling, began incubating a rock. That's right, a rock. He was using his natural hormonal instincts, so the behavior wasn't unheard of, but got enough attention at his then-public enclosure that workers put up a sign.
"Murphy is not sick, hurt or otherwise in distress," the sign read in part. "He has built a nest on the ground, and is very carefully incubating a rock! We wish him the best of luck!"
A photo of Murphy and his sign went viral on social media, and Murphymania began.
Meanwhile, life was just beginning for eaglet 23-126. The eaglet was only 1 or 2 weeks old and living in the wild when its nest in Modoc, Illinois, just across the river from Ste. Genevieve, Missouri, was blown down during high winds. A sibling didn't survive, and the eaglet arrived April 1, a little bruised and battered. 
As staffers tended to the eaglet, they had to be careful it didn't imprint on them. They stuck a plush eagle in with the eaglet, and as with any nestling, they wore camo gear if they had to tend to it. (They do not know the eaglet's gender yet.) Nobody could talk as they worked, and forest and waterfall sounds played on a noise machine. And, as is rehabilitation tradition, they avoided naming the baby, though followers on social media quickly gave the eaglet the nickname "Rocky."
The public very much wanted to know if Murphy could adopt the baby. But staff didn't think he could. He didn't have the experience, and they didn't think Murphy could feed it regularly enough.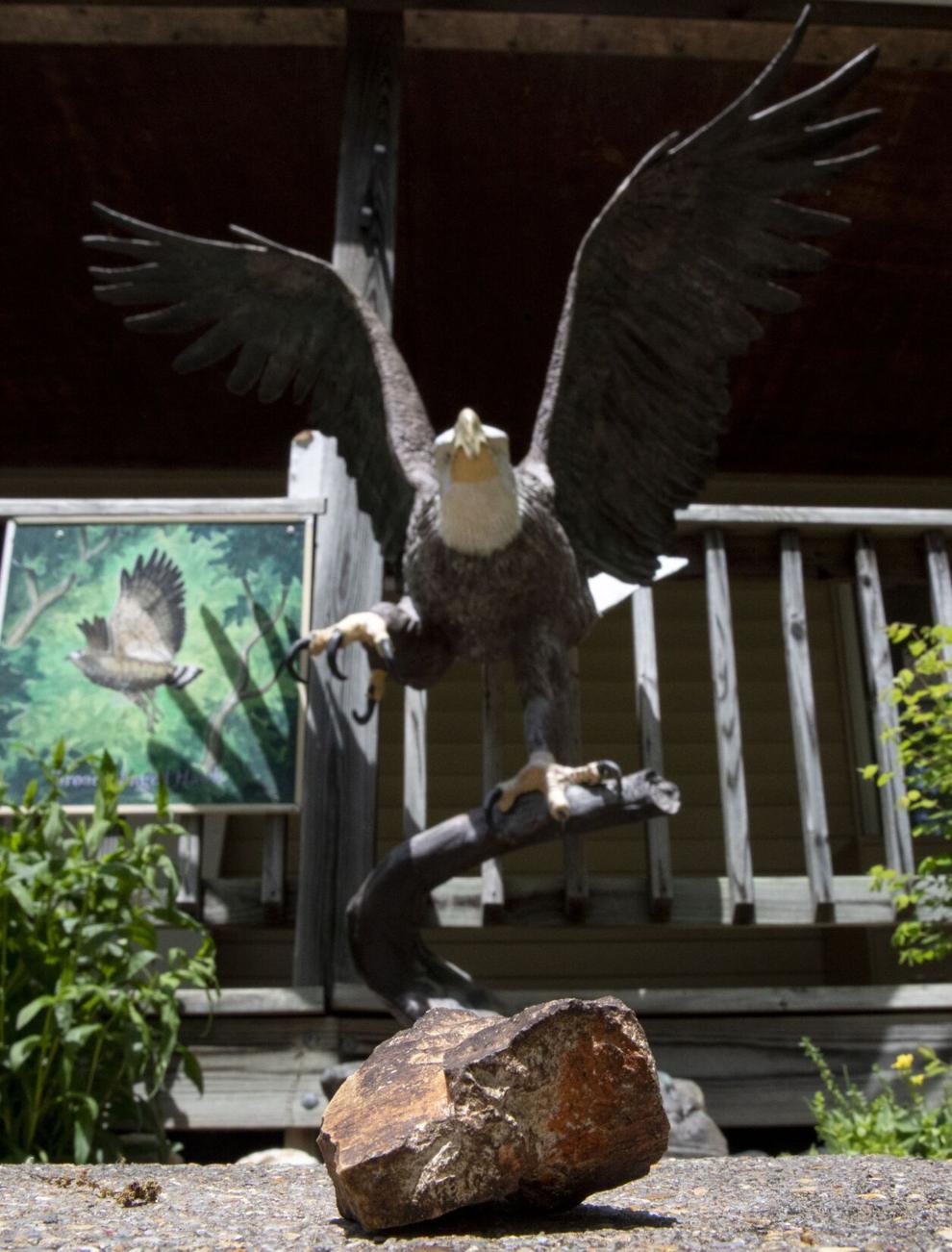 Meanwhile, Murphy started aggressively protecting his rock, which the sanctuary called "RockBaby" on social media, in the enclosure he shared with his four roommates. Even though Murphy can't fly, he chased them away to protect RockBaby. So workers moved him and RockBaby to their own enclosure behind the scenes.
Staffers wondered again: Could Murphy bond with the eaglet? A couple of days after they moved Murphy and RockBaby out, they decided to see. They placed 23-126 inside a small cage, affectionately known as Baby Jail, placed the cage with the eaglet next to Murphy, and removed RockBaby.
They waited. And thousands of new followers on social media waited, too.
"We will not be able to give you constant photo updates since we don't want to disturb the process at all," sanctuary staff wrote on Facebook. "Keep your talons crossed!"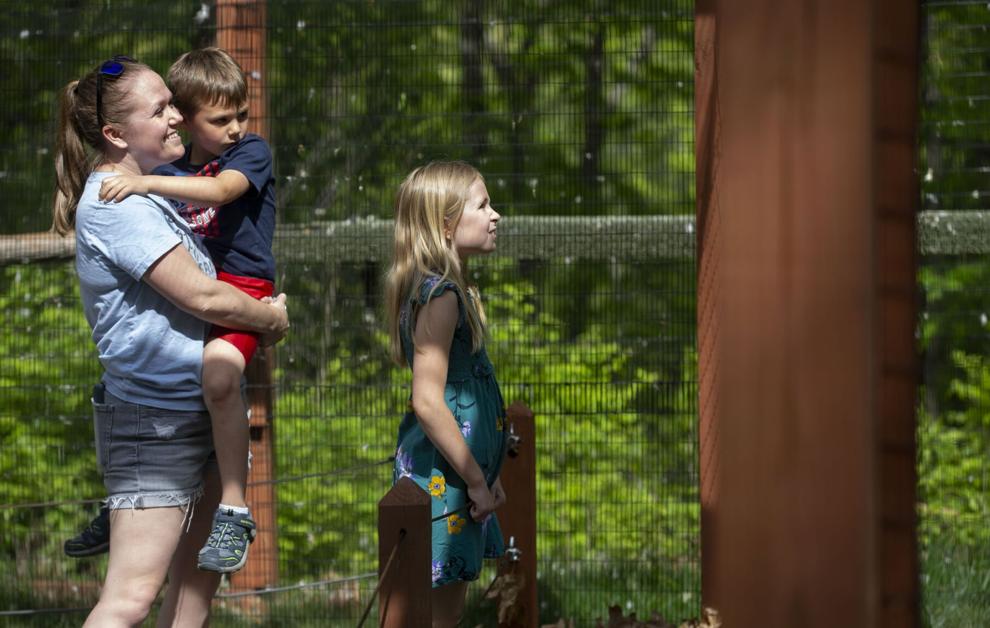 Things started going well. The baby wolfed down food, and Murphy began protecting the area. Within a few days, staffers let the eaglet out of Baby Jail. Murphy eventually approached the baby with curiosity. And when staff checked back, a fish that had been left in the enclosure was missing.
"IT'S HAPPENING!!!!" the sanctuary wrote on Facebook.
As the days went by, the baby ate more. And people donated more — about $30,000 worth so far, said Holloway. The T-shirt sales and Amazon deliveries ramped up.
On April 16, heavy storms and a tornado touched down nearby. After the storm blew over, staffers found 23-126 in his enclosure, soaked, hypothermic, in shock and breathing heavily. Staff whisked the eaglet off to their hospital, where they set up an emergency generator to warm the bird and get it oxygen, and by morning, the eaglet had recovered. They reunited 23-126 with Murphy.
As the appetite for more Murphy and eaglet news grew, the sanctuary struggled to balance its ability to film or take pictures with bothering the eagles, not to mention caring for its 180 or so other charges. It usually has about 50 falcons, eagles, owls and other birds on display, mostly in enclosures the public can see along wooded paths. Some become permanent residents if they cannot live in the wild, but the goal is to help and release others.
"It's as hands-off as possible and as quick as possible," said Kira Klebe, the hospital's manager, on caring for the eagle pair. She and four other hospital staffers are the only ones to care for them. "As cute as we all think they are, we do all of the cooing over the photos we've taken. We don't even talk near that enclosure, so they cannot hear human voices and get used to it as part of their day."
Visitors who show up expecting to see Murphy and the eaglet are sometimes disappointed to learn they can't — the pair is in an enclosure deep in the woods. And questions on social media keep coming.
Klebe writes many of the social media posts and tries to answer as many questions as she can. She doesn't think she's had a full day off work since the eaglet arrived.
"It's been really crazy, but it's been really exciting for all of us," she said. "It's always fun for us when the public gets this interested. We care all about all our of patients this much, so if the public cares about some of our patients as much, it's kind of an exciting time."
"It's hard for (the public) to understand what it means to have an eagle in human care," said Holloway. "We try to answer those as best we can. Even if sometimes they're negative, or people say, 'You can tell he doesn't like living there because of the look on his face.' Well, that's the permanent look on his face."
Resting Eagle Face aside, Murphy and bald eaglet 23-126 are doing just fine with each other. And the staff is thinking toward the future.
Klebe is building a shadowbox for the RockBaby and footprints from Murphy and the eaglet, which the sanctuary may auction off. The baby will have to learn how to fly inside a larger enclosure. And Holloway thinks Father's Day will be a wonderfully appropriate time to release 23-126 into the wild, if the eaglet is ready.
Murphy came here from an Oklahoma facility in the early 1990s, at a time when bald eagles were endangered. His leg was broken and had to be surgically fixed. And when staff took Murphy to be released, he broke his wing. So Murphy came to live his days at the World Bird Sanctuary, an ambassador for his species.
"Now here he is, the surrogate dad, and he can tell the chick, 'Go do what I was unable to do,'" said Holloway.
"That's the ultimate happy ending."