Washington, Mo. • The white minivan from St. Louis Cremation has backed up for another delivery.
Ron Shaver gets out and opens the back door, revealing a gurney.
"OK, want to go backward or forward?" asks Marc Houseman, who has been waiting.
The two men wrestle the gurney down the stone steps. It's heavy. Strapped onto it are boxes containing the cremains of 38 people. All of the boxes have names on them: Donald Frazier. Marie Winters. Fannie Curry.
Until today, nobody had claimed them.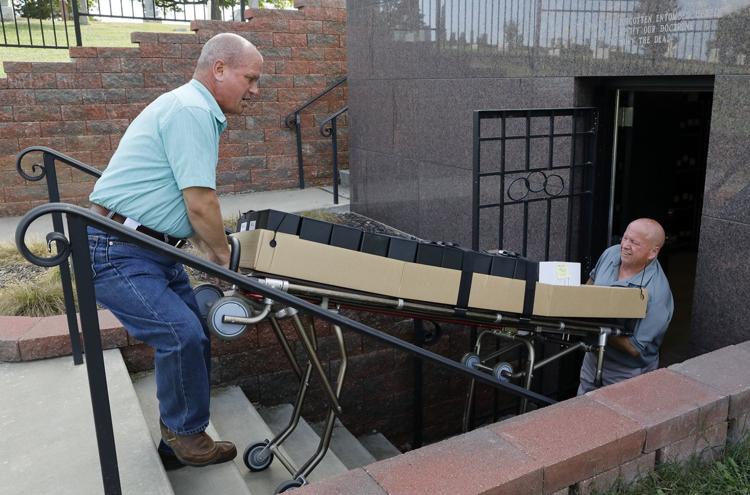 "Why don't more people do this?" said Houseman. "How do you just ignore it?
The columbarium building at the Wildey Odd Fellows Cemetery in Washington is dedicated to holding unclaimed cremains. The Odd Fellows believe it's the only such facility in the world. They built it in 2013, after learning that it's not uncommon for funeral homes to have dozens of cremains on their shelves, sometimes for years. Since the group's beginning in 1819, one of the four commandments of the Odd Fellows is to bury the dead.
So the Odd Fellows of the Pacific Lodge No. 86 built a columbarium in their cemetery, next to their gathering hall. It's partially underground, and utilitarian, with a granite-finished entrance on the side. Carved above the entrance is a three-link chain, a symbol of the Odd Fellows, representing friendship, love and truth.
So far, the building holds about 1,100 cremains on wire shelving. Boxes containing unassembled wire shelving sit and wait across the room.
It has room for about 10,800 more.
They have reunited 14 sets of cremains with family members. They have also worked with the Missing in America Project to give final honors to 17 veterans. They have 72 sets of cremains that are simply known as "baby" along with their last name. They are in smaller boxes.
In Missouri, there are no laws regulating where cremains can be scattered, explained Houseman, of Washington, who is the vice grand of the lodge. Technically, they can be thrown away. When the Odd Fellows opened the columbarium, they sent letters to every funeral home in the state explaining what they were doing.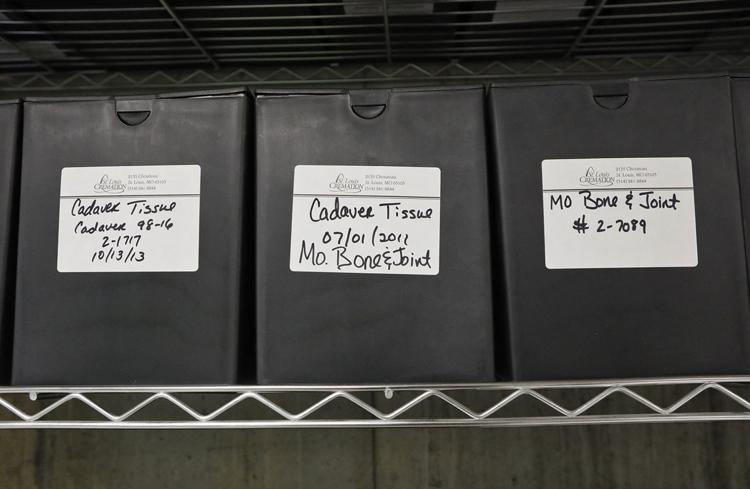 The circumstances that bring the remains here are often sad. The deceased didn't have any relatives. Some were homeless. Some are cremains of bodies that have been donated for medical research. Sometimes, there's a misunderstanding among relatives as to who was supposed to pick up the cremains. Sometimes, relatives simply don't want them.
"It would be totally personal and different for everybody," said Justin King, co-owner of St. Louis Cremation. "I've had people say it's just not that important to them; they don't care that much. (They say) it's just remains, what makes them 'them' isn't there anymore."
In the past, St. Louis Cremation scattered unclaimed cremains in a dignified manner, or purchased a vault to bury several sets at a time.
Now, they — as well as other funeral homes — send them to the Odd Fellows columbarium. "It's an incredible service that is really needed," said King.
Inside the columbarium, boxes are lined up in neat rows on wire shelving, with an occasional empty space.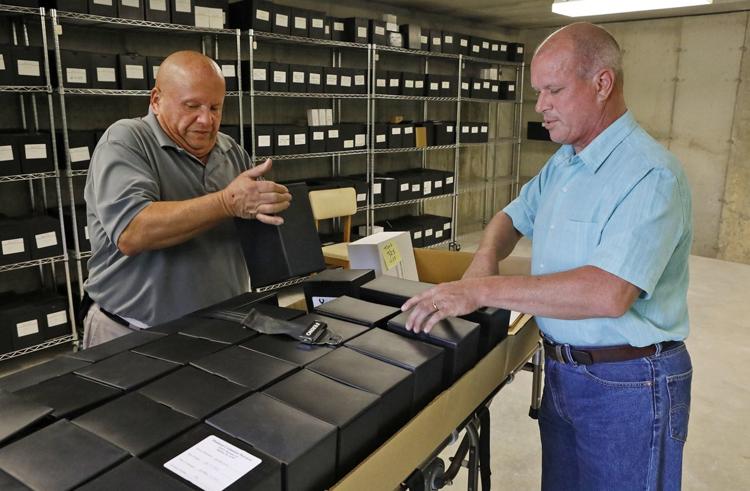 "Anywhere you see an empty space, someone was here, but we made a connection," said Houseman.
He spent part of his career as a funeral director but is now the director of the Washington Historical Society. It's easy to explain his work with the columbarium.
"It just feels so good to do the right thing," he said.
Every time they get a delivery, they put the name in a database and post it on the website, findagrave.com. That way, people researching their families online might stumble across the name.
That's how one woman found the remains of her great aunt at the columbarium. The great aunt had died in 1996. But the relative who was supposed to get her interred at the cemetery dropped the ball. Once the great-niece found her, the family gathered at Bellefontaine Cemetery to reinter her ashes, and even visited the columbarium in Washington to see her temporary resting place.
"They got the entire extended family together for the first time in 40 years," he said. "It was a very emotional time for them."
More connections
One man, Gregory Masteller, was physically and mentally disabled and died at a nursing home in Joplin in 2014. He had no family, but he left enough money for a cremation and an urn. A young funeral director, about 25 years old, started crying as she carried his urn into the columbarium. "I don't even know him," Houseman recalled her saying. "This is just so amazing to me."
One elderly man came to the columbarium to pick up the remains of his son, who died as a young man and had his body donated to science. He didn't know the remains would end up here.
He explained that he and his wife were making their own arrangements and bought a family plot at a cemetery in St. Charles. His daughter had died the year before.
"Now, we can all be together again," he told Houseman. "I'm 90 years old. I've never heard of the Odd Fellows. I don't know who the hell you are. I want to make a donation."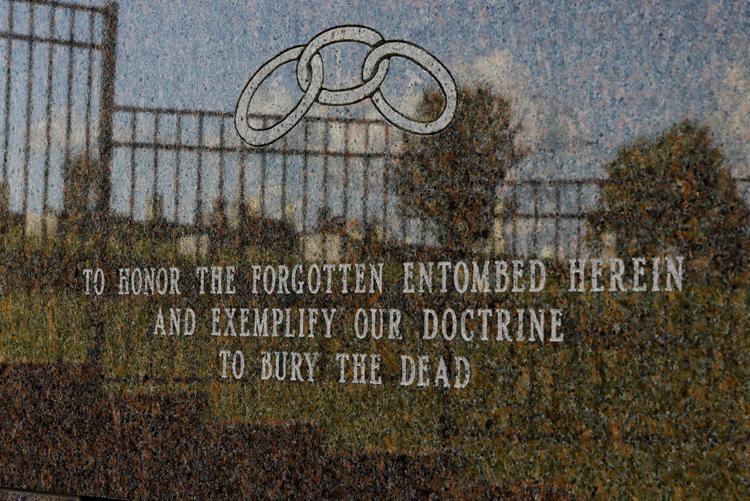 The cremains of veterans get special attention. Paul Annable of Union, the noble grand of the Odd Fellows in Washington, learned about the Missing in America Project during his work with the columbarium. The national organization works with different groups to locate and identify unclaimed cremains of veterans. He's now the coordinator for Missouri.
If Annable finds out a person served in the military, he works to ensure they are interred with full military honors. So far several soldiers have been sent to final resting places, mostly at Jefferson Barracks National Cemetery.
"They can rest now on alongside other soldiers," said Annable.
Their first veteran to be transferred to the cemetery with full military honors was Albert Onyika, a veteran of World War II. His cremains had been sitting on a funeral home shelf in DeSoto for 37 years.
Earlier this summer, a man named James Helton died at his home in St. Louis. He was a sergeant in the Air Force and served in Vietnam.
His closest surviving relative was a mentally disabled brother who lived with him, and lived with his brother's dead body in their home — possibly for two weeks. Once authorities got involved, the body remained in the St. Louis City morgue for more than three months.
Annable worked with the morgue and St. Louis Cremation, and they were able to locate a cousin to authorize its cremation. The cremains stayed in the columbarium for a few weeks, until Oct. 13, when they were interred with military honors at Luebbering Citizens Community Cemetery in Grubville, in Jefferson County, where Helton's parents were buried.
Houseman and Annable both did readings at the service. About 50 people attended. Not one of them knew or was related to Helton.
"That was kind of moving," said Annable. "There are just people that care."