When Anthony Bartlett returned with his vodka soda to join his friends at the rooftop patio, he faced some awkward questions from his old high school buddies.
Who had he been talking to at the bar? It wasn't asked in a genial way to see if they might have friends in common but in a protective and defensive way. He had come to hang out with them. Why was he chatting up strangers?
Bartlett, who had just moved back to St. Louis a few months after graduating from Georgetown University, had that moment Dorothy famously experience in Oz.
We're not in D.C. anymore, he thought.
This was a quintessentially St. Louis moment: People who had known one another since junior high were still hanging out together and slightly suspicious of interlopers. That's not to say that any of his close friends would be unfriendly — of course not — but why did they need to meet new people? Their table was full.
Bartlett, now 37, was a "replant," one of those kids who grew up in St. Louis never intending to come back but boomeranging home nevertheless. He came back wanting to make a difference, in a place where he felt he could have a bigger impact. That night planted a seed for a business idea that took nearly a decade to unfold.
Unlike other places Bartlett had lived and visited, it seemed more difficult here to forge a connection to others and create a sense of belonging if you were new to the area.
"This is the friendliest city in America where no one wants to be your friend," Bartlett said.
Some natives may dispute that characterization. Tim Nowak, executive director of the World Trade Center St. Louis, born and raised here, doesn't believe the region has any particular difficulty accepting newcomers.
"I think we do a great job welcoming people from all walks of life," he said. He agrees with Bartlett that the transplant pool is smaller here, while Bartlett agrees with Nowak on the general friendliness of local residents. (See: Midwest nice.)
But there's a difference between having friendly conversations and forming meaningful friendships. That's where Bartlett tries to assist.
He made it his mission to be that bridge — setting up dinner parties, game nights and friend dates between newcomers, with a "digital handshake" that's become well-known around town.
He did this while working a day job in the film distribution industry.
Bartlett travels easily within different social circles. He's a connector and also the glue that can hold a group together. When someone has a new friend or a client visiting for the first time, Bartlett would inevitably get the phone call. Would he come to their party? Would he talk to new people?
"I don't know anyone else who wants to talk to new people," friends would tell him.
Talking to the new kids became Bartlett's calling.
Truth or perception?
But is St. Louis really any more difficult than other places to make friends? Does it take longer to break into the area's tightly knit cliques often segregated by race, religion or school affiliation? (You know what types of schools we're talking about.) Bartlett makes the case that it is.
About 70 percent of area residents are native to the region, he says. The culture is similar to other older, Catholic river towns. Families are geographically closer, and generations stay put or come back. There's not the culture of Southern hospitality nor the transient culture of big cities, like New York or D.C., which are accustomed to absorbing new people. It's a community of villages and continuity, Bartlett says, with a strong legacy economy and multi-generational businesses.
"The barbecue in St. Louis is already full," he likes to say. There's not as much room at the table or need for newcomers.
The region has its own unwritten rules about navigating its social networks. For example, In other cities, a new business prospect may be asked what they do, about their competency in their field and how much they charge for their services.
In St. Louis, Bartlett says natives are more likely to ask: Who do I know that knows you? Who do I know that uses you? Who are your parents? Business deals happen based less on meritocracy and more on who I played Little League with, he says.
Networks of friends and associates is how business operates in much of America, but Bartlett argues it's even more so here. He recognizes there are always exceptions to his generalizations about the region and the people who live there. And despite his evaluations that might sound harsh, it's a classic case of tough love.
Bartlett's openness in talking about the region's shortcomings makes his enthusiasm for recruiting people here seem all the more genuine.
The make-or-break factor
Within a couple years of his return, Bartlett created new circles of friends and realized there was a critical common element to whether a person stayed and made St. Louis their home or fled a place that never felt truly welcoming."Everyone wants to feel a sense of connection and belonging. It was the relationships I formed with people that kept me here. If I didn't find that within a certain amount of time, I was going to go."
The key, he discovered, was having a local native to the region or a well-established transplant act as a bridge, providing entre into their own social circles. Given that he had pre-established roots in the area, he had a built-in advantage compared with someone entirely new. He couldn't personally be the bridge for every new person he met, but he could introduce them to someone who would. St. Louis is a big on the buddy system, he says, and having an advocate who can vouch for a newcomer is critical.
"If you are blessed by a local, you'll have a totally different experience than if you go alone," he said.
In March 2010, he put out a call to transplants and replants and decided he would try to get them in the same room to forge some of these connections. He expected maybe 15 to 20 people might show up at the happy hour in the Grove.
"The only objective here is finding your friendships," he announced to the room. No one was there to sell them anything. He had peppered the room with "ambassadors," seasoned locals who could listen empathetically and help people find someone who could turn into a friend.
He hosted two or three more events, and had the same turnout.
It seemed newcomers were desperate to find friends, and he launched St. Louis Transplants full-time in June 2011 to help them.
The lure
Bartlett tinkered with the funding side of his new business, considering a membership model or sponsors, and eventually settled on offering his services to corporations who were either trying to lure talent from top-tier cities or wanting to retain recent hires who could be a flight risk.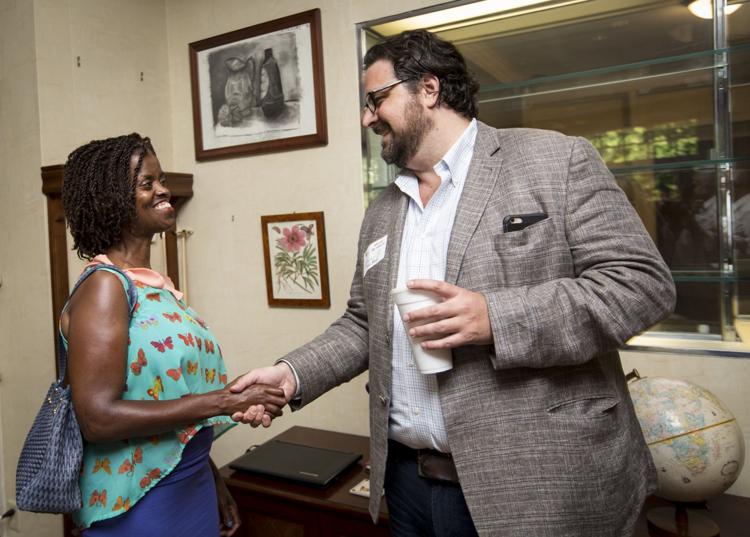 He had found a gap in the relocation business. Really, it was about more than just finding a friend. People wanted to find a community. And they had questions that a real-estate agent or human resources person would be hard-pressed to answer.
Those from coastal blue states wanted to know what it would be like to live in a red state. Talk to me about segregation, prospective hires asked him. What's the racial tension really like? People ask him questions about race relations, political values and violence routinely. But they also worry about tornadoes and if they will be able to find a place to get their hair done.
Bartlett does several long interviews with his clients, getting to know their lives, values and concerns. Then he creates a personalized tour of the city that caters to what they are looking for. He claims it's more effective than the traditional recruiting methods.
"Every single time, they take them out for something gooey, frozen and fried. Do you know how scary that is to a New Yorker?" he laughs.
Instead, he might set up intimate dinner parties with like-minded people who have relocated from the same cities or share a similar background. He loves taking people to see what Ferguson actually looks like when all they've heard are scary news reports.
And he's forthcoming about the distance the region still has to go.
"Do these issues need attention, hell yeah," he said. That's part of his pitch to those who, like himself, want to be part of a city's renaissance.
"You don't go to the Peace Corps to go to Paris," he tells them. "This is where you need to be."
He sees transplants as vital to the region's growth — the ones who will bring about needed social changes, add to the culture and grow the economy.
He's part political scientist, entrepreneur, city booster and therapist. Still single, he also readily admits, "It's an extremely difficult place to date. But it's a very easy place to get married."
Friendship maker
Cassidy Parker Smith was seven months pregnant, had moved back to the region after living in Brooklyn and was starting to get lonely for the life she had left behind.
Just then, Bartlett, who had been recruited by Parker Smith's husband to help her out, sent her one of his hilarious e-handshake emails to connect her to another transplant. Parker Smith and Katie Meyer went on a few "friend dates," and they clicked. Katie invited her to join her book club, and two years later, they are still hanging out and planning play dates with their babies.
James Croft moved to St. Louis in June 2014 from Boston and is originally from London. He says he had never thought of the city of St. Louis before in his entire life before a job opportunity arose here.
"It had never crossed my mind. I didn't have a bad idea or good thought of it."
He came as a clergy apprentice and talked to Bartlett to get a sense of neighborhoods where he might want to live. He was looking for a place with vibrant street life, that was LGBT-friendly and walkable. He found a place in the Central West End, which he says is like living the nicest part of London, "but way less expensive."
More importantly, he found a community of clergy actively engaged in tackling the city and state's inequities.
"You can make a difference in the city without having to work up the ladder for years and years before you get to the point where people want to hear what you have to say," he said.
Also among Bartlett's successes are entrepreneurs like Nick Szabo, who won an Arch grant, to bring his business, Swizzle, here from Seoul, Korea. Although he went to high school in O'Fallon, Ill., and graduated from the University of Missouri-St. Louis, he never expected to come back. He had a smooth transition here thanks to Bartlett and says he's planning to keep his company headquartered here.
But even those who might eventually move again, like Tim Dean, a professional coach, speaker and author, said he benefited from attending a Transplants event when he had newly moved to the region from California. Dean made a professional contact at one such event, who ended up recruiting him to his company, after which he eventually launched a second career.
"It was such a catalyst for me," Dean said.
Now, at future events, Dean volunteers as a "peer host," hoping to pass it forward.
The friendship-maker-in-chief has scaled back his events, focusing more on persuading companies to invest in attracting and keeping top-flight talent. For someone who champions outsiders, he says some of his clients may be surprised to learn what an insider he is.
Bartlett says we are revealing a little-known fact when we disclose his answer to The Question. For the record, he graduated from Ladue High School.