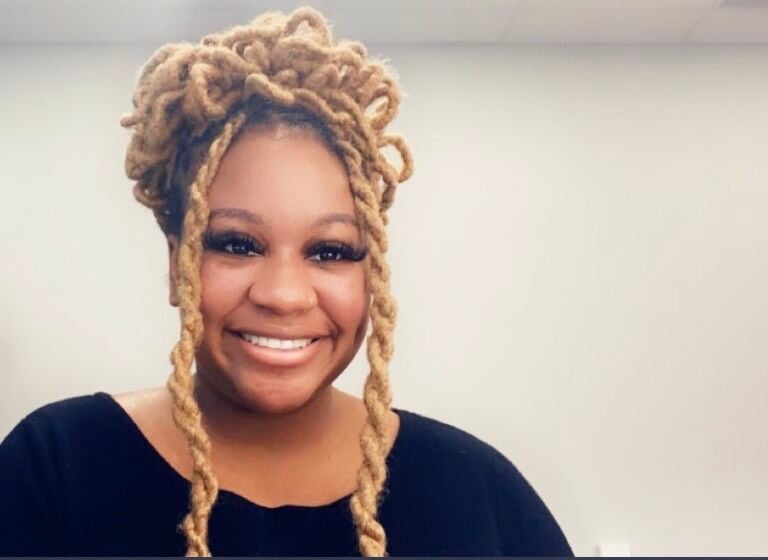 When St. Louis native Erica McBride began her college career at Truman State University in Kirksville, Missouri, she had no idea that her destiny would include becoming a participant of the Ronald E. McNair Post-Baccalaureate Achievement Program, pursuing a Master of Social Work degree at the University of Missouri-St. Louis, and completing a practicum at Saint Louis University that would enable her to lend support to three TRIO programs simultaneously. She also had no idea that these experiences would solidify her interest in working in higher education administration, with emphasis on diversity, equity and inclusion. 
It was during her participation in Truman's choir that the Central Visual and Performing Arts High School graduate - who both sings and plays the piano - learned about McNair, commonly known as the McNair Scholar Program.
 "McNair is a huge deal at Truman State," noted McBride. "One of the students that was in the choir with me…she was a McNair Scholar and she was always talking about it. I took a research methods course and I loved research. That basically made me think, 'Okay,  I can do this. And then I'll be around other students that are similar to me and have similar backgrounds'."
McNair is one of eight TRIO programs funded by the U.S. Department of Education to support the educational attainment of first-generation, low-income, and underrepresented students, as well as those with disabilities. As McNair Scholars, participants focus on the goal of preparing for and applying to graduate programs that lead to the PhD. They are assigned a faculty mentor, given the opportunity to conduct paid research projects, and guided through the graduate school application process by a caring staff of professionals.
"I didn't know about a personal statement. I didn't know about a CV. Most of the things that McNair prepares you for, I didn't know about for grad school," McBride admitted. "I wasn't even thinking about grad school until I started looking into McNair. I just was trying to get my bachelor's and say that I graduated from college, really."
McBride's undergraduate experience as a McNair Scholar at Truman State included two summers of conducting research, which she attributes to laying the foundation for her success in grad school. She completed her MSW program this month and looks forward to continuing her educational career as a doctoral student. "I'm trying to aim for the summer of next year," she said about her plans to begin a PhD program soon in Higher Education Administration. "I feel that if I take too much time off, I'm not going to finish it, but I want my doctorate in Higher Education."
As a practicum student in SLU's Pre-College, Access & TRIO Programs, McBride has gained valuable work experience in her chosen field by serving the McNair Scholars Program, Student Support Services and Talent Search in various capacities, from creating program evaluation surveys to developing and facilitating workshops. 
Her contributions have been lauded by the staff. "Erica has been a welcome addition to the Talent Search team," said Karen Askew, Program Director for SLU's Talent Search program.
Tim Hamm-Bey, Academic Coordinator for Talent Search, echoed Askew's sentiments, adding "Erica's timing is impeccable. She arrived at the time our Talent Search program was transitioning to using electronic surveys and evaluations. Erica accepted the challenge and created a fully functioning evaluation/surveying platform that we are able to use in her absence."
"Erica has been a joy to work with; she is dedicated to serving first-generation, underrepresented college students. She is passionate about diversity, equity and inclusion and I believe she will impact many lives throughout her career," stated Anthony Parker-Gills, who is the Academic Coordinator for McNair.
"I have no doubt that Erica is going to do great things with her future," Lindsay Gonterman, Student Support Services Program Director commented. "Her commitment to serving underrepresented populations coupled with her social work education will ensure she is prepared to face any challenge that comes her way and will allow her to think outside of the box when necessary. Erica will be an asset to anyone she works with thanks to her creativity with program planning and skill with assessment. Her passion for this type of work is just the cherry on top!"
"I'm just happy that I was chosen to do this practicum because it was a great experience," McBride beamed. "I tell UMSL students about it all the time." 
Her outstanding skill set and dedication to diversity, equity and inclusion have led to her recent employment at Saint Louis University as Program Coordinator for the Department of Biology, where she develops and provides an array of support services for underrepresented students at both the undergraduate and graduate levels. As a new employee in the department, she has already hit the ground running by facilitating a "Biology Affinity Group Meetup" for the students.
"We talk about their backgrounds, where they came from, different programs that different universities have and things like that. And just ways for us to become more connected. I talk to them about being an indigenous cultural advisor to them, because typically they only meet with their advisors once or twice a year. And I want to be that advisor that meets up with them at least once a month, just to see how they're doing with everything, offer support and resources," she stated.
As McBride looks ahead to a very bright future, she continues to epitomize the "TRIO Works" slogan echoed by program participants, staff and alumni throughout the United States. Her achievement is the result not only of her own efforts, but also of those who have helped pave the way for her success, and her current initiatives are evidence that she is working hard to pay it forward.