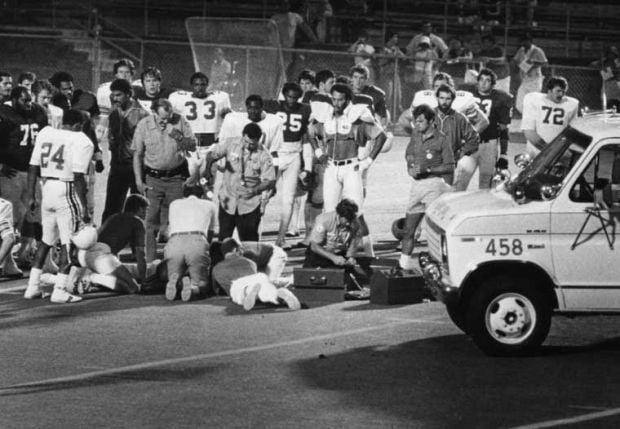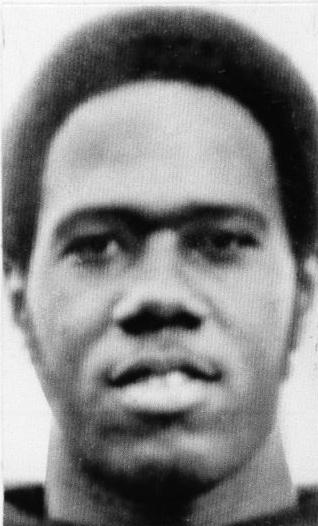 On July 22, 1979, St. Louis Cardinals tight end J.V. Cain died during a workout at Lindenwood College. It was his 28th birthday. The cause of death was later to determined to be congenital heart failure. Here is how columnist Tom Barnidge reflected on Cain's death.
He was a deep and thoughtful man, wise beyond his 28 years.
He had found strength through adversity and purpose in the path before him.
With his foot in a cast, with his body supported by crutches, J.V. Cain looked down on Big Red practice sessions last year and explained that life was not fickle, only those who lived it were.
"I've been reading the Bible," he said. "I never had this much time to read it before. I've learned a great deal."
What he learned was that worse things can happen than an Achilles' tendon tear and a football season lost. There were greater defeats, he reckoned, than the ones inflicted in Dallas or Washington.
"The Lord works in mysterious ways," he once said. "Now I just pray to God that I will have a complete rehabilitation and I'll be able to be All-Pro next year."
All-Pro. That was Cain's dream from the time he first wandered into the Big Red offices. First, with the image of Jackie Smith before him. Then, with competition around him. Last year, with opportunity knocking, his leg buckled beneath him. The rehabilitation was complete, by all reports. The recovery was remarkable. His ankle was strong, his attitude ideal.
J.V. Cain had been married and healed all in the span of one lost football season.
Then, the Lord worked in one of those mysterious ways.
During the Big Red's practice Sunday night at Lindenwood College, Cain collapsed and then died in a hospital.
"It could have happened on the way to lunch," said Coach Bud Wilkinson. "It wasn't football-related at all. He turned, took two steps and then he collapsed."

At 6-foot-7 and 221 pounds, Cain had been felled many times. By safeties, by linebackers, by defeat and by disappointment. The measure of the man was his ability to bounce back. And to learn.
He reflected one time on a dropped pass in the middle of a playoff game against the Los Angeles Rams. He had run his route and beaten his man, but he had dropped a spiral that seemed headed for the end zone.
"It haunted me for a while," he said. "It didn't destroy me, but, sure, I kept thinking about it. If anything, though, I think that may have helped me. It was something bad but it was also something good. It was a lesson."
Ah, yes, a lesson. J.V. Cain had the ability to learn from failure as well as success. He stepped beyond obstacles because he knew they would be there. Sometimes large, sometimes larger. Physical ability was only one dimension of the man. Inside, the wheels were turning. The mind was probing. If dedication is a term used too loosely in today's world, it was not wasted on Cain.
"When I first started pro ball," he said, "it seemed I was infatuated with the fact. I had so much to learn. I had no experience.
"But I've had to go through a learning stage each time I moved up in football. I'm used to taking my time in learning."
He took time for other things, too. In his rookie year, J.V. Cain's mother died while he was at training camp. It was an agonizing, painful period in his life. A time for pause and reflection, private thoughts clouding his mind. He remembered those moments this year, when rookie teammate Jerry Holloway came face-to-face with the same tragedy. It was Cain who privately counseled the rookie tight end and comforted him, secluded from distractions and drills.
"In a situation like this, it sounds almost expected," said Wilkinson, "but, honestly, I don't know that I've ever known a better guy than J.V. Beyond a football player, he was just a very fine human being."
The reference files will capture only the two-dimensional person. He was All-Big Eight. He was All-America. In four National Football League seasons, he caught 76 passes for 1,014 yards and nine touchdowns. Once, he latched onto six passes in a single game. Twice, he leaped high in the end zone to snare one-handed scores. His thighs were small tree trunks, his hands giant claws. But, bigger yet, was his heart. On the field. Off the field. With or without football.
As he lay in a hospital bed last year, he blamed himself for disappointing the team and the town.
"I just wish to God that they (the Cardinals) have all the luck in the world without me," he said. "There was a lot riding on my shoulders this year and I thought I was ready to handle it. I thought I'd be coming through."
More than a fine tight end, he will be remembered as a fine person. One who was called too soon. Without warning. Without explanation. And some of his words will hang heavy in his absence.
"I don't want people to forget about me," he said from last year's sideline.
"And maybe say a prayer for me."
There's far too much to remember.