It was a historic day: The Missouri Supreme Court convicted Secretary of State Judith Moriarty of misconduct and removed her from office, the first time the court ever took such an action. Our report:
In a unanimous opinion Monday, the Missouri Supreme Court convicted Secretary of State Judith K. Moriarty of misconduct and removed her from office.
The court found that Moriarty had backdated paperwork for her son, Timothy Moriarty, when he filed for a state House seat last spring. "I'm just numb," Moriarty said in an interview in her home in Sedalia Monday evening. Wearing a green sweatsuit, she dabbed her puffy eyes with Kleenex.
"I thought I could get a fair shake from the court but it just didn't happen," she said.
Moriarty criticized the swiftness of the court's decision, which affirmed three articles of impeachment approved by the state House. Her trial ended Friday morning and the court decision came down at 4:30 p.m. Monday.
"They went with the House articles in one (working) day and they did it readily," she said.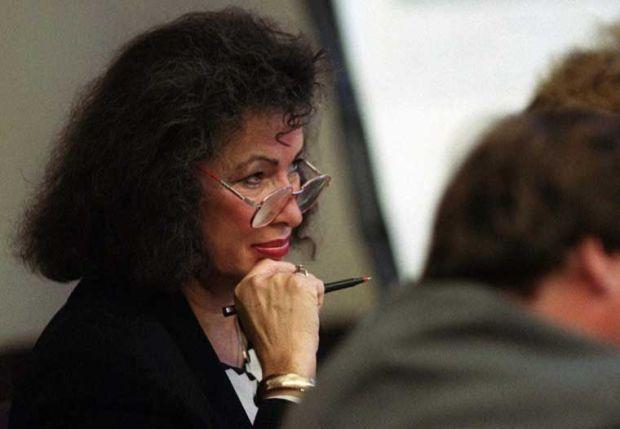 After six months of turmoil, this appears to be the end of the road for Moriarty, Missouri's first woman to be secretary of state. Her ouster is immediate and there is no appeal. She is the first statewide official to be removed through impeachment in Missouri's 173-year history.
Gov. Mel Carnahan said the ruling "removes a cloud that has been hanging over the secretary of state's office and the state of Missouri for many months. I am pleased this has finally come to a conclusion."
Attorney General Jay Nixon said Moriarty "certainly had every opportunity to prove her innocence. I just think it's time now for her to recede quietly into the annals of Missouri history."
Carnahan will appoint someone to serve the remaining two years of Moriarty's term.
The governor's spokesman, Chris Sifford, said no one had been chosen but that the governor was likely to make his selection this week.
Interim Secretary of State Dick Hanson says he does not want the permanent appointment. He plans to return to his post as commissioner of administration.
Moriarty, 52, a Democrat, was the surprise winner for the office two years ago. The lone woman in the field of candidates, she spent a mere $16,000 to win the primary. She then edged Republican John Hancock of St. Louis County in the general election. She had been the county clerk in Pettis County for 10 years.
As the state's chief elections official, Moriarty was responsible for the filing of candidates for state offices. The Supreme Court said testimony showed the process was error-filled, and that filings complied with the law "as much by accident as by design."
The investigation into Timothy Moriarty's filing began in mid-June, when former aide Barbara Campbell told investigators that he had filed for office improperly.
Campbell said Timothy Moriarty came to the office on March 21 and filled out preliminary paperwork, but that Judith Moriarty told Campbell to hold the papers.
At the time, Timothy Moriarty was checking to see whether he could become a candidate and keep his state job at the Department of Labor. On March 29, the last day to file, Campbell said Judith Moriarty told Campbell to file Timothy Moriarty, even though he was not present. State law requires candidates to appear in person when they file.
Campbell filed Timothy Moriarty's papers at 1:19 p.m. on March 29. Weeks later, Judith Moriarty ordered Campbell to sign the document, Campbell said. Timothy Moriarty also came to Jefferson City and signed, sometime in May.
Moriarty has contended that Campbell made a "clerical error" and the office corrected it by getting Campbell and Timothy Moriarty to sign his declaration of candidacy after the filing deadline had passed.
But the court noted that the time and date on Timothy Moriarty's declaration "are false. They are not the product of a clerical error; they are outright fiction."
The court said Timothy Moriarty got special treatment from Moriarty's staff.
"This special treatment permitted Timothy Moriarty to complete some or all of the paperwork required to declare his candidacy and have that paperwork placed `on hold' until he could assure himself that he would not lose his state job."
While Campbell is "not a particularly believable witness," the court said, two other employees - Juli Rodenburg and Nadine Barrows - backed up Campbell's account that she held the papers.
At the trial Moriarty's attorney, Stuart Berkowitz, argued that Campbell might have decided on her own to hold the papers.
Considering that argument, the court said: "Even if one assumes that an overzealous and personally ambitious staff person committed most of the errors and violations of law and office policy in the filing of Tim Moriarty's March 21 paperwork, it remains beyond dispute that the secretary of state discovered the absence of the signatures required . . . and, aware of the failure of her son's declaration of candidacy to meet the requirements of the law, she nevertheless certified him . . . as a properly filed candidate."
Mark Richardson, the attorney for the House, said Monday he was "impressed with the promptness" of the opinion. "They had a full and complete record of the evidence on which to base their decision. The best legal minds in the state have decided the issue."
Richardson said the case was important because the elections process must be free of taint. Otherwise, people will shun the voting booth and decide against running for office.
"The people must have faith in the elections process, and certainly, in the chief elections officer," he said.
Moriarty said Monday that she had hoped to be cleared by new testimony from aide Barrows. Barrows, who previously denied seeing Timothy Moriarty's declaration of candidacy, last week testified that she tore it up and threw it away on March 21.
Moriarty, joined in her home by her brother, three of her sisters, and son Timothy, said she was mystified by the outcome of her lengthy journey through the legal process.
Since June, she has been indicted by a grand jury, found guilty of a misdemeanor by a Cole County jury, impeached by the state House and now, convicted by the Supreme Court.
Asked why no one has taken her side, she said: "I wish I were smart enough to answer that."
Moriarty criticized the media, saying: "It was hit after hit, day after day. They never let up."
She said she didn't know what she'd do now. "I'll have to take a few days to get my thoughts together," she said.
Moriarty had been suspended with pay since Oct. 12. She had kept her $73,450-a-year salary, state car and cellular phone pending the outcome of her trial.
Those benefits end immediately, Nixon said. "It's time for her to turn in the keys, turn in the car and remove her personal property from the office," he said.