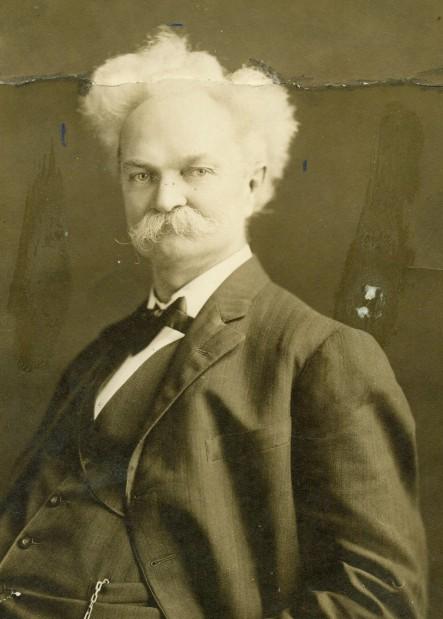 COLUMBIA, MO. • The pallbearers included two Democratic candidates for statewide office. A Methodist bishop described the dearly departed as "the type of citizen which has made our commonwealth great."
Not mentioned during the service, if the Columbia Daily Tribune's accounts were complete, was former congressman Willard Vandiver's important contribution to the unofficial state boast, which endures in ordinary small talk and on vehicle license plates.
Vandiver was buried from Missouri United Methodist Church, near the University of Missouri campus, on June 1, 1932, two days after his death at 78. A son of antebellum Virginia, he was educated in Missouri and was president of Bellevue Institute in Caledonia, Mo., and the state teachers' college in Cape Girardeau (now Southeast Missouri State University) until his election to Congress in 1896.
Membership on the House Naval Affairs Committee got him a tour of the Philadelphia Navy Yard in 1899 and a last-minute invitation to dinner at the city's prestigious Five O'Clock Club. Vandiver and congressman John Hull of Iowa were the only two who hadn't traveled with formal dinner attire. They agreed to stick together in their humbler garb.
But Hull arrived in coat and tails, spinning a tale of a tailor who stitched them in 15 minutes. When it was Vandiver's turn to toast and roast, he told the gathering of 200 that Hull had stolen his suit, then said, "I'm from a state that raises corn, cotton, cockleburs and Democrats, and frothy eloquence neither convinces nor satisfies me. I'm from Missouri. You have to show me."
The audience loved it. Vandiver's fellow congressmen returned to Washington with glowing words for his pithy retort.
Or so the story goes. As with most slang expressions, there are many claims of authorship. In 1912, U.S. House Speaker James "Champ" Clark of Missouri used the phrase during his unsuccessful bid for the Democratic presidential nomination. Clark credited Vandiver.
So did the New York Herald newspaper and the Literary Digest, an influential weekly magazine. But rumblings of other origins continued. In 1921, the St. Louis Star asked Vandiver, who then was chief federal treasury official in St. Louis. He replied with an essay admitting to authorship, as far as he knew.
"I have never considered it of such great value as to warrant taking a copyright out on it," Vandiver wrote. "In fact it is possible that the real coinage of it may have been prior to the occasion herein referred to, but I have no recollection of having seen it or heard it before that time."
A few days later, the Star ran a lengthy letter from William Ledbetter, former editor of the St. Louis Republic and, in his cub days, a reporter for the Kansas City Times. Ledbetter claimed to have heard it in Denver before Vandiver's speech, and traced it to miners in Leadville, Colo.
Other versions have it uttered in Nevada mining camps in the 1870s or during the Civil War. Who will ever know? By points, history gives Vandiver credit for making it popular.