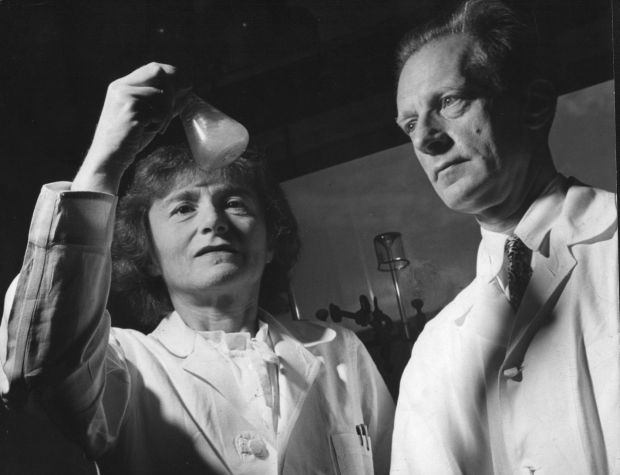 GLENDALE • The news from Stockholm, Sweden, was about a Nobel Prize in medicine for two local scientists. A reporter knocked at the Cori residence, 1080 North Berry Road.
Dr. Gerty Cori, research partner and wife of Dr. Carl Cori, answered the door. The reporter's opening question was reasonable, if hardly original: What's it like to win a Nobel?
"I feel overwhelmed by such recognition, obviously, and very pleased," Gerty Cori said. As for her husband, she said, "He's very reticent."
But also a gentleman. He lit a cigarette for his wife, then one for himself, and made sure the reporter understood that a large, dedicated team at Washington University School of Medicine had been working with them for years.
They said they needed to get back to the laboratory. "We have a lot to do," Gerty Cori said. "We don't expect to stop working."
The Coris received the news on Oct. 23, 1947. They were the third husband-wife team ever to win a Nobel Prize for science, the first having been Marie and Pierre Curie of Paris in 1903, for work in radioactivity.
Gerty and Carl Cori earned their distinction for research into how the human body stores and converts starch into sugar, a process vital to muscular energy. Their confirmation of what became known as the "Cori cycle" is a foundation for modern treatment of diabetes.
They shared the $50,000 prize with Dr. B.A. Houssay of Argentina, director of the Institute of Biology and Experimental Medicine in Buenos Aires.
The Coris were born four months apart in 1896 in Prague, then part of Austria. After army medic service during World War I, Carl Cori returned to the University of Prague medical school, where Gerty Radnitz was a classmate. They were married in 1920 and moved two years later to Buffalo, N.Y., where they both worked in the laboratory at the New York State Institute for the Study of Malignant Disease.
In 1931, they joined Washington University, he as chairman of pharmacology. The Post-Dispatch called him an "expert in adrenalin and insulin" and Gerty Cori a "scientist of distinction." An architect friend at the university designed their distinctive, international-style home on Berry.
Working in separate but nearby labs in the school's South Building, at McKinley and Euclid avenues, they studied how the liver and muscles influence sugars in the body. In 1942, they crystalized an enzyme, known as phosphorylase, that begins the complex chemical process — a step that allowed for more breakthroughs.
The work won acclaim before the Nobel, including from the National Academy of Sciences. In 1946, the French government invited them to a program commemorating Louis Pasteur, 19th century pioneer in vaccines and public health.
The Cori's Nobel in 1947 was the fourth bestowed upon St. Louisans. About 200 people attended a faculty party on Oct. 31 in the Women's Building honoring the Coris, who patiently listened to accolades but did not speak.
Gerty Cori died in their home in 1957 at age 61 of a rare bone disease. Carl Cori retired in 1964 and died in Cambridge, Mass., in 1984 at age 87.
Their labs trained six researchers who later won a Nobel. 
Gerty and Carl Cori pioneered research that aided diabetes treatment