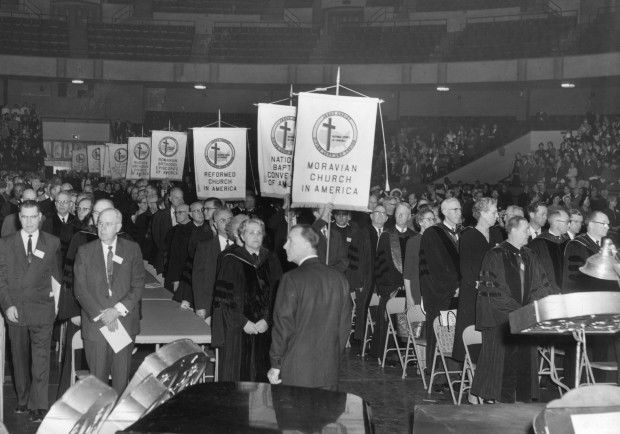 ST. LOUIS • The National Council of Churches gathered in Kiel Auditorium on Dec. 1, 1957, two months after the Soviet Union launched Sputnik, the world's first man-made satellite. Speakers urged jittery Americans to calm down.
"Outward programs of security and defense must be matched with inward signs of justice and charity," counseled the Rev. Frederick Nolde, a leader of the World Council of Churches.
That sentiment led the assembly of 2,000 Protestant ministers and lay leaders to the thornier social issue of race relations. Among the speakers during its six-day national convention was the Rev. Martin Luther King Jr., 28 years old and suddenly prominent as leader of the lengthy boycott that integrated public buses in Montgomery, Ala., in 1956.
Prominent, perhaps, but not yet undeniably famous. Neither of King's two speeches made headlines in the Post-Dispatch or the Globe-Democrat. Both local dailies gave more play to speakers of longer standing with the council, which then as now represented the nation's more liberal Protestant denominations.
After King's main speech, the Post-Dispatch led with the election of the Rev. Edwin Dahlberg of St. Louis as the council's new president. On race, it gave first bill to the Rev. Liston Pope, dean of the Yale University Divinity School.
Pope lamented that "the church is probably the most racially segregated institution in American life." But he saw glimmers of progress, offering hope that "we may be nearer a breakthrough in this battle than we know."
King respectfully disagreed, chiding church leaders for not moving faster from high-minded national declarations to progress in the pews.
"All too many ministers are still silent while evil rages," King said. "It may well be that the greatest tragedy of this period of social transition is the appalling silence of the so-called good people."
King conceded "a gradual crumbling of segregation," but added, "If democracy is to live, segregation must die."
Signs of daunting resistance were all about them. As the council met, the Texas Legislature adopted new ways to keep schools segregated. The Virginia Supreme Court upheld another statutory evasion. In Montgomery, a black teenage girl was fined for allegedly striking a white girl who wouldn't share a bench on an integrated bus.
And at Kiel Auditorium, black delegates protested that they had been refused service by cabdrivers and waiters in downtown St. Louis.
One day after the council adjourned, America's Vanguard rocket — the answer to Sputnik — blew up on its launch pad.
King's speeches marked his second public appearance in St. Louis. He would return at least five times before he was murdered in Memphis on April 4, 1968, by James Earl Ray, a fugitive from the Missouri State Penitentiary.