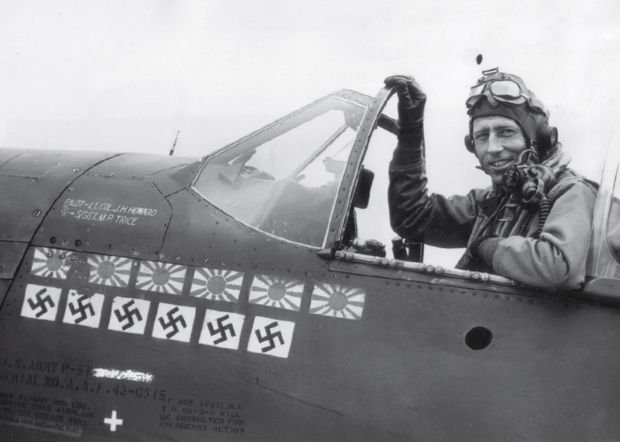 ST. LOUIS • A hometown fighter pilot was to lead a new long-range squadron escorting America's vulnerable heavy bombers over Europe. News accounts speculated on the "hot new fighter" they would fly.
Army Maj. James H. Howard, 30, of St. Louis, had graduated from John Burroughs School after his family returned from medical work in China. He earned his wings in the Navy and, six months before Pearl Harbor, joined the Americans of the "Flying Tigers" over China, fighting the Japanese in a P-40 Warhawk.
Two years later, Howard transferred to the U.S. Army Air Forces in Europe. On Jan. 12, 1944, his picture accompanied a Post-Dispatch front-page article describing the mission of his new squadron.
Its P-51B Mustangs had powerful new Rolls-Royce engines and bigger fuel tanks. They could stick with the four-engine B-17s and B-24s, which had been battered on long raids beyond the range of other escort fighters.
The publication date was fortuitous. The editors couldn't have known that one day earlier, Howard already had flown to fame.
On Jan. 11, his squadron escorted 760 bombers attacking aircraft factories at Oschersleben and Halberstadt, deep inside Germany. It was a costly raid, with 60 bombers lost. But crews of the 401st Bomb Group returned to England bubbling with amazement over a lone Mustang pilot who had flown madly into a swarm of 30 German attackers.
A hunt was on to identify the fearless aviator. Americans knew how badly their bomber boys were being cut up over Germany. Army brass, sensing a chance to reassure the home front and tout the new wonder fighter, gathered reporters at a base in England on Jan. 19 and ordered Howard front and center.
Pressed by the press, the embarrassed pre-med graduate of Pomona College in California blurted, "I seen my duty and I done it."
On the mission, Howard shot down one German plane before he got separated from his unit. He stayed with the B-17s of the 401st returning from Oschersleben and then, on his own, fended off the swarm of German attackers. By the time he downed a fourth enemy plane, most of his .50-caliber machine guns were jammed.
"For sheer determination and guts, it was the greatest exhibition I'd ever seen," said Maj. Allison Brooks, 401st group leader that day.
In June, Howard received the nation's highest award for heroism — the Medal of Honor. He was the only American fighter pilot in Europe to earn it. (He and Navy Lt. Edward "Butch" O'Hare were the only St. Louis aviators so honored. O'Hare, namesake of Chicago's main airport, was killed in action in the Pacific in 1943.)
Mass-produced Mustangs helped turn the air war over Europe.
Howard ended the war an ace, with six aerial kills over Europe and two with the Flying Tigers, plus credit for destroying four Japanese planes on the ground. Returning home, he served for a year as St. Louis' chief of aeronautics, then moved to Washington for defense-contract work. He later was promoted to general in the Air Force Reserve.
Howard died in Bay Pines, Fla., in 1995 at age 81 and is buried in Arlington National Cemetery.
Share stories of loyalty, heroism and dedication. Veterans and active service members from all branches are open for nomination. Select storie…